These easy Overnight Oats with Frozen Fruit are a super delicious, sweet, and healthy pregnancy breakfast. This recipe couldn't be simpler. Just five minutes of your time will yield this creamy, nutritious and tasty superfood meal!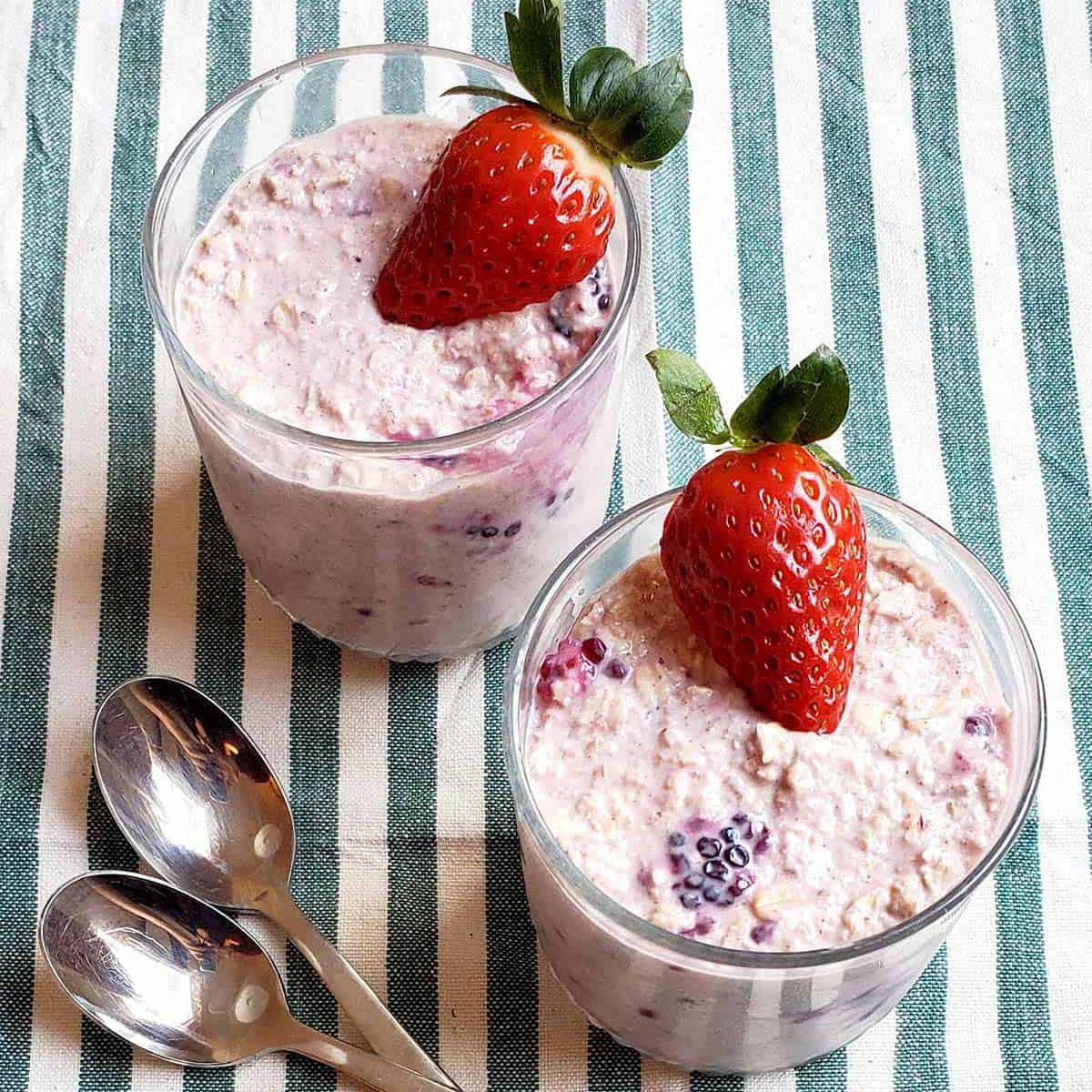 Overnight oats with frozen fruit are totally scrumptious and refreshing, but if you are looking for a fruit-free option, try my easy protein overnight oats instead.
The texture of these frozen fruit overnight oats is smooth and creamy. It really resembles a creamy fruit pudding. If you prefer a more bread-like, texture for your oats, orange chocolate baked oats is another great recipe.
If I'm being honest, frozen fruit overnight oats are basically dessert for breakfast! Other delicious fruit-for-breakfast recipes include this incredible mixed fruit cake and banana almond bread.
Why you'll love this recipe!
Not only are frozen fruit overnight oats super delicious, they are a really beautiful meal.
Combining frozen fruits (berries) with greek yogurt and milk produces a beautiful purple / pink color that kids really go crazy for! My two-year-old is a huge fan of these oats!
Using frozen fruits is super convenient, especially when you haven't had time to go shopping for fresh produce. I actually prefer using frozen fruit in these oats as opposed to fresh fruit because they add a juicier quality to the finished oats.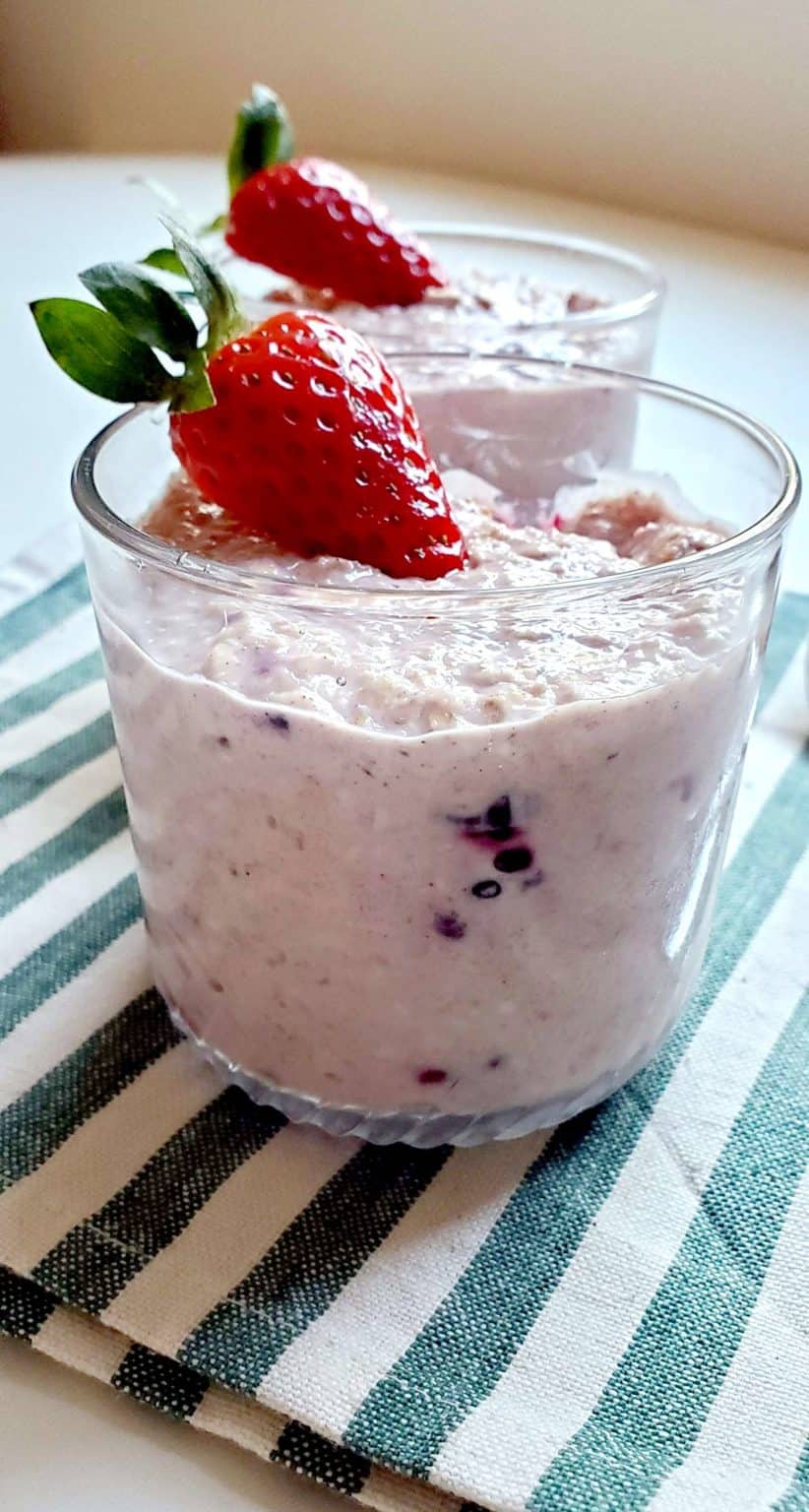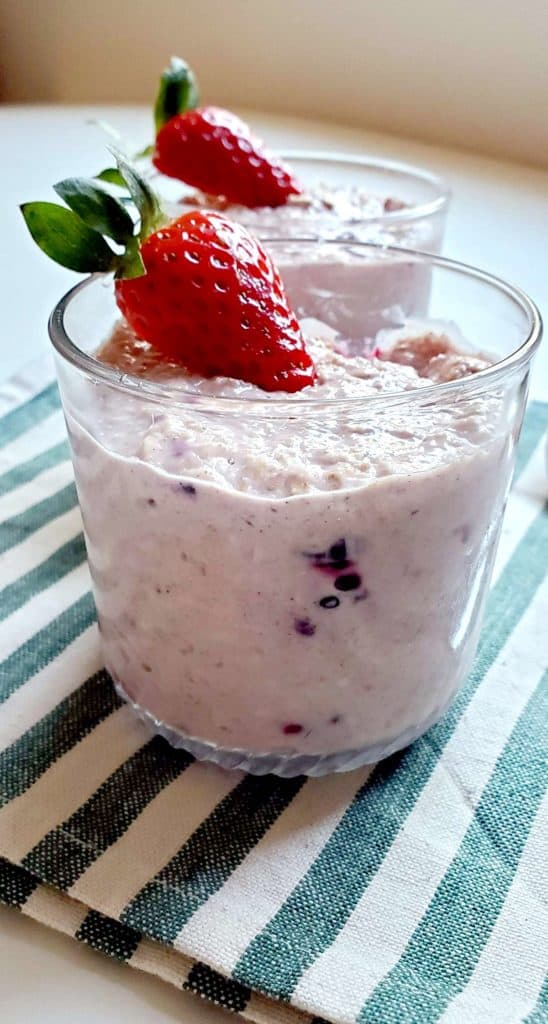 Overnight oats with frozen fruits really exemplify the concept of meal prep. Preparing these easy overnight oats ahead of time will make your morning that much easier. Simply grab and go.
During my pregnancies, I leaned on this breakfast recipe time and time again. Smooth, creamy, easy to prepare, and healthy – these oats were the full package. This recipe involves zero cook time which actually allows the ingredients to retain their full nutritional value.
What are overnight oats with frozen fruit?
Frozen fruit overnight oats are dry oats that are combined with milk, a bit of plain greek yogurt, and some frozen strawberries and frozen blackberries. A bit of maple syrup, cinnamon, and vanilla extract enhances the sweet flavor of the berries and results in an irresistible breakfast bowl!
The overnight oats sit in the fridge, you guessed it, overnight! This allows the dry oats to both soften and absorb all of the delicious flavors. The next morning, you can simply pull your overnight oats from the fridge and enjoy the deliciously cold oatmeal.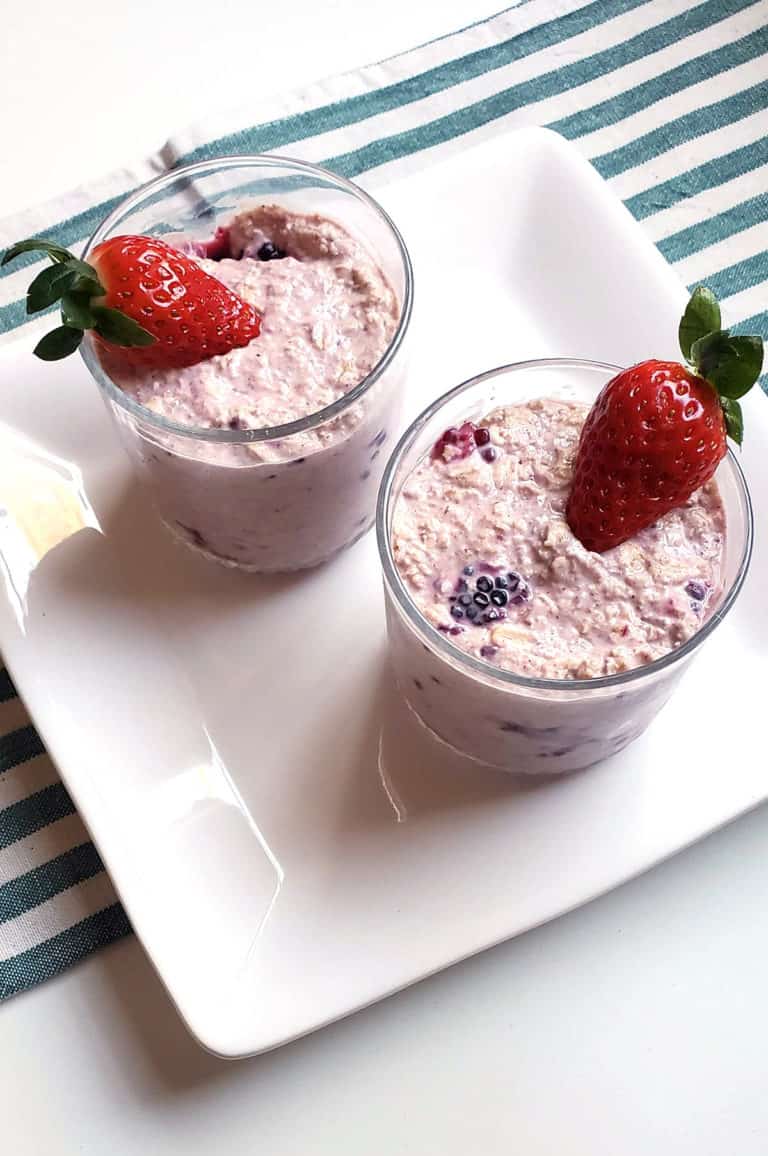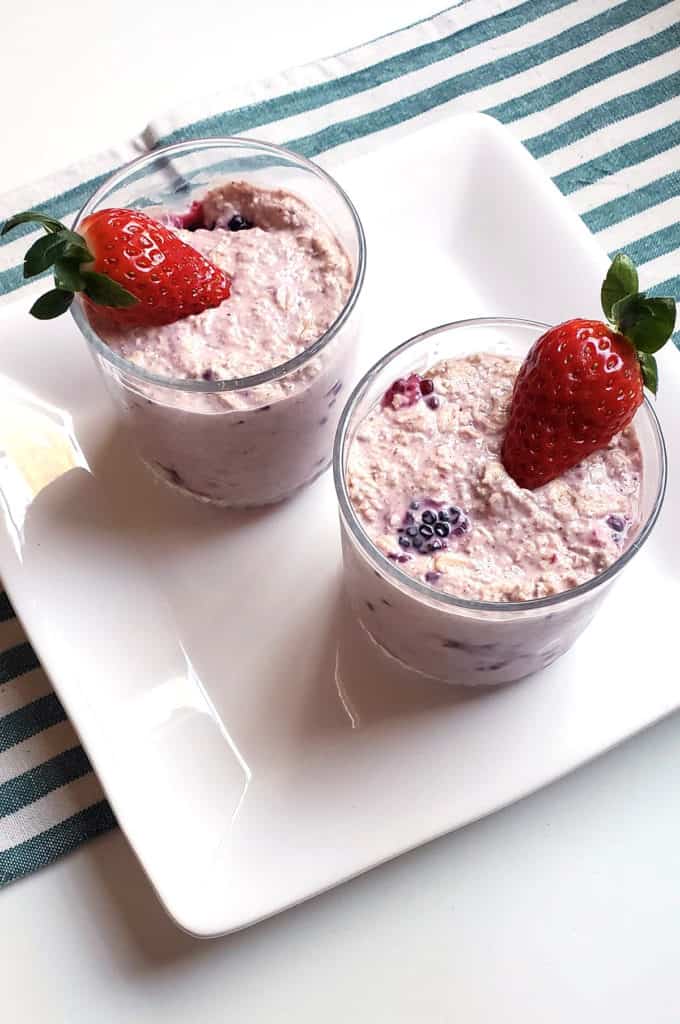 The resulting texture of overnight oats with frozen fruit is silky smooth, with an almost mousse-like texture, and of course you'll find the juicy berries in there as well. The frozen berries start to melt and release their sweet juice which is absorbed by the oats during their overnight stint in the refrigerator.
One of the highlights of overnight oats with fruit is that this meal is totally customizable! Any number of additional toppings can be added in order to suit your dietary needs or personal taste. I for one always top with fresh fruits such as sliced strawberries, sliced bananas, or a handful of fresh blueberries.
Dried fruits are also a superb topping option. Dried fruits such as sliced figs, chopped apricots, dried cranberries, or raisins are delicious atop these overnight oats. You can also opt to add different textures to these frozen fruit overnight oats. Some examples include crunchy chia seeds or chewy coconut flakes.
Are frozen fruit overnight oats healthy?
Yes, frozen fruit overnight oats are healthy! This recipe constitutes a super easy, healthy pregnancy breakfast. Let's take a closer look at the nutritional highlights of the main ingredients used in this pregnancy meal.
Oats
Oats are extremely nutrient-dense and contain many vitamins and minerals including iron, zinc, and folate. Whole grain oats also contain a good amount of nutrients such as protein, starch, unsaturated fatty acids, and dietary fiber.
In fact, one cup of raw oats has a respectable 11 grams of plant-based protein. Adequate protein intake is absolutely essential in every pregnant woman's diet. Some women find it difficult to tolerate meat during pregnancy. Thus, alternate protein options, such as oats, are a great solution.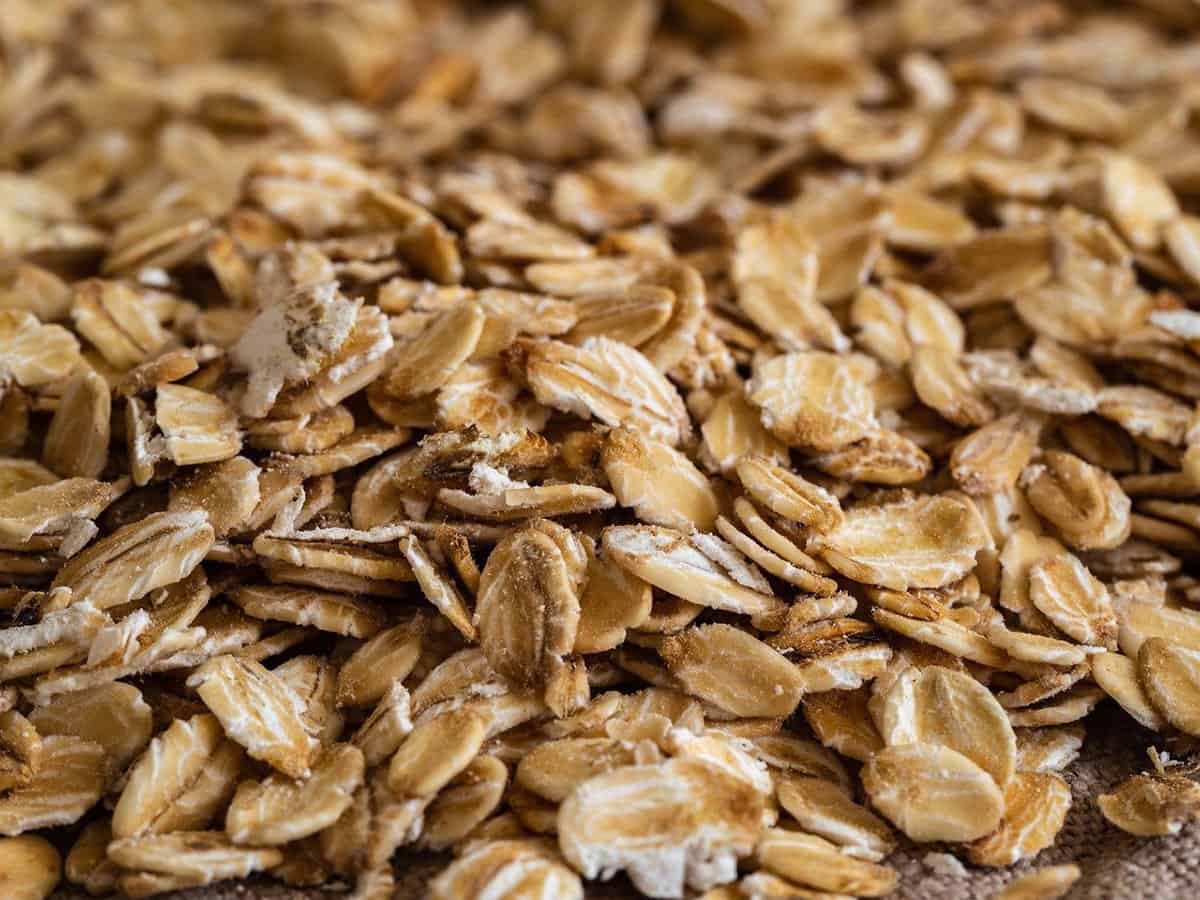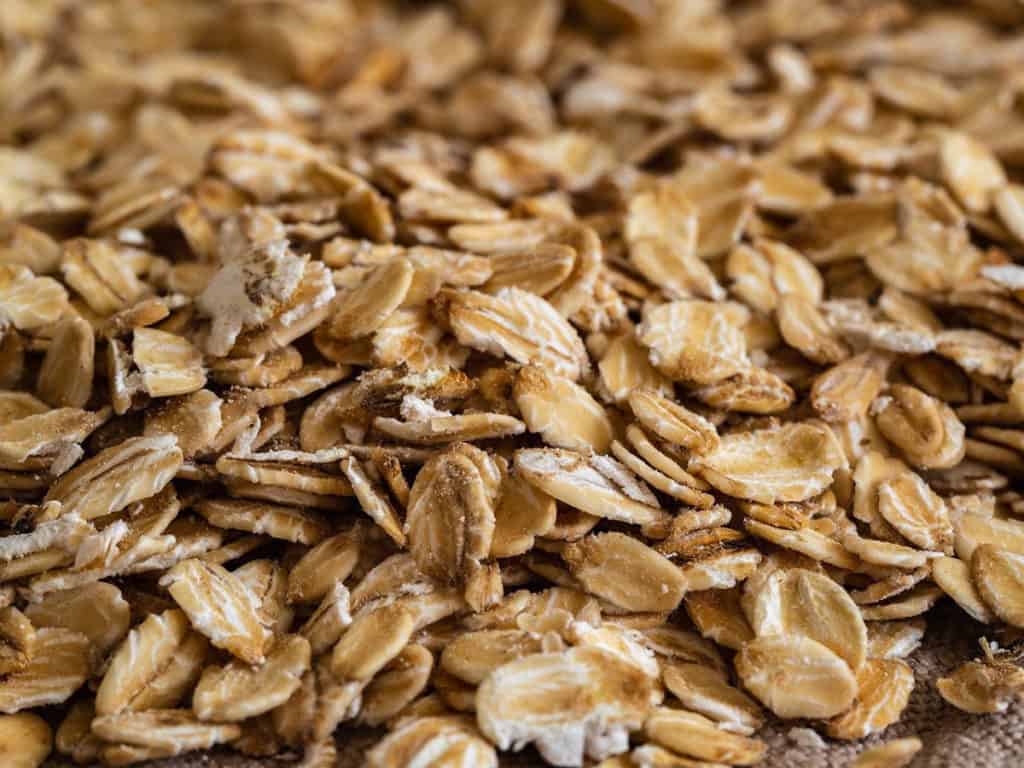 Gestational diabetes is a condition of high blood sugar (glucose) that starts during pregnancy. One study showed that adding oat bran to the standard diet for pregnant women with gestational diabetes for a two-week period reduced their fasting blood glucose! It would be important in this case not to over-dress the oatmeal with sweet additions (hold the chocolate chips and maple syrup!).
Frozen Fruits (Strawberries and Blackberries)
Blackberries are an excellent source of both folate and fiber. These fruits contain nutrient dense carbohydrates that also offer a considerable amount of vitamin C. One hundred grams of blackberries contains 21 mg of vitamin C. Importantly, vitamin C helps baby's bones, gums, teeth, and muscles to develop properly. Vitamin C also helps the pregnant mother to absorb iron more easily and keeps her immune system strong. It's recommended that adults, including pregnant women, reach daily intakes of at least 400 mg of vitamin C. Strawberries are also a great source of vitamin C.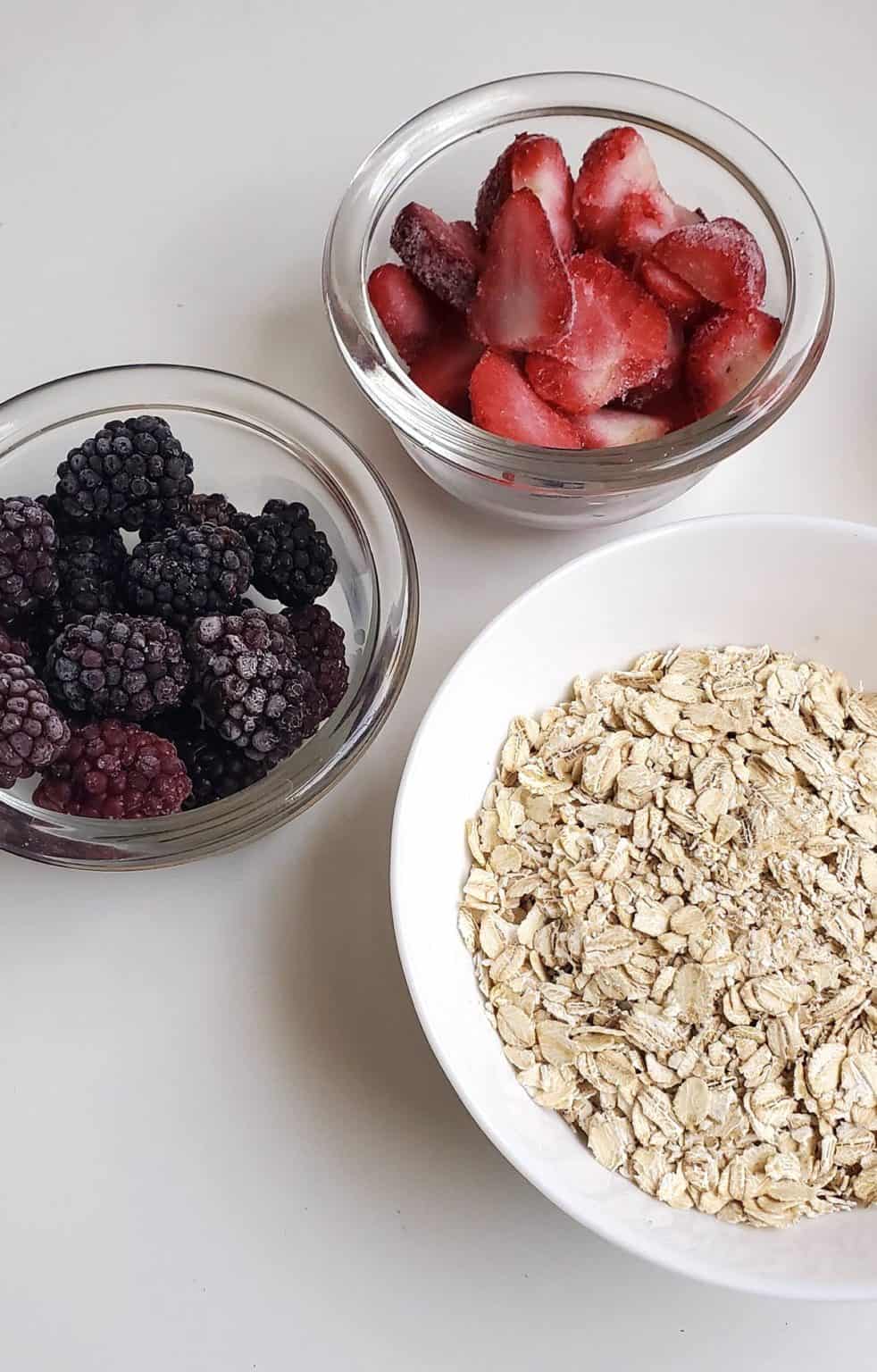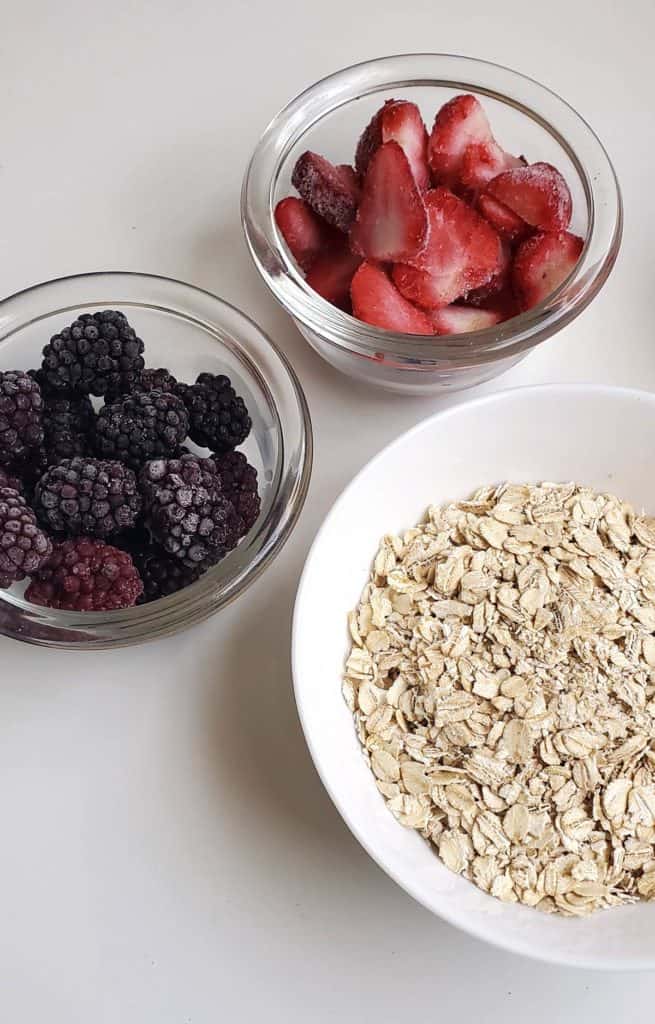 Dairy Milk
Pasteurized cow's milk is an excellent choice during pregnancy. In addition to possessing a variety of minerals such as calcium, milk is also a good source of vitamin D. Vitamin D keeps a woman's bones strong during pregnancy and helps strengthen baby's bones as they grow. Low vitamin D levels during pregnancy has been associated with an increased risk of adverse outcomes during pregnancy for both mother and the infant, including gestational diabetes and preeclampsia.
Milk is also an excellent dairy source of protein. If fat intake is a concern for you, choose a skim milk or 1 percent milk. Otherwise, whole milk is a fine choice. Some studies have shown that there may be a positive association between dairy milk consumption and fetal growth and infant birthweight in healthy, western populations.
Greek Yogurt
Pasteurized plain greek yogurt is a great dairy source of both protein and calcium. Compared to regular yogurt, plain greek yogurt is higher in protein. This delicious yogurt is an excellent food choice during pregnancy.
Ingredients to make frozen fruit overnight oats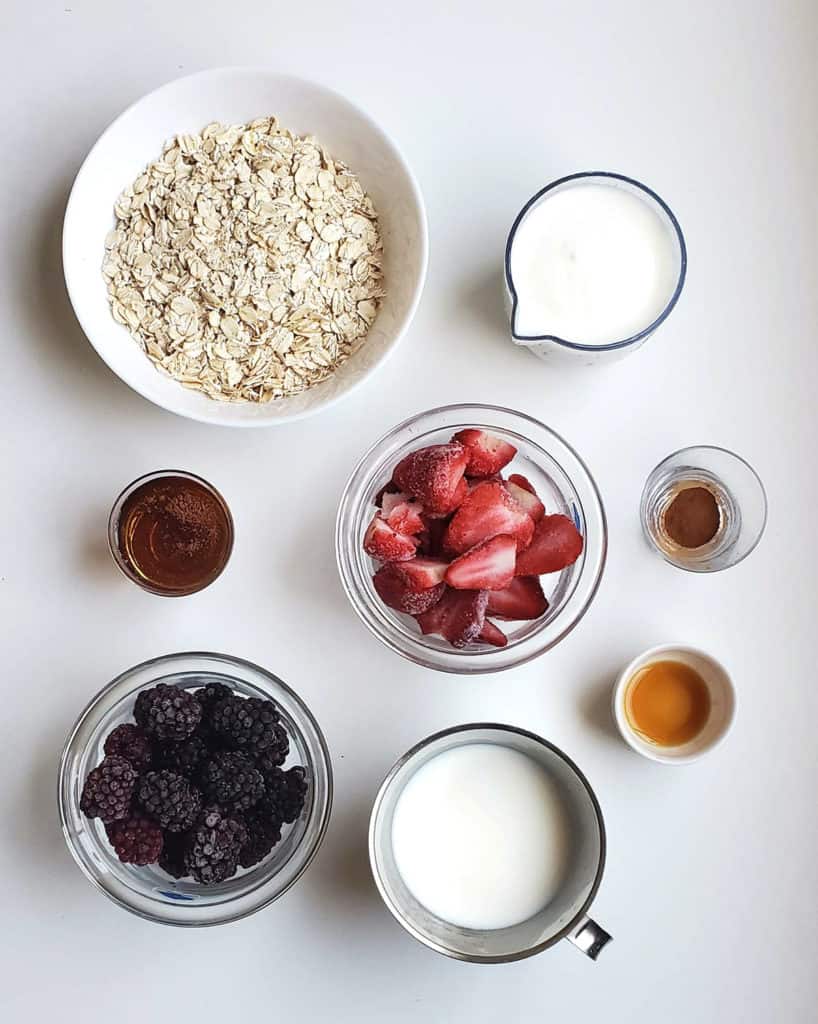 Old fashioned rolled oats – 1 cup (80 grams)
Reduced fat milk – ½ cup (1.2 dl)
Plain greek yogurt – ½ cup (1.2 dl)
Vanilla extract – 1 teaspoon
Maple syrup – 1 tablespoon
Cinnamon – ½ teaspoon
Frozen fruit – 1 cup (150 grams)
Recommended tools for making overnight oats with frozen fruit
Certainly not a essential, but I strongly recommend serving these overnight oats in personal-sized mason jars which add an element of convenience and portability.
Instructions on how to make overnight oats with frozen fruit
Step 1: First, combine the ingredients
To make these easy overnight oats, start by pouring the rolled oats into a large mixing bowl. To the oats, add the milk, plain greek yogurt, vanilla extract, maple syrup, and cinnamon.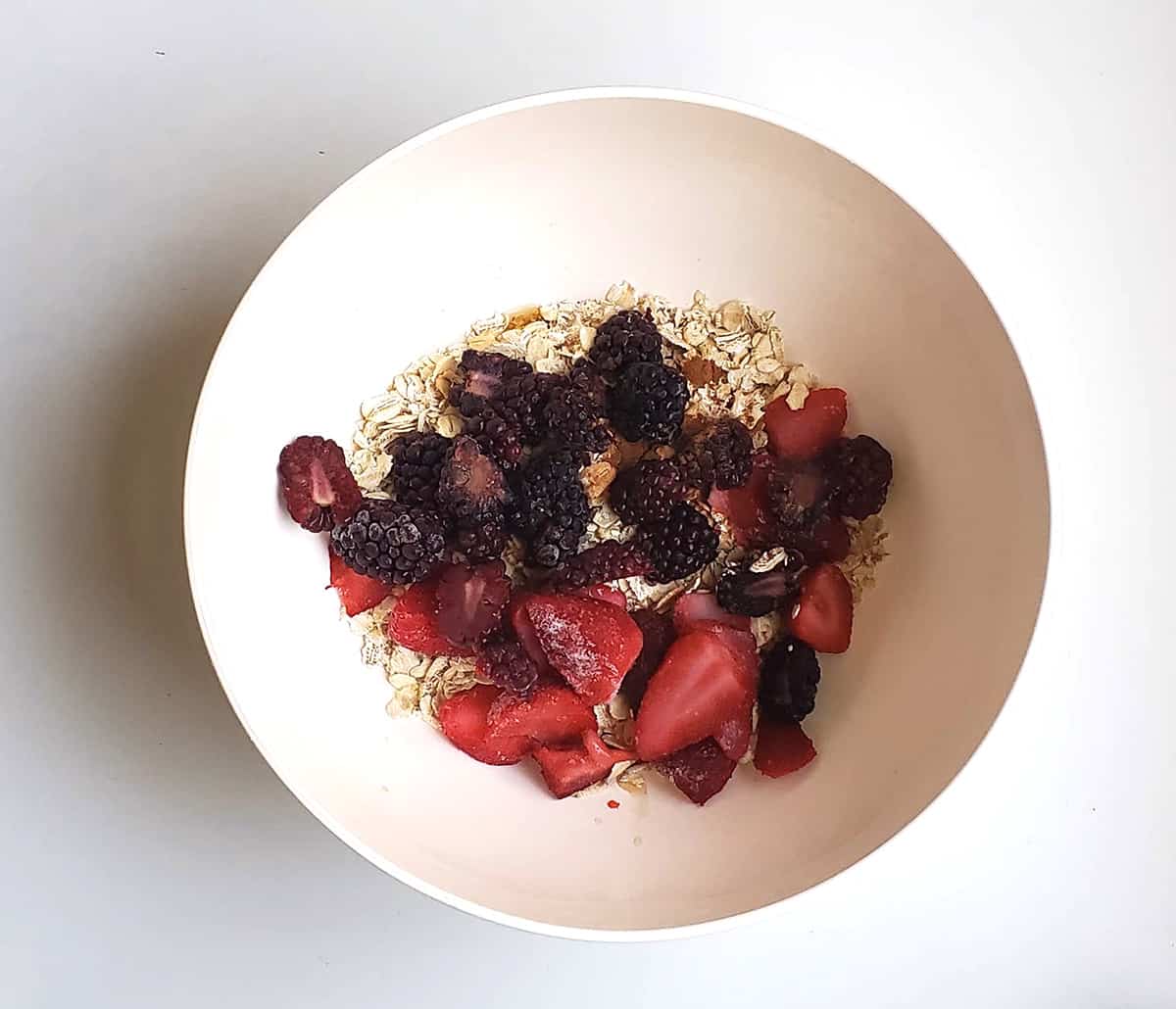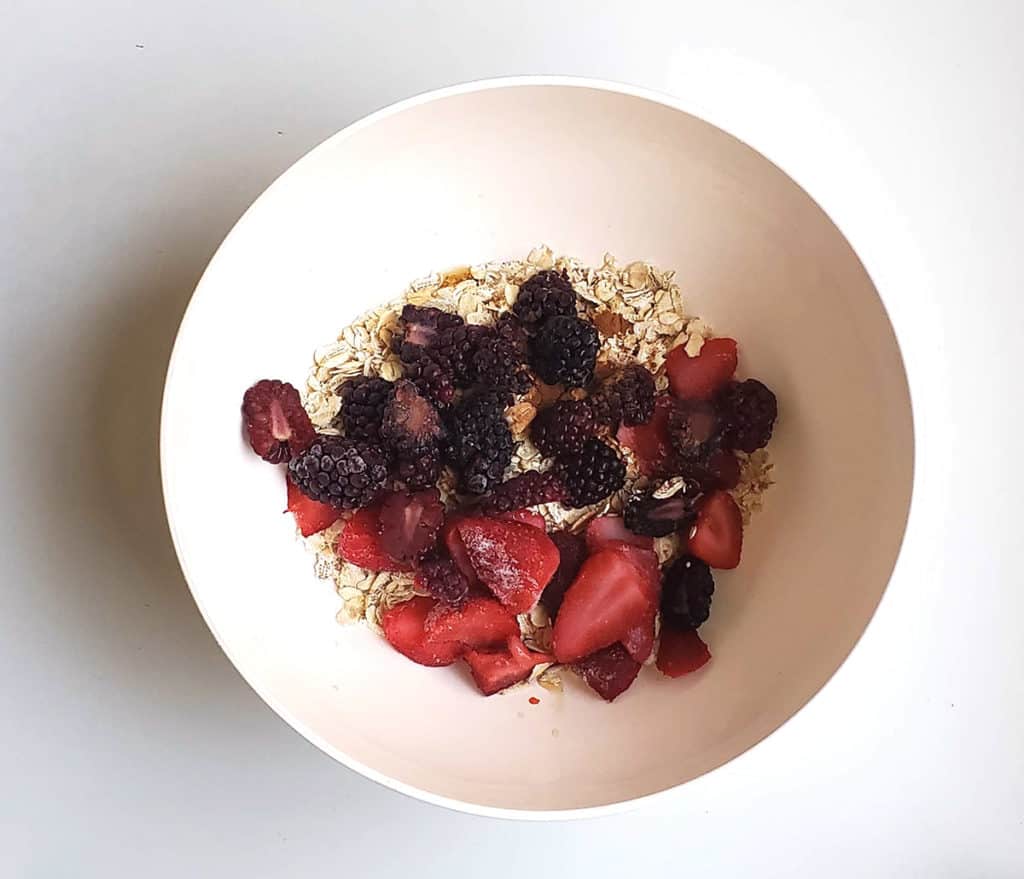 Step 2: Then, mix the ingredients thoroughly
Using a mixing spoon or a whisk, gently stir the ingredients until they are thoroughly combined. You will see a batter-like consistency.
Step 3: Add in the frozen fruits
Gently scatter in one cup frozen fruits. Again, gently whisk or stir until the fruits are well incorporated.
Step 4: Set the overnight oats in the fridge
Decant the berry overnight oats into two personal sized mason jars. Cover and place in the fridge. Allow to sit overnight.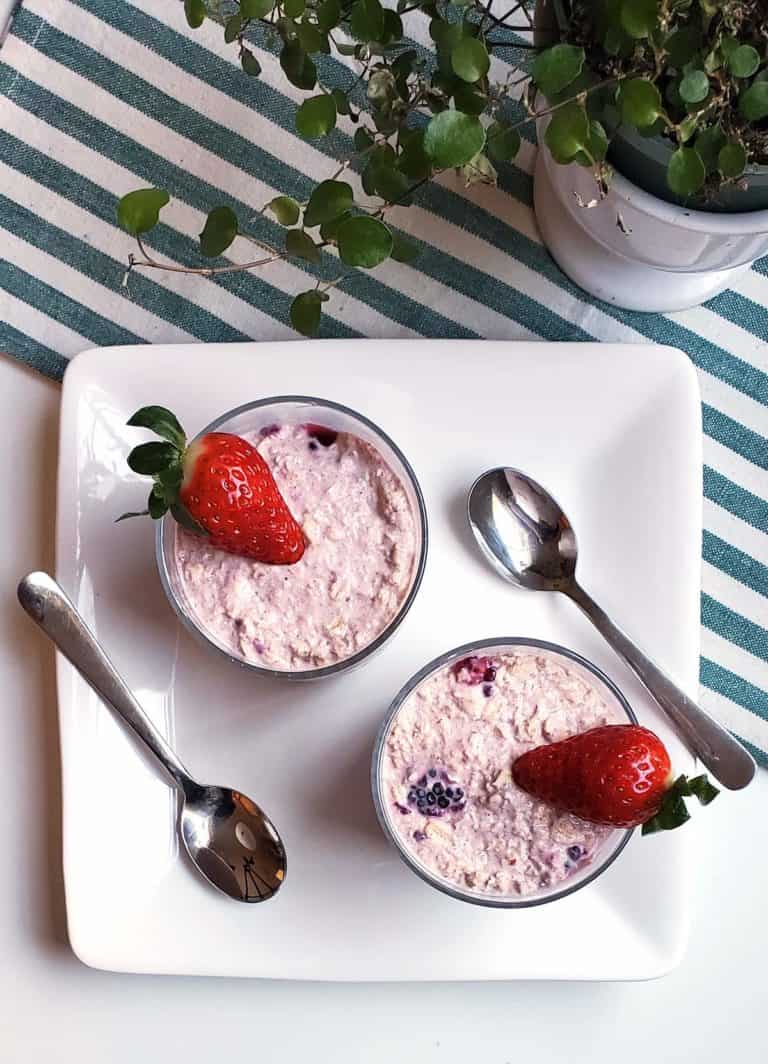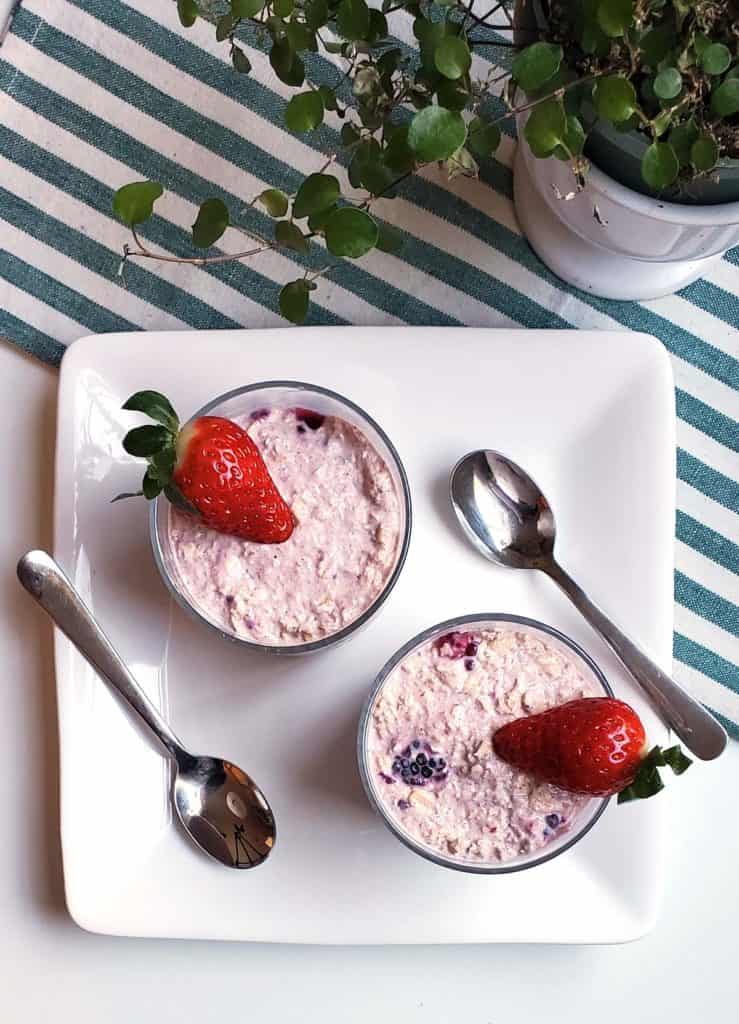 Step 5: Serve and enjoy!
Serve these frozen berry overnight oats the very next day, with additional fresh berries as a topping. You can also top them with another spoonful of yogurt or a splash of milk. So totally delicious!
How to serve overnight oats with frozen fruit
Frozen fruit overnight oats are delicious on their own, but are especially good served with:
Recipe Variations
Some ideas on variations of this overnight oats recipe include the following:
Try switching up the fruit. A vast variety of frozen fruits are usually available in the supermarket. Instead of frozen strawberries and blackberries, why not try frozen blueberries or kiwi?
Swap the berries out for tropical frozen fruit: try sliced frozen mango and frozen pineapple chunks with a tablespoon of dried coconut.
Add in some nuts for crunch: crushed hazelnuts, toasted almonds, a handful of walnuts or pecans; these would be delicious!
Stir in a spoonful of crunchy peanut butter for a nutty twist.
Replace the dairy milk with almond milk or oat milk if you're trying to go dairy free.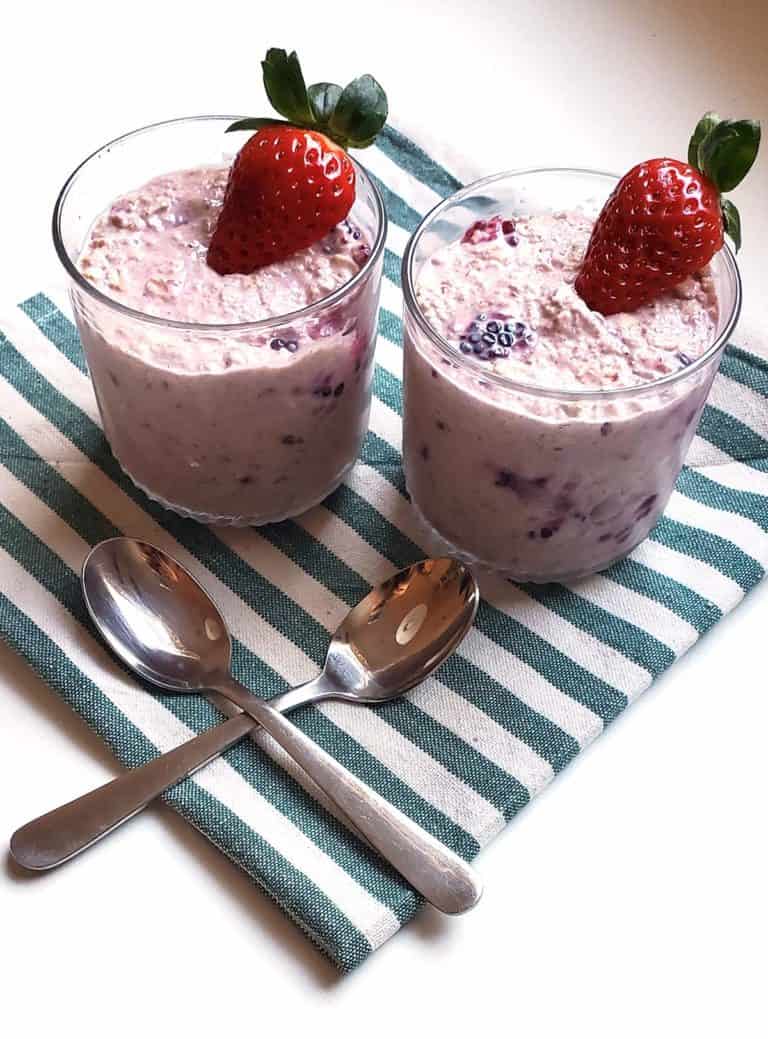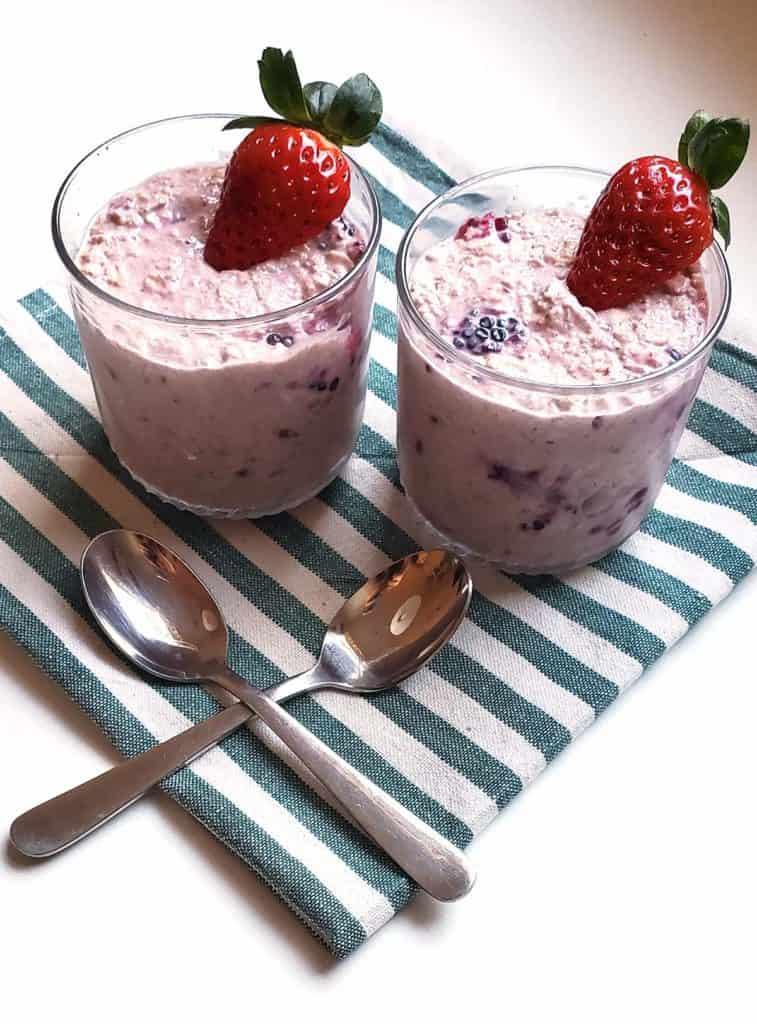 Make ahead and storage of overnight oats with frozen fruit
Refrigerator:
Frozen fruit overnight oats can be stored in the fridge, covered in an airtight container, for up to four days.
Freezer:
I don't recommend freezing frozen fruit overnight oats.
Frequently asked questions about overnight oats (frozen fruit) (FAQ)
What can I add to this overnight oats recipe for more protein?
There are simple ways to augment the protein content of these frozen fruit overnight oats. One way is to top the oats with additional protein-containing foods. Some examples include chopped nuts, such as almonds, walnuts, or pecans. One of the easiest ways to add additional protein is to stir in a spoonful of nut butter, such as peanut butter. A spoonful of crunchy peanut butter or almond butter would be a totally delicious protein addition.
Another option is to splash in some extra milk (protein!) into your overnight oats in the morning for a nut free protein addition. This will also give the overnight oats a thinner consistency. As far as protein powder is concerned, I personally did not use any protein powder during my pregnancies. Please consult with your medical professional about the use of protein powder during pregnancy.
Can I use steel cut oats or should I use old-fashioned rolled oats?
I have come across recipes that use steel cut oats but I definitely prefer using old fashioned (rolled) oats in this recipe. If you use steel cut oats, the texture will be chewier. Using old-fashioned oats yields a far creamier result. Old-fashioned, rolled oats gets its moniker from the heavy metal rollers that press the oats flat, into a miniature pancake shapes. The grain is literally rolled between two metal rollers. Steel cut oats on the other hand are whole oat groats that have been chopped into tiny pieces using a steel blade. Because steel cut oats are thicker, they take longer to cook and often retain their chewy, thick texture.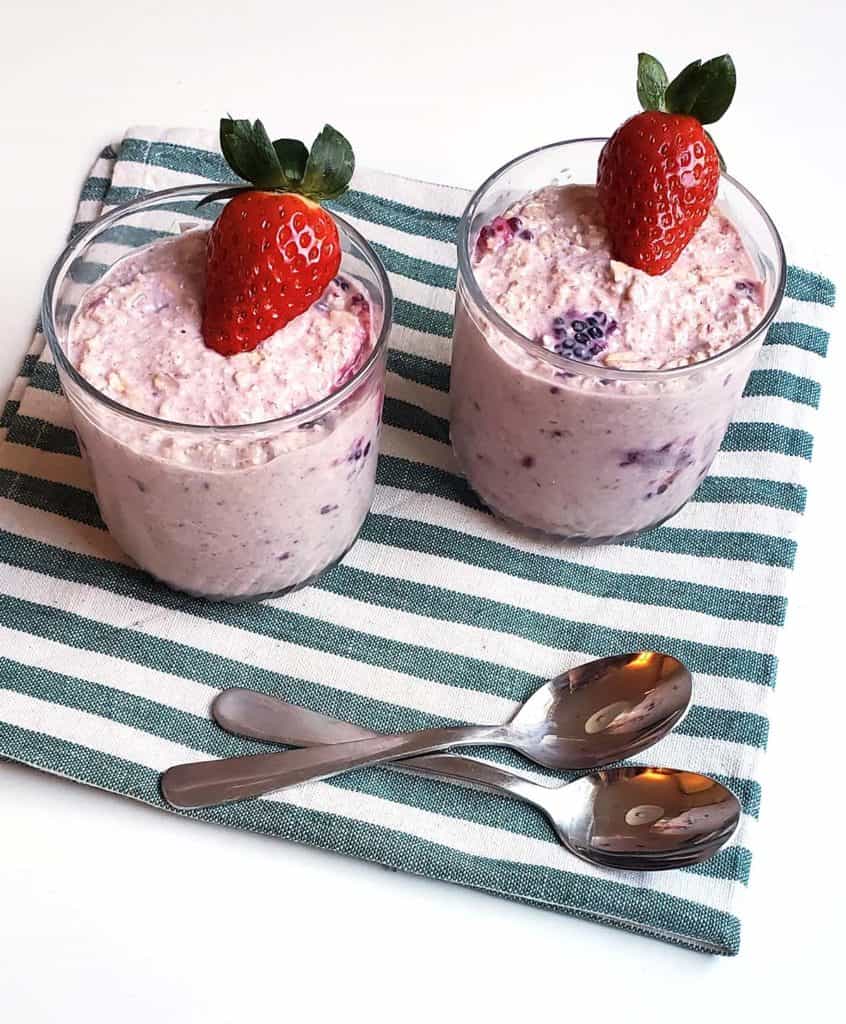 Can I eat frozen fruit overnight oats every day?
I'm a big proponent of variety being essential in personal nutrition. You should not eat the same foods every single day. Variety is the hallmark of good nutrition. Maintaining variety in diet makes it unlikely that you would neglect a certain food on a recurring basis and thus deprive your body of a necessary nutrient.
Are these overnight oats gluten free?
To ensure gluten free overnight oats, confirm on the oat product packaging that the product is certified gluten free by the manufacturer. Although oats are indeed a naturally gluten-free grain, the processing of oats usually occurs on the same equipment that is used to process wheat. Thus, the oats can often come into contact with wheat and become contaminated with gluten in this way.
You'll Also Love These Related Pregnancy Breakfast Recipes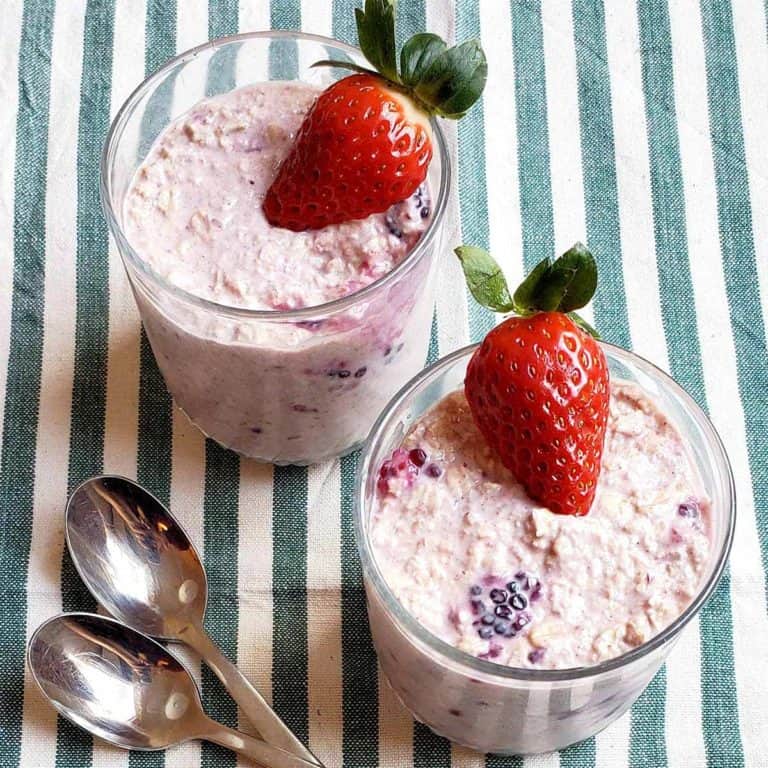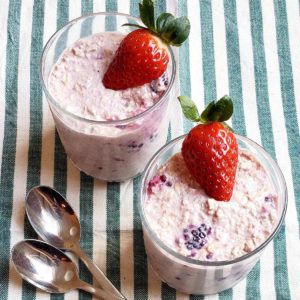 Overnight Oats with Frozen Fruit
Author:
Easy overnight oats with frozen fruit are a super creamy, sweet, and nutritious superfood breakfast recipe!
Ingredients
1

cup

old fashioned rolled oats

0.5

cup

skim milk

0.5

cup

plain greek yogurt

1

tbsp

maple syrup

0.5

tsp

vanilla extract

0.5

tsp

cinnamon

1

cup

mixed frozen fruits
Instructions
Pour the rolled oats into a large mixing bowl and add the milk, plain greek yogurt, vanilla extract, maple syrup, and cinnamon.

Using a mixing spoon or a whisk, gently stir the ingredients until they are thoroughly combined into a batter.

Gently drop in one cup of frozen fruits and whisk or stir until the fruits are well incorporated.

Use a spoon to decant the oat batter into two personal-sized mason jars. Cover the jars and place in the fridge. Allow to sit overnight.

Serve these delicious frozen fruit overnight oats the very next day, with additional fresh berries as a topping.
Notes
*Nutritional information is calculated using online tools and is provided as a courtesy. The values can vary depending on which ingredients and brands are used.
Nutrition*
Calories:
275
kcal
Carbohydrates:
49
g
Protein:
13
g
Fat:
3
g
Saturated Fat:
1
g
Polyunsaturated Fat:
1
g
Monounsaturated Fat:
1
g
Trans Fat:
1
g
Cholesterol:
4
mg
Sodium:
47
mg
Potassium:
387
mg
Fiber:
6
g
Sugar:
18
g
Vitamin A:
164
IU
Vitamin C:
2
mg
Calcium:
180
mg
Iron:
2
mg