When you're craving a protein-packed and savory dinner, spicy adobo chicken is the perfect meal for you and your family! Besides being utterly delicious, this spicy adobo recipe is so easy, quick, and inexpensive to make.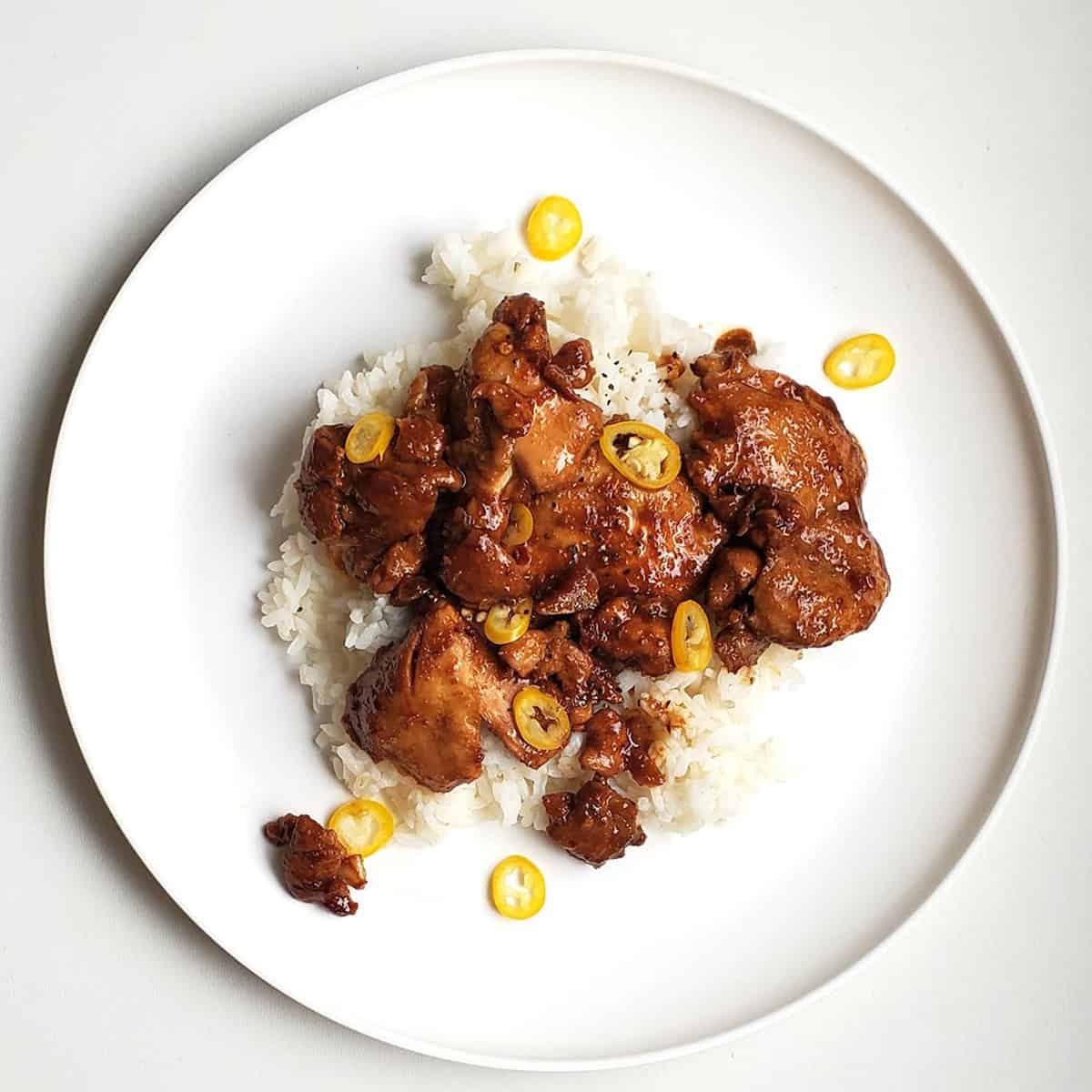 Why You'll Love This Recipe!
You will really enjoy the spicy, briny sauce that coats every bite of these boneless chicken thighs. The adobo sauce flavors are at once garlicky, tangy, and savory. Spicy adobo chicken pairs perfectly with a bowl of fluffy white rice and a fresh vegetable.
The spiciness in this spicy chicken adobo comes from the dried crushed red chili pepper seasoning as well as the spicy fresh chili peppers that are generously sprinkled on top after the chicken is done cooking. If this preparation is too spicy for your kiddos, then feel free to omit the spicy peppers.
What is Spicy Adobo Chicken?
The term adobo actually comes from the Spanish word "adobar" which means "marinade." The adobo marinade is salty and spicy. Adobo is a staple in Filipino food culture. In fact, many consider pork adobo to be the national recipe of the Philippines. In Philippine adobo, the marinade ingredients will include soy sauce, vinegar, plus the adobo seasoning. Before refrigeration became widespread, using a marinade such as adobo would have also had the benefit of preserving the meat. This is because the acidity from the vinegar coupled with the saltiness of the soy sauce keeps bacterial growth at bay.
Typically, pork adobo recipes are more common, but I prefer to use chicken to prepare this spicy adobo recipe. Filipino adobo recipes which use chicken instead of pork are called adobong manok.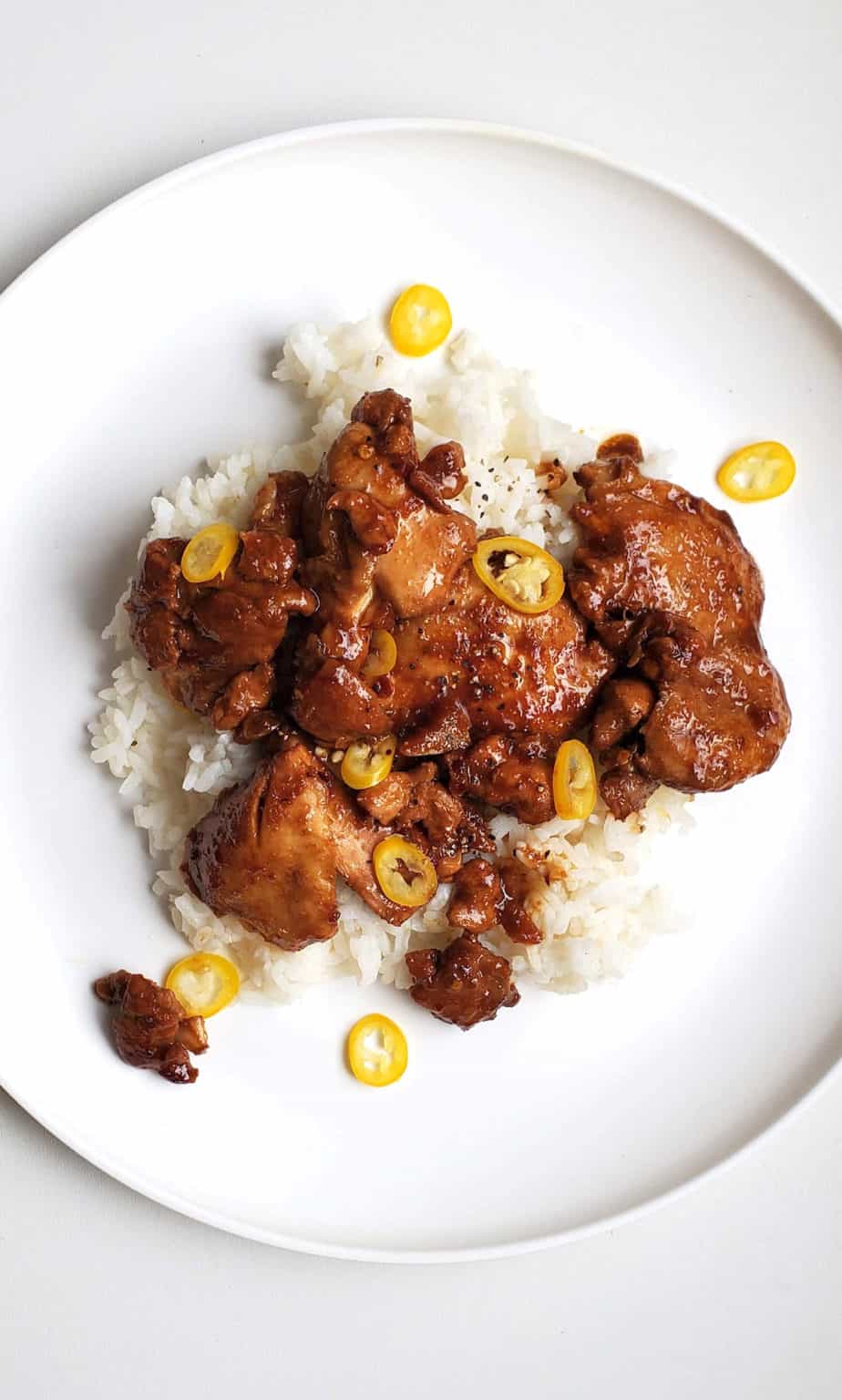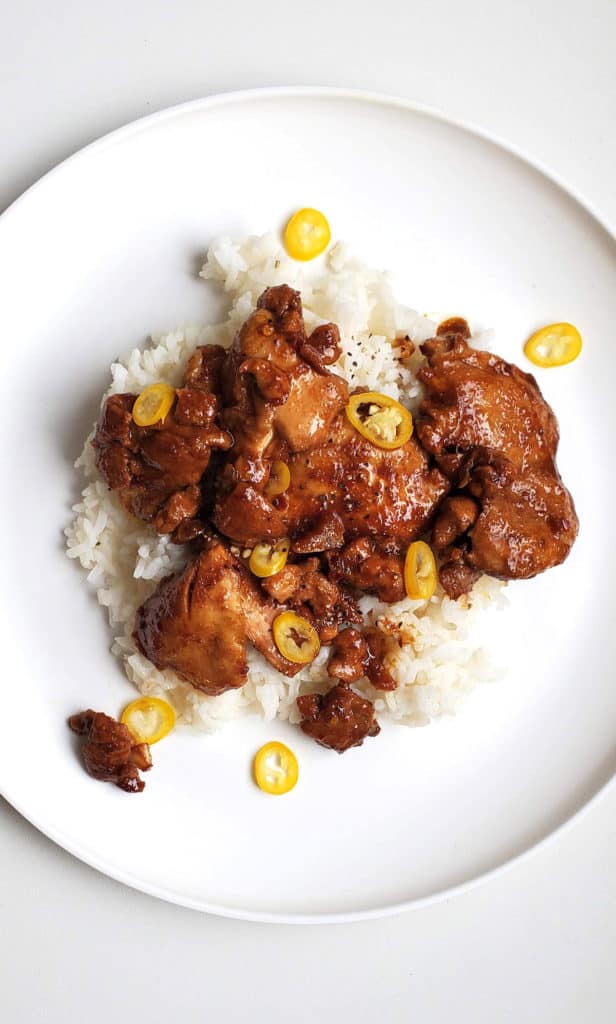 But maybe you're more familiar with cans of "chipotles in adobo" commonly found in the taco section or Mexican section of your grocery store? The Mexican version of adobo is actually different from the Filipino food because unlike the latter, Mexican adobo does not use soy sauce. Instead, it relies on blended tomatoes combined with vinegar to stew and preserve those spicy canned chipotle peppers.
Is Spicy Adobo Chicken Healthy For You?
Yes, Spicy Adobo Chicken can be part of healthy pregnancy diet! If you're seeking an easy pregnancy dinner, then why not give this protein-filled recipe a try? Let's take a closer look at the nutritional highlights of the main ingredient used in this pregnancy recipe: chicken!
Chicken
Poultry meat such as chicken has a favorable nutritional profile in general, because it offers protein as well as vitamins, minerals, and a low fat content.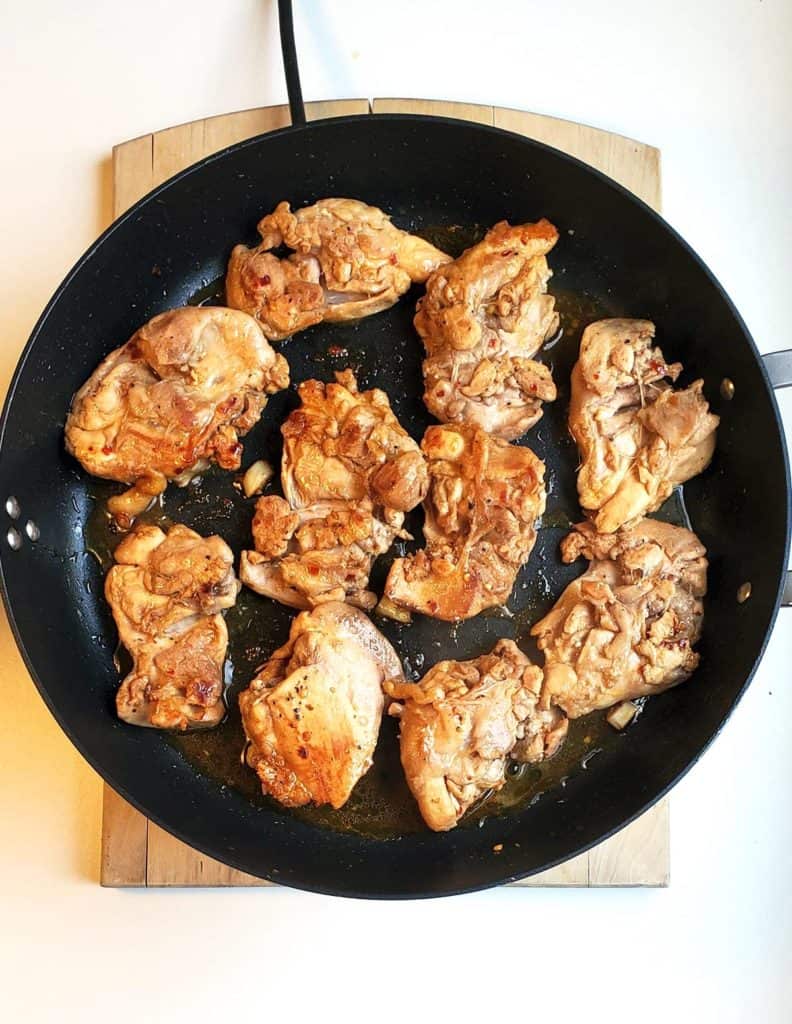 Protein is a key part of every diet. During pregnancy, protein promotes the growth of fetal tissues, including baby's brain. This nutrient also supports the increasing blood supply of the pregnant woman. This expansion of blood volume and growth of the maternal tissues requires substantial amounts of protein.
One hundred grams of chicken thigh meat offers nearly 25g of protein and 8g of fat. An even more nutritionally valuable option would be chicken breast meat, because 100g of chicken breast offers nearly 31g of protein and only 4g of fat. It cannot be overstated that adequate dietary protein is crucial during pregnancy to ensure a healthy outcome.
In addition to being an excellent source of animal protein, chicken meat also offers the benefits of niacin, selenium, and phosphorous. Although deficiency of phosphorus is rare, this mineral is necessary for building strong bones in your developing baby. However, the recommended amount of phosphorus intake during pregnancy similar to that of non-pregnant women.
Key Ingredients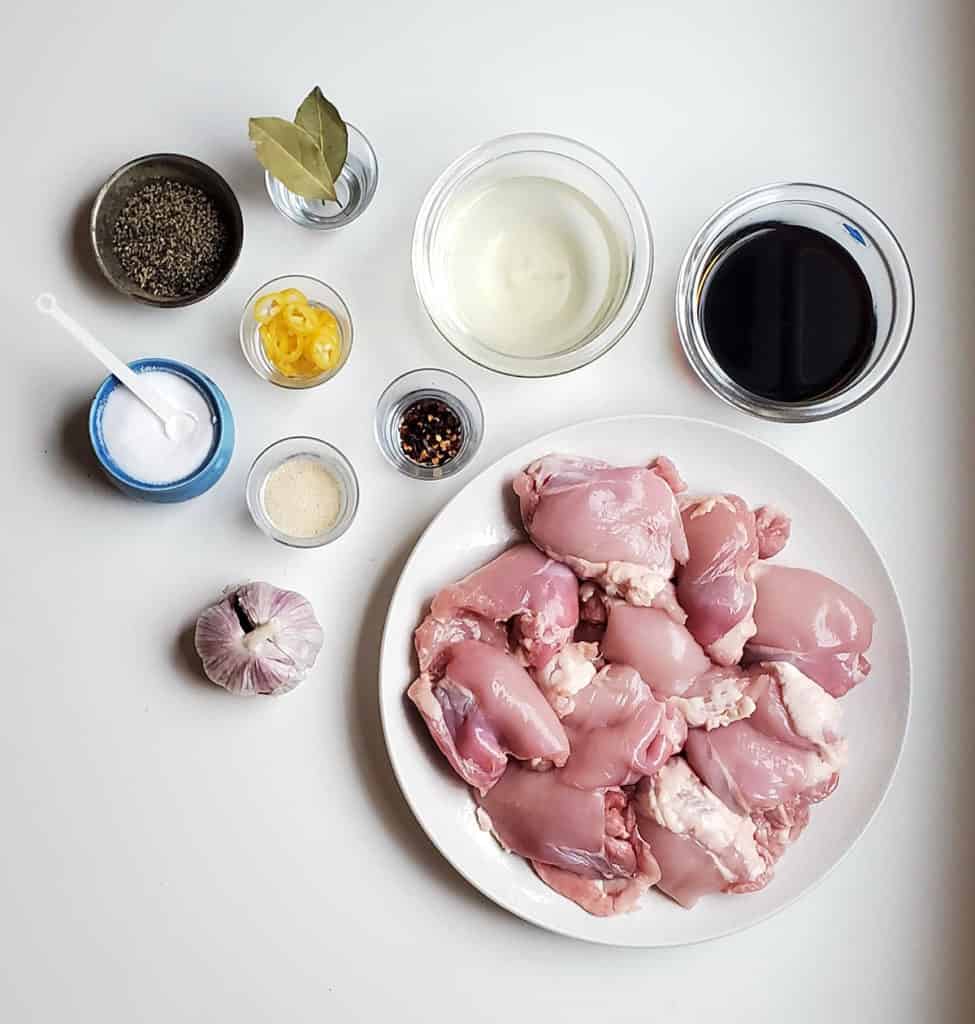 6 chicken thighs or wings (700g)
1 tablespoon sliced red or yellow chilies
1 tablespoon extra-virgin olive oil
1.5 cups water (3.5 dl)
Marinade Seasonings:
½ cup soy sauce (1.2 dl)
½ cup white vinegar (1.2 dl)
2 bay leaves
5 cloves garlic, minced
1 teaspoon freshly ground black pepper
1 tablespoon crushed red chili pepper flakes
Tools Needed to Make Spicy Adobo Chicken
Garlic Press – This garlic press is unique because you can either smash the garlic or slice the garlic with one easy squeeze!
Large Covered Skillet – This hammered copper skillet is not only functional but equally beautiful to look at.
Silicone Tongs – This set of three is highly rated and costs less than $10! Plus those colors!
Instructions on How to Make Spicy Adobo Chicken
Step 1: Prepare Marinade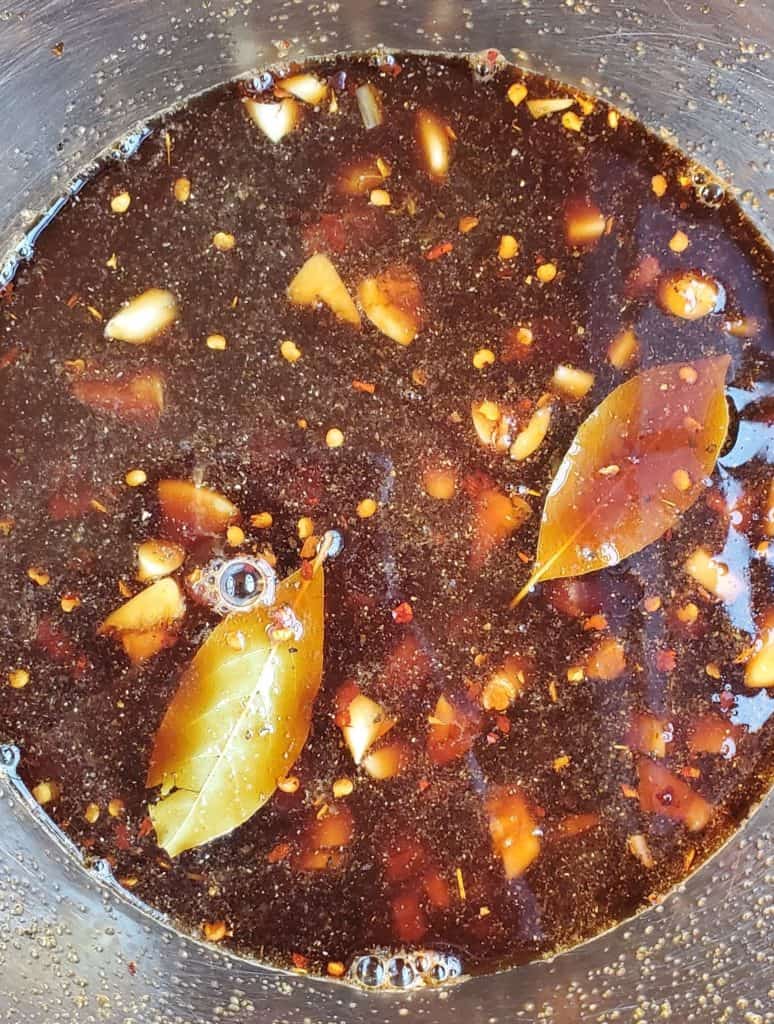 Into a large bowl (or sealable, disposable Ziploc bag), first combine the marinade ingredients: ½ cup soy sauce, ½ cup vinegar, bay leaves, minced garlic cloves, freshly ground black pepper, and crushed red pepper flakes. Stir until well combined.
Step 2: Marinate the Chicken
Next, add the chicken pieces to the marinade and tamp down, ensuring that the chicken is fully covered by the marinade. Allow chicken to marinate, covered, in the fridge, for 5 hours up to overnight. After the marinating time has passed, use tongs to extract the chicken from the marinade and pat dry, using paper towels on a plate. Reserve leftover marinade.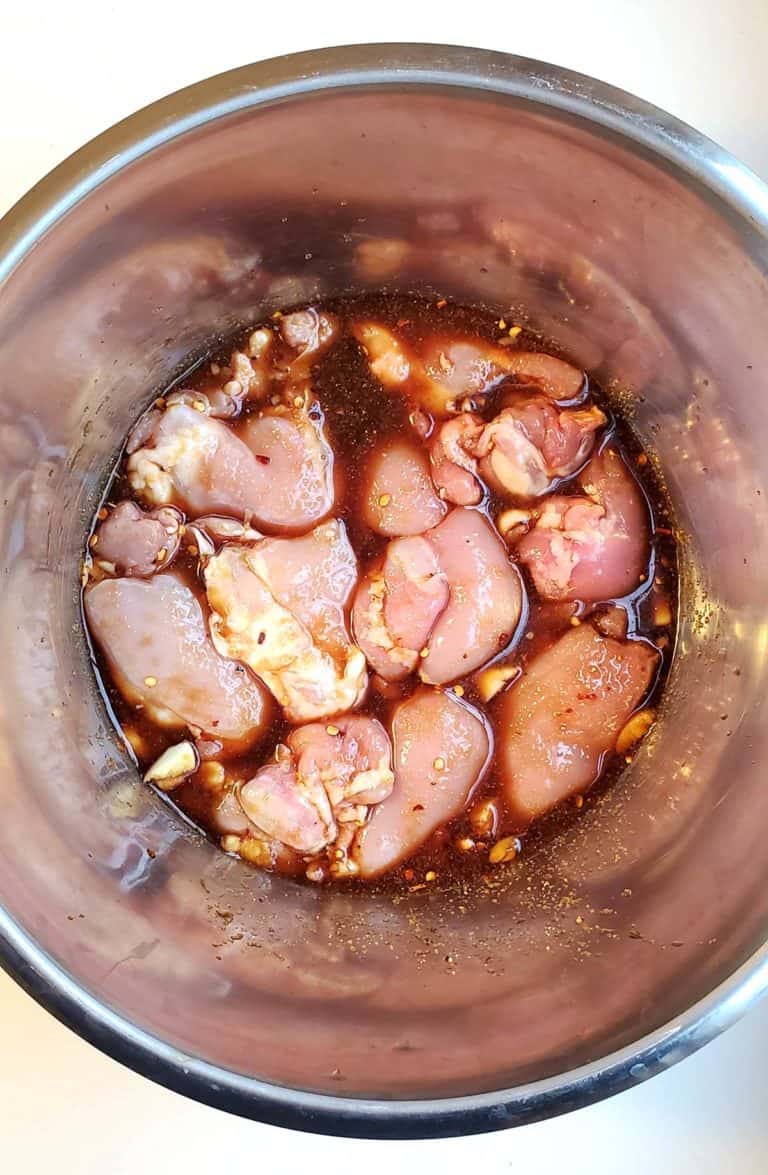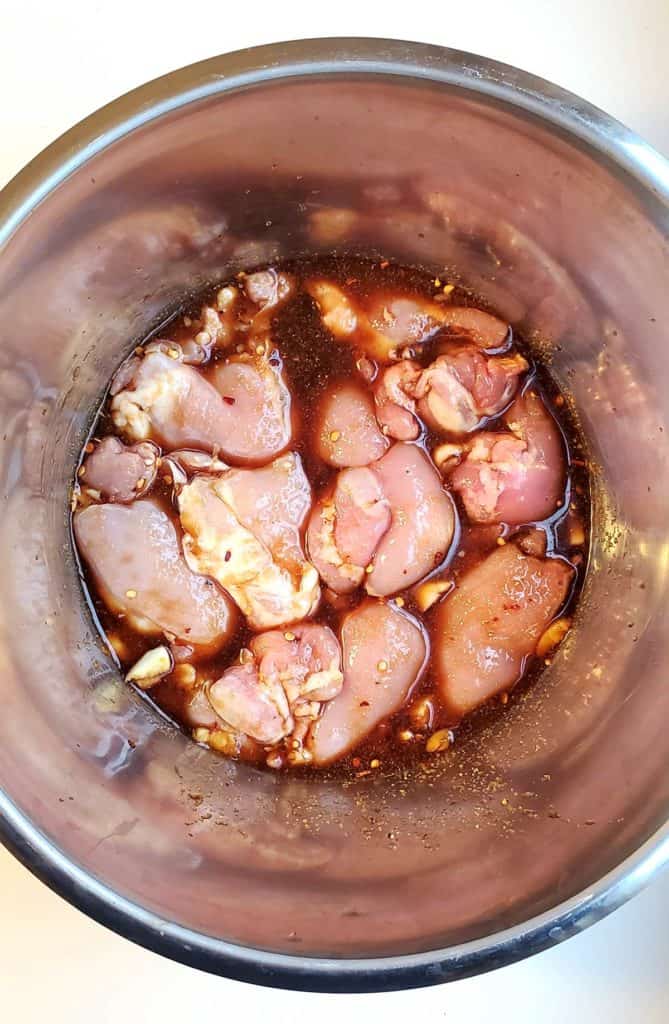 Step 3: Cook Chicken
Over medium heat, warm the cooking oil in a large skillet. Add the chicken and cook for 5 minutes on each side. Carefully drain out any excess oil from the pan.
Step 4: Add Reserved Marinade to Pan
Pour the reserved marinade into the pan and add the water. Reduce stovetop to low heat and cover the pan. Allow to simmer for 15 minutes, covered. After 15 minutes, remove the cover, flip over the chicken, and allow to simmer for 15 additional minutes, uncovered. The sauce should reduce and thicken.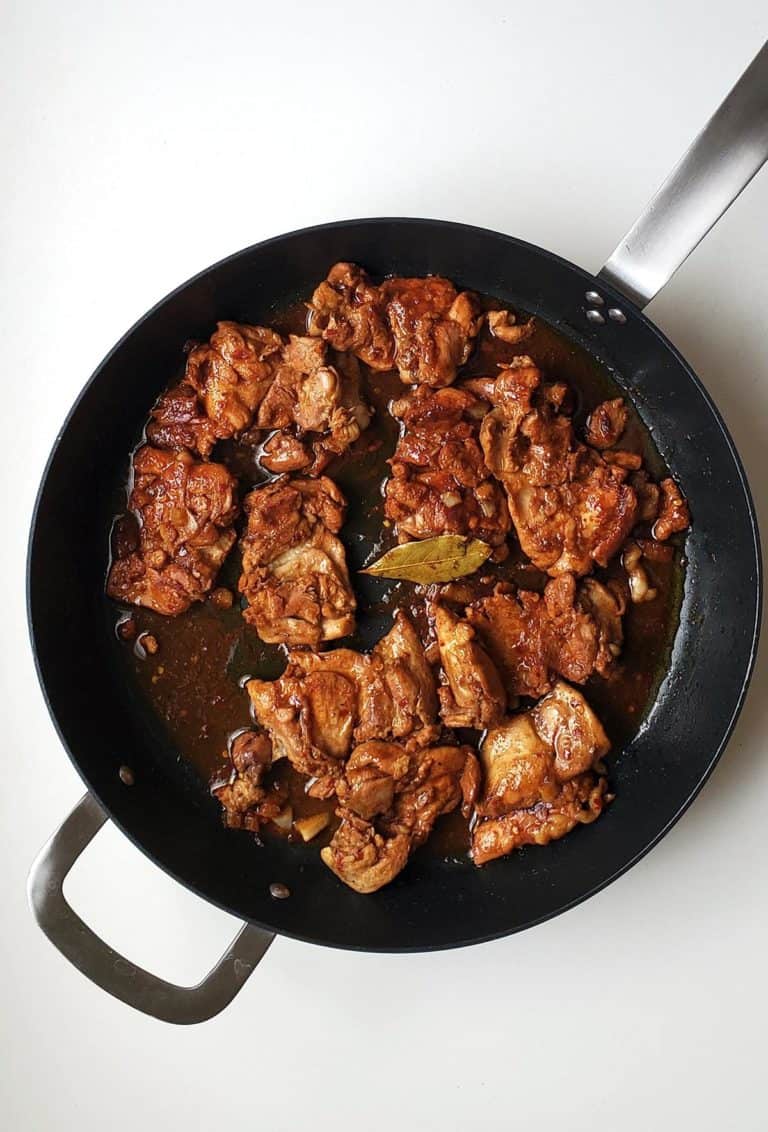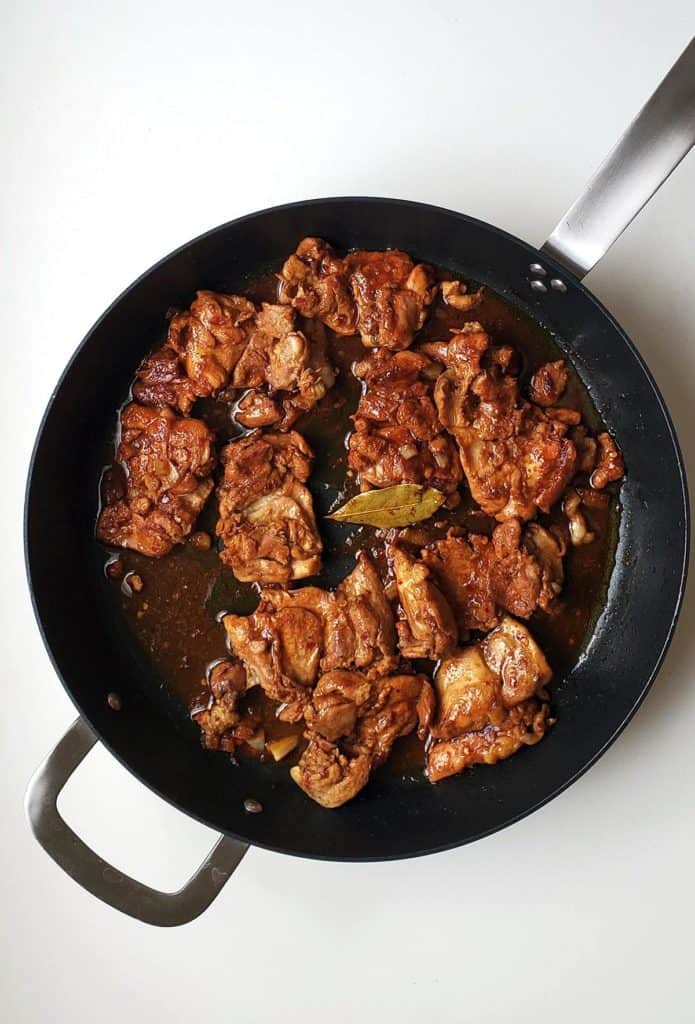 Step 5: Serve and Enjoy!
Serve spicy adobo chicken over hot white rice with extra sauce spooned on top, and sprinkle with chili peppers and scallions.
What is Chicken Adobo Served With?
Spicy Adobo Chicken is so delicious on its own, but is especially good with the following foods:
Simple salad of sliced tomato and white onion.
Sliced cucumbers in vinegar with a sprinkle of brown sugar.
Cherry tomatoes with strips of basil.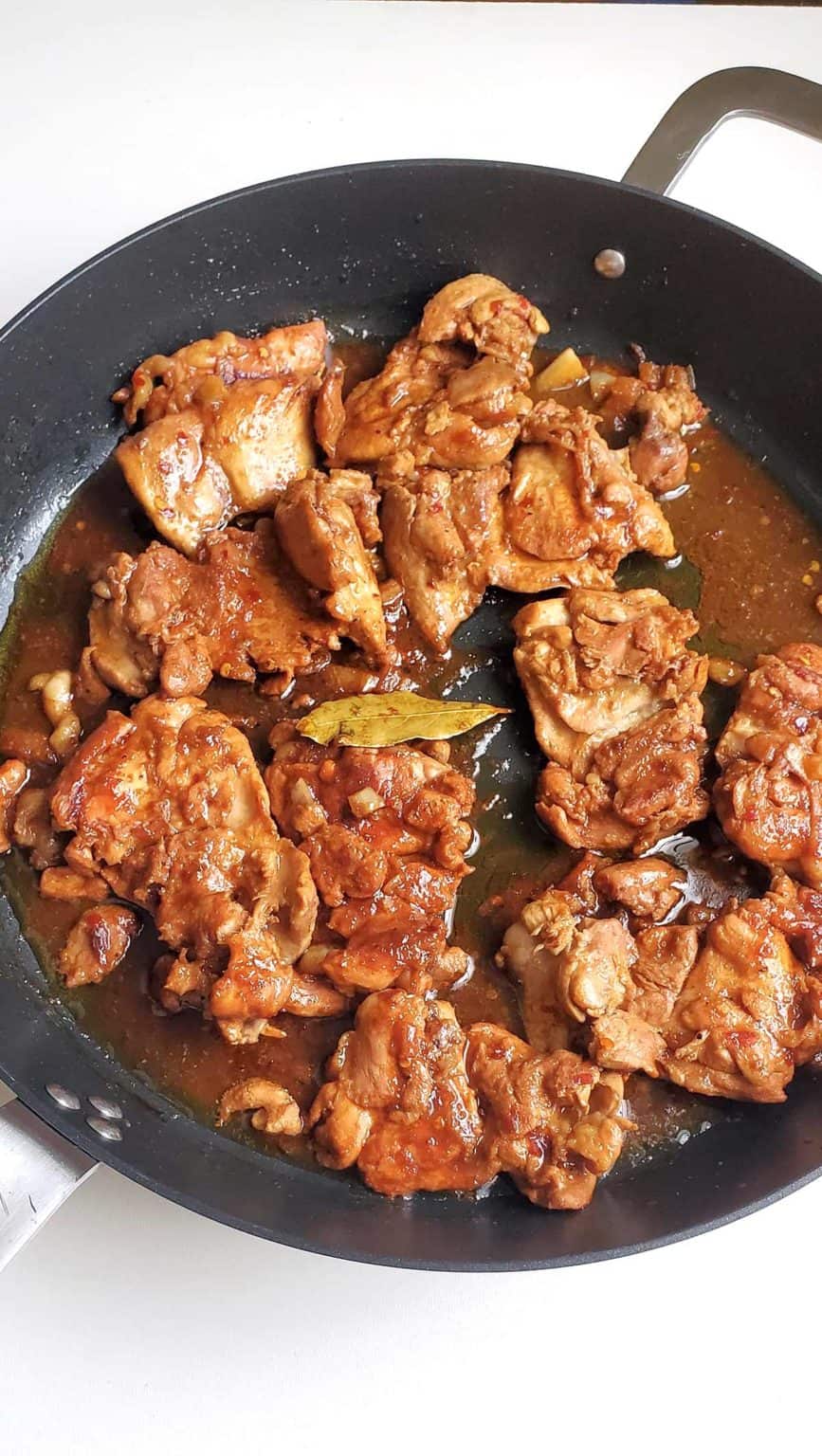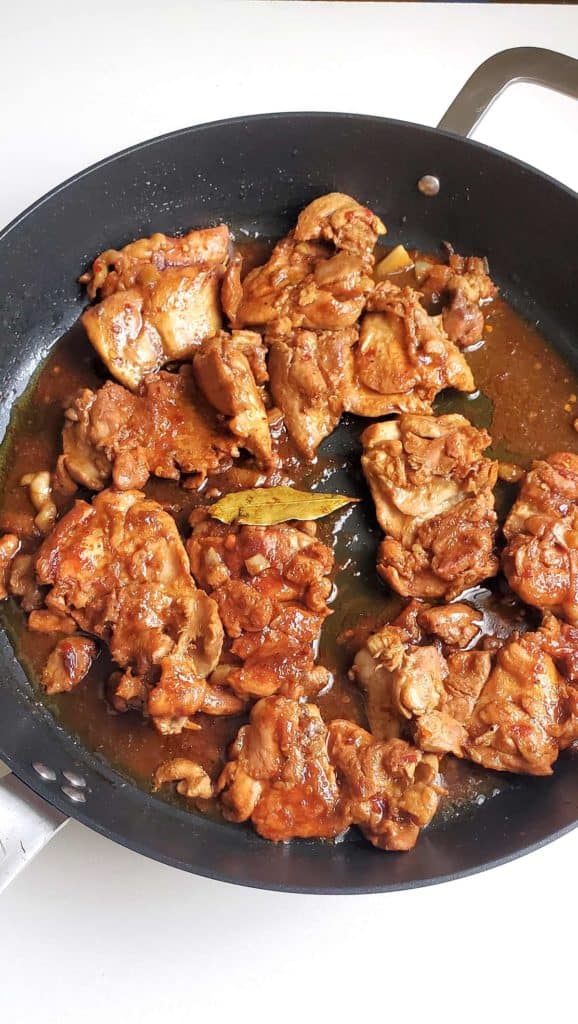 Recipe Variations
Some ideas on variations include:
Food Additions:
Add some drained, canned pineapple for a sweet and spicy adobo chicken with pineapple.
Sprinkle in some sliced onions, either while sautéing the chicken, or as a raw topping afterwards.
For a creamy twist, stir in a couple of tablespoons of coconut milk after the chicken is done simmering.
Add a cup of diced, cooked, white potatoes for some additional texture and starch.
If you want this spicy adobo chicken even spicier, stir in an extra tablespoon of crushed red chili pepper seasoning into the pan at the same time that you add the reserved marinade.
Food Replacements
Instead of chicken, use a seafood, such as fish! A firm, white fish like halibut would certainly do the trick.
For higher protein content, replace the dark meat chicken thighs with white meat chicken (breast).
If you care not for chicken, why not try beef? Again, simply replace the chicken with thinly sliced beef in the same quantity.
You can even replace the chicken with tofu if you're vegetarian.
Finally, if you want to make traditional Filipino pork adobo, simply replace the chicken with pork to create a spicy pork adobo recipe. Pork, including pork belly, is a traditional ingredient used in Filipino food.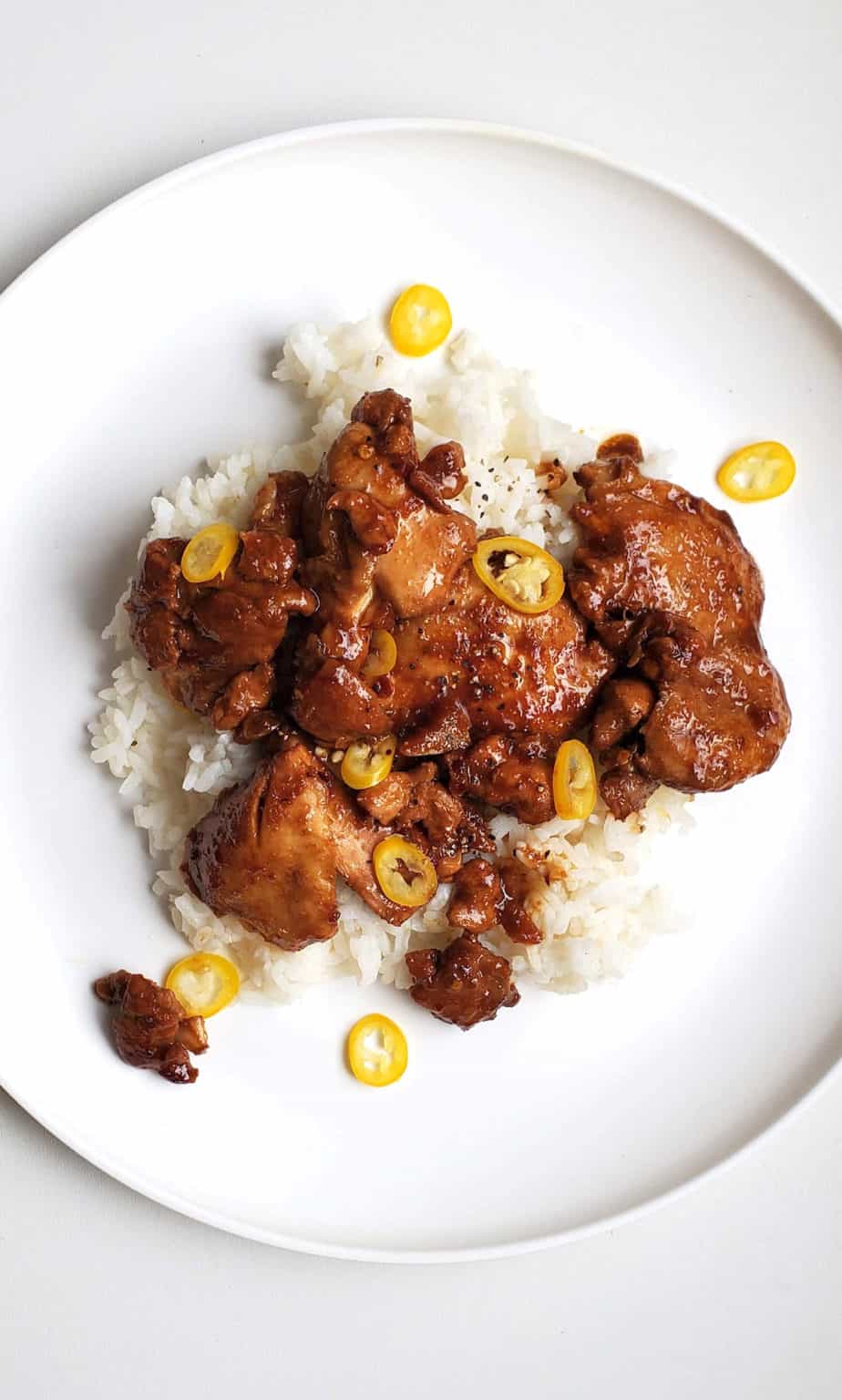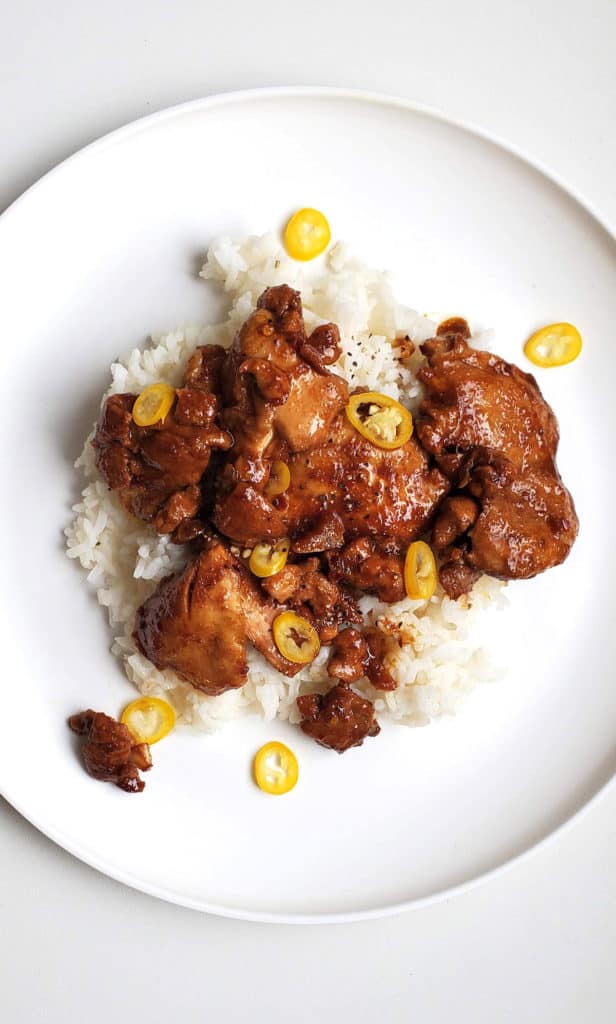 Make Ahead and Storage
Can you refrigerate spicy adobo chicken?
Yes, once the spicy adobo chicken has cooled down to room temperature, you can store it in the fridge in an airtight container for up to 5 days.
To reheat, microwave your portion for 30 seconds to one minute in a microwave safe dish, until hot.
Can you freeze spicy adobo chicken?
Yes, once the spicy adobo chicken has cooled down to room temperature, you can then transfer the chicken and sauce into an airtight, freezer-safe container and store it in the freezer for up to three months.
To reheat, allow the chicken to thaw in the fridge first before reheating the contents in a small pot. Add a bit of water to thin the spicy adobo sauce, if necessary.
Frequently Asked Questions About Spicy Adobo Chicken (FAQ)
Is chicken adobo really spicy?
Spicy adobo chicken can be as mild or as spicy as you want it to be. Because I am personally a chili-head, I add extra crushed red chili pepper flakes to my own plate. This adds additional heat beyond the fresh chili peppers that are sprinkled on top. However, if your whole family likes it spicy, try stirring in an extra tablespoon of crushed red chili pepper seasoning when adding the reserved marinade to the pan.
Can you marinate chicken adobo overnight?
Absolutely, if you want even more powerful flavors. However, this isn't totally necessary. Personally, I get the chicken into the marinade early in the morning. Consequently, by dinner time, the chicken pieces have been marinating for about 12 hours.
What vinegar is used in chicken adobo?
Really, any type of vinegar can be used. The point of the vinegar is to add acidity to the flavor profile. The acidity of the vinegar cuts the salty, umami flavors of the soy sauce. White vinegar is typically used, though certainly apple cider vinegar or rice vinegar could be used instead.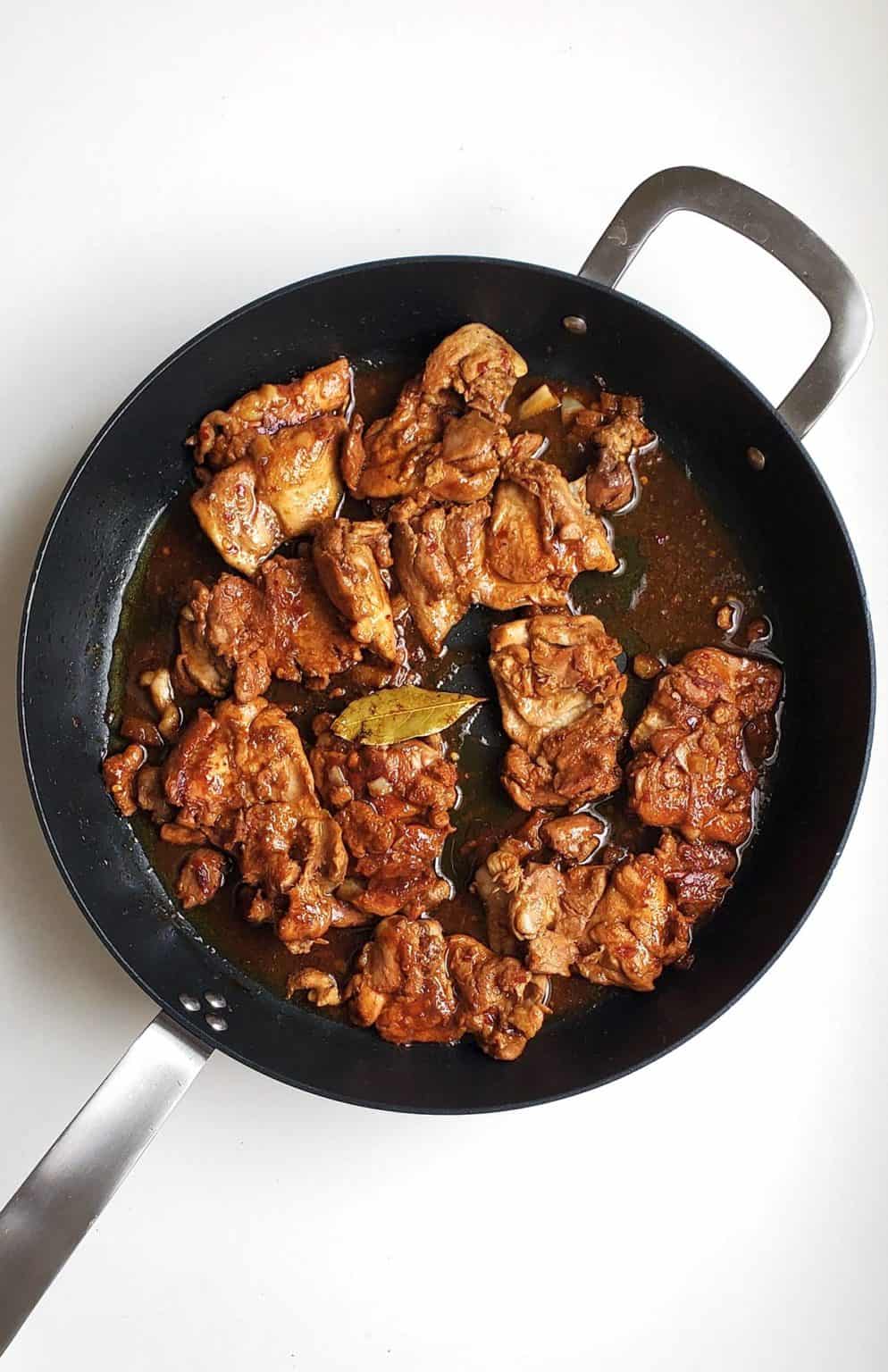 You'll Also Love These Related Pregnancy Dinner Recipes