Crunchy, creamy, sweet, and salty. You only need three ingredients to enjoy all of the flavors and textures in this simple, nutritious peanut butter avocado toast.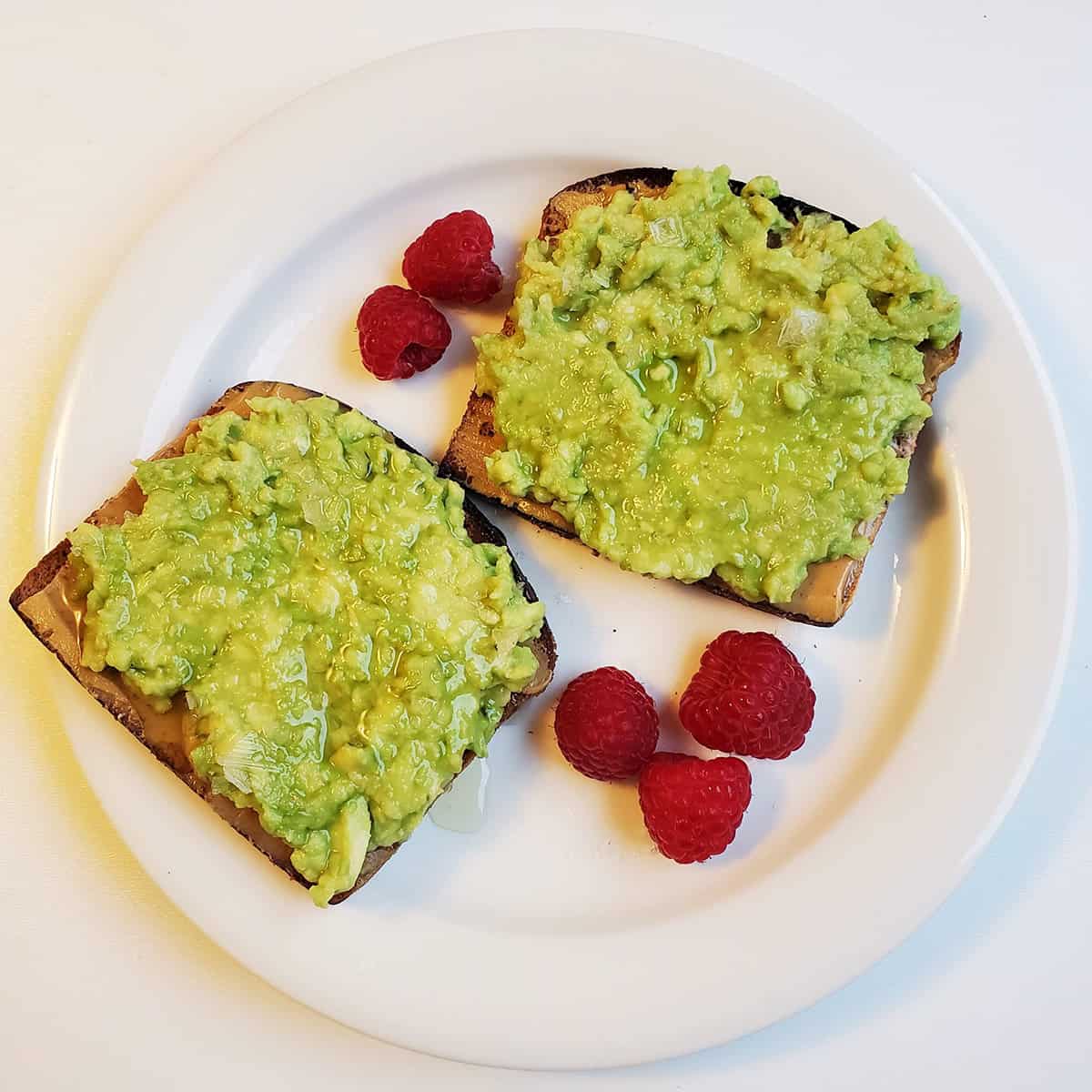 Why You Will Love This Recipe
This recipe literally takes five minutes of your time and requires only three superfood ingredients: whole grain bread, avocado, and peanut butter. During my pregnancies, I would always keep a couple of avocados on the countertop. When shopping at the supermarket, I would throw a ripe avocado into the shopping cart -- but also at least one more that was much less ripe and would instead be ready to eat in a few days. In this way, I could have ripe avocados, ready for avocado peanut butter toast for at least a couple of days.
Of course there are so many recipe variations on avocado toast but my simple recipe is the best! In this recipe, the toast is first layered with creamy peanut butter, covered with mashed avocado, and finally drizzled with a bit of honey. The flavor combination is phenomenal (you have GOT to try this!!) especially when topped with a pinch of flaky sea salt. You truly get all of the sweet and salty flavors, as well as smooth and crunchy textures.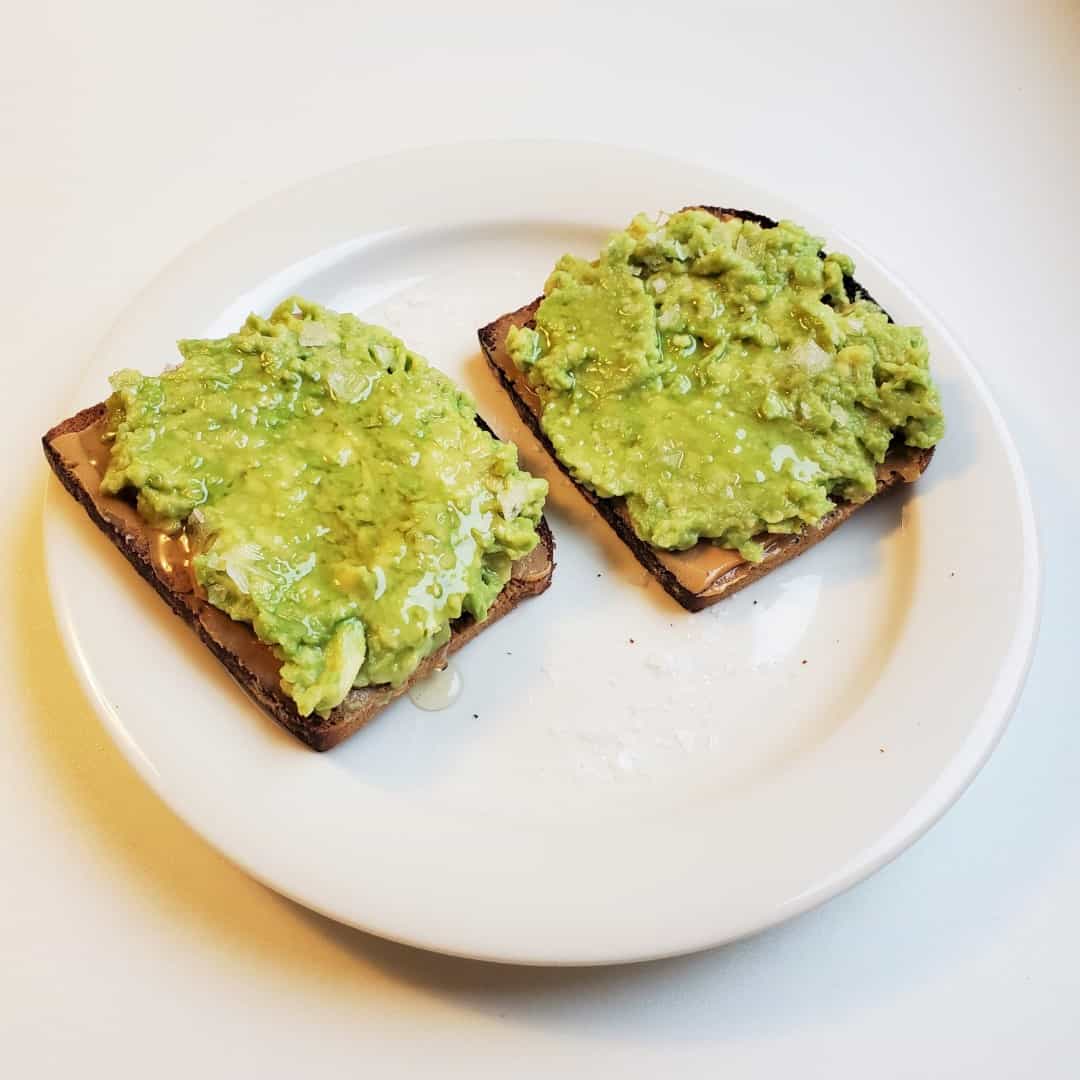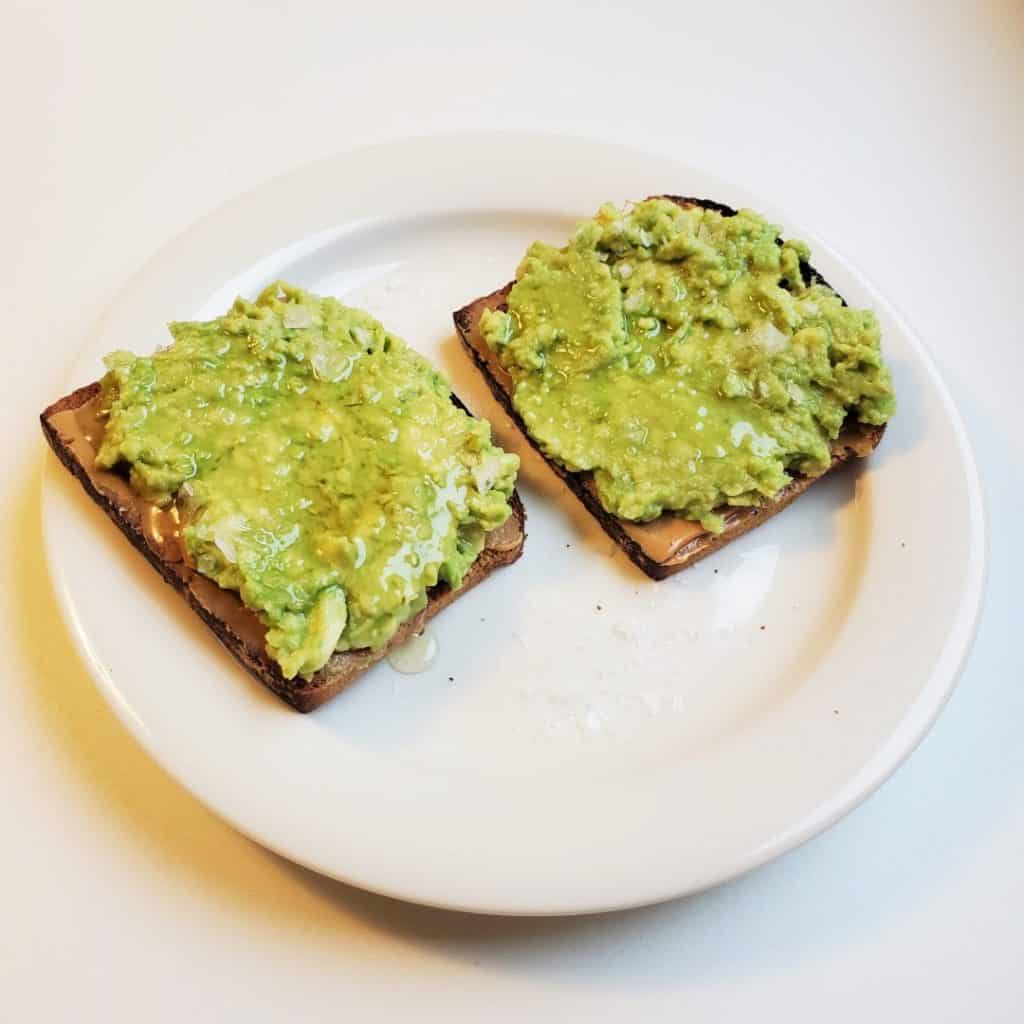 The recipe could not be easier. First, toast your chosen bread (whole grain is ideal), mash a ripe avocado, and then finally layer the bread with peanut butter and avocado. A touch of honey adds a bit of sweetness. I would eat this avocado peanut butter toast for breakfast or lunch, or for a healthy power snack. Not only is this combination extremely delicious, but also extremely nutritious for a pregnant woman.
Nutritious Ingredients in Peanut Butter Avocado Toast
Peanut butter and avocado toast is one of those super easy recipes, perfect for a healthy pregnancy breakfast or lunch. It is truly such a wholesome, good breakfast. Let's take a closer look at the nutritional highlights of the main ingredients used in this recipe.
Peanut Butter
Choose an unsweetened, pure peanut butter. Look at the ingredients label to confirm that the only ingredient is "peanuts" or "roasted peanuts." We want pure peanut butter because we will later add a bit of honey and sea salt for flavor.
Peanut butter is a highly nutritious food and is safe to eat as long as you are not allergic. Firstly, peanut butter is an abundant source of folate. Folate helps to prevent birth defects of baby's brain and spinal cord. These defects can happen in early pregnancy, well before the woman even knows she is pregnant. Such defects range from spina bifida (cleft spine) to anencephaly (improper development of the brain and bones of the skull). Folate also helps reduce the risk of pre-eclampsia. This is a dangerous condition in which the mother's blood pressure and fluid retention increases dramatically, and excess protein is found in the urine.
Peanut butter also contains iron, antioxidants, protein, as well as monounsaturated fats. Iron is crucial in the pregnancy diet because the body uses iron to make hemoglobin for both mama and baby. Hemoglobin helps to form red blood cells. Anemia is caused by inadequate iron intake and can have outcomes ranging from low birth weight to maternal mortality. Antioxidants boost the immune system, keeping diseases and ailments at bay. Protein of course promotes growth of fetal tissues, including the brain and plays a large role in supporting the increase in blood supply. Consumption of monounsaturated fats supports heart health and helps to regulate blood sugar levels.
Some studies have found that consuming peanut butter during pregnancy may reduce baby's chances of allergies later in life.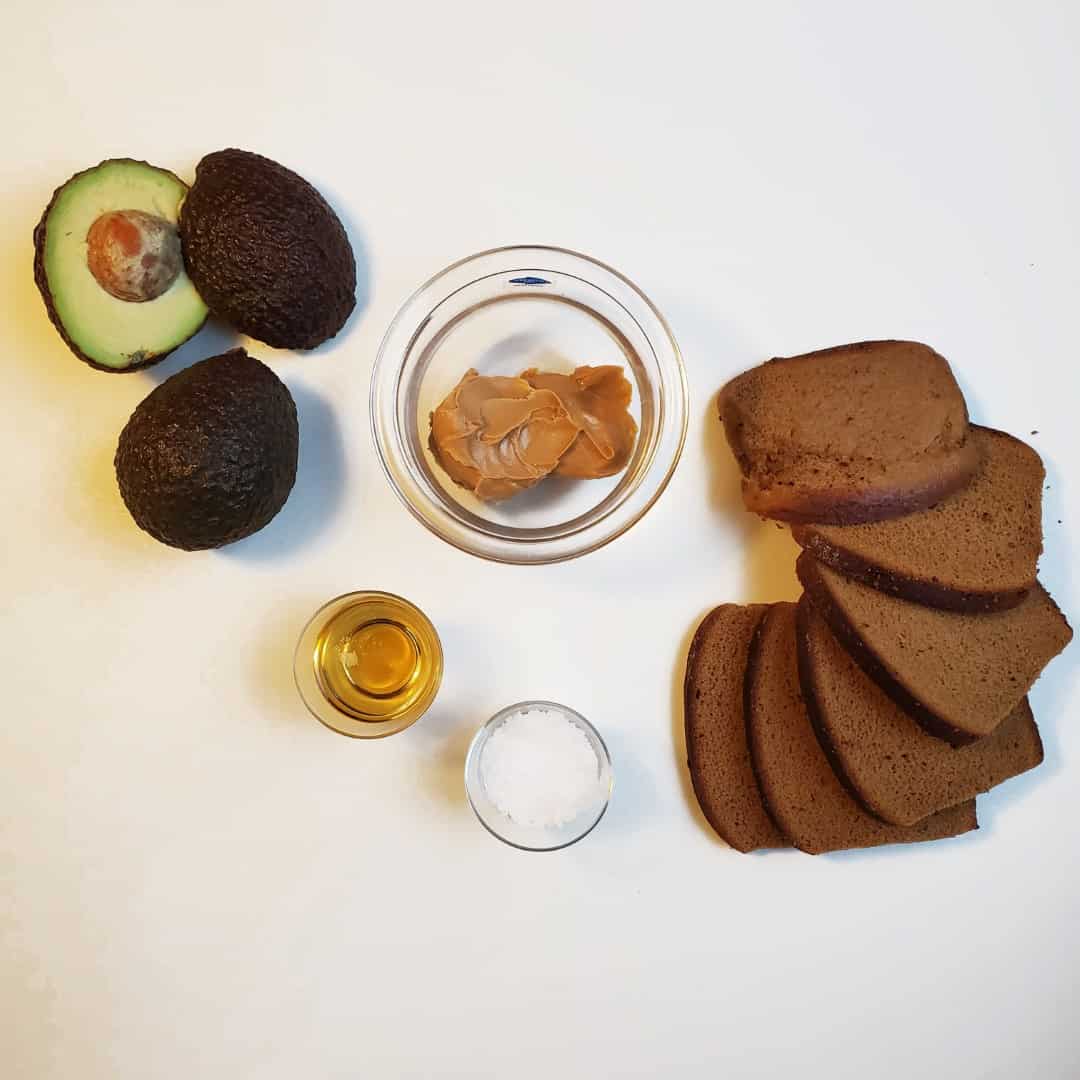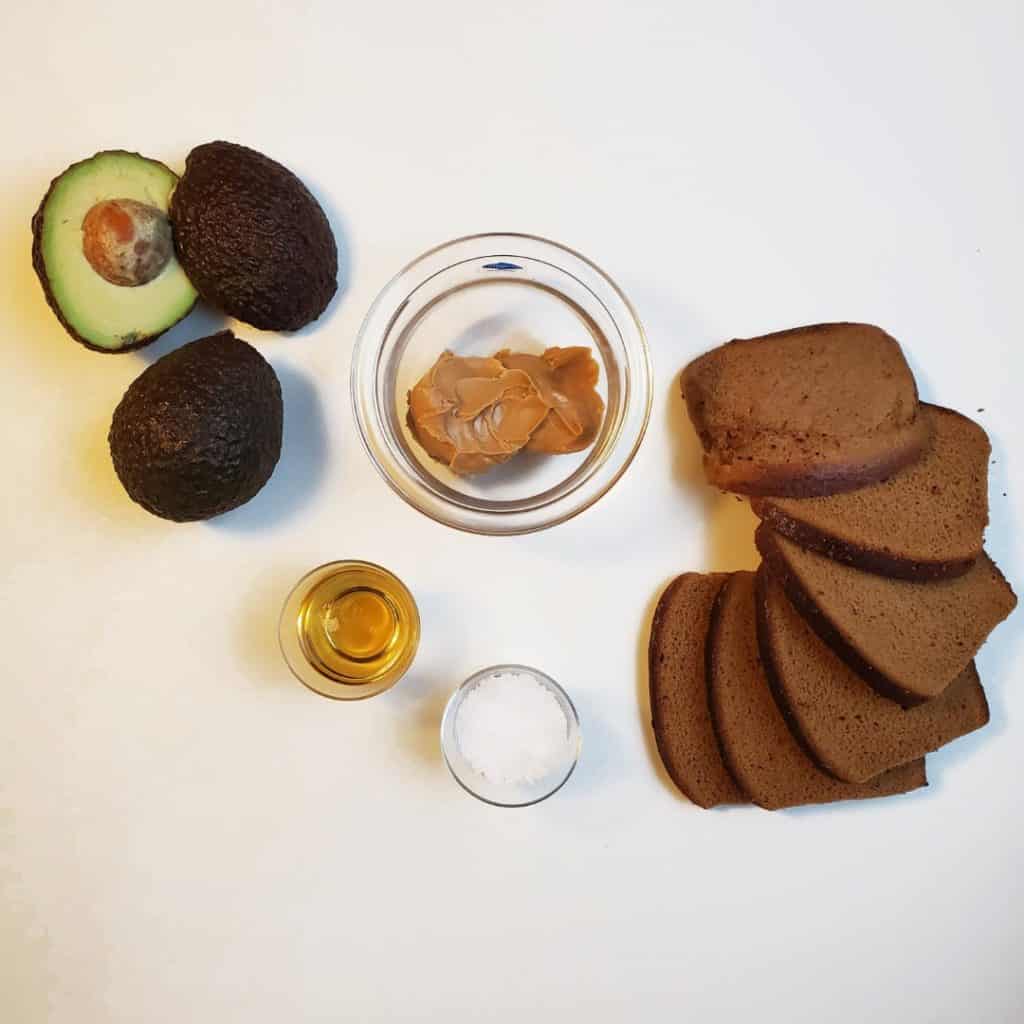 Whole Grain Bread
Not only does whole grain bread offer ample fiber, fortified breads are an excellent source of folate, minerals phosphorous and magnesium, as well as B vitamins B1 and B2.
The minerals phosphorous and magnesium are an important part of pregnancy. The majority of phosphorus found in our bodies is found in our bones and teeth. The mineral phosphorus helps build strong bones for developing baby. Phosphorus helps bodily functions such as muscle movement and nerve function, and helps the body generate and use energy. Magnesium also helps the formation of bones and teeth in baby but also helps to regulate mama's blood pressure.
Vitamins B1 and B2, also known as thiamine and riboflavin, are crucial for development of baby's brain and support good vision and growth of baby's bones, muscles, and nerves respectively.
Avocado
Avocado is a phenomenal pregnancy superfood and is an excellent source of healthy monounsaturated fats. It is one of the fattiest fruits available: 77% of the calories in an avocado are from fat! Avocadoes also contain very high amounts of key nutrients folate and potassium. Similar to whole grain bread, avocado contains a lot of dietary fiber and is also a source of magnesium. Notably, avocadoes also offer lutein (great for baby's eye and brain function) as well as vitamins C and E. Vitamin C helps baby's bones, gums, teeth and muscles develop properly but also helps mama to absorb iron more easily. Vitamin E is a powerful fat-soluble antioxidant which helps improve blood circulation and reduce inflammation. Antioxidants can also prevent baby, post-birth, from developing allergies or asthma. Vitamin E consumption also helps lower the chance of type 2 diabetes in mama.
How to Make Peanut Butter Avocado Toast
First, Toast the Bread
First, toast two slices of whole grain bread to your preference. Toasting the bread will give it some stability for the subsequent layers. While the bread is toasting, mash the avocado.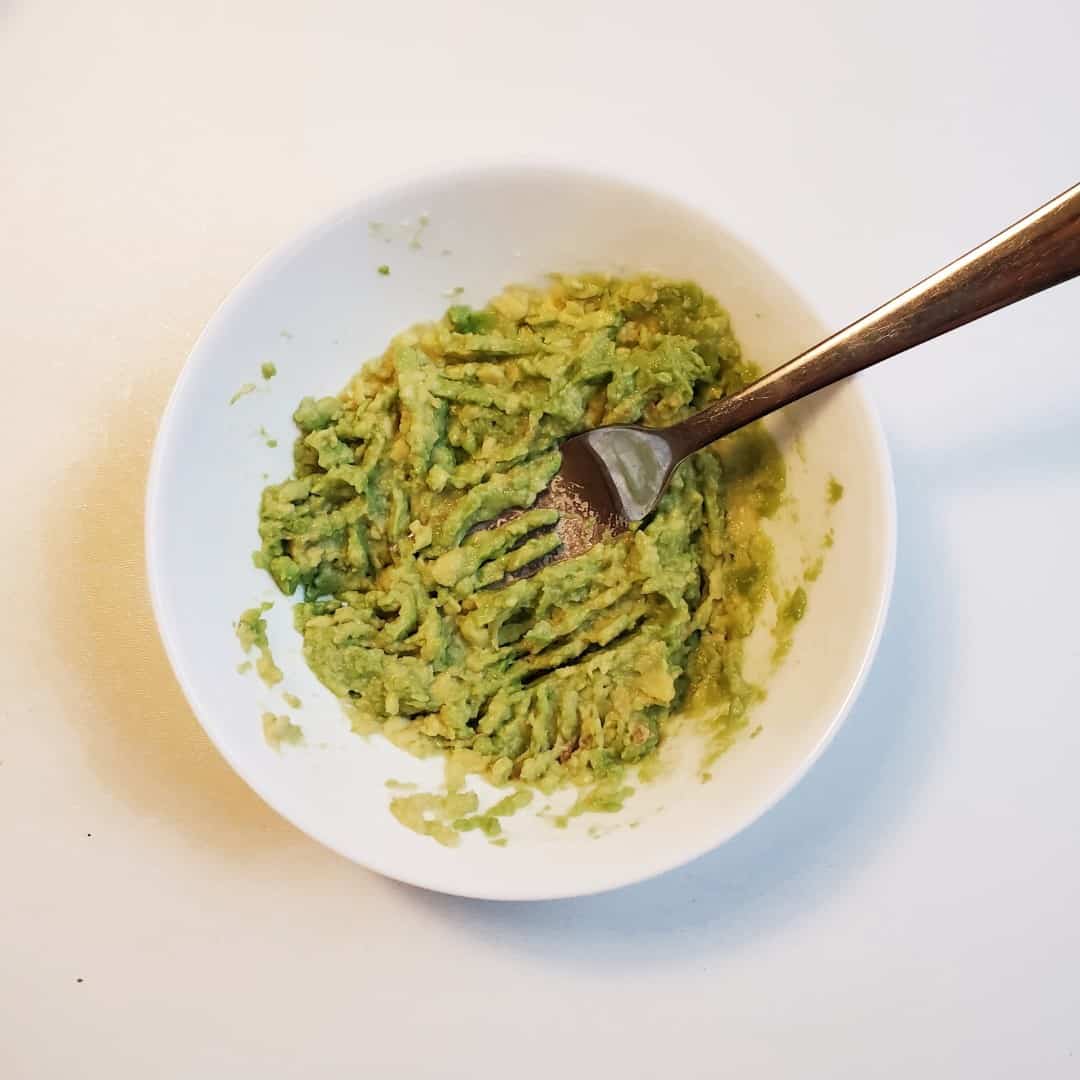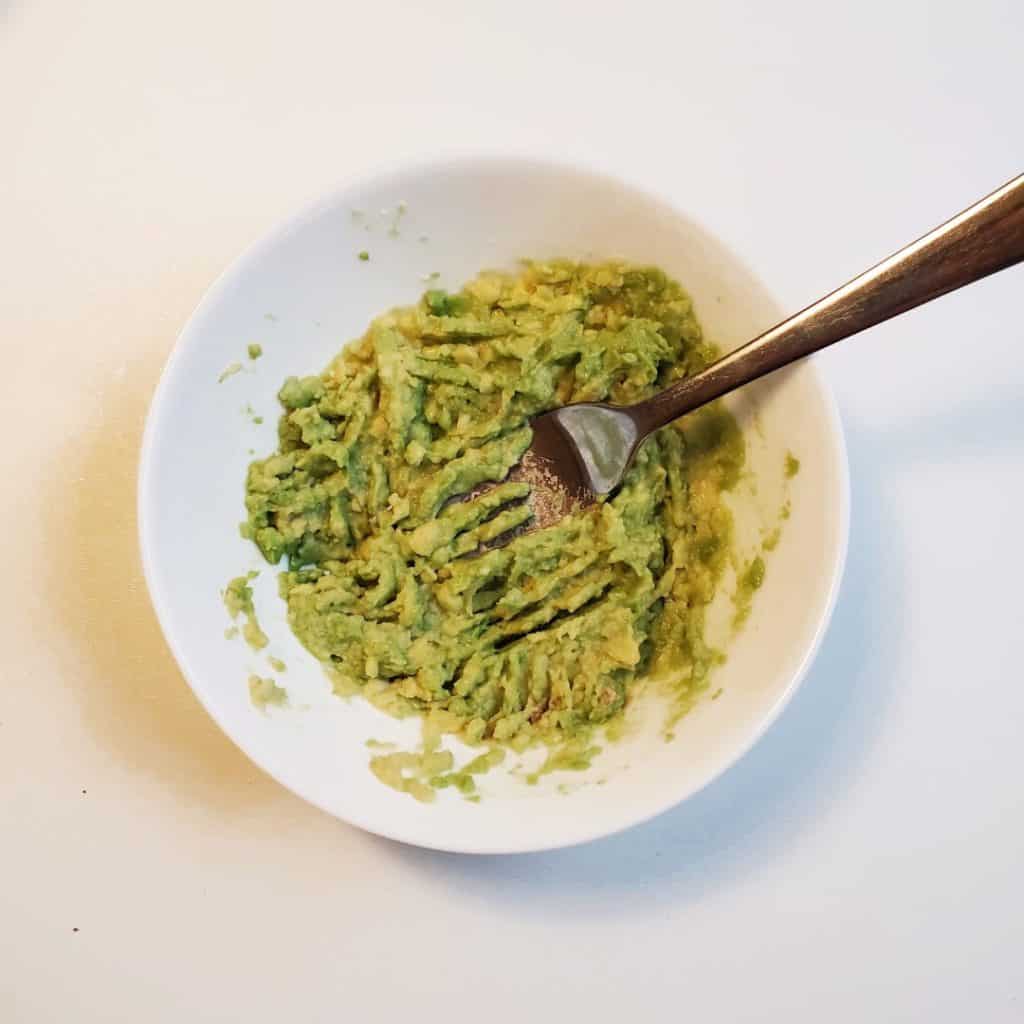 Add Toppings
Once the bread is toasted, layer on some smooth peanut butter onto each slice.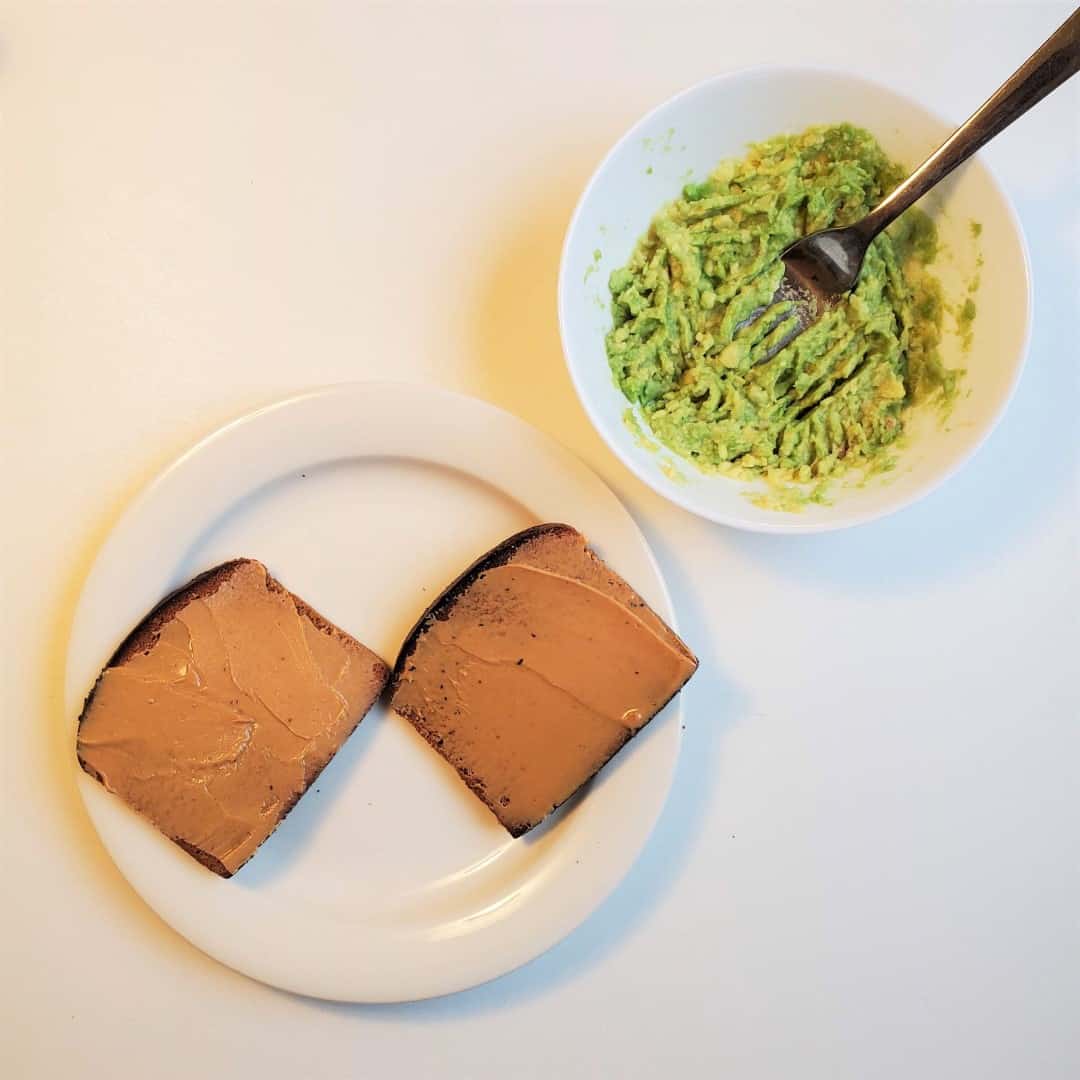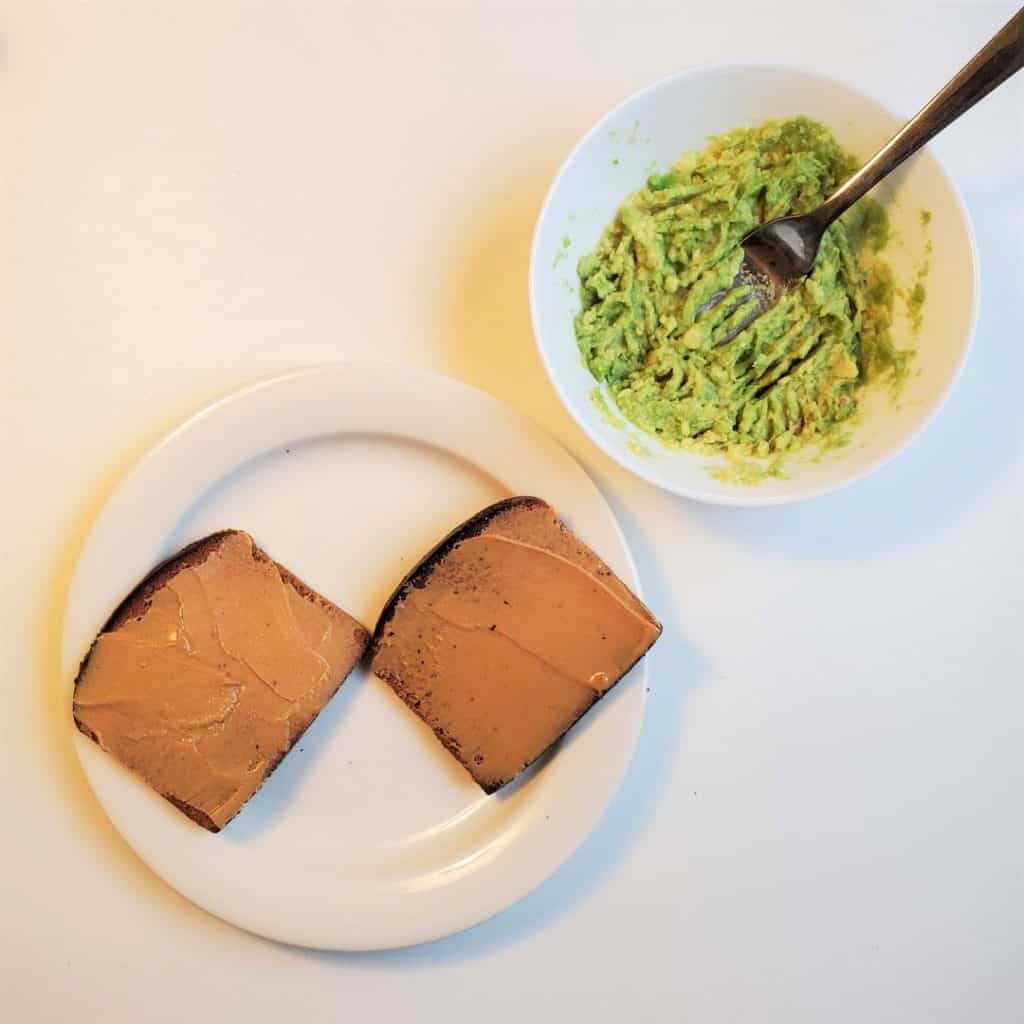 Then, add a healthy scoop of mashed avocado to each slice of toast and spread it on thickly. Add a drizzle of honey and a sprinkle of flaky sea salt.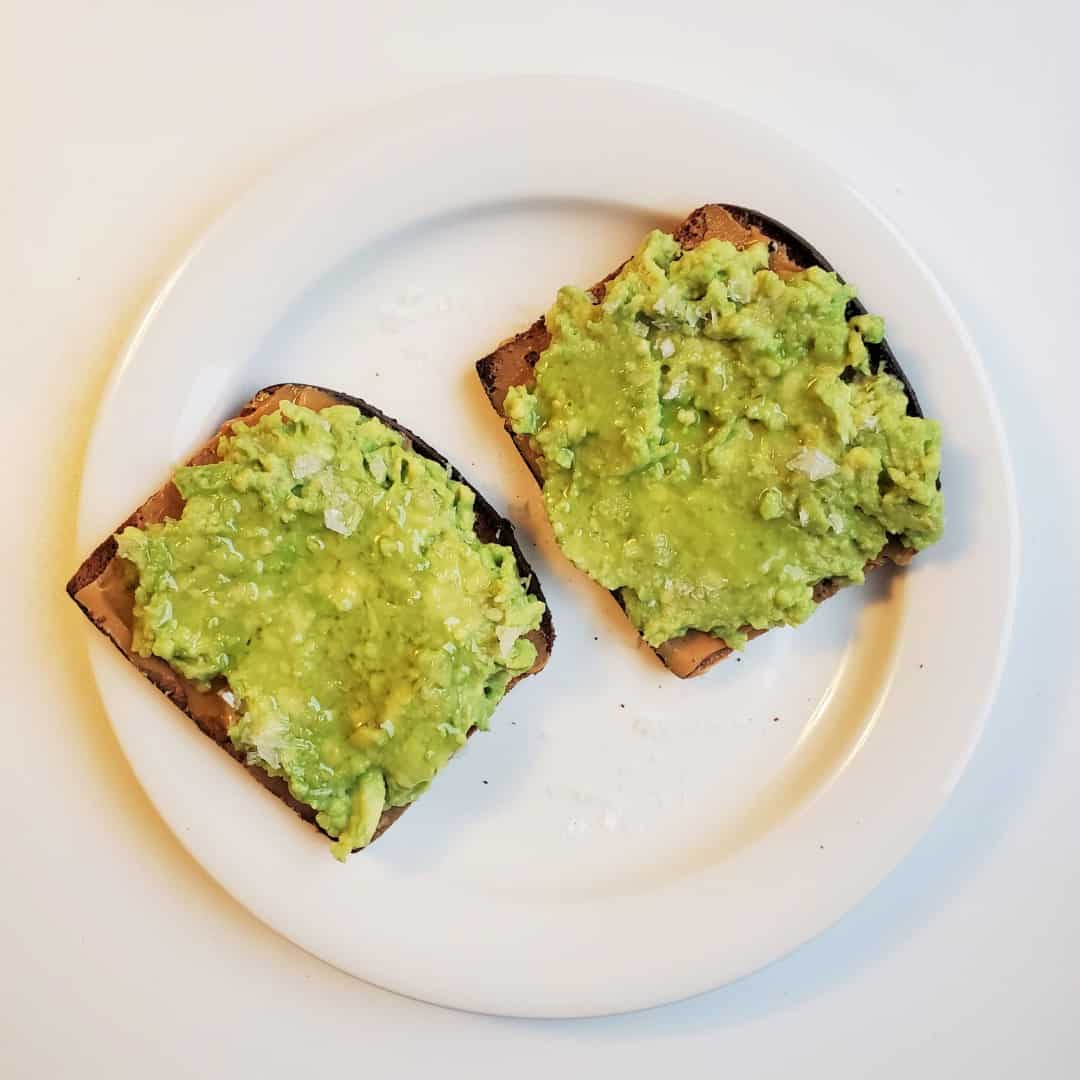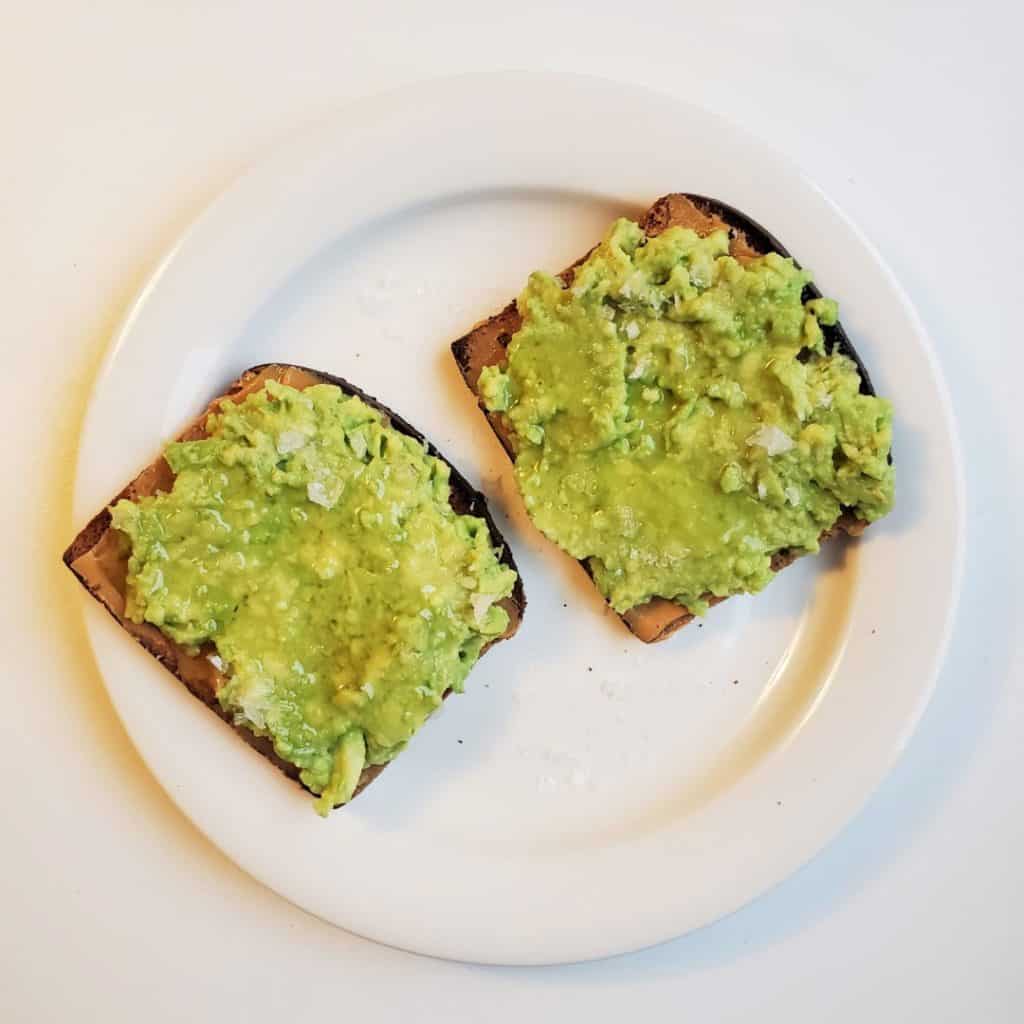 Plate and Enjoy
This recipe could not take less time! Enjoy the peanut butter avocado toast with fresh fruit.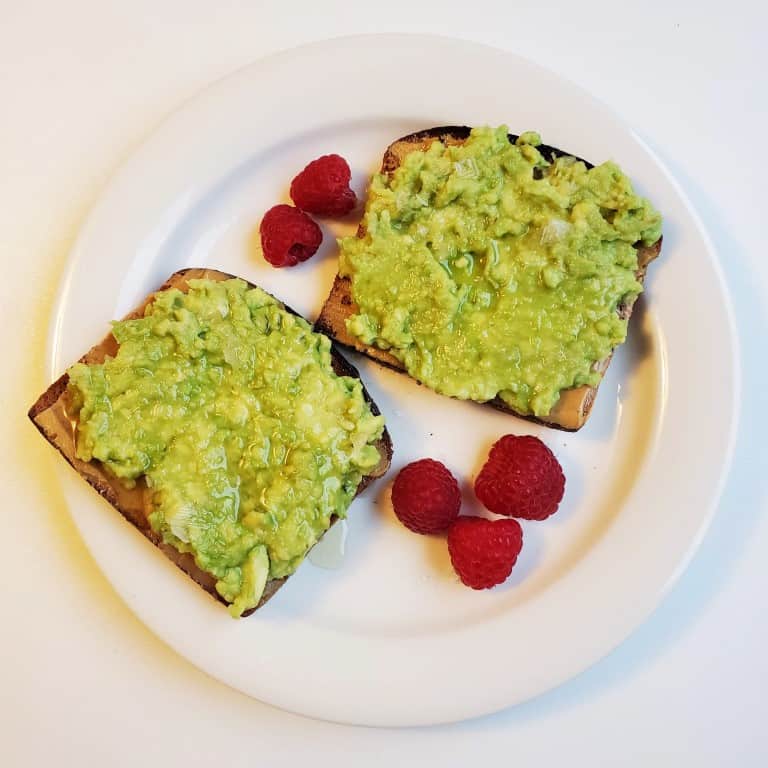 Serving Suggestions and Tips
Peanut Butter Avocado Toast is so delicious on its own, but is especially good combined with:
Fresh fruit such as raspberries, blueberries, strawberries, kiwi, or sliced oranges.
Sliced, boiled eggs.
A handful of cherry tomatoes.
A sprinkle of chia seeds on top of each slice which would add additional crunch.
Frequently Asked Questions (FAQs)
Can I replace peanut butter with another nut butter? Absolutely. You could replace the peanut butter with almond butter, cashew butter, and even pistachio butter. I think that any of these would taste fantastic in this recipe. If you're feeling ambitious, why not make your own nut butter using a food processor? However, bear in mind that the nutritional content of this avocado toast recipe will vary depending on which nut butter is used
How do I smash an avocado? Here is a great tutorial on how to smash an avocado. If you choose to mash with a fork, the avocado will retain a chunkier texture. Mashing with a potato masher will yield a smoother, more whipped topping.
Do I have to use honey? Not at all. If you want to keep the peanut butter avocado toast purely savory, feel free to omit the sweetener from this recipe. Otherwise, you can replace the honey with a bit of pasteurized maple syrup.
You'll Also Love These Other Breakfast Recipes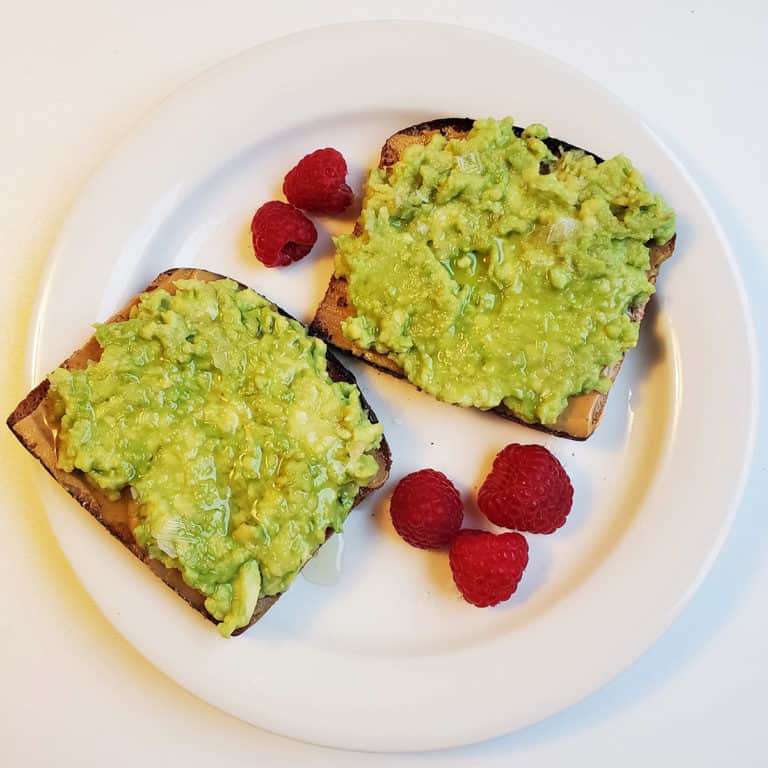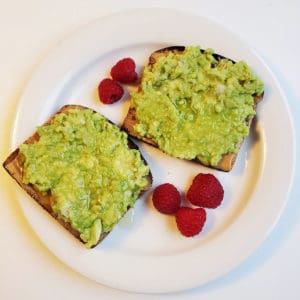 Peanut Butter Avocado Toast - Five Minute Recipe
Author:
Crunchy, creamy, sweet, and salty. You only need three ingredients to enjoy all of the flavors and textures in this recipe.
Ingredients
2

slices

whole grain bread

1

avocado

1

tbsp

unsweetened peanut butter

1

tsp

honey or maple syrup

flaky sea salt, to taste
Instructions
Toast two slices of bread to your personal preference.

Smash the avocado in a small bowl.

Lightly spread the peanut butter onto each slice of bread.

Top each slice of bread with one half of the avocado mixture.

Drizzle each slice of bread lightly with honey or maple syrup.

Top with a pinch of sea salt flakes.

Plate and serve.
Notes
*Nutritional information is calculated using online tools and is provided as a courtesy. The values can vary depending on which ingredients and brands are used.
Nutrition*
Calories:
290
kcal
Carbohydrates:
25
g
Protein:
7
g
Fat:
20
g
Saturated Fat:
3
g
Polyunsaturated Fat:
3
g
Monounsaturated Fat:
12
g
Sodium:
135
mg
Potassium:
604
mg
Fiber:
9
g
Sugar:
6
g
Vitamin A:
148
IU
Vitamin C:
10
mg
Calcium:
62
mg
Iron:
1
mg