Fluffy eggs and tender kale leaves. A bit of ripe fruit. Kale egg scramble is a simple and nutritious start to a pregnant mama's day.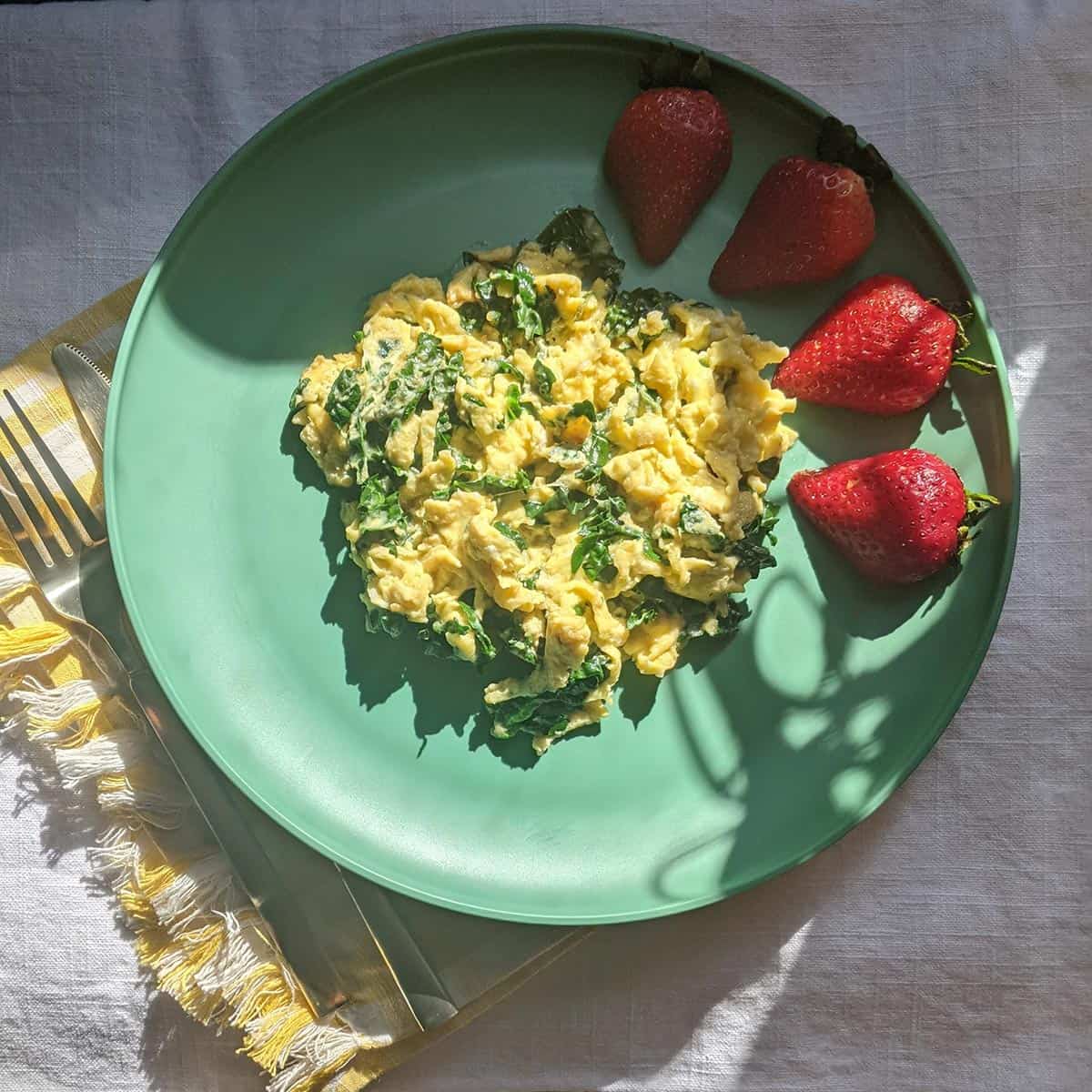 Why You Will Love This Recipe
"A box without hinges, key, or lid, Yet golden treasure inside is hid." J.R.R. Tolkien
Oh yess precious, we're talking about eggs of course.
Incredible, edible eggs are cheap, versatile, and supremely healthy. I personally strove to eat eggs in some form every day during pregnancy. Even when eggs didn't sound like the most appealing food, they are so incredibly versatile that I would be able to think of a way to transform them and make them into something I'd want to eat. These days, my baby will eat eggs anytime, especially if I include a healthy squirt of "dubdub" a.k.a., ketchup. Typically, I'd whip up some eggs first thing in the morning for an easy and healthy pregnancy breakfast, but we'd also have them for dinner on occasion, when I needed something fast and easy.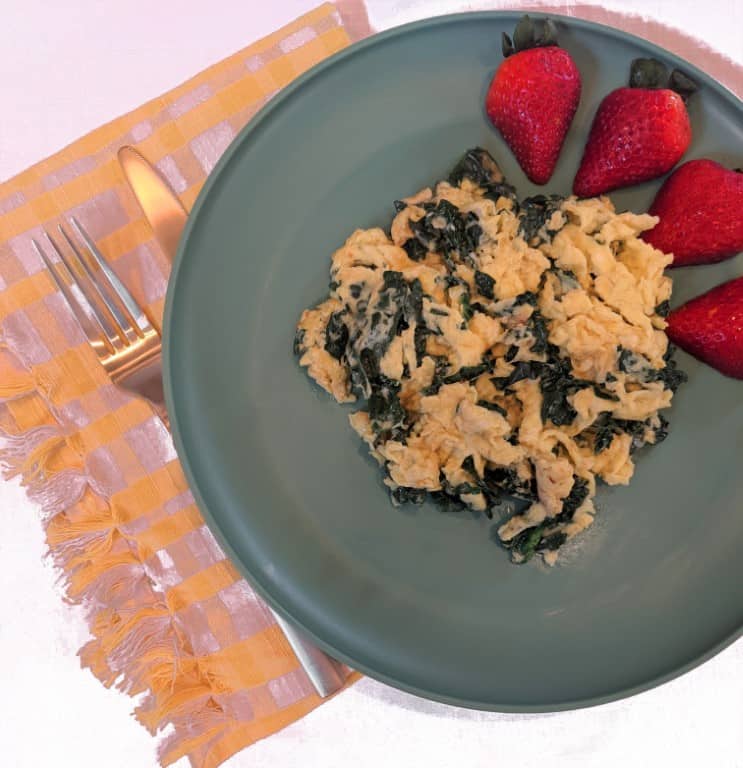 Reasons to Choose Versatile Eggs
Some of my favorite ways to eat eggs during pregnancy are: fluffy scrambled, hard boiled with a dressed-up yolk, and cooked up in an omelet. I usually make a big batch so that everyone can have a generous serving. Folding a leafy green vegetable into the scrambled eggs is an easy way to incorporate those leafy green nutrients into your daily diet. In contrast with the savory, fluffy eggs, I like to have a crunchy piece of whole wheat toast, crispy turkey bacon, a cup of greek yogurt or cottage cheese, or some fresh, sweet fruit.
For those women who suffer from morning sickness, it's imperative to strive for healthy eating as much as possible so that your body will benefit from those bites that you're actually able to keep down! Most doctors strongly recommend that pregnant women enjoy eggs during pregnancy (unless of course allergies preclude this). Women who are thinking of getting pregnant would also benefit greatly from eating eggs on a regular basis.
In previous years, eggs were demonized because of the cholesterol content. However, updated studies show that eggs actually increase HDL (good) cholesterol, and most people do not see any increase in either total or LDL cholesterol.
The Easiest Pregnancy Breakfast
Enter Kale Egg Scramble. When you're tired of coming up with new pregnancy breakfast ideas, Kale Egg Scramble is a safe bet. In this healthy breakfast meal, you only need only three ingredients: eggs, kale, and olive oil. This is one of those breakfast recipes that is so speedy that you'll be ready to eat breakfast in under 10 minutes! It's also worth noting that green kale, when properly stored, will keep fresh for a long time in the fridge. Eggs also keep fresh for a while, so these are two ingredients that you can keep on hand all the time.
Nutritious Ingredients
Kale Egg Scramble is a super easy, healthy breakfast for pregnancy. Let's take a closer look at the nutrient content of the main ingredients used in this recipe.
Eggs
Eggs are truly one of the best foods that a pregnant woman can eat. Eggs are nutritionally dense, meaning you get a lot of nutritional value for each calorie consumed. Baby benefits tremendously from all of the nutrients that eggs have to offer. Not only are eggs a phenomenal source of high-quality lean protein, but they contain 13 different vitamins and minerals. Some of the notable nutrients that eggs offer include:
Choline: Eggs contain choline which is essential for development of baby's brain and spinal cord during pregnancy. Choline, when taken during pregnancy, has been shown to improve learning and memory in babies. Choline also supports proper function of the placenta, enhancing the supply of nutrients to baby.
Omega-3 Fatty Acids: Healthy fats support proper development of brain and visual function.
Vitamin D: Eggs are one of the few food sources of vitamin D which supports baby's bone health.
Vitamin A: Supports healthy development of baby's eyes, skin and a healthy immune system.
As you can see, pregnant women should make eggs a regular part of their pregnancy diet! It is totally safe for pregnant women to consume eggs as long as the eggs are completely cooked.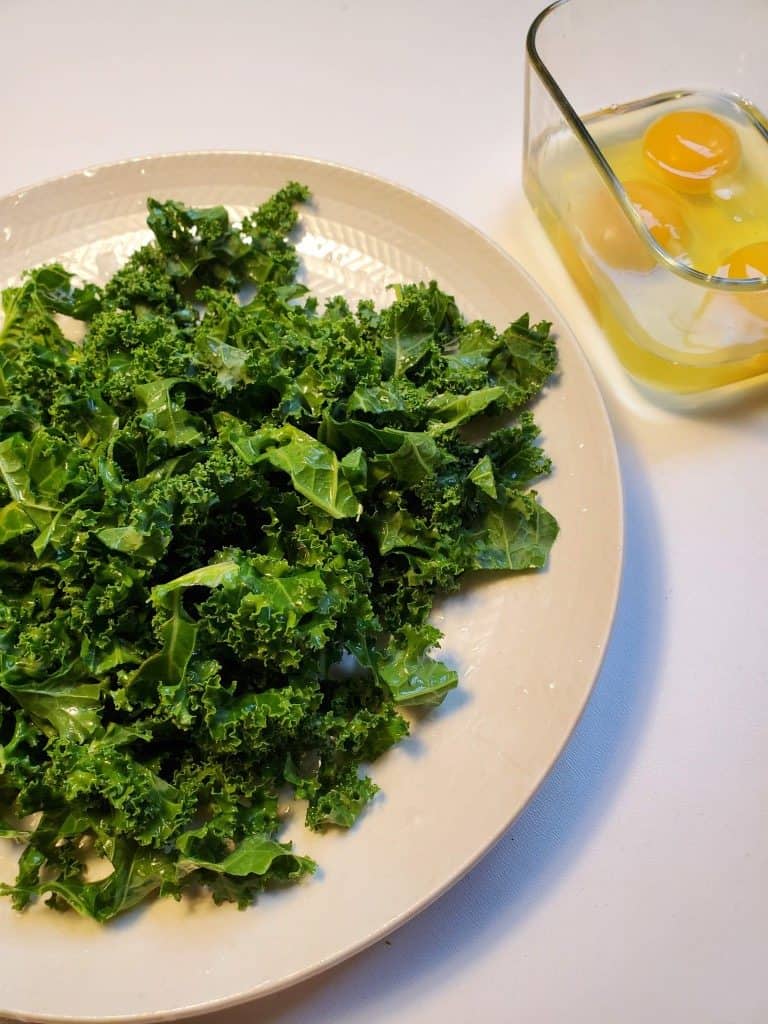 Kale
Just like eggs, kale is another one of those pregnancy superfoods. This dark leafy green vegetable is an excellent source of calcium, folic acid, and iron. Kale specifically contains 10% of the daily requirement of calcium. Baby needs this calcium in order to build healthy teeth and bones. Kale also contains a good amount of vitamin A. Vitamin A builds a strong immune system in both expectant mothers and growing baby. Kale also contains vitamin K. Vitamin K keeps the body's blood vessels strong which is imperative because the blood flow of a pregnant woman has increased so significantly. One cup of cooked kale contains more than all of the vitamins K, A, and C that one would require in a day!
Olive Oil
Olive oil is the oil extracted from olive fruits. It contains a high amount of monounsaturated fats called oleic acid which decrease inflammation, and also some omega 3 fats which some studies show improves the functioning of baby's brain and future learning abilities. Furthermore, the vitamin E content in olive oil is beneficial for the uterine lining. Finally, another interesting study also shows that shows that olive oil consumption during pregnancy may correlate with reduced wheezing during baby's first year of life.
How to Make Kale Egg Scramble
First, Chop the Kale
First, thoroughly wash two large kale leaves. Truly, any kind of kale will do; curly kale, and lacinato kale are the most commonly found in the supermarket. Remove the ribs. You do not want to eat the kale ribs because they will be very tough and unpleasant. Chop up the kale leaves into bite-sized pieces.
Beat the Eggs
In a medium sized bowl, whisk four eggs. The key is to thoroughly beat the eggs; the more air is incorporated, the fluffier the eggs will ultimately be.
Then, Cook Eggs in Non-Stick Pan
A non-stick pan as well as a silicone spatula (in order to avoid scratching the coating of the pan) are your ideal tools. Although I do appreciate (and generally prefer) a good cast iron skillet, a nonstick pan is superior in this application for ease of cooking and in order to eliminate any chance of food getting stuck to the pan.
Over medium heat, heat one tablespoon of olive oil in a non-stick pan. After a minute, pour in the beaten eggs. You should see bubbles starting to form. Gently stir the eggs, using a wooden spoon or silicon spatula.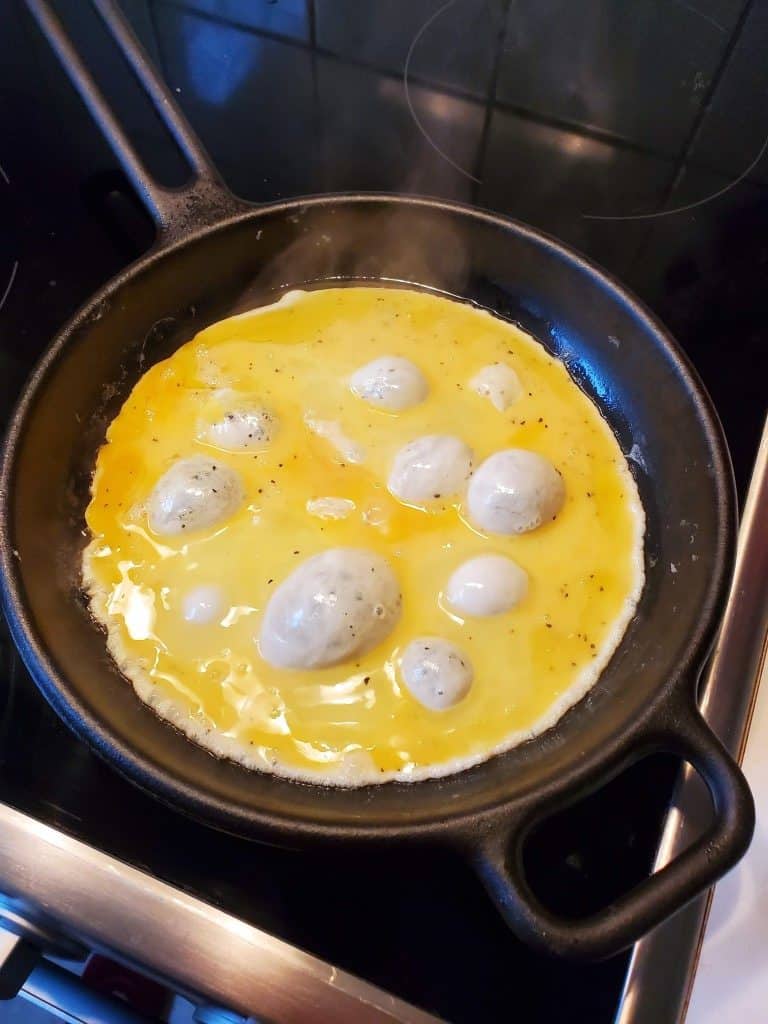 Add Kale to Pan
At this point, add the shredded kale to the eggs, and gently stir to incorporate.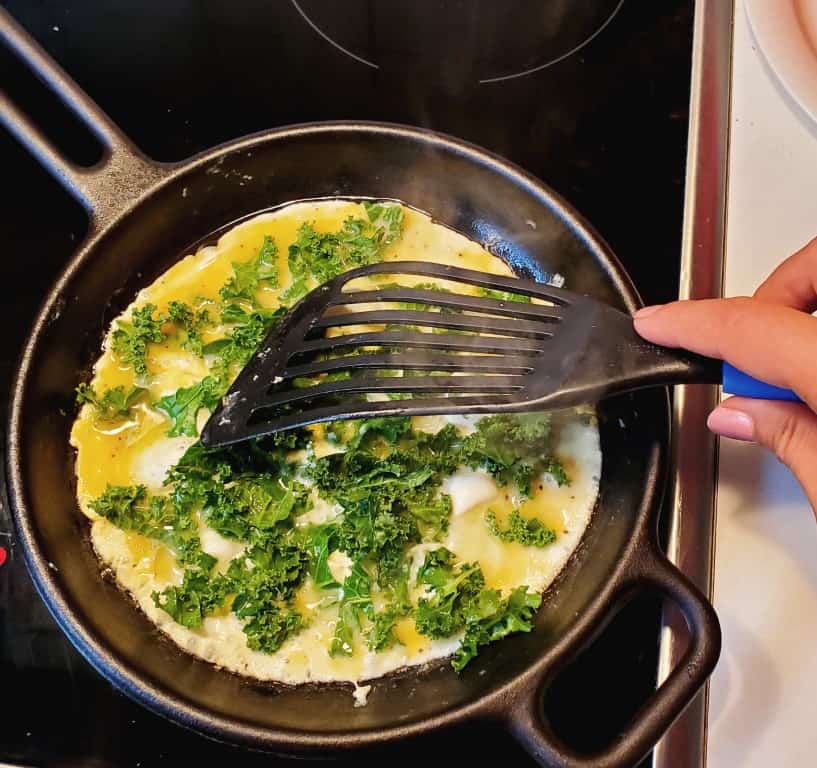 After fully cooking the eggs (temperature should be 160 degrees F / 71 degrees C), remove them from the pan and plate. Serve and enjoy with fresh fruit!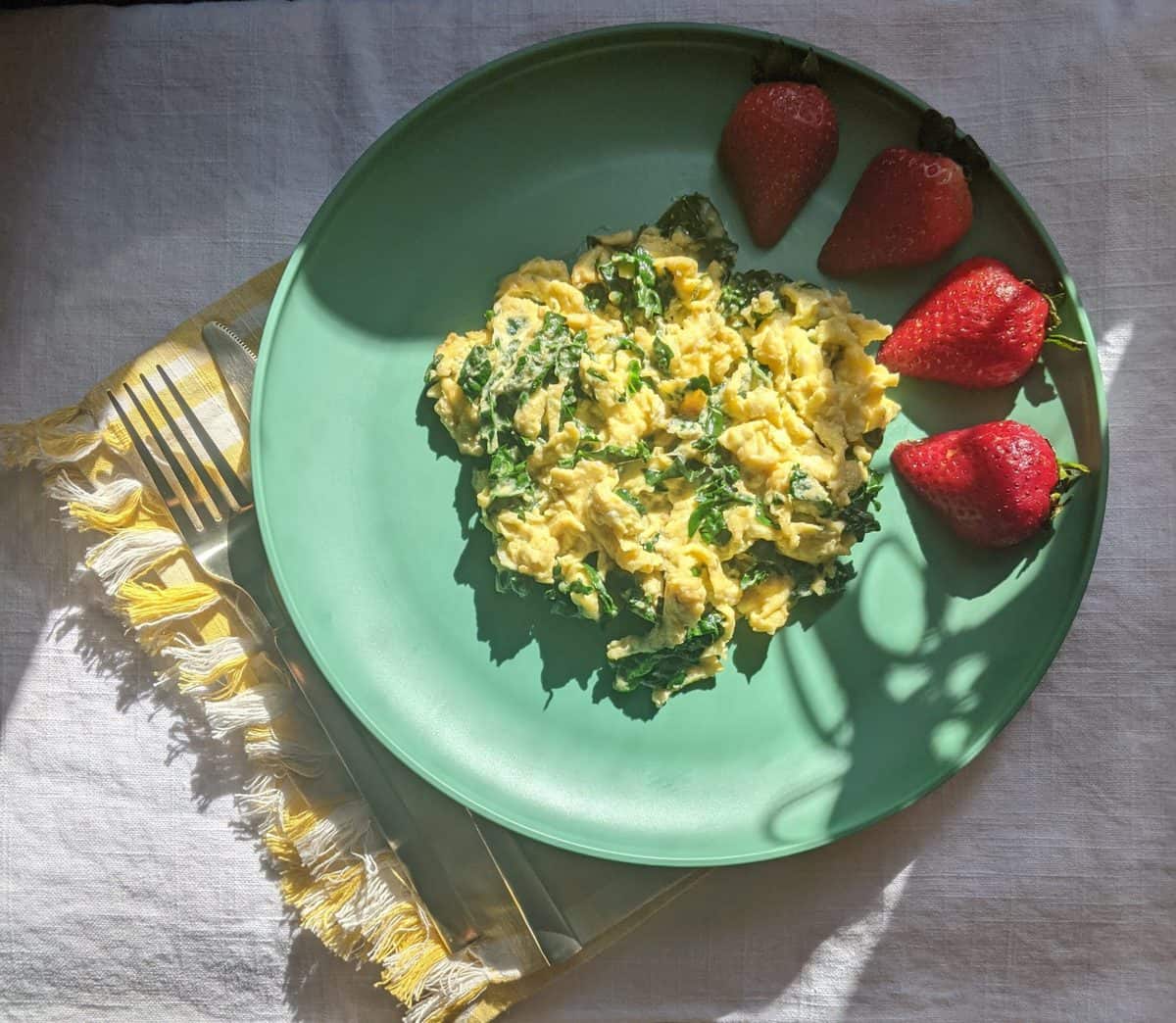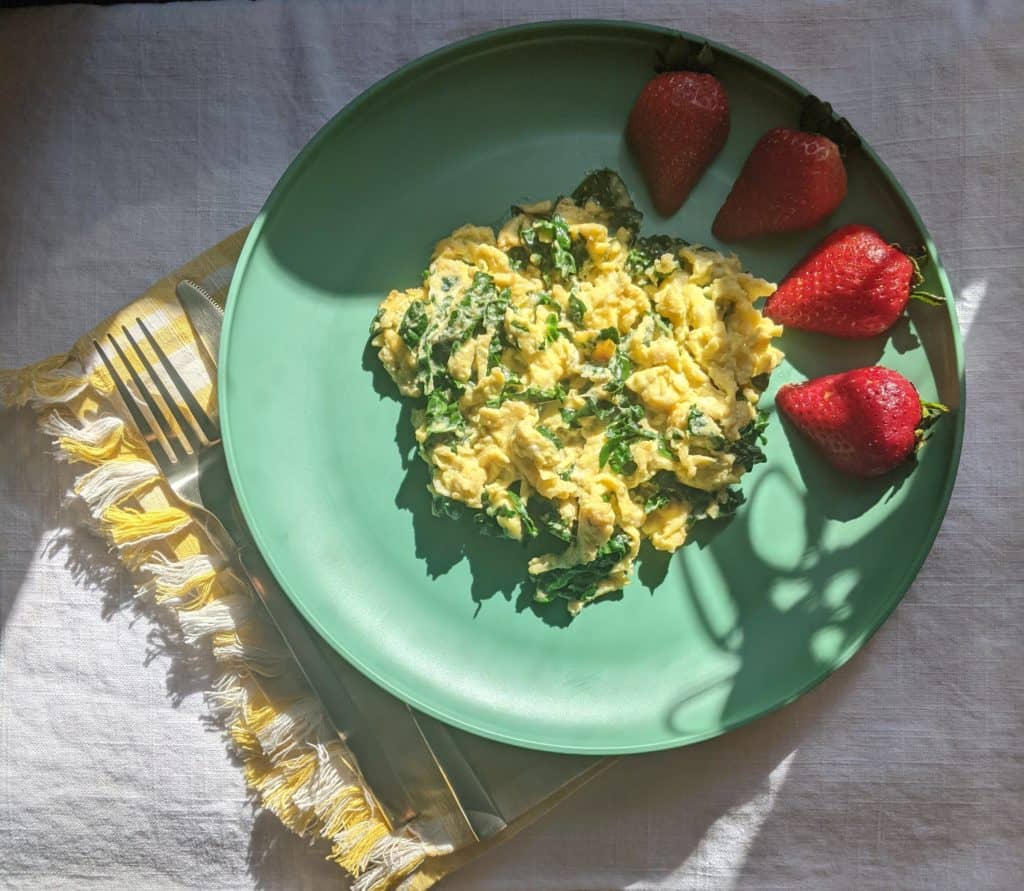 Serving Suggestions and Tips
Egg Kale Scramble is so delicious on its own, but is especially good combined with:
Fresh fruit, perhaps strawberries, blackberries, cantaloupe or honeydew melon, blueberries, or clementine.
Crispy toasted bread, perhaps sourdough, whole wheat, or a seeded multigrain variety.
Frequently Asked Questions (FAQ)
Should I add milk before scrambling the eggs? This is certainly a personal preference. Adding some milk would be an easy way to get dairy products into your diet. However, you may end up with less fluffy, wetter eggs. I would perhaps add a tablespoon of whole, 2%, or skim milk, but pregnant women should avoid unpasteurized milk.
Can I add other vegetables? Absolutely! Other vegetables have different nutrient profiles that can enhance the nutrition of a pregnant woman. Alternative green leafy vegetables would work splendidly, including arugula, spinach, or chard. Different colorful vegetables could also be included, such as bell peppers, cooked sweet potatoes, onions, or sliced tomatoes.
What are some creative ways to season Kale Egg Scramble? I really like to add nutritional yeast to my eggs, especially during pregnancy. Nutritional yeast will add a boost of B vitamins and folate. A small sprinkle of nutritional yeast will add a cheesy flavor to this dish. Please consult with your doctor if you're unsure of how much to add.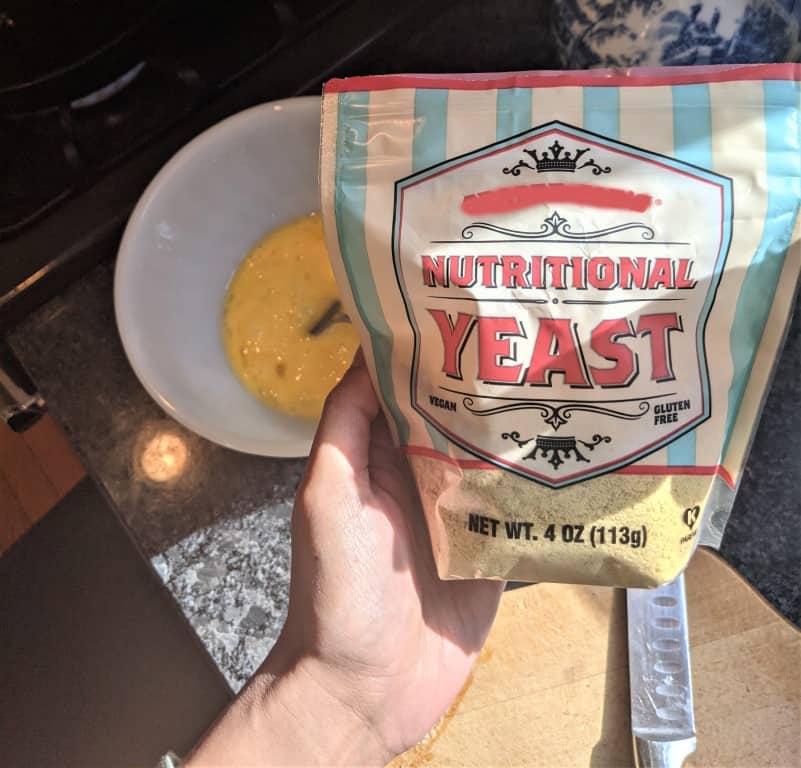 You'll Also Love These Other Breakfast Recipes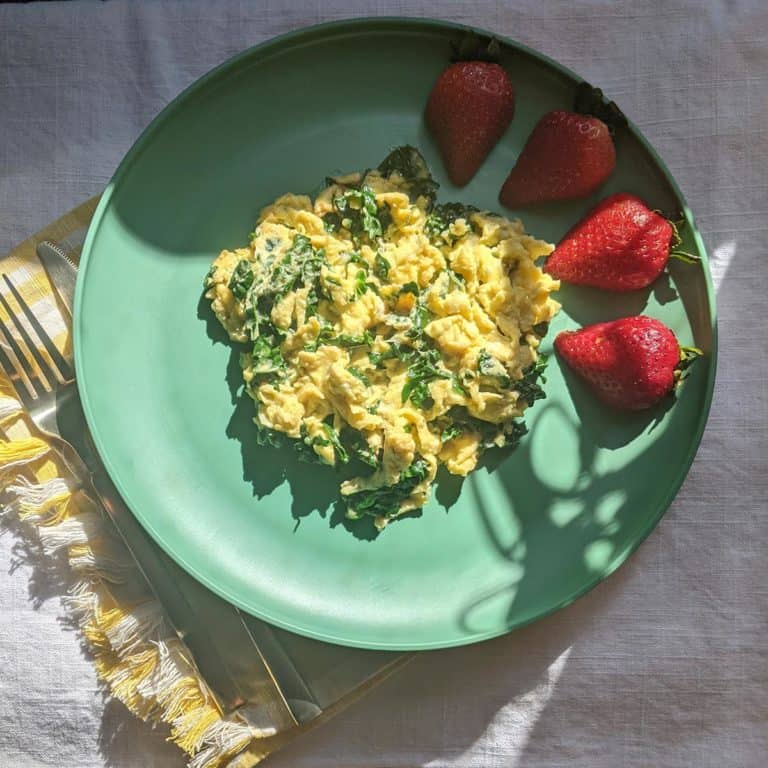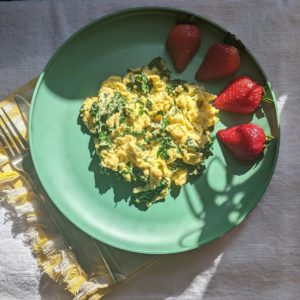 Kale Egg Scramble
Author:
Fluffy eggs and tender kale leaves. A bit of ripe fruit. A simple and nutritious start to the day.
Ingredients
4

eggs

2

cups

kale, chopped

1

tbsp

olive oil

salt, to taste

ground black pepper, to taste
Instructions
Thoroughly wash, de-rib, and chop 2 large kale leaves.

Thoroughly beat 4 eggs in a medium-sized bowl.

Heat olive oil in a nonstick pan over medium heat for 1 minute.

Add beaten eggs to pan, stirring with a wooden spoon or silicon spatula.

After 1 minute, add in the chopped kale.

Add salt and pepper to taste.

Stir until chopped kale is well incorporated and eggs are fully cooked.

Serve with fresh fruit and whole wheat toast.
Notes
*Nutritional information is calculated using online tools and is provided as a courtesy. The values can vary depending on which ingredients and brands are used.
Nutrition*
Calories:
211
kcal
Carbohydrates:
4
g
Protein:
13
g
Fat:
16
g
Saturated Fat:
4
g
Polyunsaturated Fat:
3
g
Monounsaturated Fat:
8
g
Trans Fat:
1
g
Cholesterol:
327
mg
Sodium:
161
mg
Potassium:
355
mg
Fiber:
3
g
Sugar:
1
g
Vitamin A:
7169
IU
Vitamin C:
63
mg
Calcium:
220
mg
Iron:
3
mg