If you're seeking an easy, delicious, and healthy breakfast recipe, look no further. Protein Overnight Oats constitute a creamy, sweet, superfood breakfast, one that you will want to eat every day. The five ingredients used in this breakfast recipe are simple, wholesome, and full of nutrition.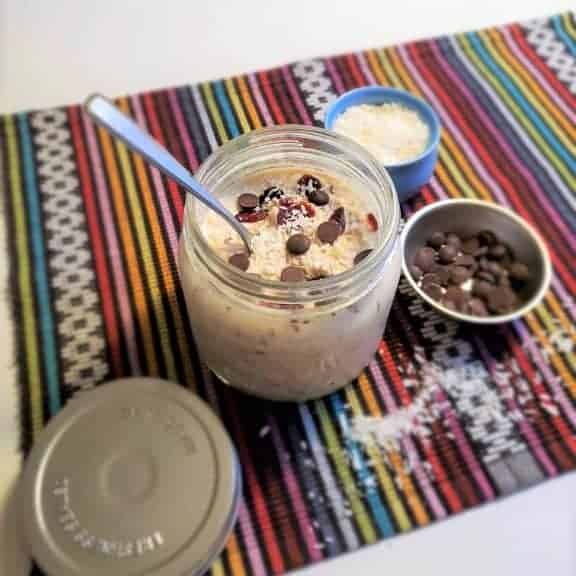 Disclosure: Some of the links below are affiliate links. Affiliate links support Pregnancy Eats at no additional cost to you. I receive a commission if you choose to make a purchase through these links.
You Will Love This Recipe!
During my pregnancies, overnight oats were my ideal breakfast. Easy to prepare, healthy, and velvety smooth, oats checked all the boxes! I loved advance prepping these small mason jars and having breakfast ready to go every morning! Since no heat is involved, the ingredients used in this recipe retain their nutritional value. The protein in these overnight oats comes from the oats, milk, Greek yogurt, and nut butter.
Protein is an essential nutrient in every pregnant woman's diet. Pregnant women should be consuming at least 60 grams of protein daily. These overnight oats have protein - an impressive 22 grams per serving! For some women in pregnancy, it can be difficult to stomach meat. Therefore, alternative protein options, like these protein overnight oats, are a perfect solution.
These protein overnight oats are silky smooth and mildly sweet. They are the perfect base for any kind of topping imaginable. For example, I enjoy topping mine with dried cranberries, chopped figs, and fresh blueberries or raspberries. Other options include coconut flakes, chia seeds, or sliced banana.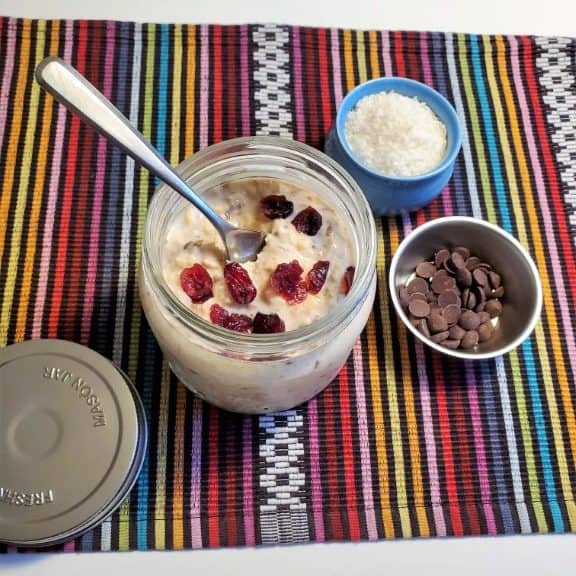 Protein overnight oats could not be easier to make! The prep time is minimal. First, simply mix the ingredients together and stir until well combined. Then, let it sit in the refrigerator overnight. During this time, the oats will absorb all of the liquid. Subsequently, what remains is a creamy, mousse texture, ready to eat the next morning!
Nutritious Ingredients for Healthy Pregnancy
Let's take a closer look at the nutrient content of the ingredients used in this recipe.
Oats
Nutritious oats offer a variety of health benefits, first of all, iron. In fact, one cooked cup (234 grams) of oats typically contains 6 mg of iron. Oats also contain other vital minerals such as thiamine and magnesium. Old fashioned oats also contain necessary vitamins such as B vitamins and folate. What's more, oats also contains a good amount of fiber. Fiber is always a good thing in pregnancy, as it helps to keep constipation at bay.
For this recipe, you want to use old fashioned oats. Many different varieties of oats are available at the store. However, using old fashioned oats in this recipe will yield the most superior texture. Old fashioned oats will soak up the liquid entirely, thus resulting in a pleasant and creamy texture.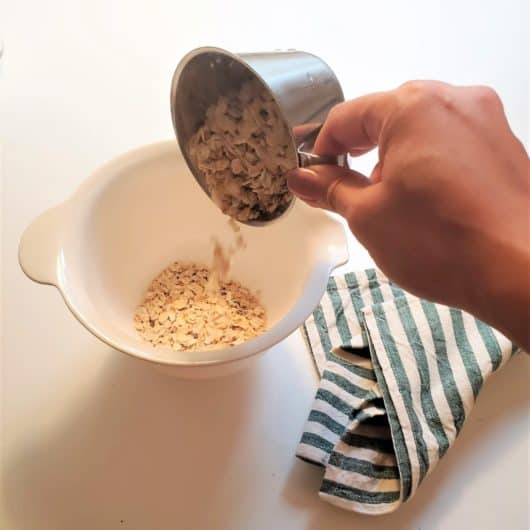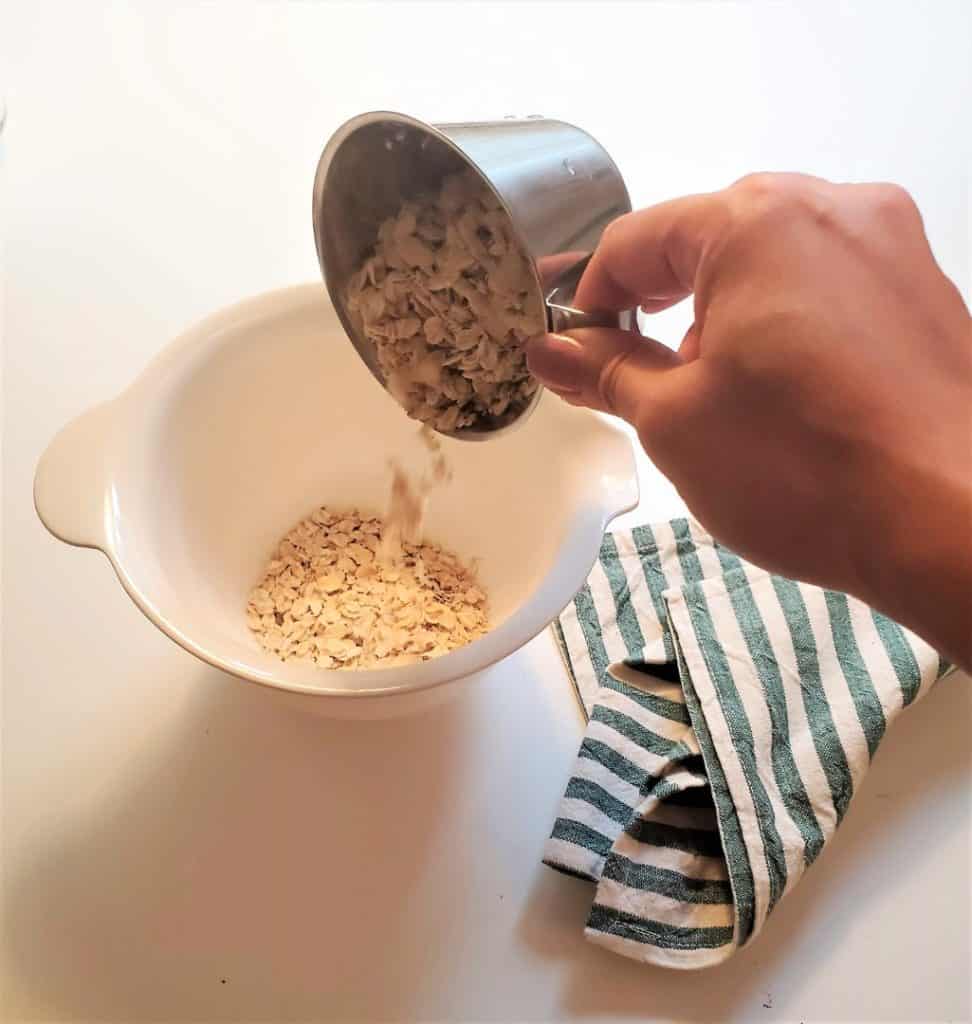 Milk
Full of nutrients, milk is a great addition to any pregnant woman's diet. Milk contains a lot of protein. Growing baby needs abundant protein in order to develop properly. Ideally, pregnant women need at least 60 grams of protein daily because protein helps development of baby's nervous system. Milk also is rich in calcium and vitamin D.
For this recipe, you can choose between cow's skim milk, whole milk, or 2%. I personally prefer whole milk which has best flavor. If you are trying to reduce the saturated fat in your diet however, feel free to choose a lower fat option.
Additionally, plant based milk options can be used, but they are less nutrient dense. In general, plant based milk contains less protein and calcium. Some examples of plant based milk include vanilla almond milk, soy milk, or oat milk. These would be great options for someone who is lactose intolerant.
Peanut Butter
Barring any personal allergy concerns, nut butters are an excellent pregnancy food. Sugar-free, natural peanut butter specifically is packed with nutrients. It is considered a pregnancy superfood. The healthy monounsaturated fats present in peanut butter are crucial for baby's brain development. These healthy fats also support placenta growth. Furthermore, peanuts are loaded with folate, which is especially important during the first trimester. Folate is vital for proper body development and growth of baby.
Another nutrient present in peanut butter is, of course, protein. Pregnant women need at least 60 grams of protein daily. The plant based protein found in peanut butter will help women towards meeting that goal.
Some data has even shown that eating peanut butter while pregnant may prevent future peanut allergies in baby.
Many types of nut butter exist: peanut butter, almond butter, cashew butter, and even pistachio butter. I think that any of these would taste fantastic in this recipe. If you're feeling ambitious, why not make your own nut butter using a food processor? However, bear in mind that the nutritional content of your overnight oats will vary depending on which nut butter is used
The following list ranks common nut butters in terms of protein content.
Hazelnut butter - 2 grams protein per TBSP.
Macadamia Nut butter - 2 grams protein per TBSP.
Cashew butter - 2.5 grams protein per TBSP.
Walnut butter - 2.5 grams protein per TBSP.
Almond butter - 3 grams protein per TBSP.
Sesame butter - 3 grams protein per TBSP.
Sunflower butter - 3.5 grams protein per TBSP.
Peanut butter - 4 grams protein per TBSP.
Pumpkin seed butter - 4 grams protein per TBSP.
Greek Yogurt
Rich Greek yogurt contains far more protein than traditional yogurt. Greek yogurt also has half the sodium content of American yogurt. However, both varieties promote intestinal health, build stronger bones, and enhance immunity. Significantly, a typical 6-ounce serving of Greek yogurt contains 15 to 20 grams of protein! You can choose between fat free or whole fat yogurt. However, whole fat yogurt offers richer flavor.
Maple Syrup
Natural sweeteners like maple syrup are far superior to artificial or refined sugar. For one thing, plant based sweeteners contain minerals. Some of these minerals include calcium, potassium, and iron. On the contrary, white granulated sugar is devoid of nutritional benefit.
Other natural options include honey, coconut sugar, or molasses. If you are concerned about your sugar intake, then you could certainly omit the maple syrup. Alternatively, you could substitute with a few drops of vanilla extract for additional, sugar-free flavor. The latter may be a good option for a pregnant woman with gestational diabetes.
---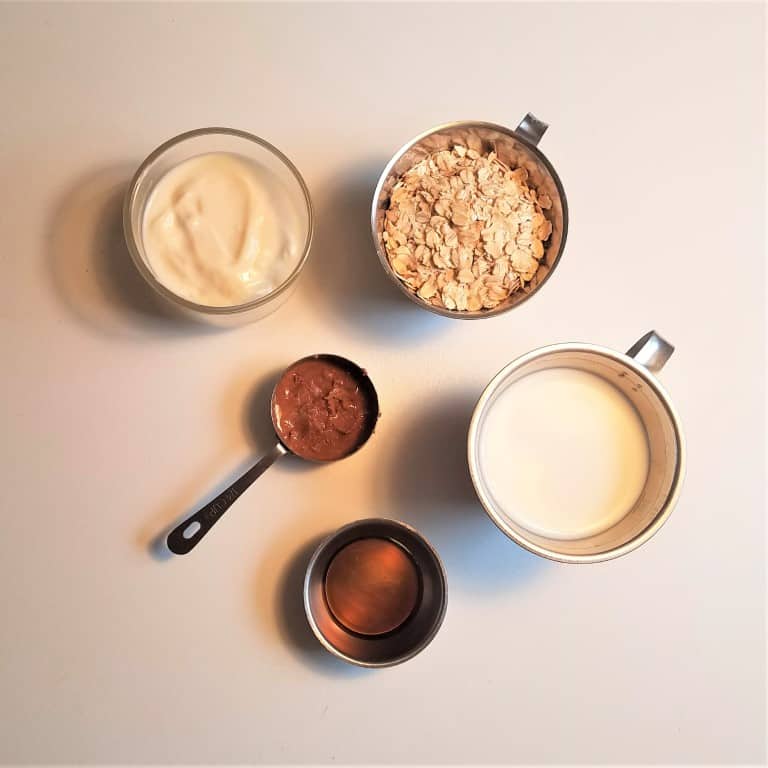 Instructions for Protein Overnight Oats
First, Combine Ingredients
First, place all ingredients into a medium sized mixing bowl.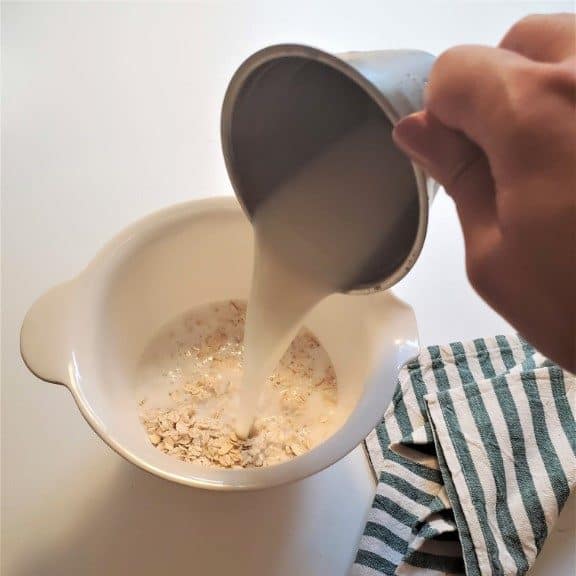 Then, Mix Thoroughly
Next, mix until combined. If desired, decant into personal sized mason jars (this recipe yields two servings). Lastly, place overnight oats in the fridge and allow to sit for at least four hours. I prefer to let it sit overnight.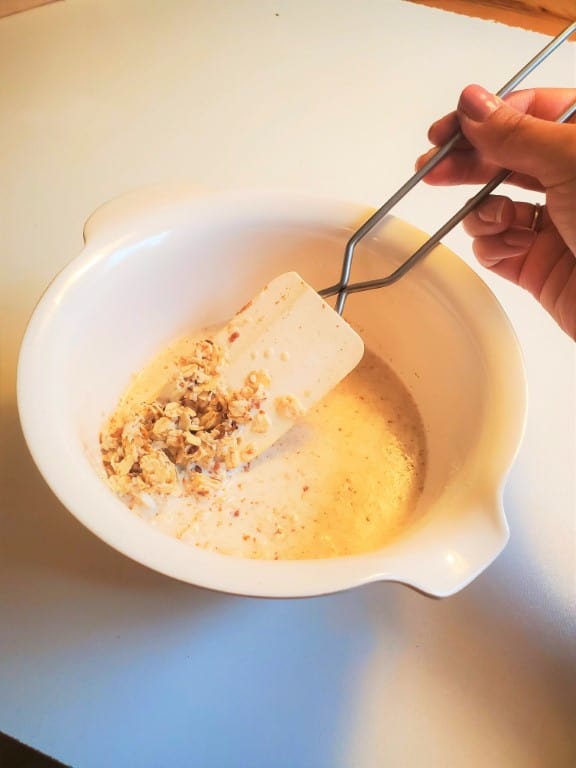 Serve and Enjoy!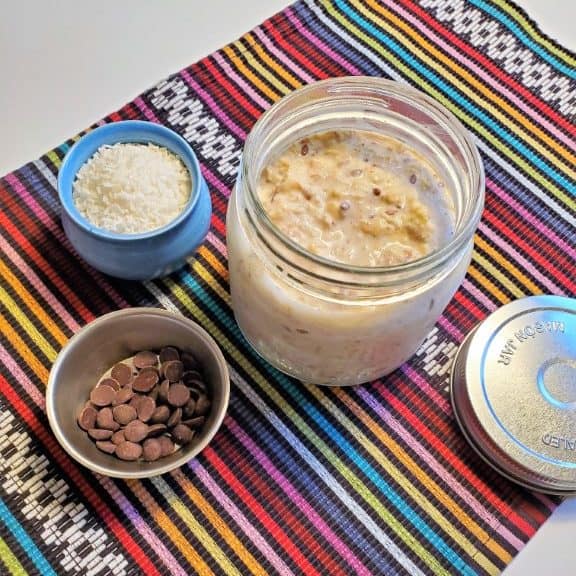 Serve the protein overnight oats with different toppings. Some delicious options include:
Dried cranberries
Fresh blueberries or raspberries
Freshly sliced strawberries
Chopped apples
Sliced banana
Chocolate chips
Coconut flakes
A dusting of cocoa powder (for the winning chocolate peanut butter combination!)
Crushed almonds
Chia seeds (for crunch)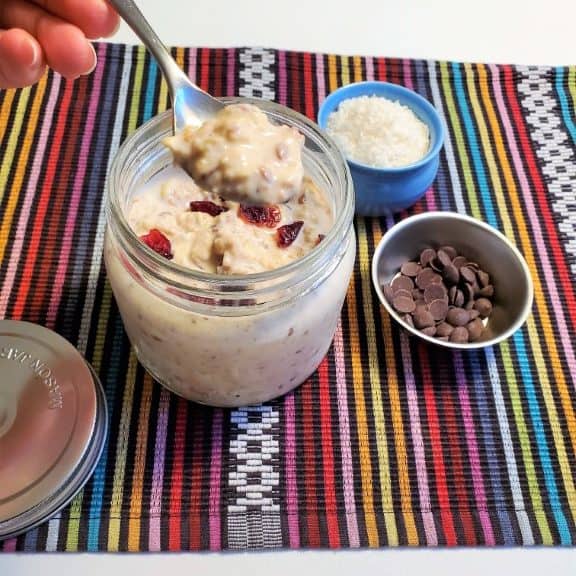 Serving Suggestions and Tips
Protein Overnight Oats are so delicious on their own, but are especially good paired with:
Freshly squeezed orange juice
Crispy turkey bacon
Fresh fruit salad of melon, bananas, and grapes
Frequently Asked Questions (FAQ)
Is it healthy to eat overnight oats every day? Variety is the hallmark of good nutrition, so you should really strive to eat a wide variety of foods during pregnancy. That being said, these protein overnight oats are a delicious superfood option for pregnant women. Indeed, they can be enjoyed multiple times every week!
Should I use raw steel cut oats or rolled oats? You definitely want to use rolled oats. Avoid steel cut oats because they will retain too much texture. Even after soaking overnight, steel cut oats can be tough to chew. If you use steel cut oats, the mixture will not be smooth, like pudding.
Can I use protein powder in overnight oats? I personally did not consume protein powder during my pregnancies. Consult with your doctor about the use of protein powder in pregnancy. I prefer to prepare and eat these protein overnight oats without using protein powder. Instead, I chose to meet my protein requirement by consuming a variety of foods that naturally contain protein.
You'll Also Love These Recipes
I hope you enjoyed this Protein Overnight Oats recipe! If you make this recipe or any one of my other easy pregnancy recipes, please share a photo and tag @pregnancyeats on Instagram. I cannot wait to see!
Recipe Card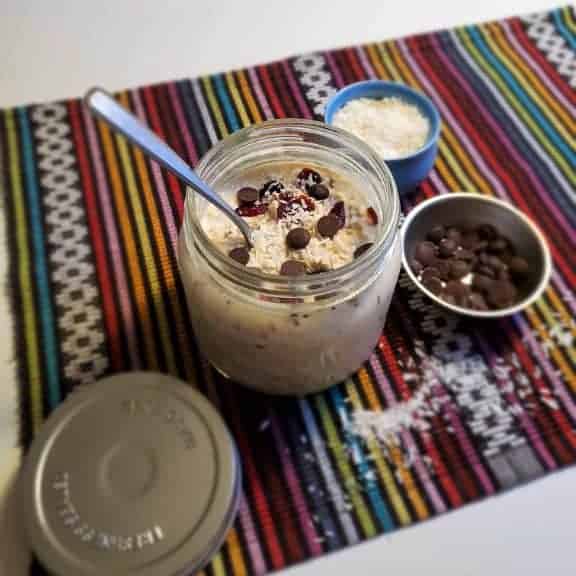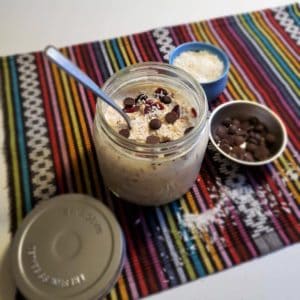 Protein Overnight Oats
Author:
Protein overnight oats is a creamy, sweet, and nutritious breakfast recipe.
Ingredients
1 cup of old fashioned oats (80 grams)

1 cup of milk (2.4 dl)

1/2 cup of greek yogurt (123 grams)

2 tablespoons of peanut butter

1 tablespoon of maple syrup
Instructions
Thoroughly combine all ingredients.

If desired, decant into personal-sized mason jars.

Place in refrigerator and allow to sit overnight.

Serve with optional toppings.
Notes
*Nutritional information is calculated using online tools and is provided as a courtesy. The values can vary depending on which ingredients and brands are used.
Nutrition*
Disclaimer: Recipes available on Pregnancy Eats may or may not be appropriate for you, depending on your specific health and medical conditions. Consult with your doctor or dietitian if you need help determining which foods to include in your diet.