This hearty Kale Crunch Salad is packed with refreshing, mouth-watering flavor. The salad dressing is at once sweet, salty, and tart, and the salad is packed with crunchy textures including almonds, kale, and carrots.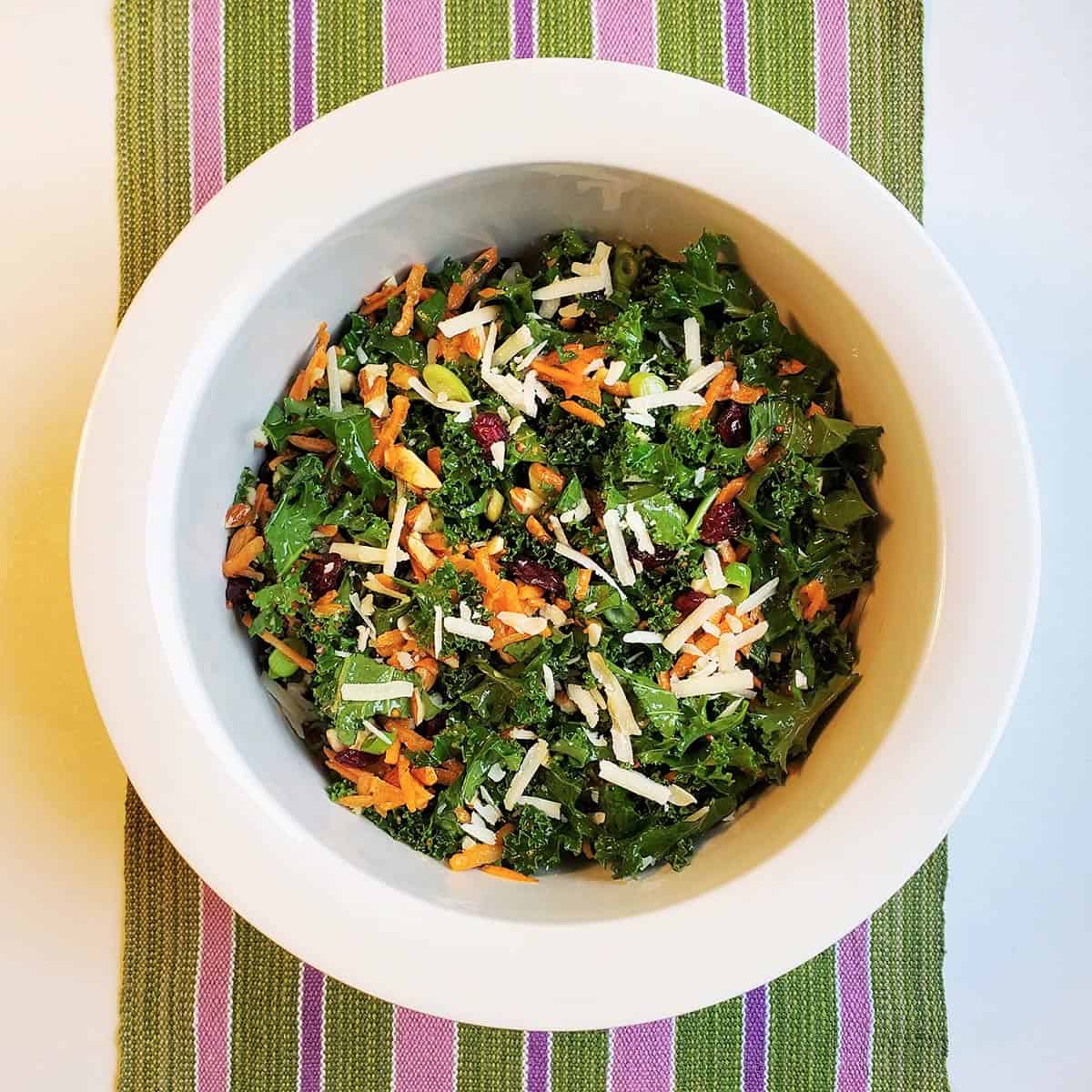 It is my favorite salad and comes together in minutes!
Why You Will Love This Recipe
This kale crunch salad is so delicious that it tastes like a guilty pleasure, but it is actually incredibly healthy!
The apple Dijon dressing is tart, garlicky, and insanely flavorful. The mouthwatering components to this dressing are Dijon mustard, apple cider vinegar, and garlic. The salad overflows with an abundance of crunchy green kale, fresh carrots, crushed roasted almonds, and green scallions. Before serving, tart dried cranberries and grated sharp parmesan are scattered on top which adds additional savory flavor. If you are not a fan of dried cranberries, certainly other dried fruits would work here: think thinly sliced dried apricots or raisins.
In my pregnancies, I strive to eat salad daily. Occasionally, I eat salad alone, as a light lunch, but more often as an accompaniment or prelude to a more substantial main dish. We all know the importance of eating leafy green foods during pregnancy. Dark green leafy vegetables have so much to offer a pregnant woman and her growing baby. I call this a "Winter" salad because the kale crop actually thrives during the winter season. Thus you can acquire fresh, nutritious kale even in winter time!
Nutritious Ingredients
Winter Kale Crunch Salad is a super easy, healthy meal for pregnancy. Let's take a closer look at the nutrient content of the main ingredients used in this recipe.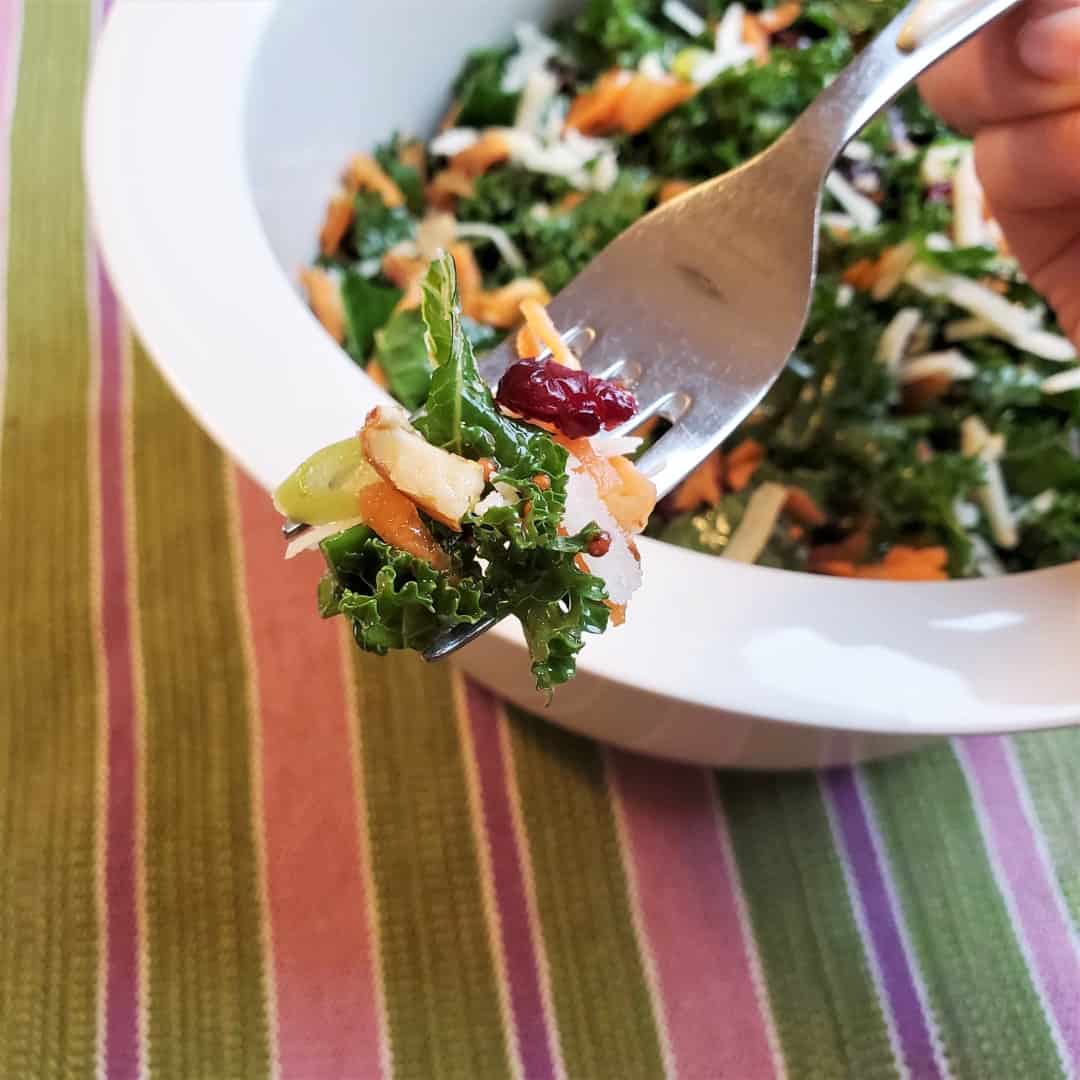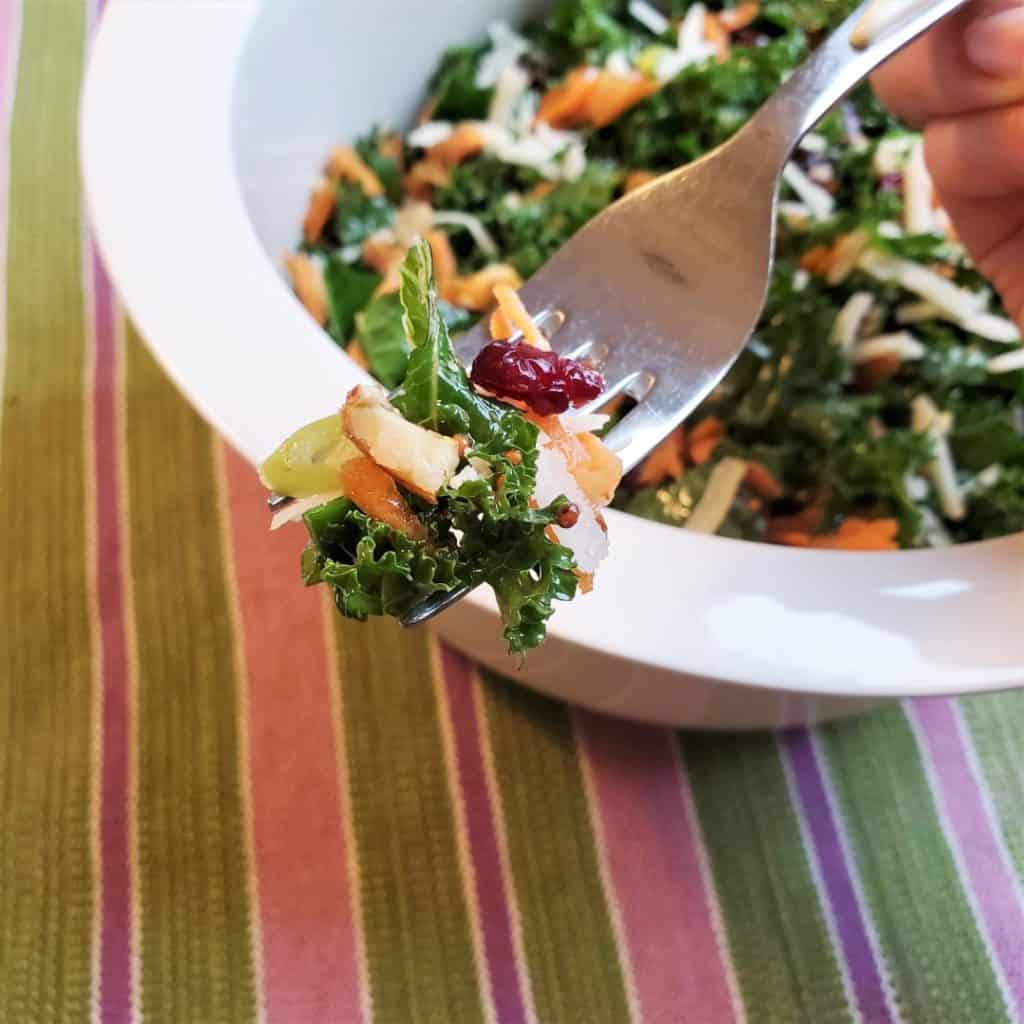 Kale
First of all, let me say that it is very important to wash the kale thoroughly! Often times you will find bits of sand and debris clinging to the kale leaves. After tearing the kale into bite-sized pieces, rinse the kale thoroughly using cold water. Once clean, pat the leaves dry using a paper towel, or better yet, a salad spinner.
You can use curly kale, or Lacinato (Tuscan) kale. Really, any type of fresh green kale will do.
Kale is one of those incredible pregnancy superfoods and is high in nutrients fiber and calcium, as well as vitamins A, C, & K. Fiber rich foods, such as kale, are important in pregnancy as they promote good digestion which is essential for maintaining healthy pregnancy weight. Adequate calcium intake in pregnancy diet is critical. Calcium builds strong bones and teeth in baby. It also helps to build a healthy heart, healthy nerves, and muscles. Adequate calcium intake helps mama from losing bone density, because during pregnancy, little one uses the calcium for her own growth.
Vitamin A is an important factor in baby's developing immune system, and helps with bone growth, as well as growth of baby's skin and eyes. Vitamin C plays an important role in proper development of baby's bones, gums, teeth and muscles! Importantly, consuming vitamin C helps pregnant women to absorb iron more easily. As you can see, kale is truly a pregnancy super food!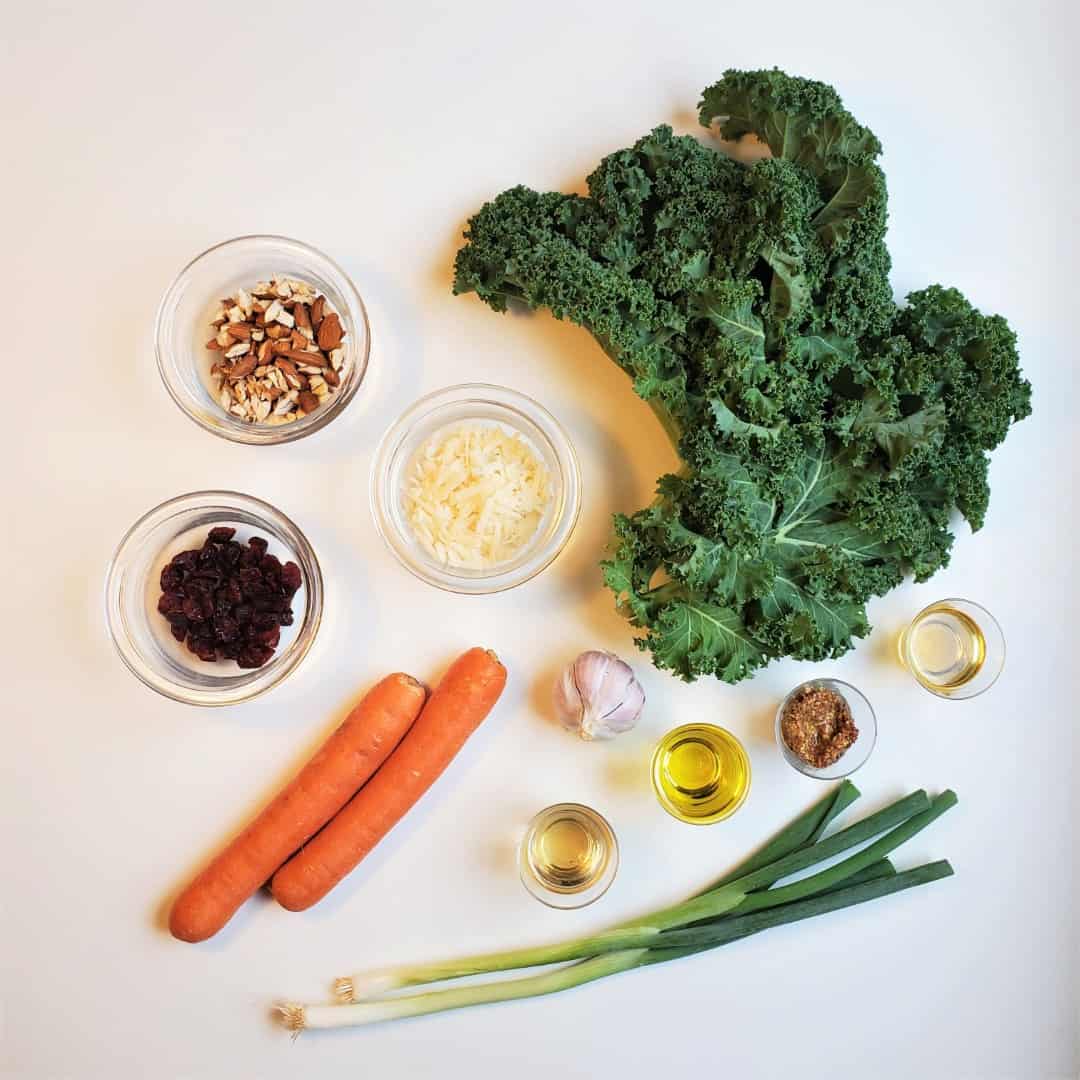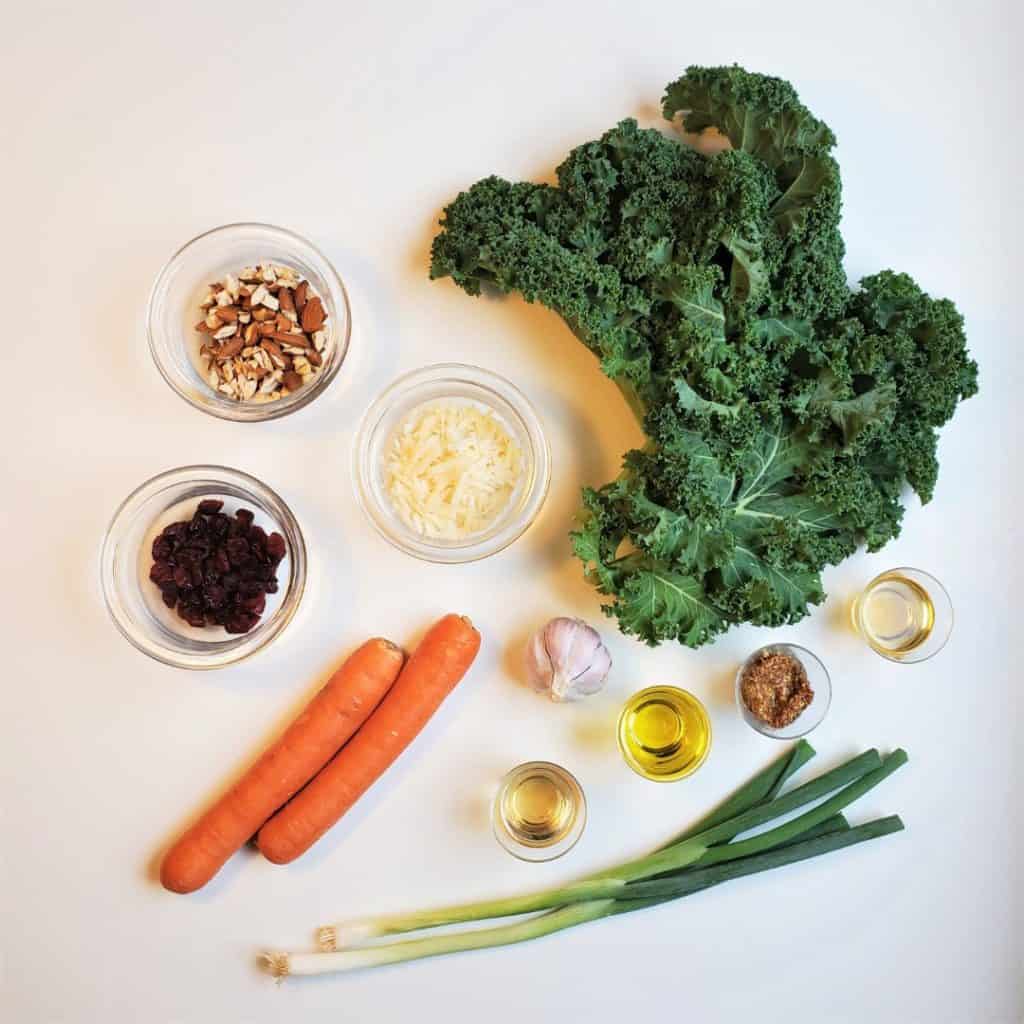 Almonds
Like kale, almonds are also a great plant-based source of calcium. Be sure to choose the unsalted variety. Notably, almonds are also a source of protein and vitamin B2. Protein intake is of paramount importance during pregnancy. The nutrient protein is a building block of pregnancy and promotes the growth of fetal tissues, and baby's brain development. Protein also supports the increasing supply of red blood cells. Vitamin B2, also called riboflavin, is essential during pregnancy because it supports good vision, and growth of little one's bones, muscles, and nerves. Some research suggests that inadequate vitamin B2 intake during pregnancy could result in a higher risk of preeclampsia for mama. Preeclampsia is a dangerous condition in which the mother's blood pressure and fluid retention increases dramatically.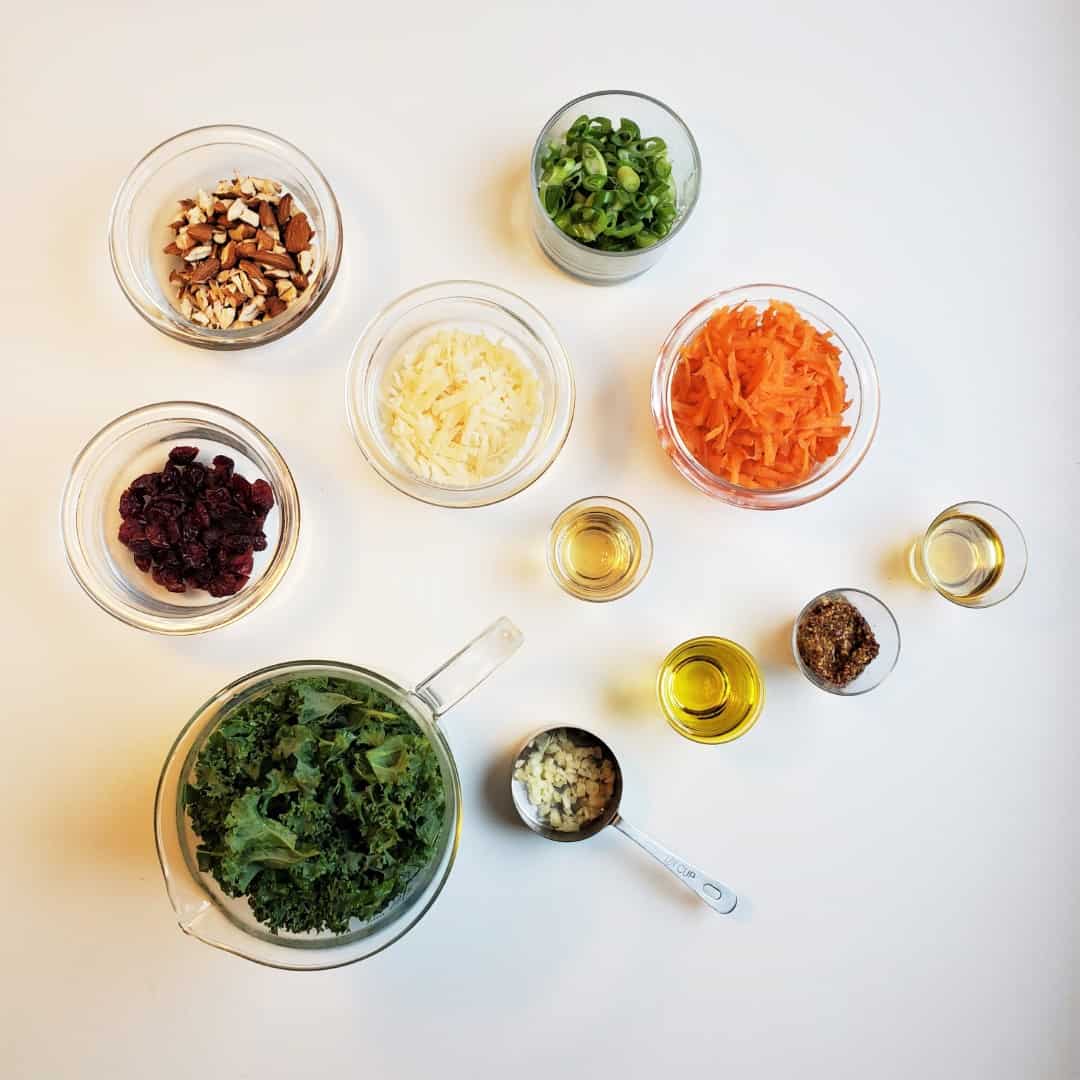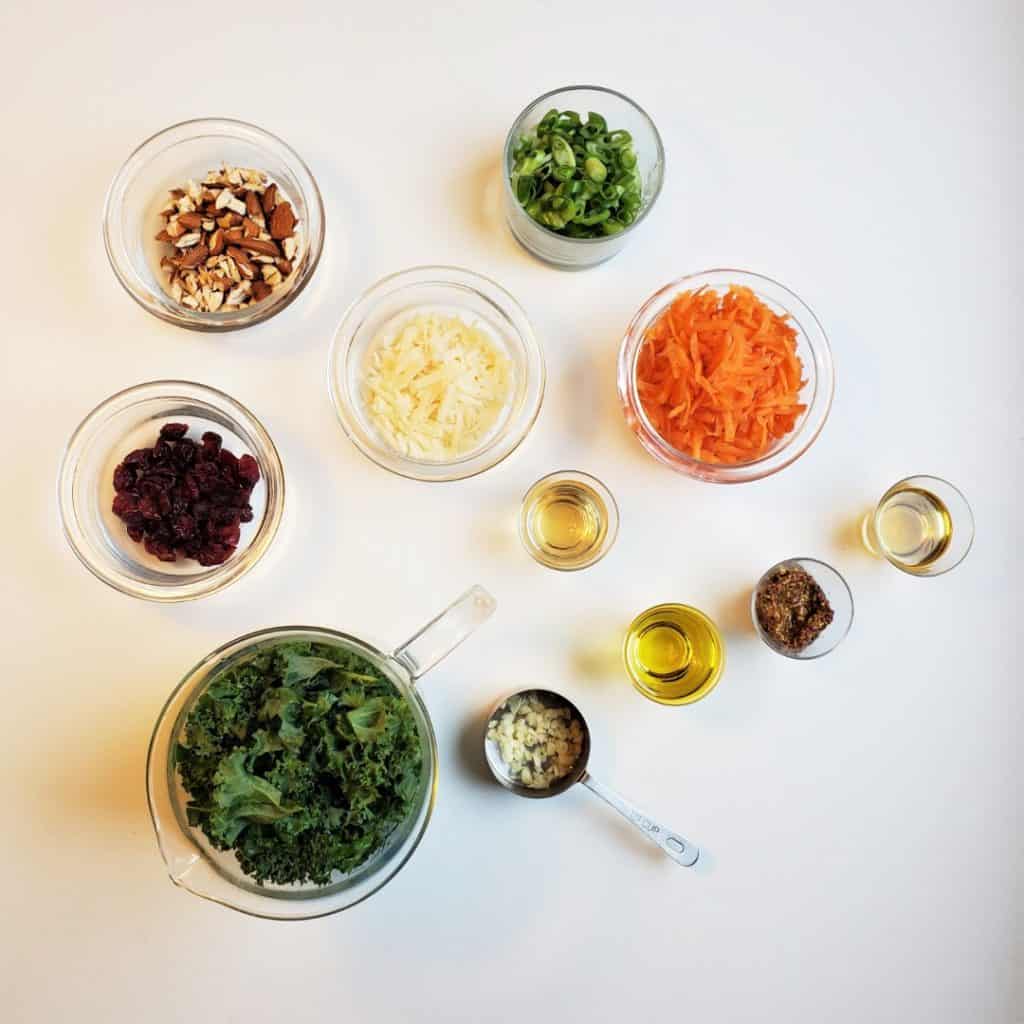 Carrots
Like kale, carrots are also a source of vitamin C and are an essential part of healthy eating in pregnancy. However, carrots are also an excellent source of the nutrients folate and beta carotene. Folate (also known as folic acid in the synthetic form) is an important nutrient during pregnancy for many reasons. Folate intake helps prevent birth defects of baby's brain and spinal cord, also known as neural tube defects or NTDs. These defects can happen in early pregnancy, well before women even know that they are pregnant. Beta carotene is an antioxidant that pregnant women's bodies transforms into vitamin A. Vitamin A helps baby's developing immune system, skin and eyes, and also helps with bone growth.
How to Make Kale Crunch Salad
First, Prepare the Salad Dressing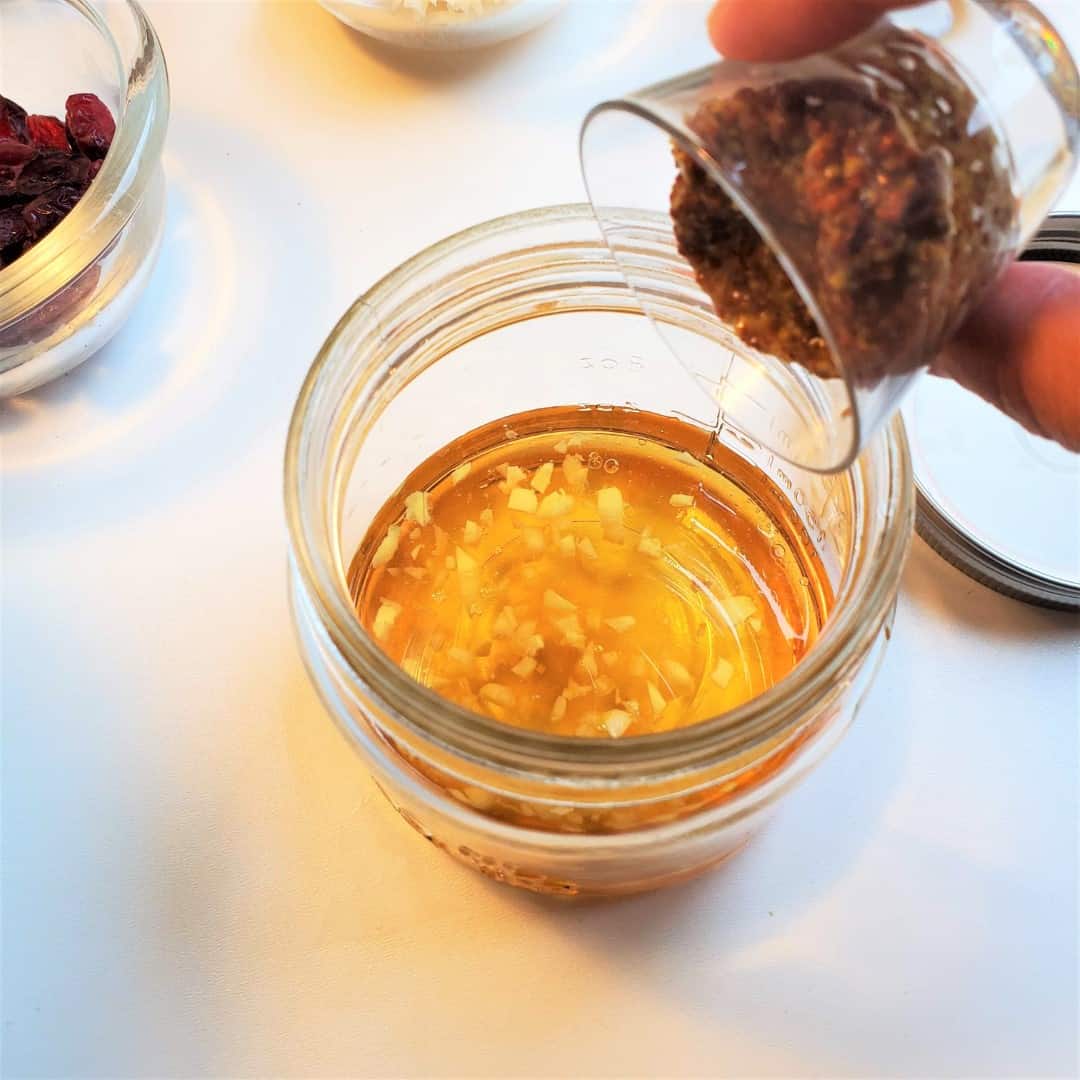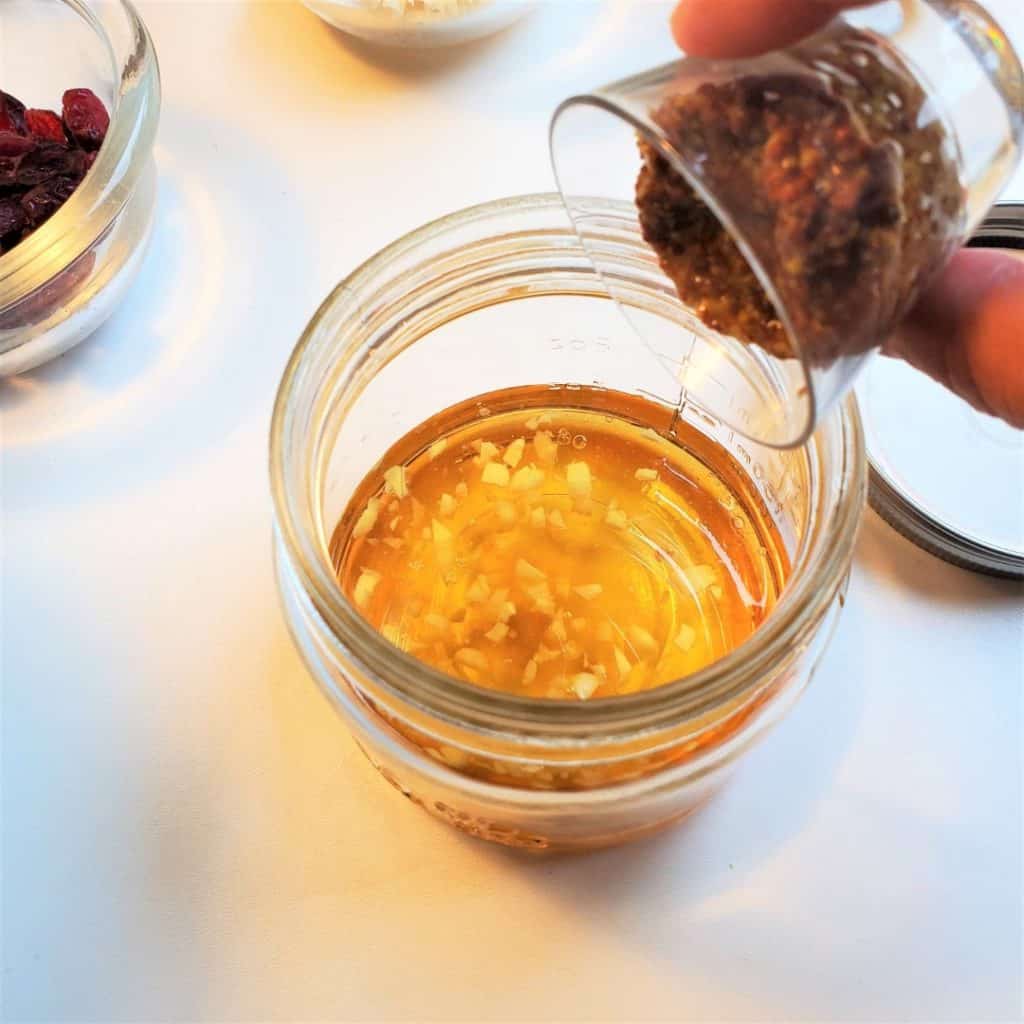 First, prepare the apple cider vinaigrette. In a mason jar, combine the extra virgin olive oil, 3 tablespoons apple cider vinegar, chopped garlic, maple syrup, Dijon mustard, and salt & pepper. Cover the jar with the lid and give it a good shake to blend the salad dressing well.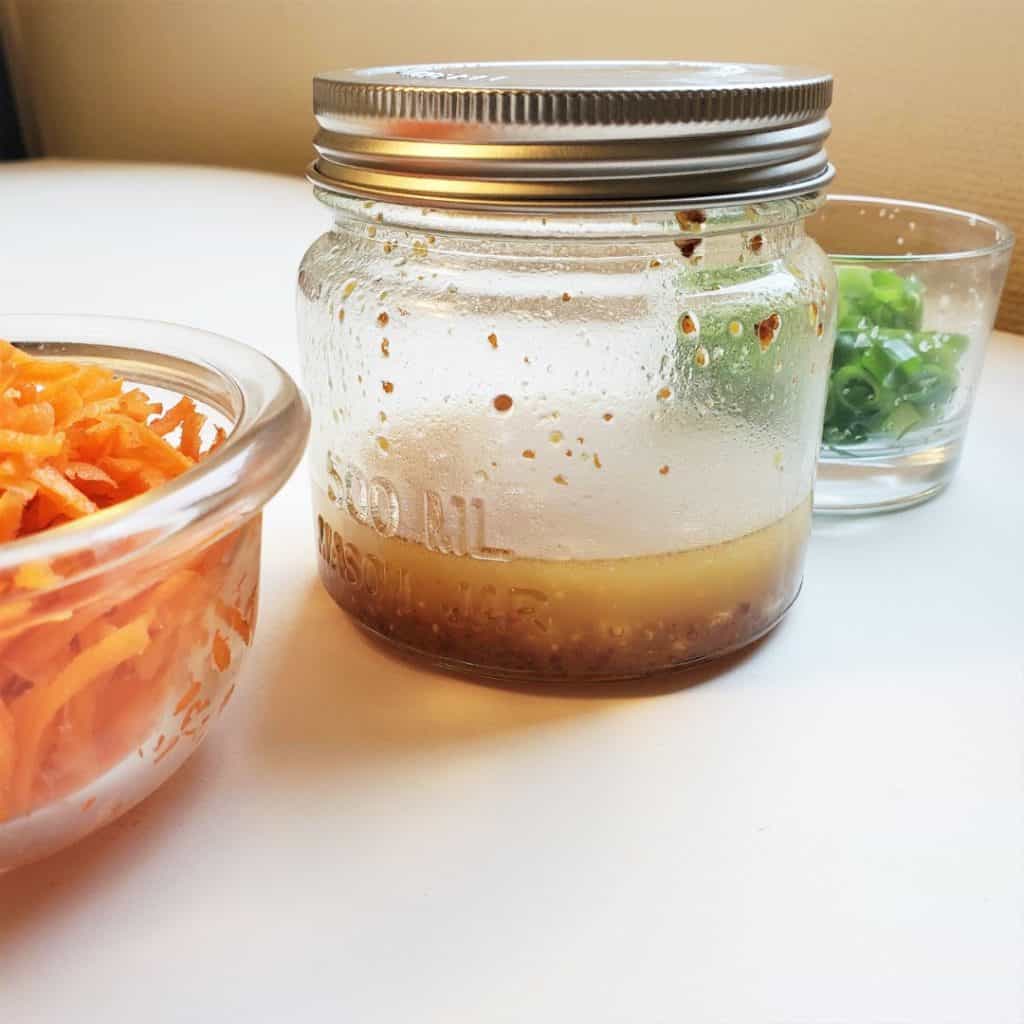 Then, Prepare the Vegetables
Then, remove the ribs from the curly kale. The rib is the tough, long spine that runs vertically through each kale leaf. Discard the ribs. Tear the remaining kale leaves into bite-sized pieces. Wash the kale very thoroughly to remove any sand or grit. Dry the curly kale leaves, preferably using a salad spinner. Drying the leaves of any excess water is an important step as it allows the dressing to properly adhere. Place the kale leaves into a large salad bowl.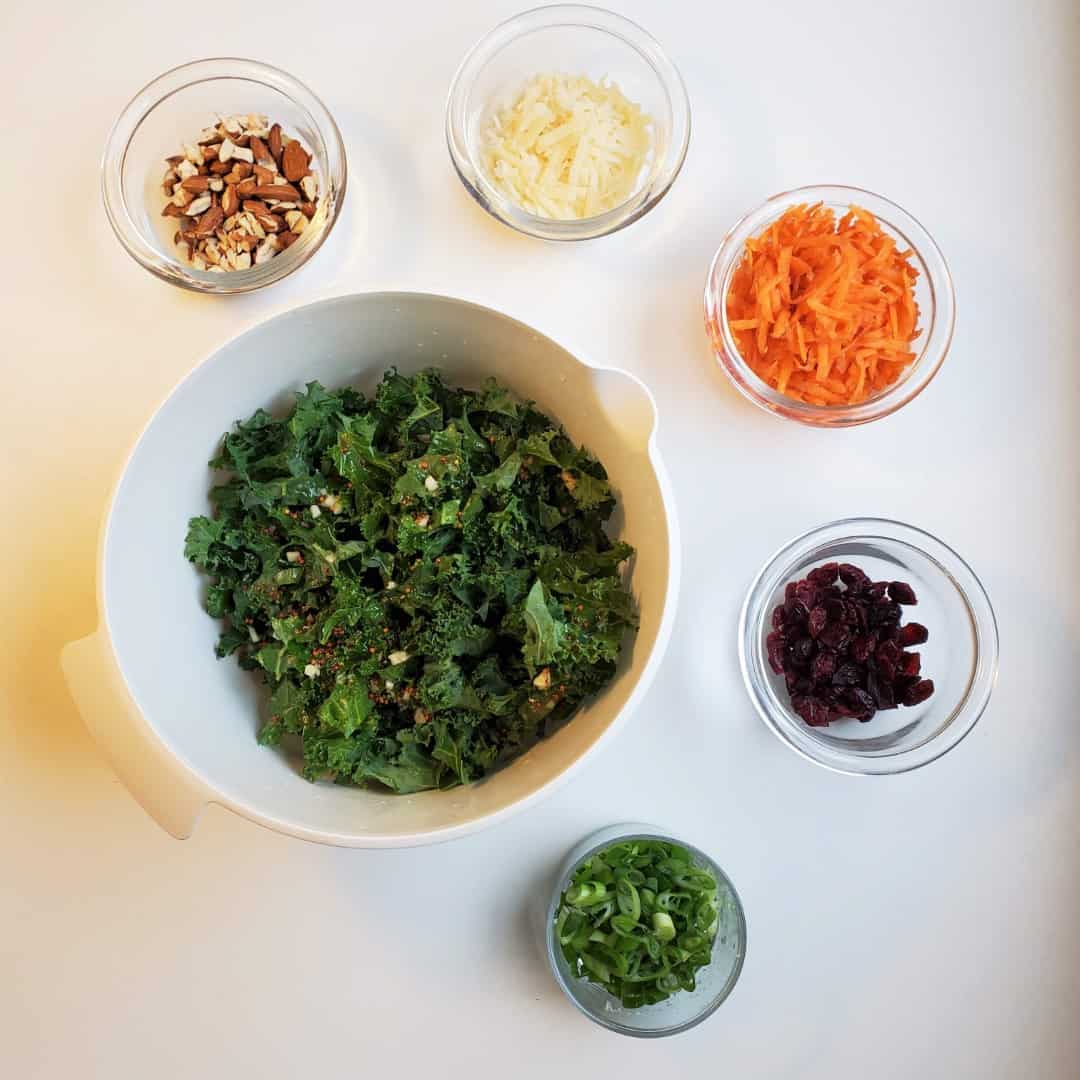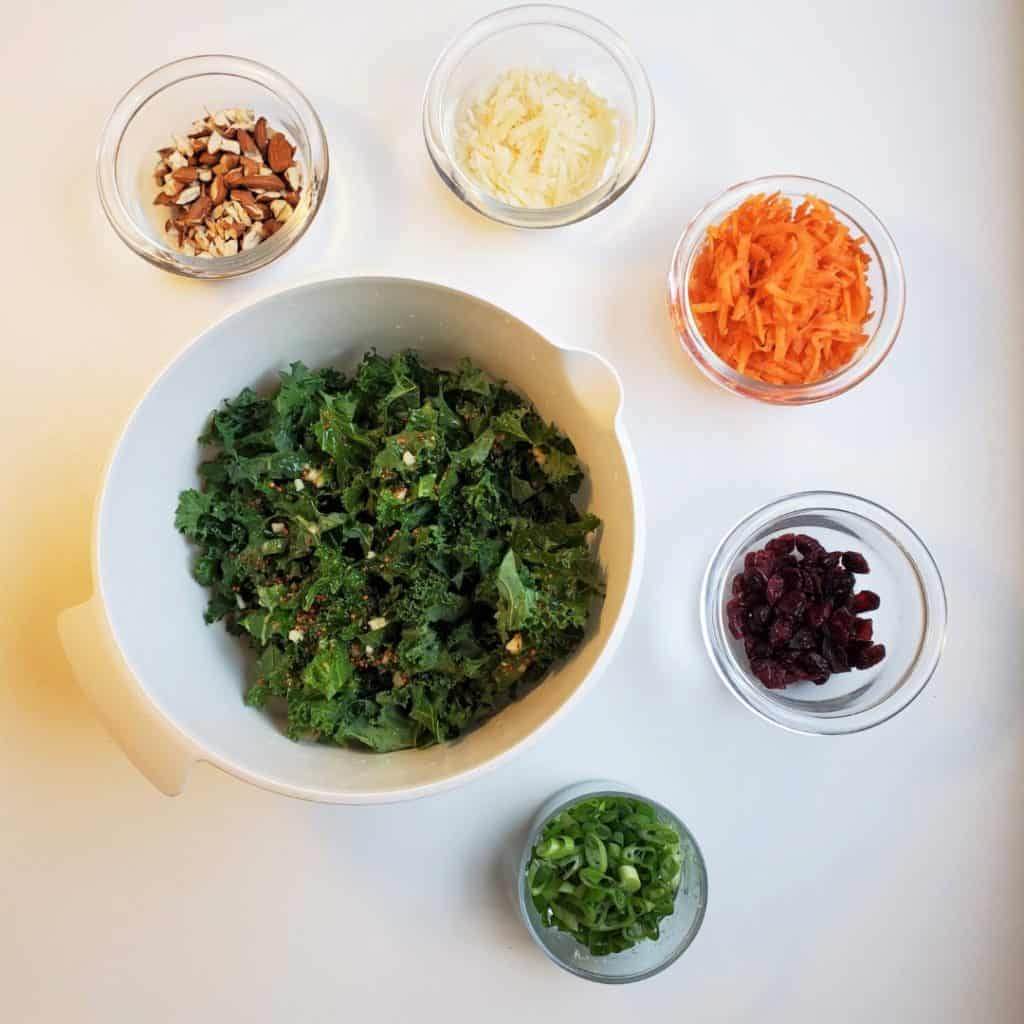 Pour the salad dressing on top of the kale salad leaves and stir and flip with a wooden spoon until every leaf is coated.
Wash the carrots and shred using a box grater until you have 1 cup, shredded. Slice the scallions to yield ½ cup.
Add the shredded carrots, crushed roasted almonds, dried cranberries and sliced scallions to the kale. Again, stir and flip with a wooden spoon until the salad ingredients are combined.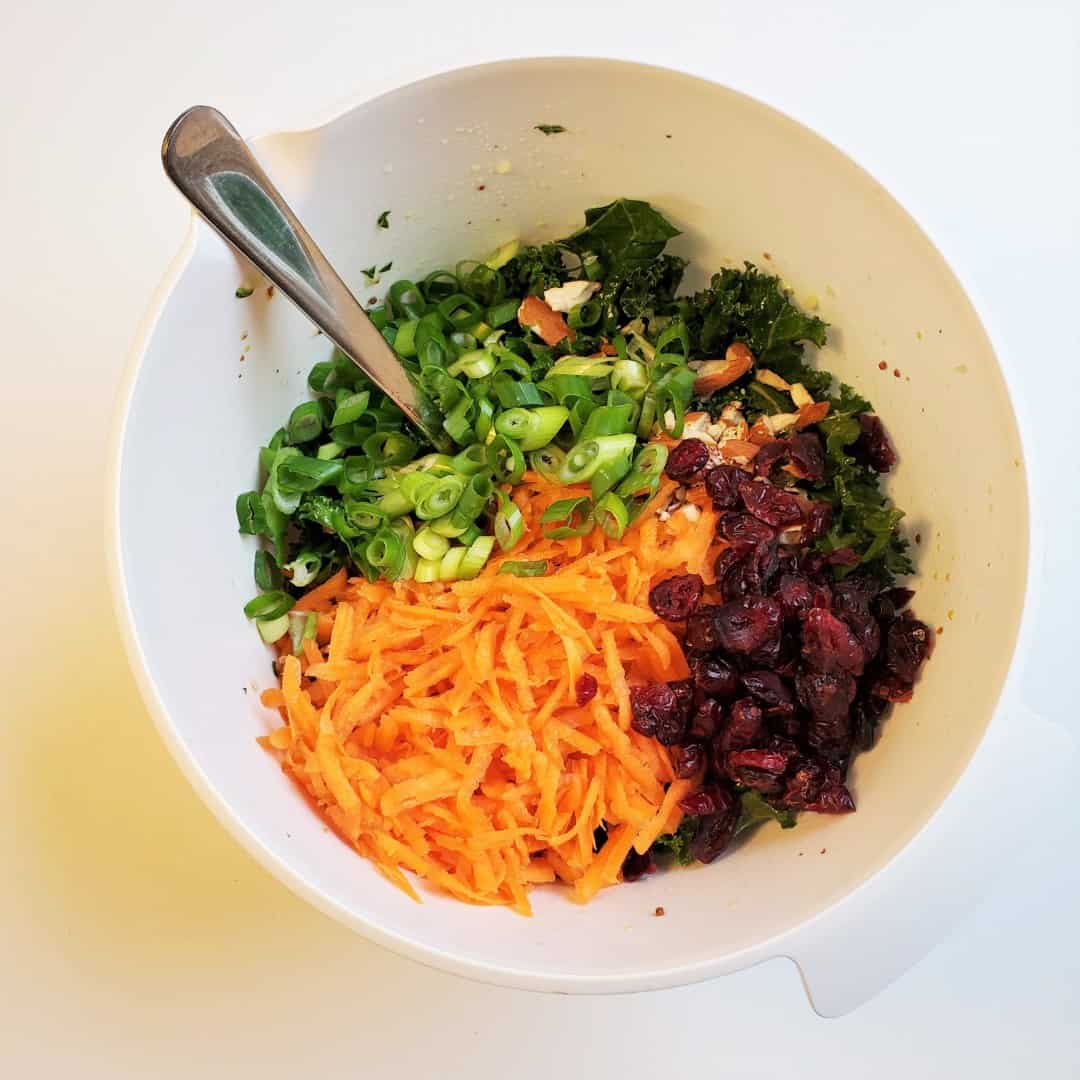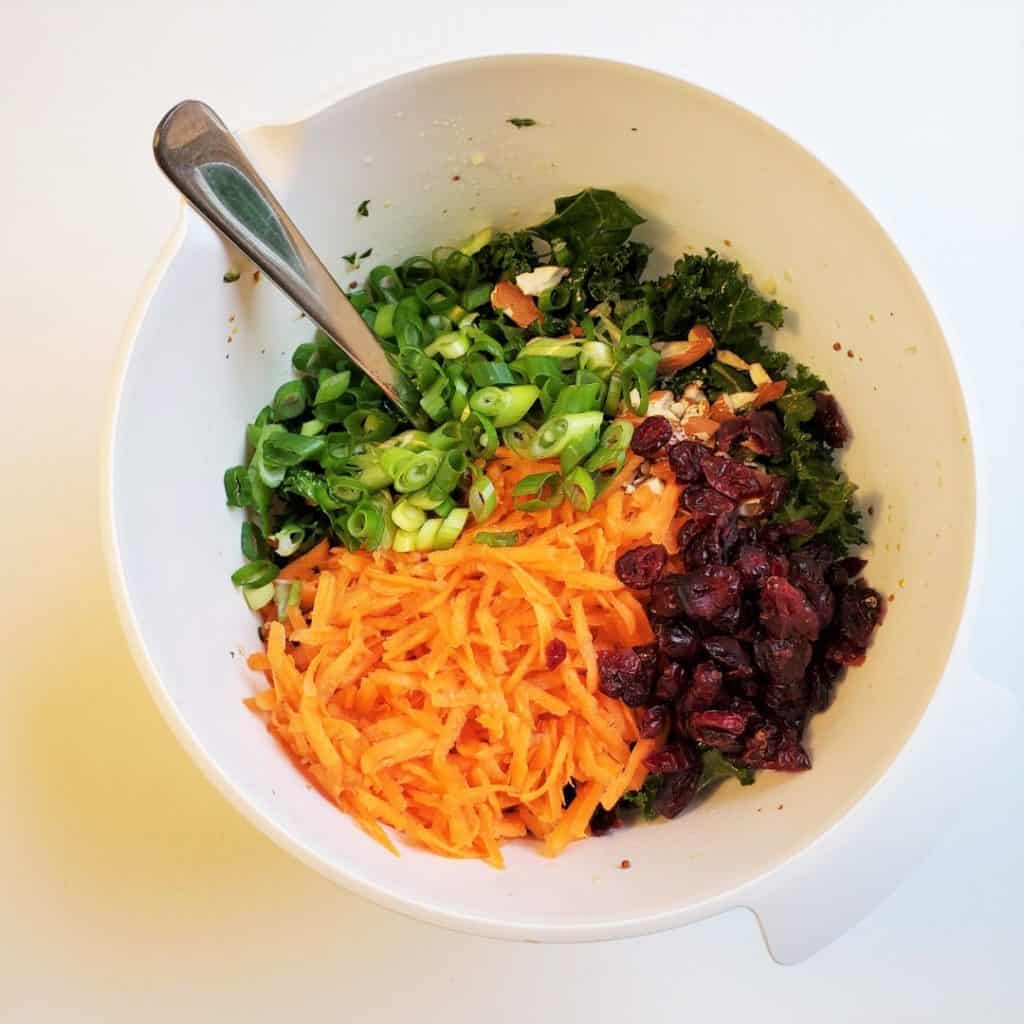 Top the kale crunch salad with shredded, pasteurized, parmesan cheese, and serve! SO good!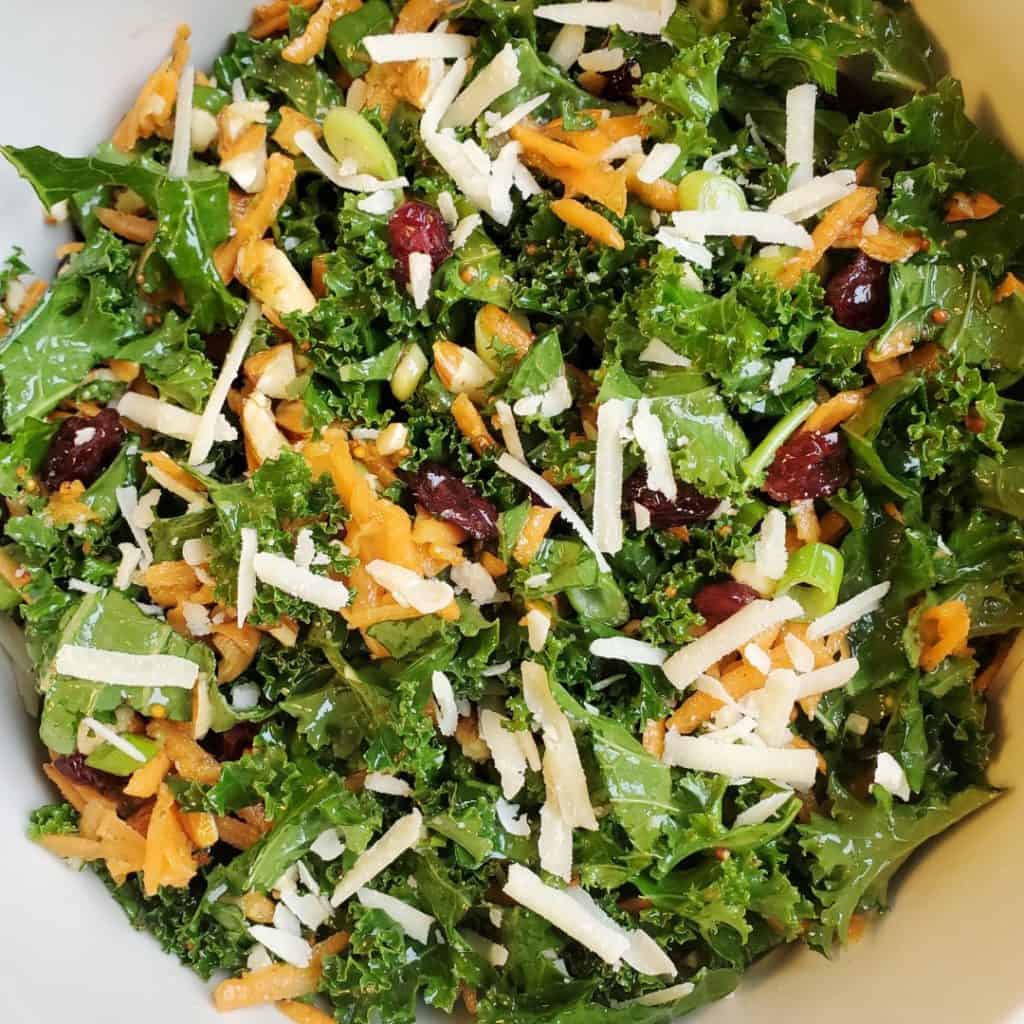 Recipe Serving Suggestions and Tips
Winter kale crunch salad is so delicious on its own, but is especially good served alongside:
If you need a bit of extra protein in this salad, feel free to add some pre-cooked shredded chicken. I think that would be an amazing addition!
Frequently Asked Questions (FAQs)
What does kale taste like? The texture of kale is hearty and chewy. The flavor is earthy, fresh, and just a tad bitter. Somewhat similar to green cabbage. A very satisfying, filling green to eat!
How long does kale last? Fresh, dry, unwashed kale can last for at least one week in the fridge. It truly depends on how you store it. I've had kale last two weeks in the fridge because it was very fresh when I bought it. If the kale looks at all slimy, yellow, or very wilted, you should discard the kale.
Do you have to "massage" kale before eating it? Not necessarily. In this winter kale crunch salad recipe, the dressing is applied first to the kale leaves. The leaves are then battered around for about a minute in the mixing bowl, using a wooden spoon. This action tenderizes or "massages" the leaves, leaving the kale salad perfectly ready to eat.
You'll Also Love These Recipes
Recipe Card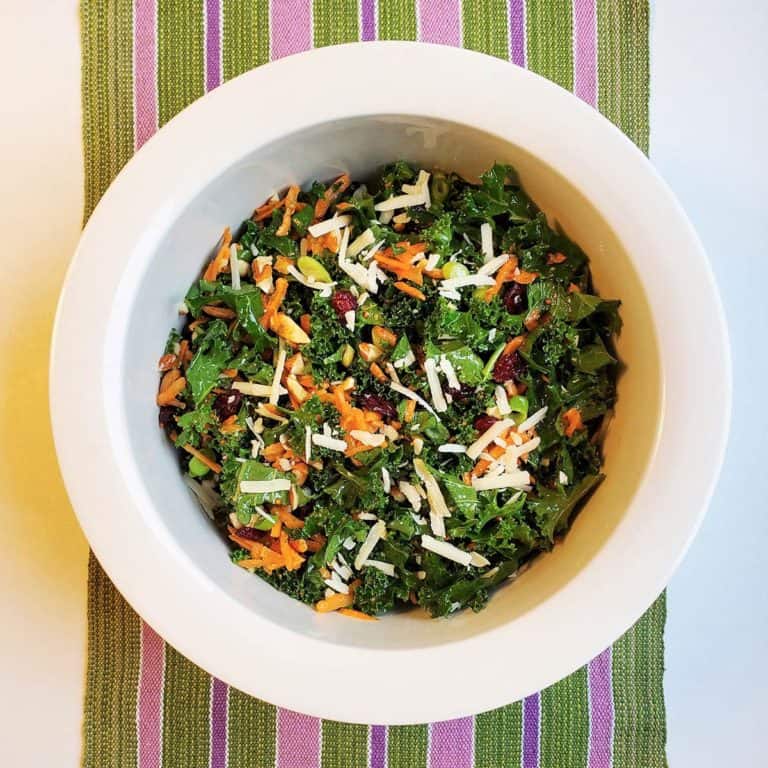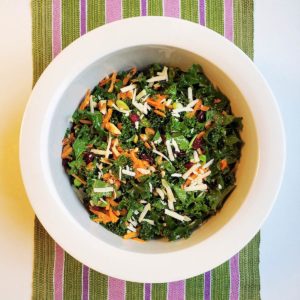 Kale Crunch Salad
Author:
This hearty Winter Kale Crunch Salad is packed with refreshing, mouth-watering flavor. The salad dressing is at once sweet, salty, and tart, and the salad is packed with crunchy textures including almonds, kale, and carrots. It is my favorite salad and comes together in minutes!
Ingredients
Salad
4

cups

kale, washed and chopped

1

cup

carrots, shredded

1/2

cup

scallions, sliced

1/2

cup

almonds, roasted and crushed

1/4

cup

pasteurized parmesan cheese, shredded

1/4

cup

dried cranberries
Dressing
1

tsp

freshly ground black pepper

3

tbsp

apple cider vinegar

2

tbsp

extra virgin olive oil

2

tbsp

maple syrup

1

garlic clove, chopped

salt and pepper, to taste
Instructions
Ensure that kale is thoroughly rinsed and clean.

Combine salad dressing ingredients in a small mason jar and shake until blended.

Place chopped kale into large salad bowl and add dressing.

Stir salad dressing and kale until well combined.

Add shredded carrots, chopped roasted almonds, scallions, and dried cranberries.

Stir salad using a wooden spoon until well combined.

Top with shredded parmesan cheese and serve.
Notes
*Nutritional information is calculated using online tools and is provided as a courtesy. The values can vary depending on which ingredients and brands are used.
Nutrition*
Calories:
287
kcal
Carbohydrates:
25
g
Protein:
8
g
Fat:
19
g
Saturated Fat:
3
g
Polyunsaturated Fat:
4
g
Monounsaturated Fat:
11
g
Trans Fat:
1
g
Cholesterol:
5
mg
Sodium:
171
mg
Potassium:
557
mg
Fiber:
7
g
Sugar:
15
g