This small charcuterie board features an array of delicious, beautiful superfoods and is the perfect easy recipe for holiday parties, date night at home, or family get-togethers!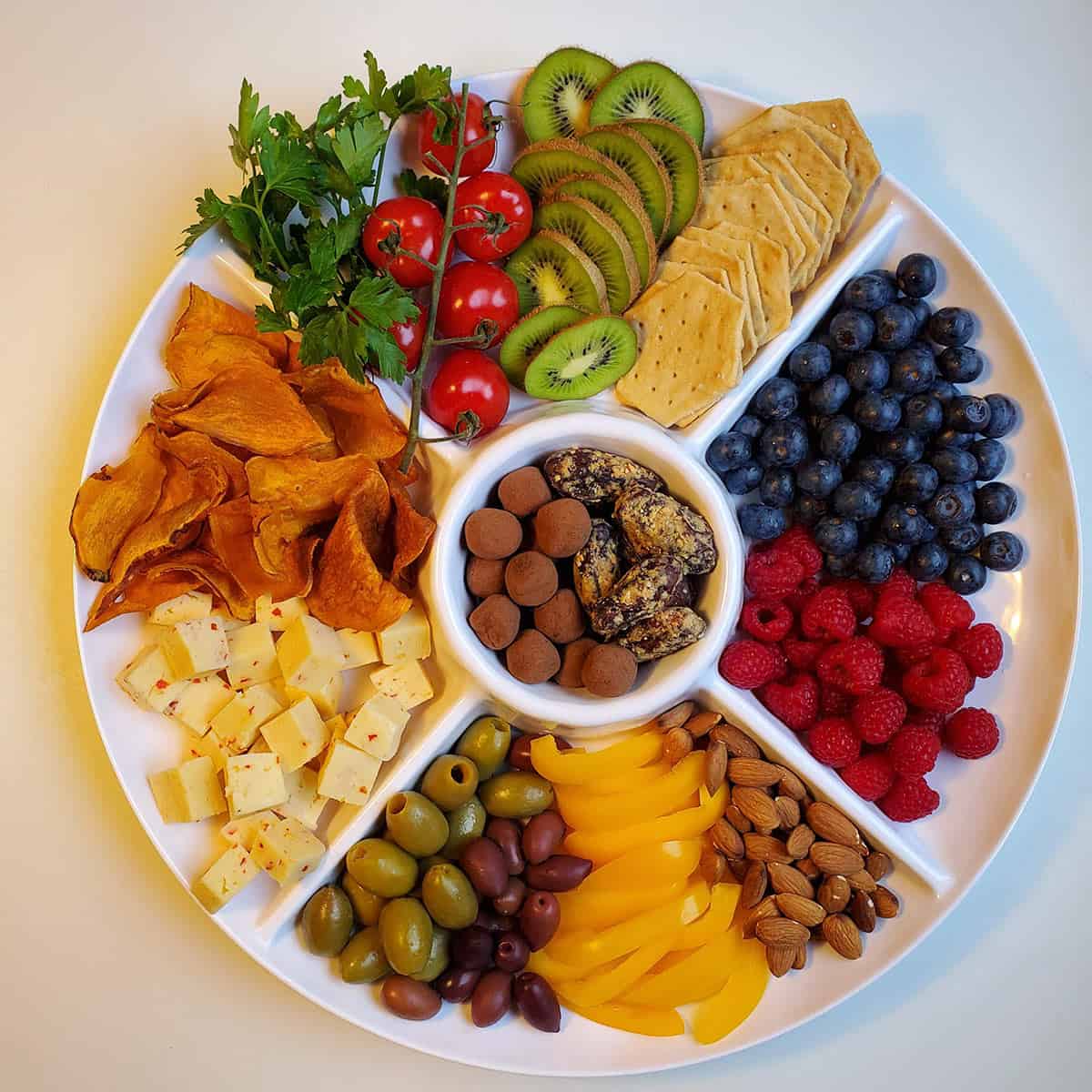 Why You Will Love This Recipe
Who says pregnant women can't indulge in a festive charcuterie board? Instead of your typical unpasteurized cheeses and cured meats, this small, gluten-free charcuterie board focuses on an abundance of nutritious, colorful fruits, vegetables, hard cheeses, gluten free crackers, and nuts! This platter would be an epic centerpiece appetizer for your guests at any Christmas party, or perhaps a baby shower! Or maybe you can convince the husband to make this for a fun, festive dinner tonight!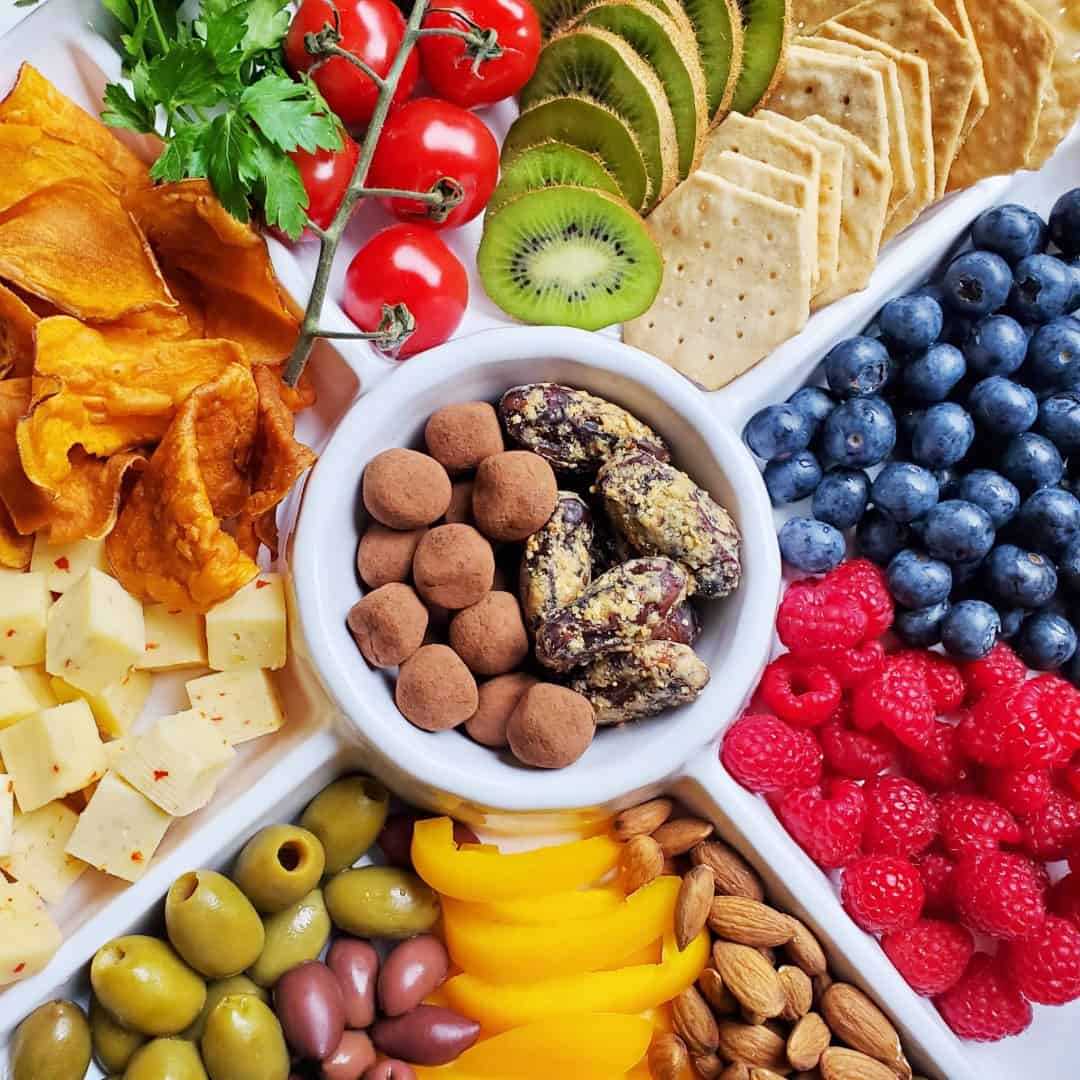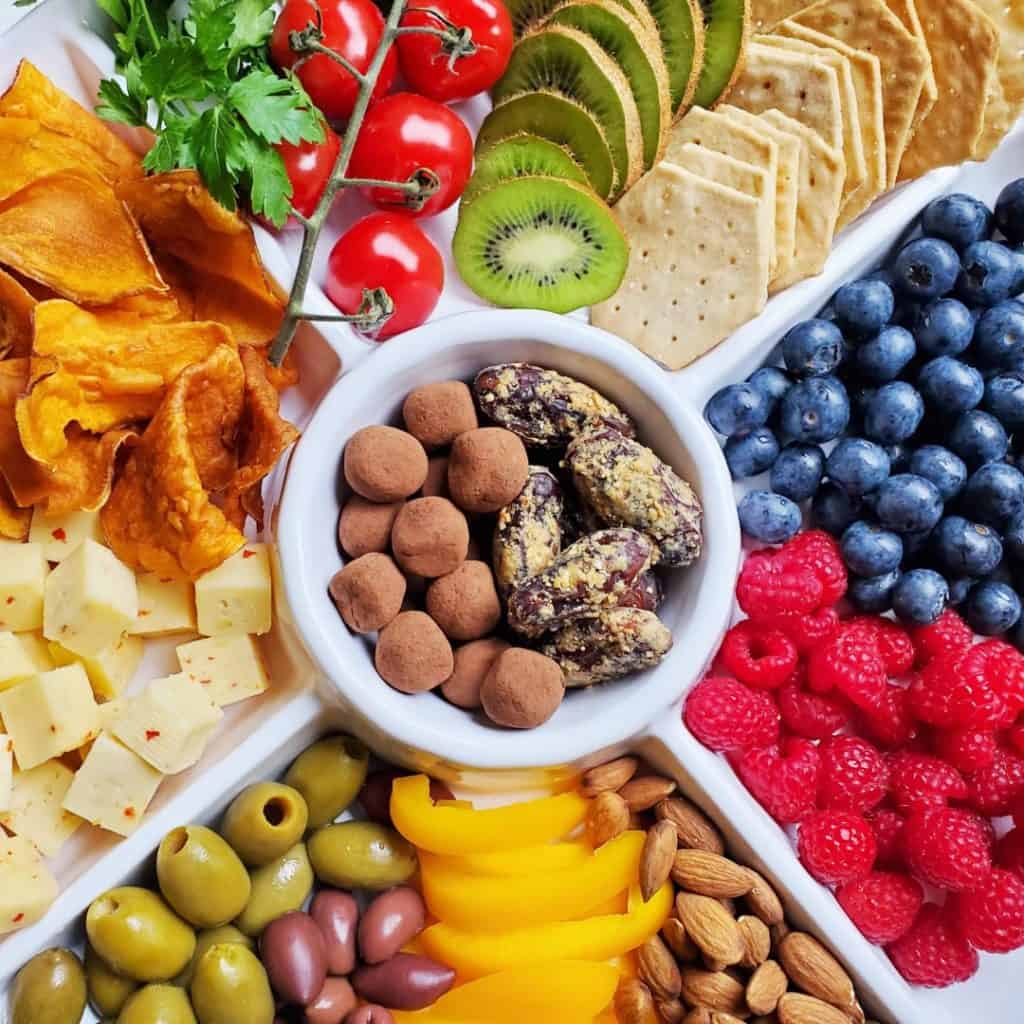 When I was pregnant, I loved to graze on different foods throughout the day. Having a small charcuterie board accessible was a valuable tool in healthy pregnancy eating.
This small charcuterie board checks many boxes and makes healthy eating look both easy and pretty! It is pregnancy-friendly, vegetarian, and also gluten-free. In addition to the gluten-free crackers, other nutritious pantry foods included on this beautiful charcuterie board include cocoa-powder dusted date balls, peanut encrusted whole dates, sweet potato chips, and almonds.
The key to a successful, healthy pregnancy charcuterie board is to include as many (natural) colors as possible. With respect to fruits and vegetables, more color means more variety of nutrition.
Nutritious Ingredients
Let's take a closer look at the nutrition of the main ingredients used on this beautiful charcuterie board.
Colorful, Fresh Fruits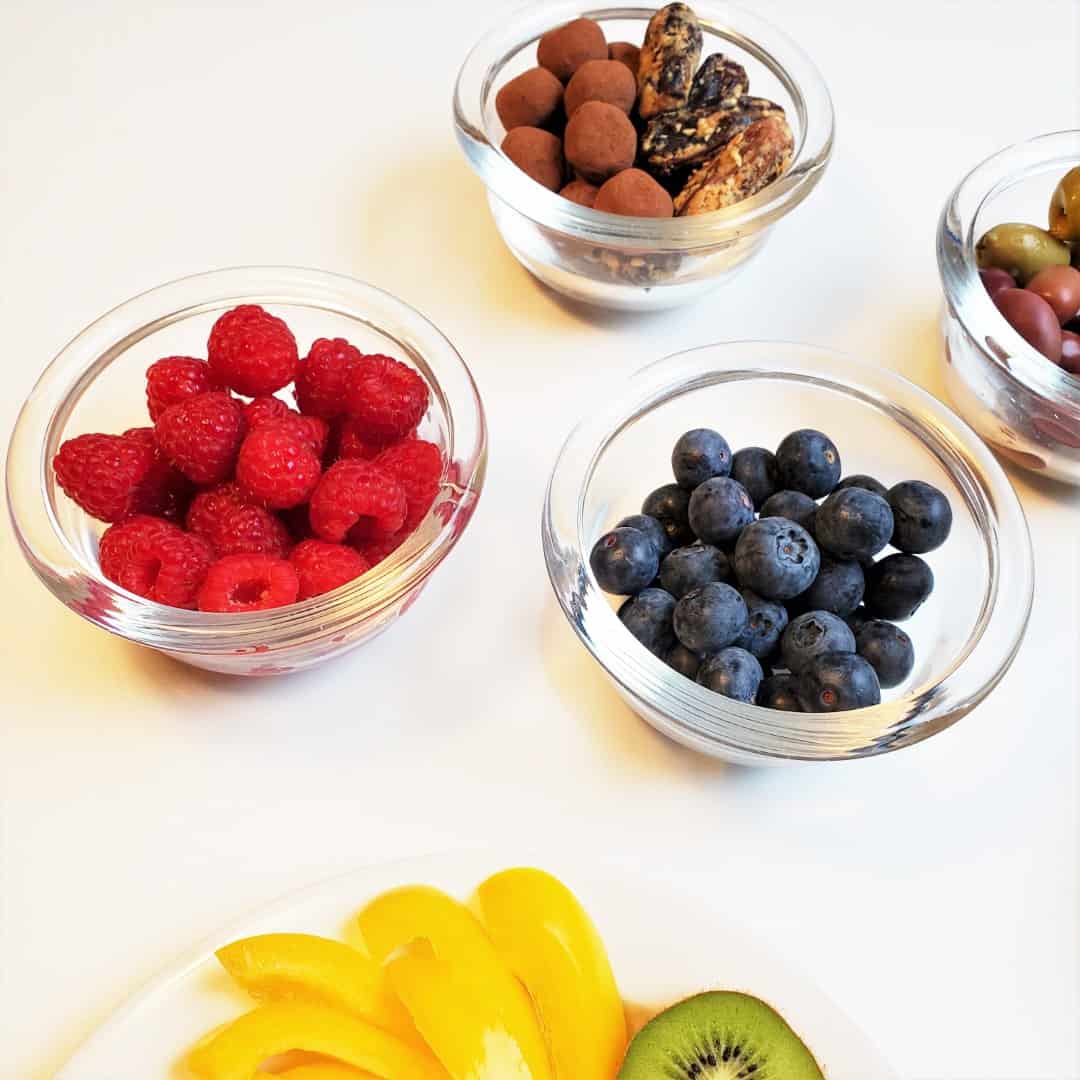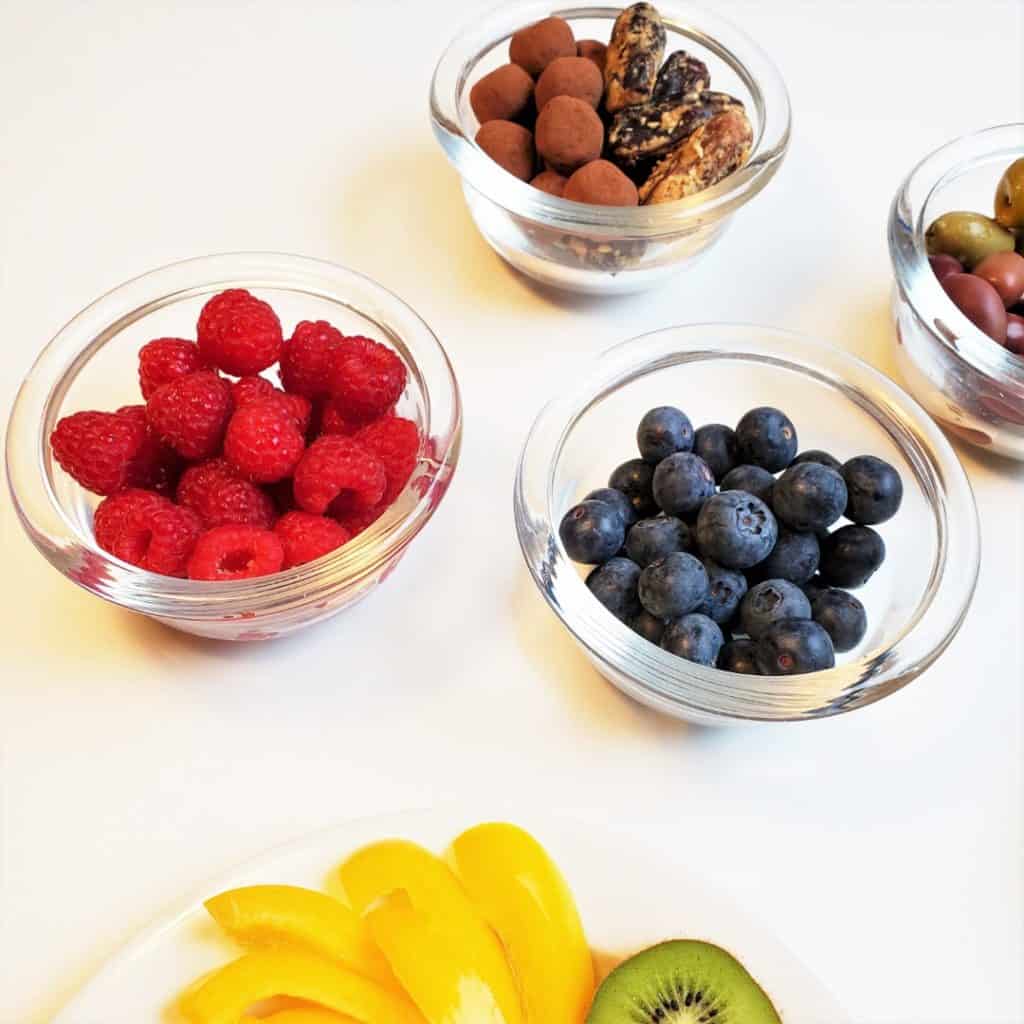 Raspberries are an excellent source of folate, fiber, and vitamin C. Folate helps prevent birth defects of brain and spinal cord. These defects can happen in early pregnancy, well before women even know that they are pregnant. Such defects range from spina bifida (cleft spine) to anencephaly (improper brain development and bones of the skull) to cleft lip or palate. Folate also helps reduce the risk of pre-eclampsia. This is a dangerous condition in which the mother's blood pressure and fluid retention increases dramatically, and excess protein becomes present in the urine. The fiber found in raspberries aids in good digestion which helps to maintain a healthy pregnancy weight. Vitamin C helps baby's bones, gums, teeth, and muscles to develop properly. Importantly, vitamin C also helps pregnant mama to absorb iron more easily.
Like raspberries, blueberries also contain folate, fiber, and vitamin C. Blueberries contains antioxidants and potassium as well. Antioxidants boost the immune system, helping to keep disease and ailments at bay. The potassium in blueberries is also important because potassium deficiency during pregnancy can cause fatigue, weakness, and muscle cramps.
Olives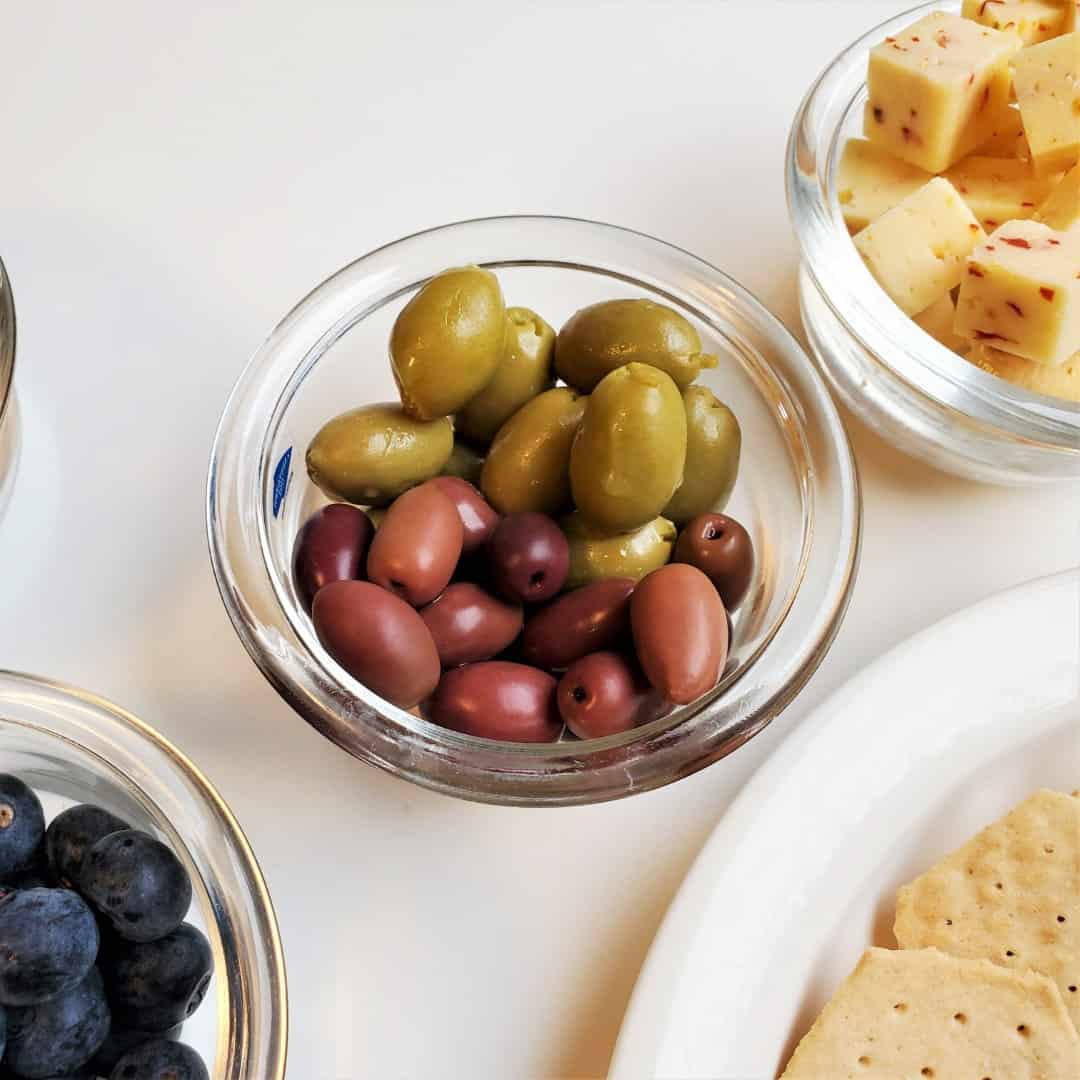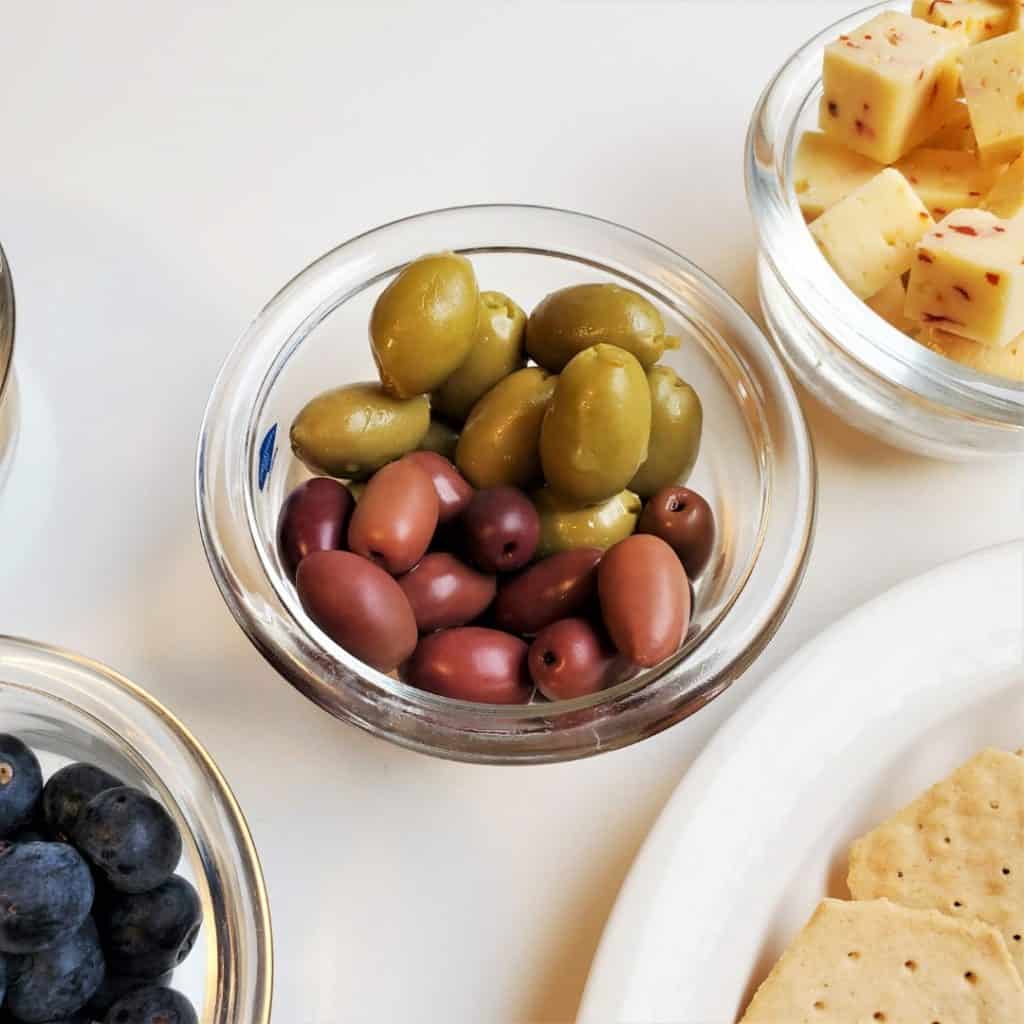 Olives are a source of vitamins A and E, as well as the nutrient Iron. Vitamin A helps baby's developing immune system, skin, and eyes, and helps with bone growth. Vitamin E is a powerful fat-soluble antioxidant which helps improve blood circulation and reduce inflammation. Furthermore, antioxidants can also prevent baby from developing allergies or asthma. The vitamin E also helps lower the chance of type 2 diabetes in mom. Iron is crucial in pregnancy diet. Adequate iron helps mama to avoid anemia, which is caused by iron deficiency and can have outcomes ranging from low birth weight to maternal mortality. The pregnant woman's body uses iron to make hemoglobin for both mama and little one. Hemoglobin helps form red blood cells. For this reason it is imperative to eat iron rich foods. Because olives typically have higher sodium content, I like to rinse the olives in water before adding to the charcuterie board. Rinsing in water will eliminate some of the excess salt from the olive brine.
Almonds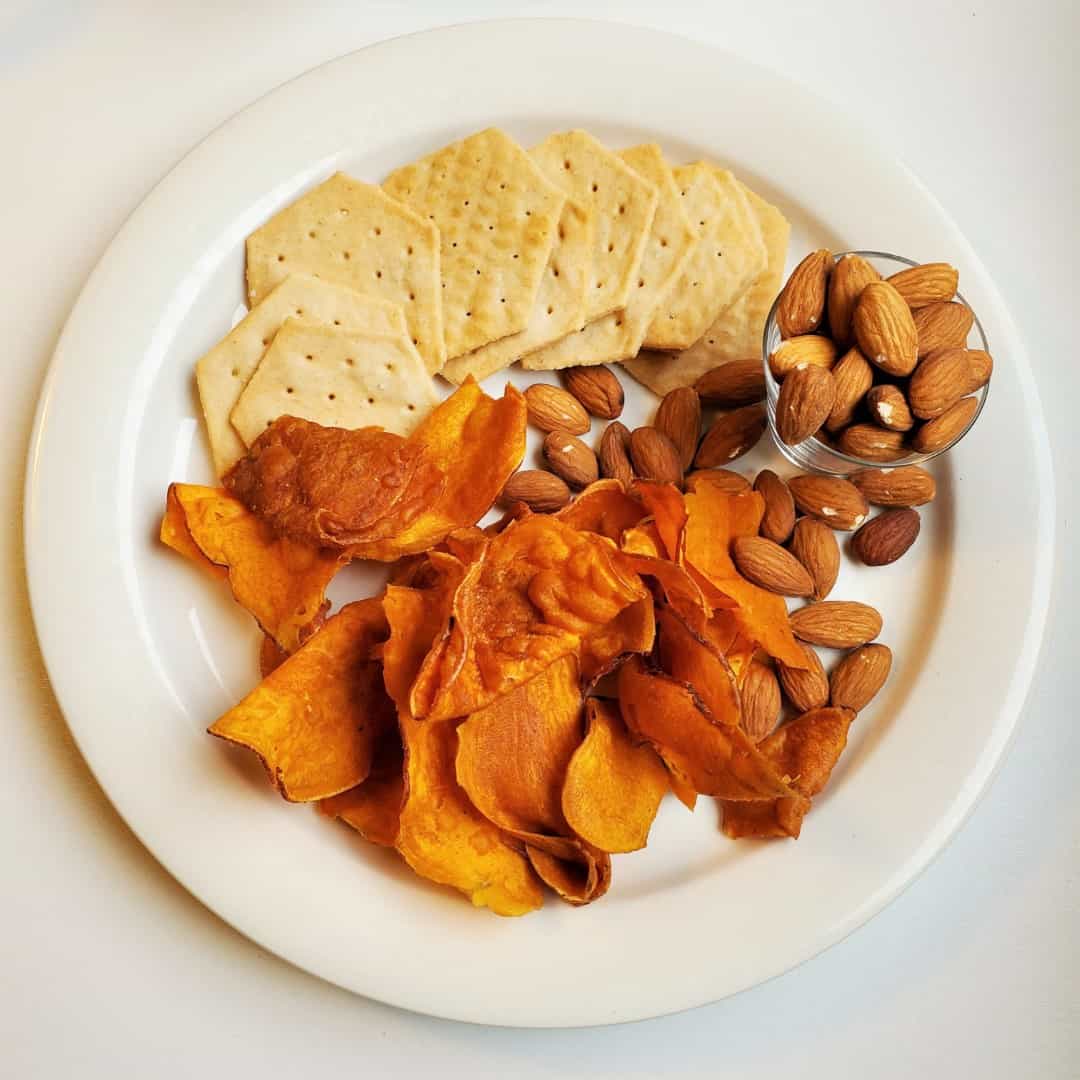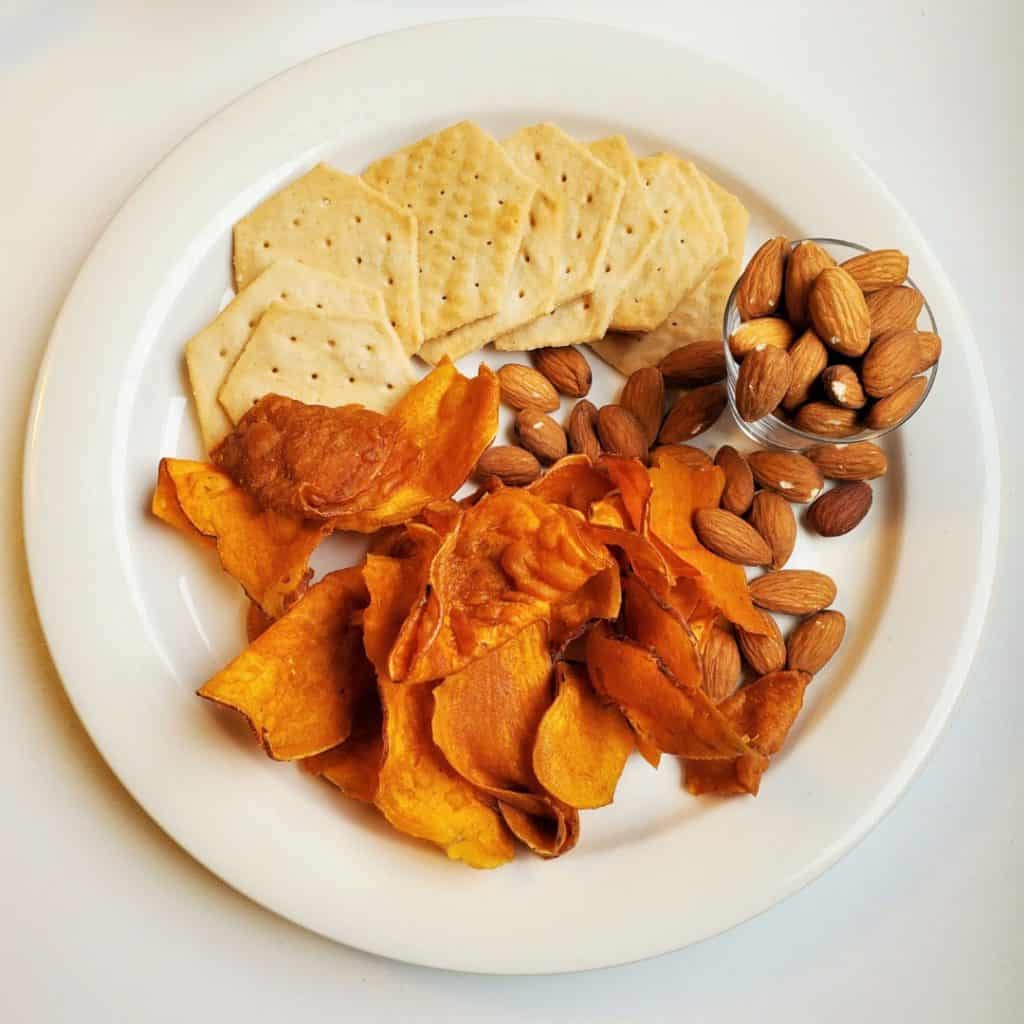 Almonds are a great source of protein, calcium, and vitamin B2. Different varieties of almonds can be used – marcona almonds, roasted, or just plain almonds. Other nuts can certainly be used. Each type of nut has a different nutrient profile and the protein content of each nut does vary.
Sweet Potato Chips
Sweet potato offers vitamins A & C, as well as fiber. Sweet potatoes are quite nutritious, even in a chip form. Ideally you can find a brand that has low fat (oil) content. Or better yet, make some homemade baked sweet potato chips! The only ingredients should be: sweet potatoes, olive oil (or any kind of healthy oil), and a bit of salt.
Gluten Free Crackers
The key is to choose a cracker that has high fiber content. Fiber is critical in good digestion, which aids in maintaining a healthy pregnancy weight. Some gluten free crackers are also fortified with other beneficial nutrients, such as iron or folic acid. There are many types of gluten free crackers available at the supermarket. My favorite gluten-free crackers, used in this recipe, are made purely of potato and corn flour and have an appealing crunch. Trader Joes has a great selection of gluten free crackers.
Cheese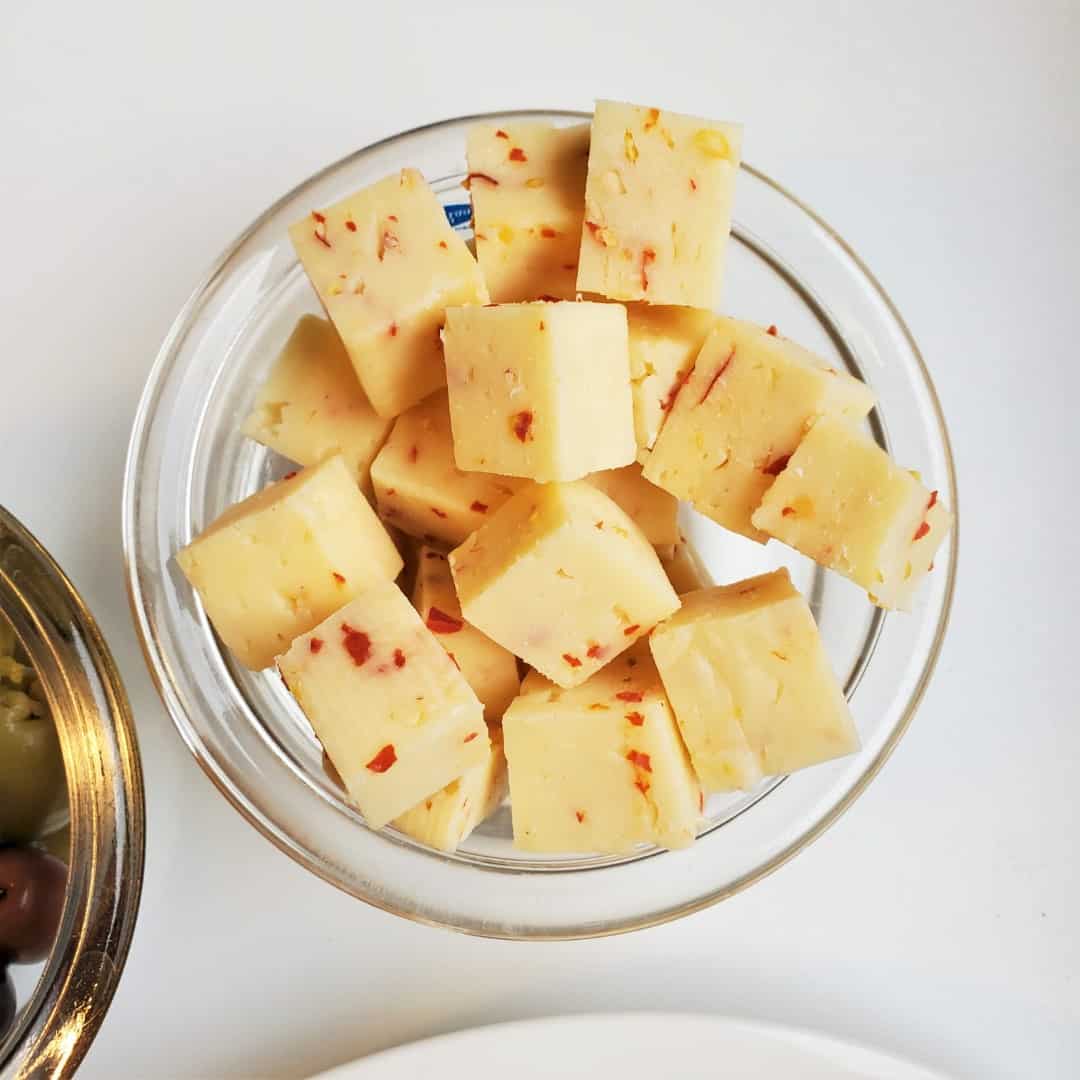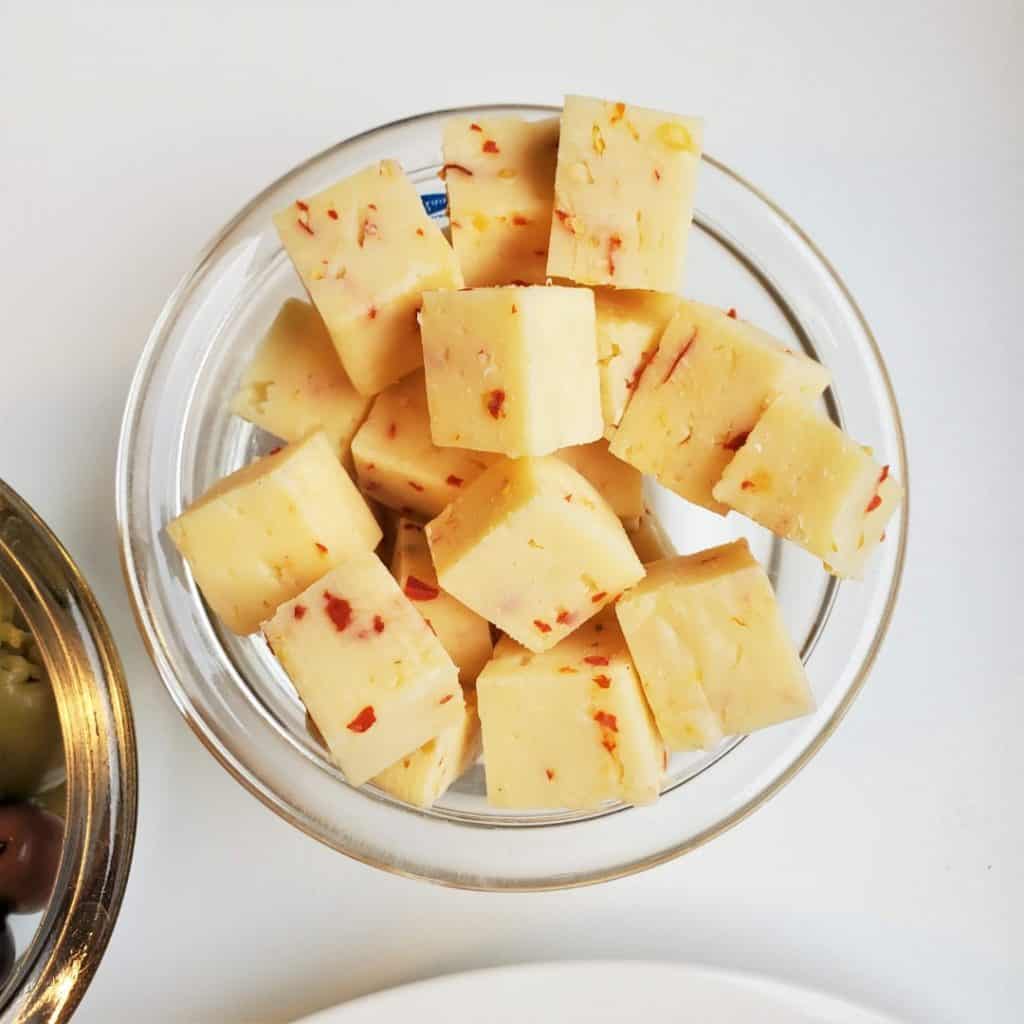 The hard, spicy cheddar cheese used on this small charcuterie board is a great source of protein, calcium, vitamin D, and phosphorus. While I prefer spicy, pepper jack cheese, certainly pasteurized soft cheese, such as goat cheese or blue cheese can even be used. The key is to confirm that whichever of your favorite cheeses you select is pasteurized before adding it to this charcuterie board. If you're unsure, ask at the deli counter for a pasteurized cheese. If you want to create a dairy-free charcuterie board then feel free to omit the cheese.
Dried Fruits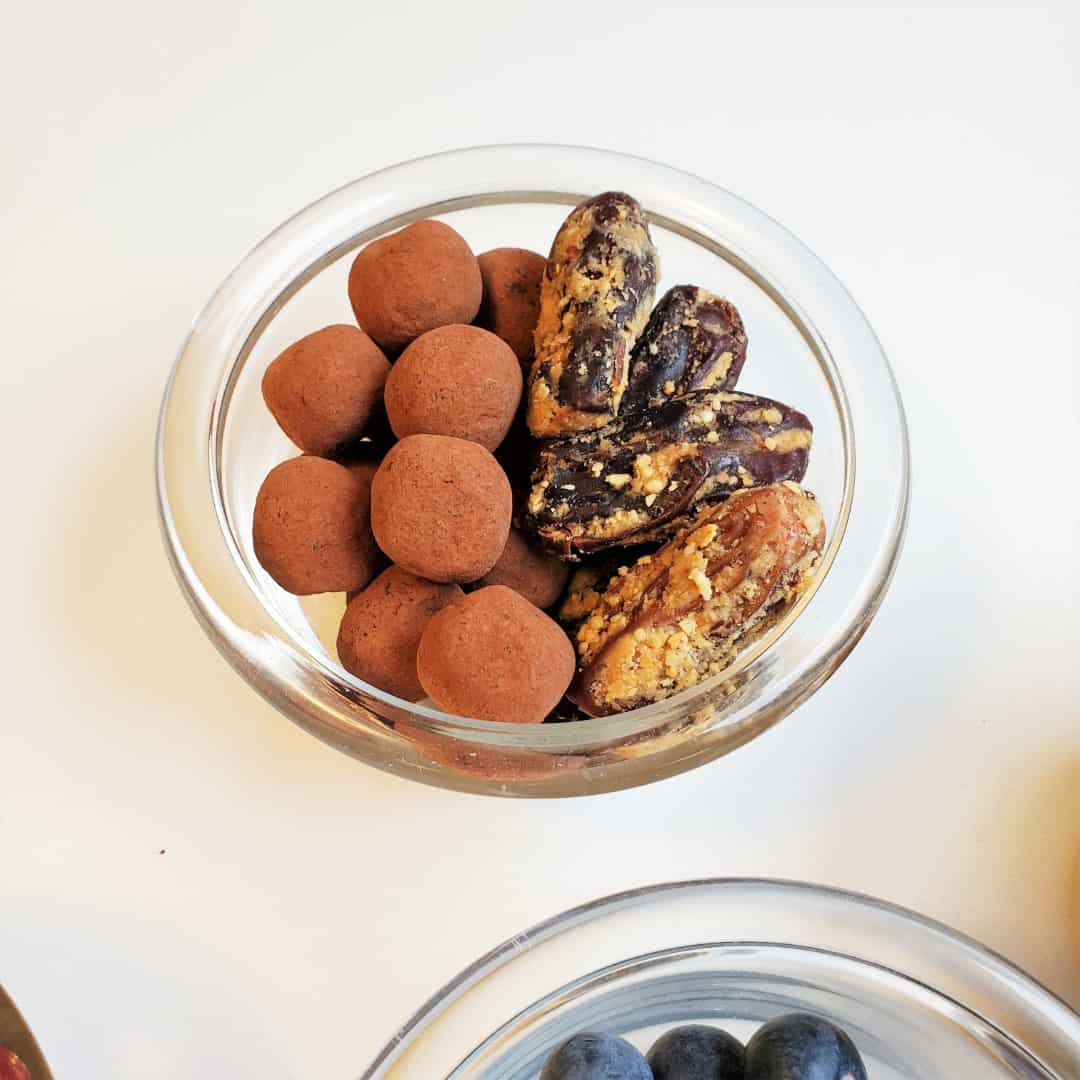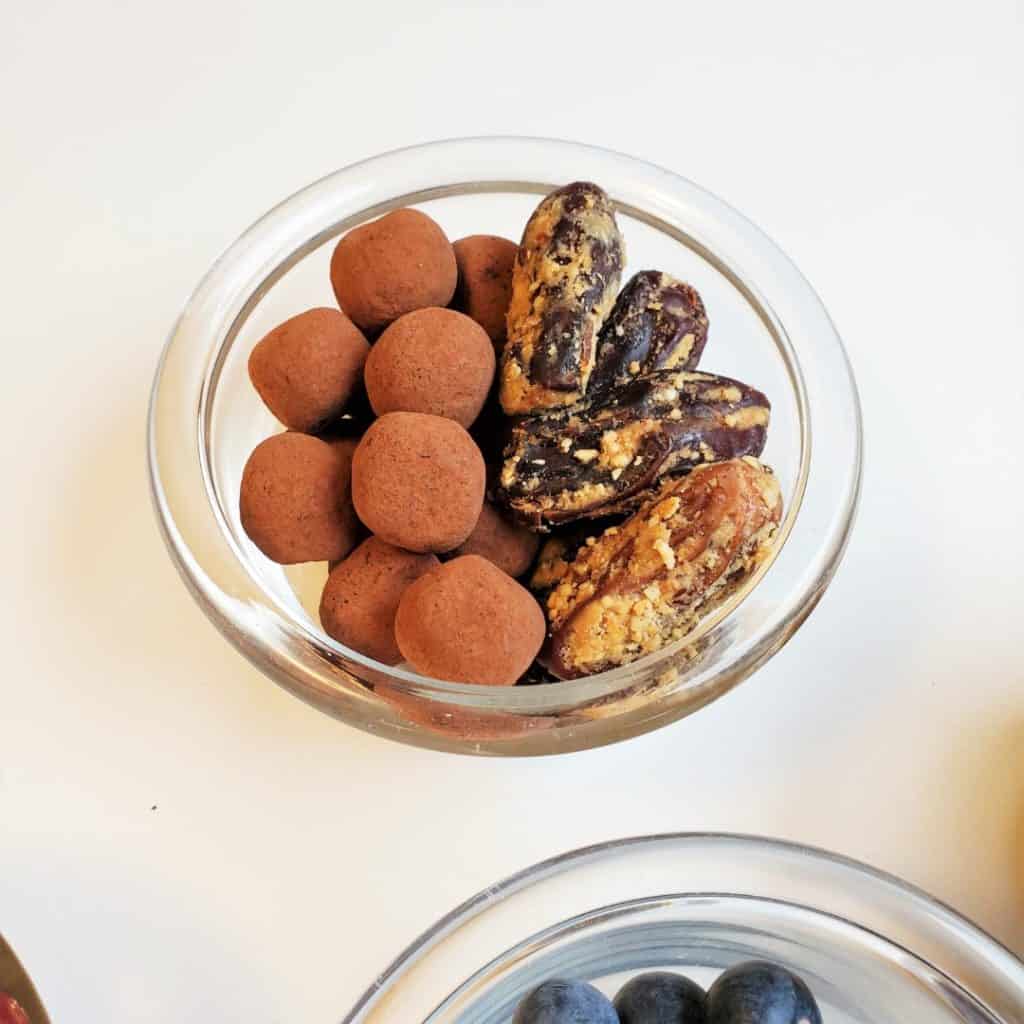 Many different types of dried fruits can be used in this small charcuterie board. Dried cranberries, figs, or apricots would be delightful. In this recipe however, I have chosen two different kinds of dates: cocoa-dusted date balls, and peanut-crusted whole dates. The dates replace any need to include chocolate, as they are very sweet. Dates contain folate, antioxidants, fiber and potassium. Overall, be conscious of the sugar content of these dried fruits and get a doctor's opinion on how much sugar you personally should be consuming during pregnancy. Trader Joes has a great selection of dried fruit choices.
How to Make This Small Charcuterie Board
Some tips for creating this epic charcuterie board:
When constructing this small charcuterie board, it is helpful to think in terms of color. Try to identify at least one superfood for each of the following colors: red, orange, green, blue, yellow, brown, white, purple, and pink.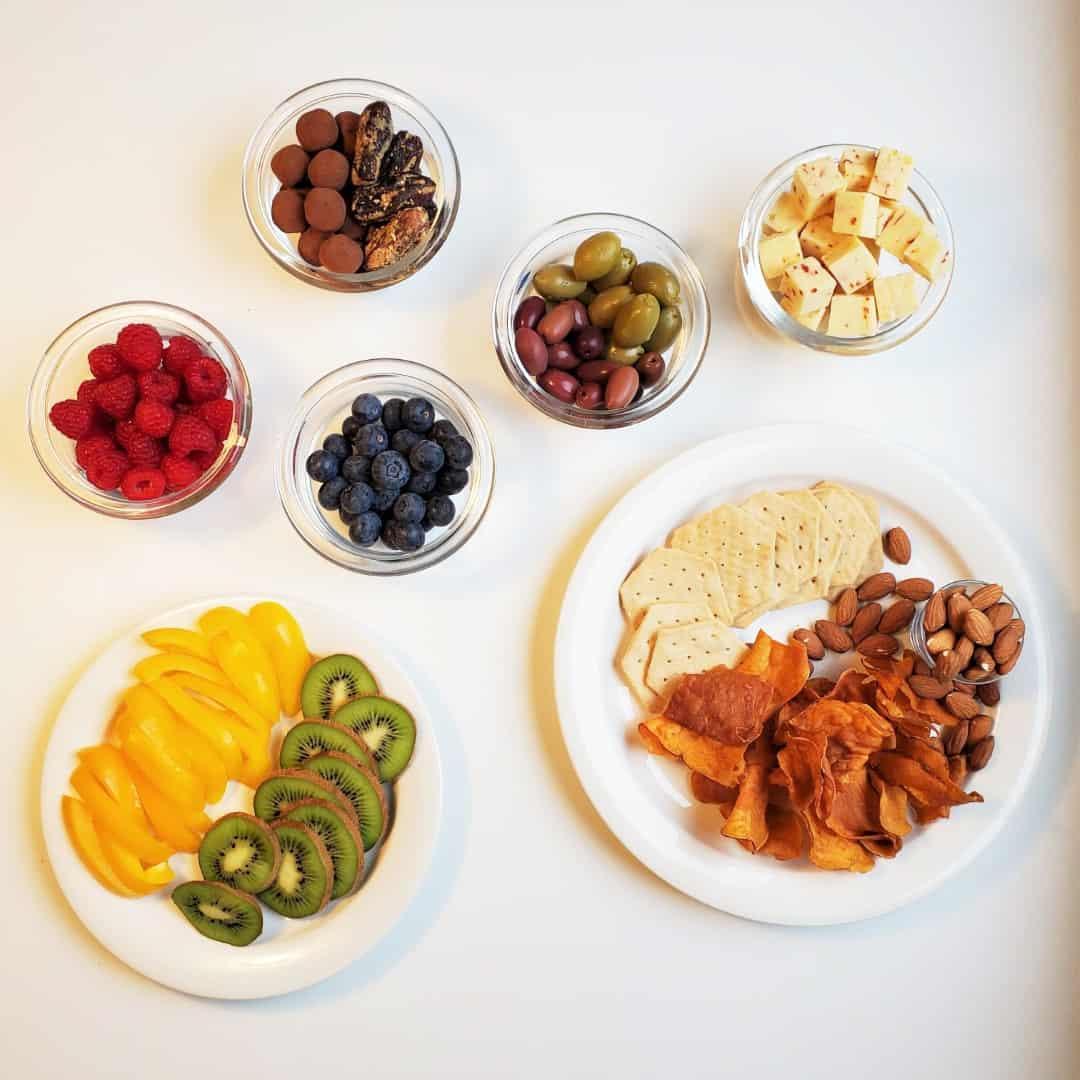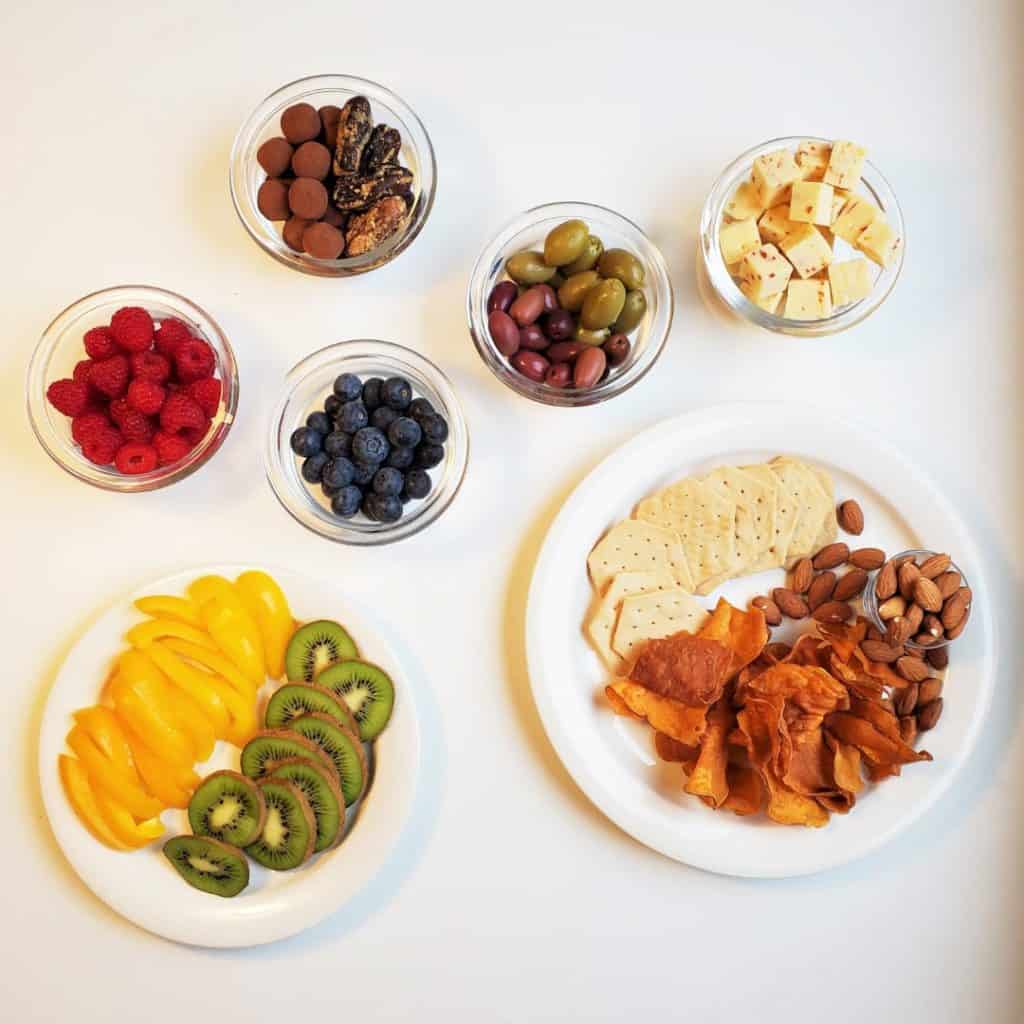 Here are some helpful tips:
Red: fresh cherry tomatoes, cherries, sliced red bell pepper, strawberries
Orange: clementines, sliced orange bell pepper, sweet potato chips, baby carrots
Green: olives, sliced kiwi, sliced cucumber, herbs, fresh celery
Blue: fresh blueberries
Yellow: pasteurized cheddar cheese cubes, gluten free crackers, sliced yellow bell pepper
Brown: dark chocolate, marcona almonds, pretzels
Purple: dried dates, fresh blackberries,
Pink: dried cranberries, fresh raspberries
White: pasteurized goat cheese, cream cheese, gluten free crackers, sliced baguette, hummus
Some other board ideas: overall, you want to have about 12 different foods so that you have some variety. Gather the individual foods in separate small bowls so that you can see what colors you are working with. These little bowls are perfect for this purpose. Having all of the components at your fingertips also helps to streamline prep time.
When constructing the cheese board, alternate colors so that you never have two same-colored foods adjacent. Try to ensure that you have a good mix of both sweet and savory, and dried and fresh foods spread throughout this charcuterie board. The possibilities are endless!
As far as the serving dish, you could even opt to use a covered party platter to help store any leftovers more easily!
Frequently Asked Questions (FAQ)
How do I ensure that my small charcuterie board is gluten free? Any fresh or dried fruits and vegetables you choose will usually be gluten free. The key to ensuring that this is truly a gluten free charcuterie board is to confirm that any pantry ingredients you use are also gluten free, particularly any crackers or chips. Look at the label and verify that these foods do not contain gluten.
What do I do with leftovers? Assuming your charcuterie board hasn't been sitting out for too long, any leftover fresh fruits, vegetables, or cheese can be stored in the fridge and eaten the following day. If the charcuterie board has been out for some time, I would discard any fresh fruits or vegetables. Pantry items (crackers, nuts) can be stored away for later.
How can I incorporate meat into this small charcuterie board? It is true that traditional charcuterie boards do incorporate various cured meats (after all, charcuterie literally means cooked pork meats). Unfortunately, however, pregnant women should not eat cured meats because they are uncooked and thus pose a risk of toxoplasmosis. If you're feeling carnivorous though, you could add fully-cooked beef or lamb meatballs, or small, baked saucy chicken wings for some animal protein!
You'll Also Love These Pregnancy Snacking Recipes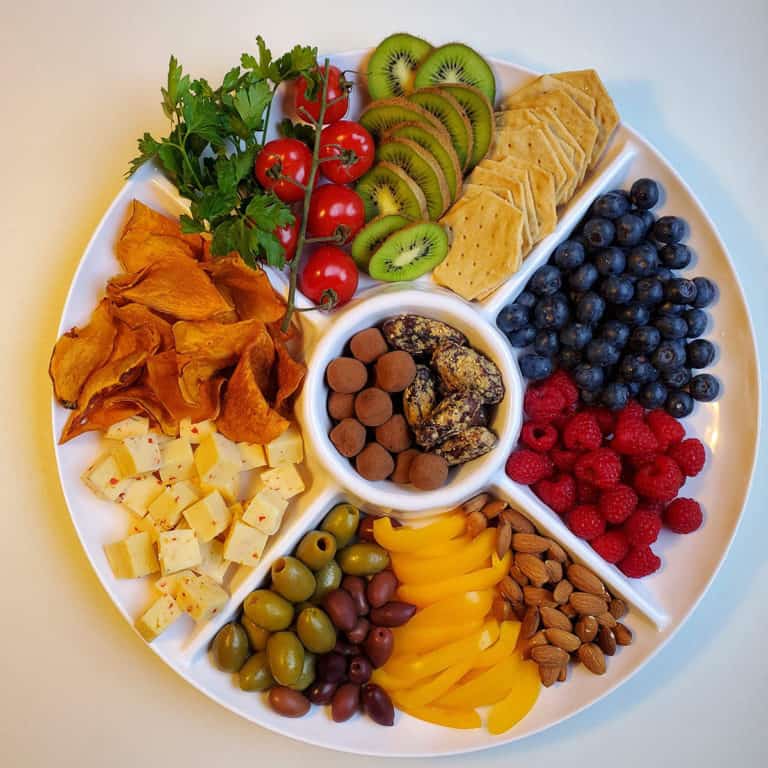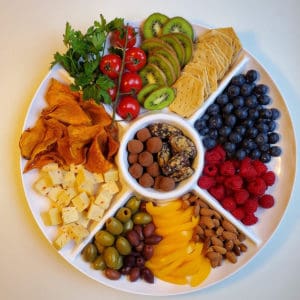 Small Charcuterie Board (Gluten Free)
Author:
This small charcuterie board features an array of delicious, beautiful pregnancy superfoods and is perfect for holiday parties, date night, or family get-togethers.
Ingredients
1/2

cup

Sweet potato chips

1/2

cup

Olives, rinsed in water

1/2

cup

Yellow bell peppers, sliced

1/2

cup

Almonds

1/2

cup

Raspberries

1/2

cup

Blueberries

1/2

cup

Gluten-free crackers

1/2

cup

Kiwi, sliced

1/2

cup

Pasteurized cheese

1/2

cup

Cherry tomatoes

1/2

cup

Dried dates

Parsley, for garnish
Instructions
Select at least one pregnancy superfood for each of the following colors: red, orange, green, blue, yellow, brown, white, purple, and pink.

Gather the individual foods in separate small bowls so that you can see what colors you are working with.

Arrange foods on board or platter, alternating colors so that two same-colored foods are never adjacent.