Forget salt and vinegar chips — when I'm in a snacking mood, these mustard green beans sure do the trick! Lightly sautéed in a bit of olive oil and then tossed simply in mustard, this recipe results in crisp, flavorful green beans that can be prepared and enjoyed in just minutes.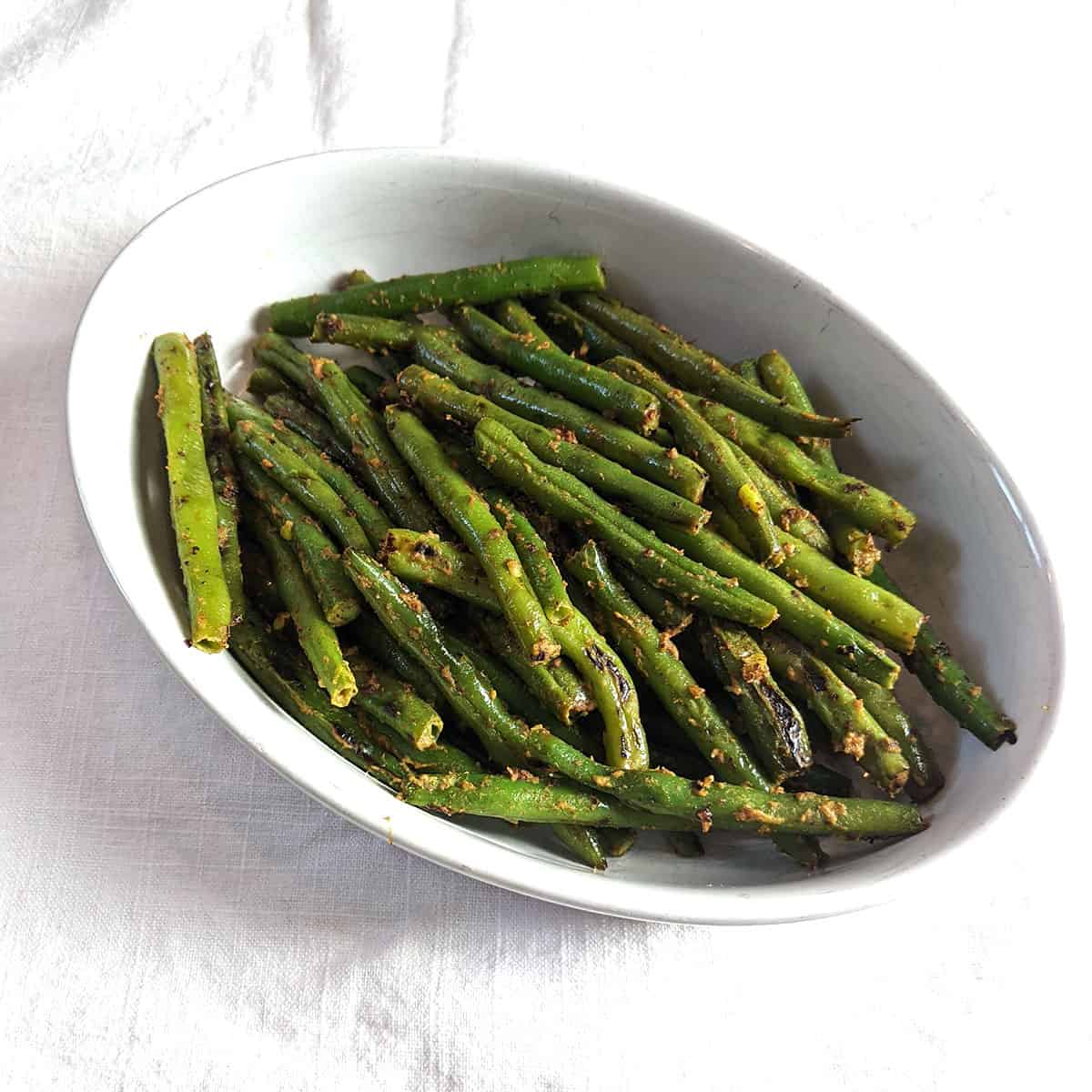 A perfect snack for a pregnant mama, mustard beans are delicious both hot (immediately), or cold (the next day)!
Why You Will Love This Recipe
Green beans, also known as haricots verts or snap beans offer vast health benefits to a pregnant mother and her baby. Firstly, green beans are a fantastic source of folate (the synthetic form is known as folic acid). One cup of green beans contains nearly 10% of the daily recommended value for folate as an adult. Folate is a necessary vitamin for the development and growth of unborn babies and can also reduce the risk of birth defects. Secondly, green beans are a great source of many nutrients, specifically the minerals calcium, iron and potassium. These vegetables also contain the essential vitamins A, C, and K. Green beans are one of those foods that should be a part of every pregnant woman's diet, and this recipe is such an easy way to achieve that!
Enter these Mustard Beans. The easiest recipe ever, Mustard Green Beans offers not only nutrition but a whole lot of taste! Like a lot of pregnant women, at home I often craved crunchy, sour snack foods (hello pickles and granny smith apples!). With a similar tart, acidic flavor profile, Mustard Green Beans is a super healthy pregnancy recipe I found myself repeating on a weekly basis.
If you're not much of a snacky type person, this recipe would also serve as a perfect side dish to any number of dinners, for example, as an accompaniment to a juicy organic beef steak, grilled chicken breast, or maybe my white fish recipe here?
Nutritious Ingredients for Healthy Pregnancy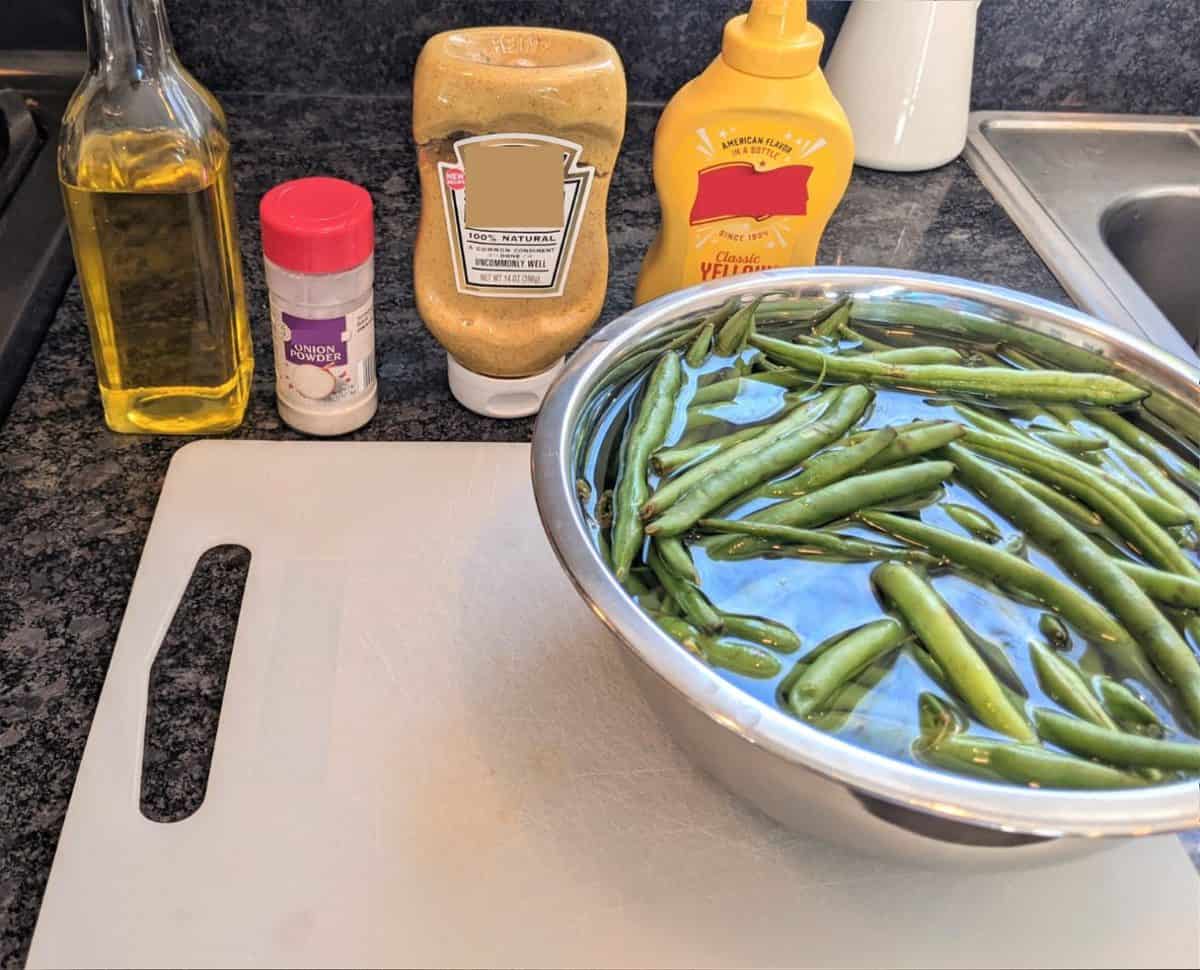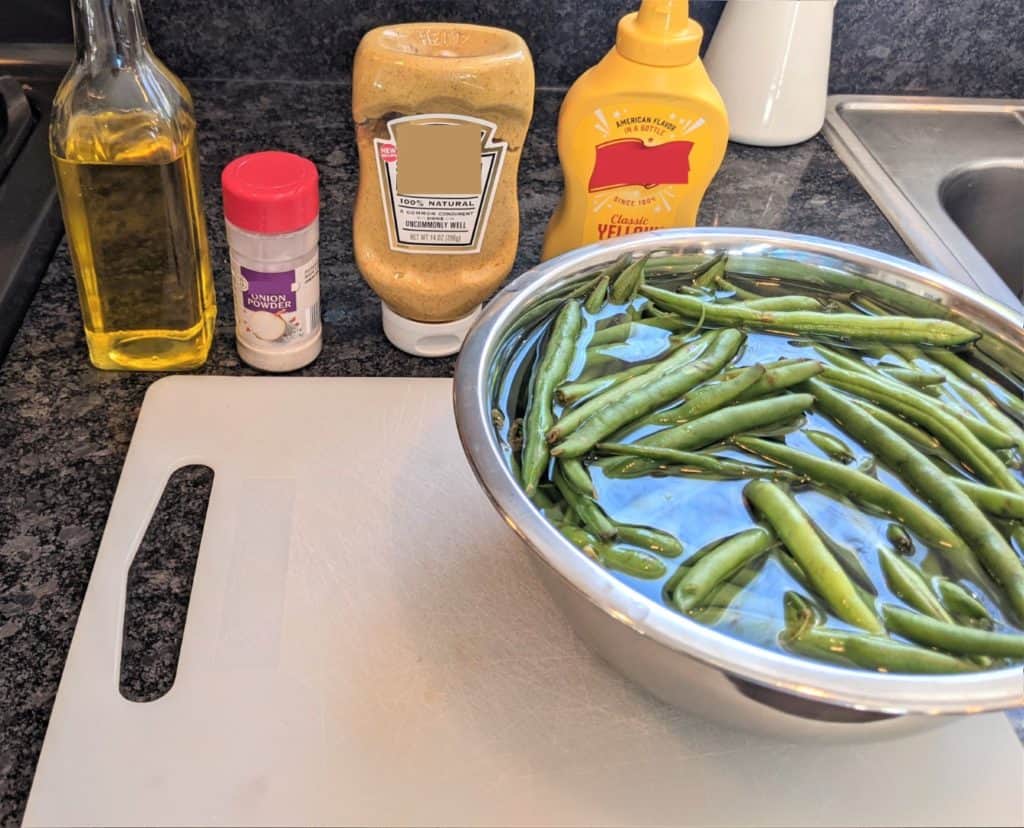 Ingredient Nutrients of Note
Let's take a look at the nutrient content of the ingredients in this Mustard Green Beans recipe, especially the vitamins and minerals. Equally important nutrients in pregnancy include carbohydrates, fats, and proteins.
Fresh Green Beans - Green beans are a rich source of vitamins A, C, and K, and of folic acid and fiber. Did you know there are over 500 different species of green beans?! Green beans can go by different names, including string beans, French beans, snap beans, snaps, runner beans, pole beans, and of course, haricots verts. In any case, crunchy, snappy green beans are what you are going for here. For convenience, you could certainly grab a bag of pre-washed, pre-trimmed green beans / haricots verts. I just love the convenience of washed and chopped raw vegetables. Any kind of green beans will do for this recipe, but French green beans are usually thinner and more tender. The green beans should all be firm to the touch with no dark spots, abrasions or bulges. If you snap one in half, a fresh bean will break cleanly.
Full Ingredient List
Grainy Mustard - Mustard is typically some combination of mustard seeds, water and vinegar. Grainy mustard specifically is a coarser texture mustard, and is also known as a whole grain mustard. The small speckles that you can see in this mustard are the actual mustard seeds. They can be brown or yellow in color and add another necessary layer of texture to the mustard beans. Mustard is safe to eat during pregnancy, in normal amounts.
Olive Oil - Adds rich flavor. Plus, a high quality olive oil is loaded with healthy monounsaturated fats, vitamin E, and iron, which all support proper growth of baby's brain. Olive oil is essential in every pregnant woman's diet. I use olive oil daily in my cooking..
Yellow Mustard (optional) - Adds another dimension of acidic flavor.
Onion Powder (optional) - If you're looking for an additional layer of savory flavor, onion powder will excite your taste buds further.
How to Make Mustard Green Beans (Haricots Verts)
First Prepare the Green Beans (Haricots Verts)
If you've purchased a bag of pre-washed and pre-trimmed green beans, you can skip this step! Otherwise, begin by trimming the green beans. This means snap off (or slice off) the tough end with the stem on it. Then place all of the beans into a colander and give them a thorough wash to get rid of any residual dirt.
Sauté Green Beans
Choose a skillet that will allow the beans to lie across the bottom with minimal overlap. I personally prefer a cast iron skillet. Begin by heating the olive oil in the skillet over high heat. After one minute, add the green beans and allow them to heat up, undisturbed for two minutes. At this point, give them a stir and flip them around. Allow them to heat up for another two minutes, undisturbed. They should begin to develop blister marks on the surface of the beans. Repeat this over medium heat for approximately ten minutes. The beans should be somewhat tender but still retain their crispness.
Add Flavorings
Turn off the heat. Add one tablespoon of grainy mustard.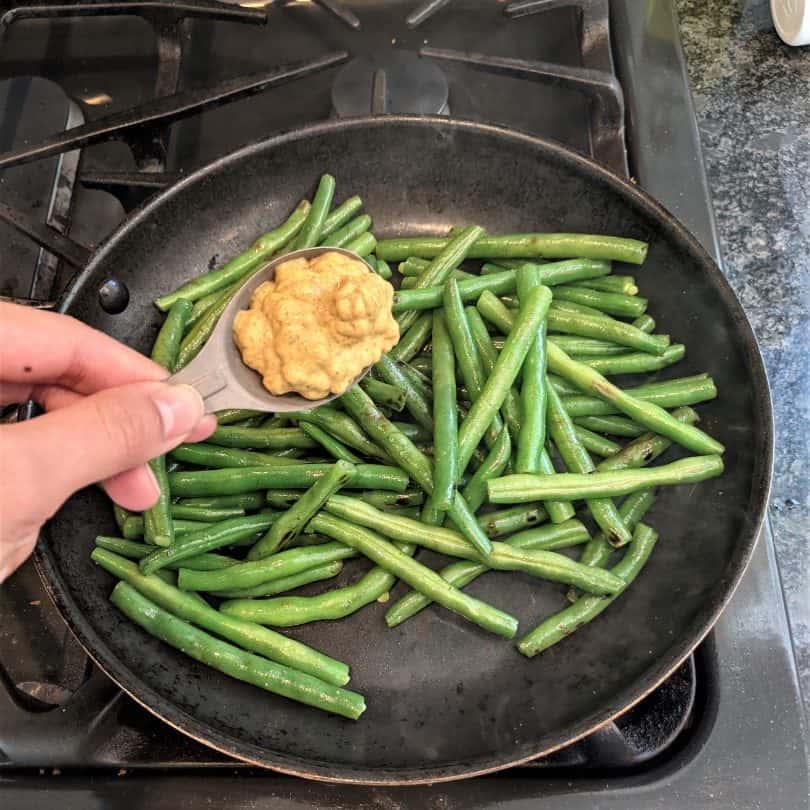 Use tongs or a spatula to distribute the mustard throughout until every green bean surface is coated.
Optionally, you can add an additional teaspoon each of yellow mustard and / or onion powder for added flavor. If you do add these in, re-toss those mustard beans until they are fully coated. Plate and serve!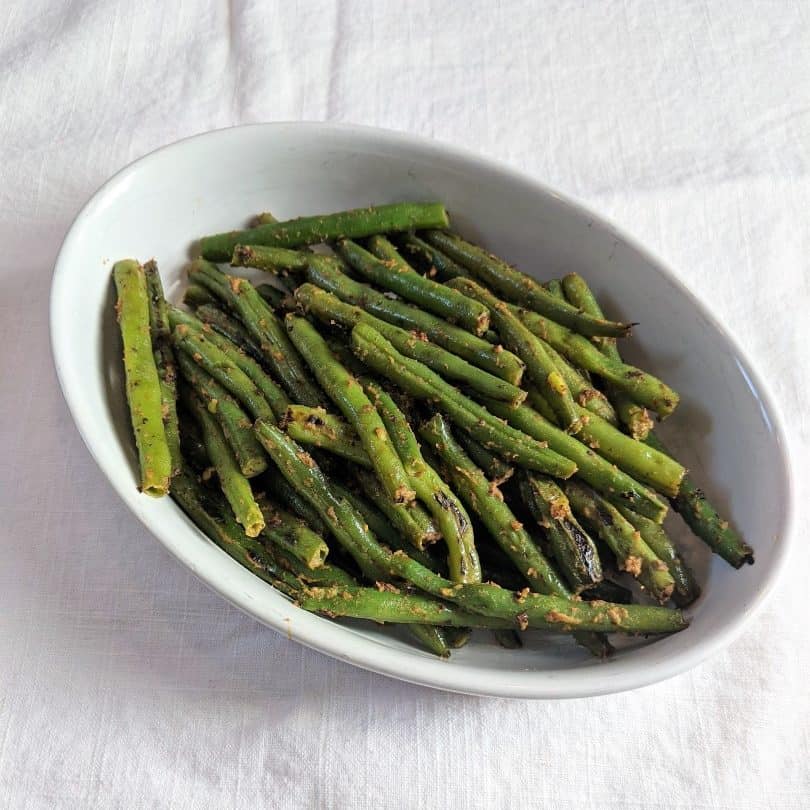 Serving Suggestions and Tips
As a snack: Mustard Green Beans are a deliciously addictive snack on their own. With healthy fats from the olive oil and delicious vinegary flavor, they are the perfect healthy treat for a pregnant mama.
As a side dish: Because of the strong flavor profile of these mustard beans, I'd suggest that they accompany food that is milder in flavor or which uses scant seasonings. Some suggestions:
Juicy, simply-seasoned organic beef steak
Simple grilled chicken breast
Grilled shrimp
Frequently Asked Questions (FAQ)
Do the green beans need to be blanched first? No, but if you prefer a more tender and less snappy green bean, you could certainly blanch them in a large pot of boiling water first for one minute.
Can you use dry mustard? I wouldn't use only dry mustard, but a teaspoon added to the dish would certainly lend a more aggressive mustard flavor. Dry mustard would add more depth and pungency to these beans.
Can you use yellow wax beans? Certainly! The only difference between green beans and yellow beans is that wax beans do not contain chlorophyll, which is what gives green beans that beautiful green color!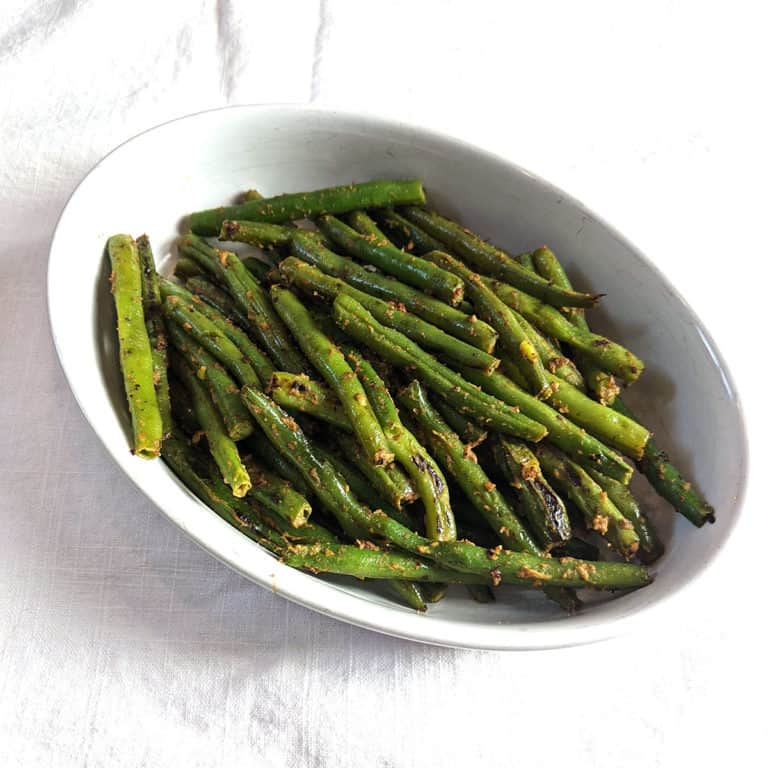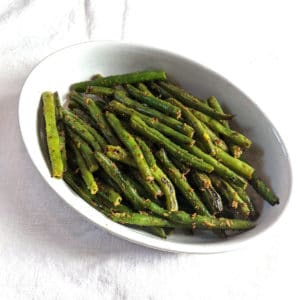 Mustard Green Beans (Haricots Verts)
Author:
These green mustard beans are a crisp, healthy snack that can be prepared and enjoyed in just minutes.
Ingredients
1/2

lb

green beans, washed

1

tbsp

grainy mustard

2

tbsp

olive oil

1

tbsp

yellow mustard (optional)

1

tbsp

onion powder (optional)
Instructions
Wash the beans thoroughly and trim off ends (with the stem).

Sauté beans in large skillet for about 8-10 minutes with two tablespoons of olive oil, over medium heat. Stir every 2 minutes.

After green beans are blistered, turn off heat.

Add in one tablespoon of grainy mustard. Toss beans until well coated.

Optionally, add in one tablespoon each of yellow mustard and onion powder and re-toss.

Plate and serve.
Notes
*Nutritional information is calculated using online tools and is provided as a courtesy. The values can vary depending on which ingredients and brands are used.
Nutrition*
Calories:
90
kcal
Carbohydrates:
6
g
Protein:
2
g
Fat:
7
g
Saturated Fat:
1
g
Polyunsaturated Fat:
1
g
Monounsaturated Fat:
5
g
Sodium:
87
mg
Potassium:
148
mg
Fiber:
2
g
Sugar:
2
g
Vitamin A:
397
IU
Vitamin C:
7
mg
Calcium:
32
mg
Iron:
1
mg