Wild Alaskan Salmon is really one of the very best things you can eat during pregnancy. During my pregnancies, I strove to eat salmon at least once a week. This simple recipe is inspired by the flavors of New England autumn.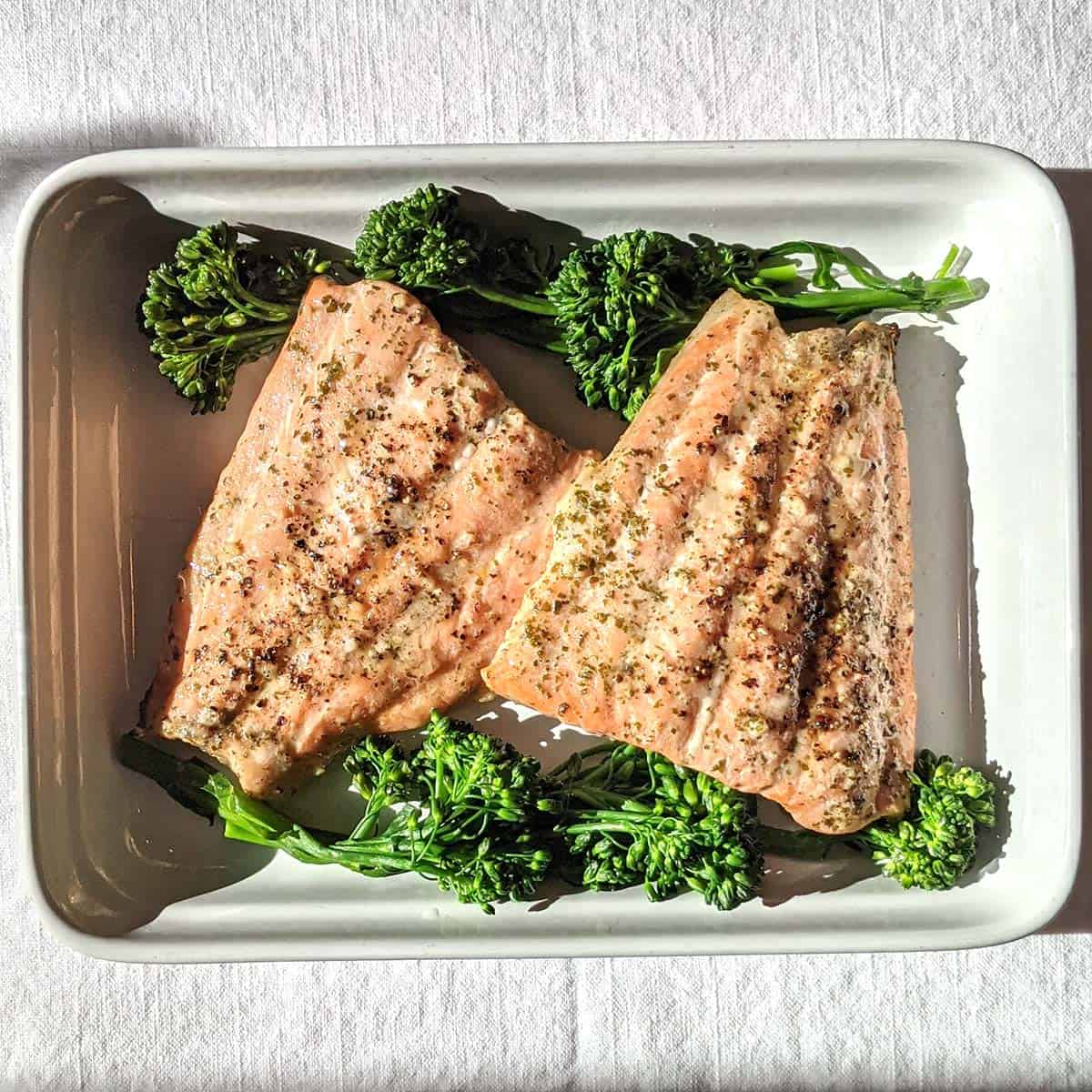 Why You Will Love This Recipe
When you think about preparing salmon , you may automatically think citrus, perhaps lemon or lime. However, this simple recipe represents an unexpected twist — no lemons or limes necessary!
In Apple Maple Wild Alaskan Salmon, as the name suggests, maple syrup, apple, and garlic impart an unexpected sweet and savory twist to this meaty fish. Served with a steamed green vegetable (I suggest steamed broccolini), you can enjoy the contrast of crisp and tender bites.
Did you know that the coloring seen in wild-caught salmon comes from the orange & red krill that salmon consume? Krill are laden with Omega-3 fatty acids which come from the marine algae they consume. Thus, the Omega-3s are imparted to the salmon (and then, to you and baby!).
A 3.5 ounce serving of wild alaskan salmon provides between 22 and 25 grams of protein. With this in mind, pregnant women should strive to consume between 75 to 100 grams of protein daily. Protein is essential for proper growth of fetal tissue, including baby's brain. Protein also supports proper growth of the pregnant woman's breast and uterine tissue and facilitates the increase in blood supply. This fatty fish is also loaded with potassium and B vitamins. Therefore, the FDA advises that pregnant women or breastfeeding women eat between 8 and 12 ounces of low mercury fish and seafood each week. Baby will benefit tremendously from your proper consumption of fish.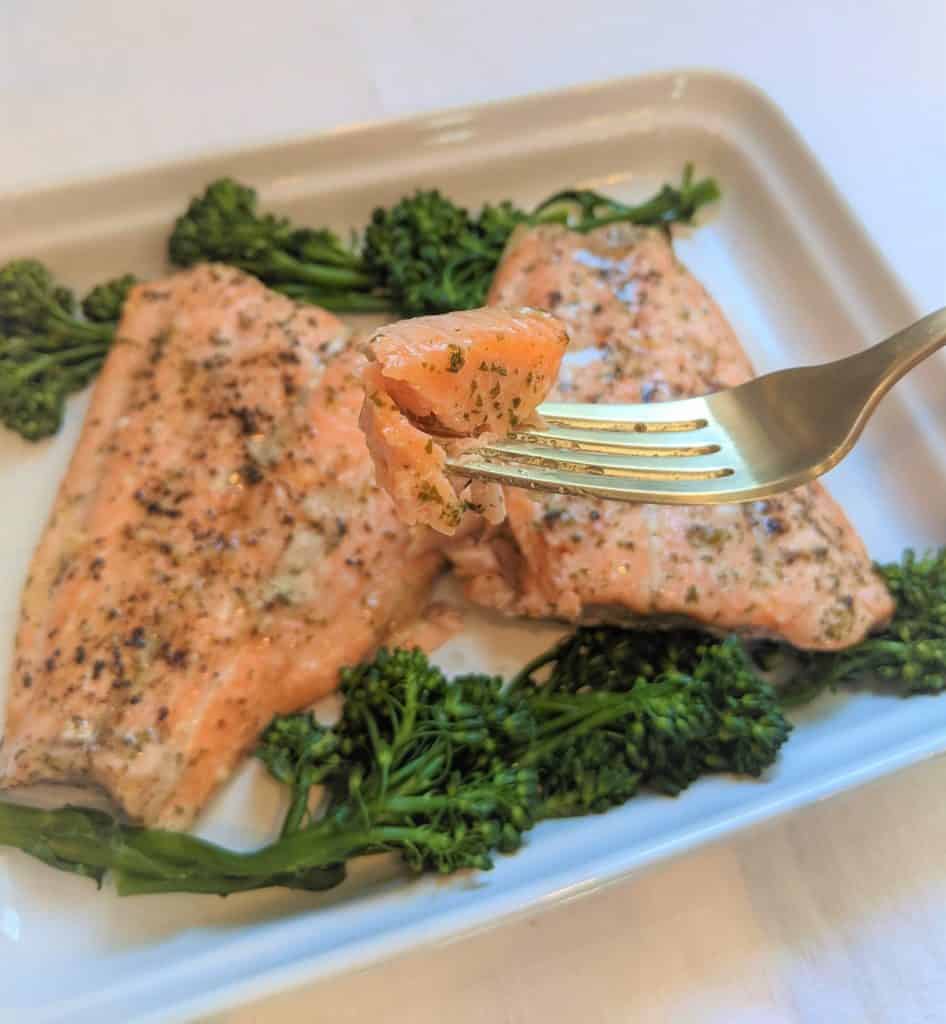 Why not try some Apple Maple Salmon tonight? Similar to my other pregnancy recipes, this dish is so incredibly easy to make.
Nutritious Ingredients for Healthy Pregnancy
Ingredient Nutrients of Note
Let's take a look at the nutrient content of the ingredients in this Apple Maple Wild Alaskan Salmon recipe, especially the vitamins and minerals. Equally important nutrients in pregnancy include carbohydrates, fats, and proteins.
Salmon - If you can, really try to use wild caught salmon instead of farm-raised. For various reasons, wild salmon has a higher mineral content, notably calcium and iron.
Marinade - A savory and sweet blend of apple juice, parsley, salt, chopped garlic, and olive oil.
Glaze - Natural maple syrup blended with olive oil.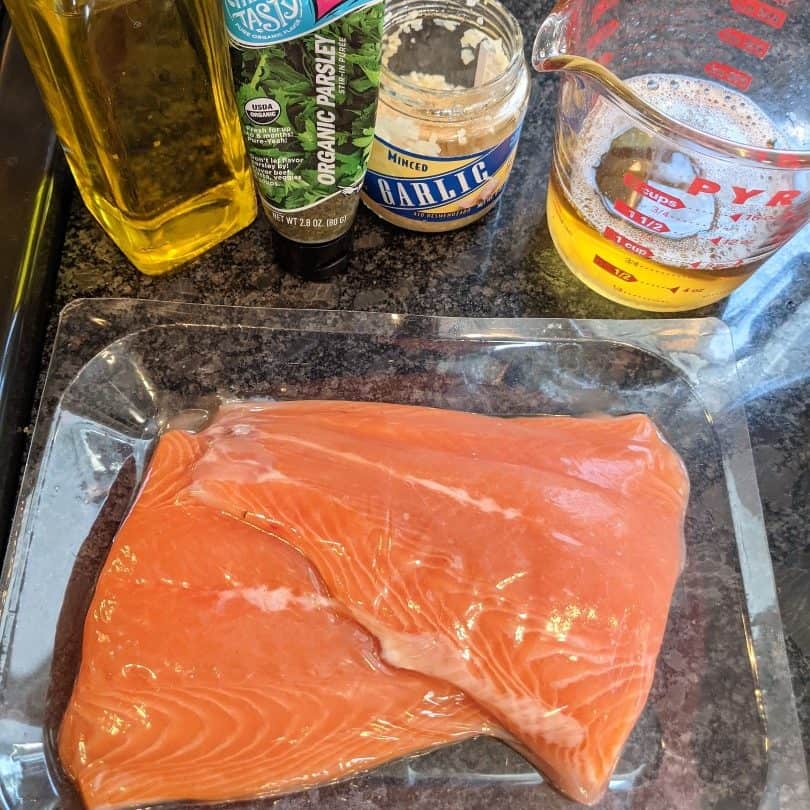 How to Make Apple Maple Salmon
First Prepare the Marinade
Mix together the marinade ingredients (apple juice, parsley, salt, chopped garlic, and olive oil). Then use a whisk to blend thoroughly.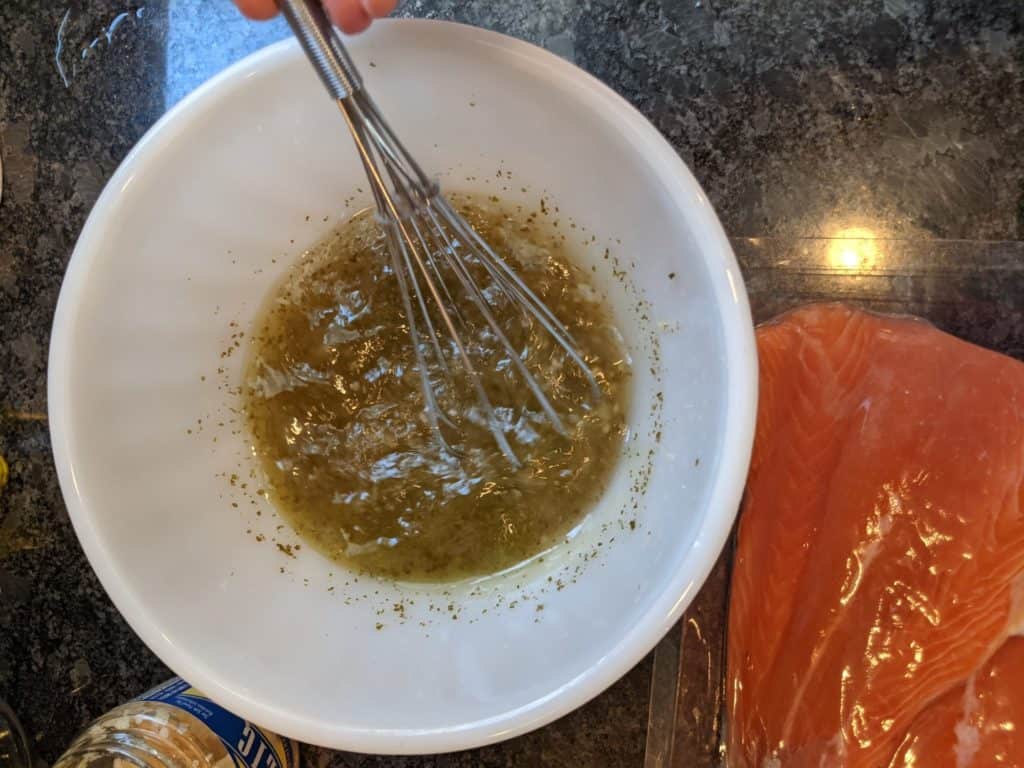 Then, Marinate the Salmon
Using a fork, make small perforations on top of the salmon filets. Next, place salmon into a bowl and cover with the marinade. Marinate in fridge for 20 minutes.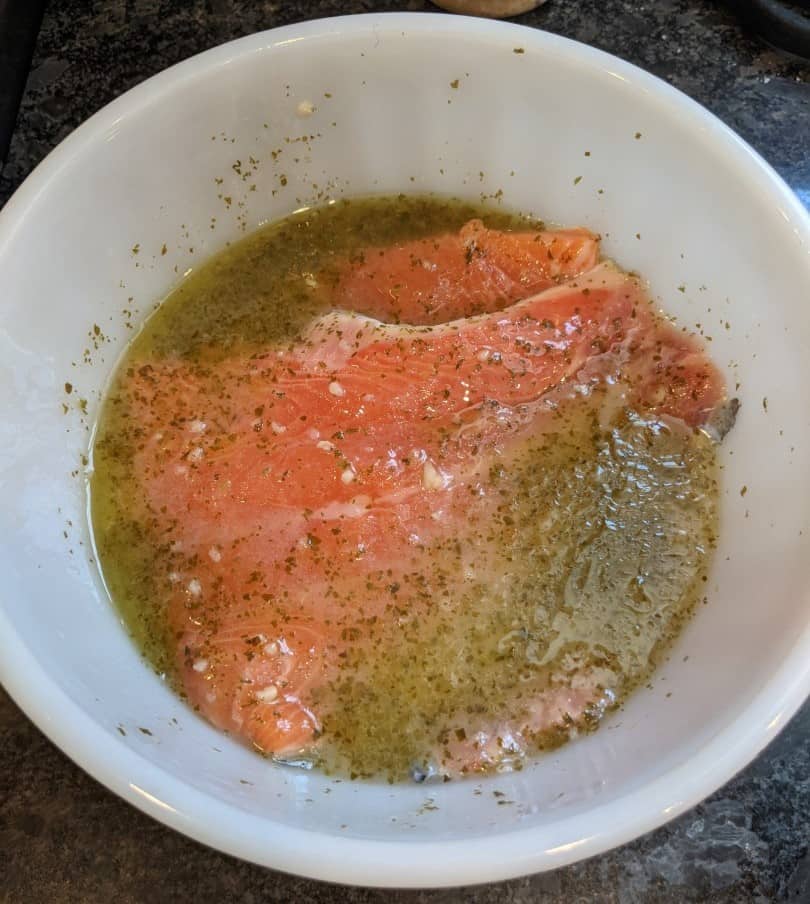 Prepare the Glaze
Similar to making the marinade, combine the glaze ingredients (olive oil and maple syrup) and then use a whisk to thoroughly combine.
Apply the Glaze
Place salmon fillets onto a greased rimmed baking sheet with at least one inch of space between them. Next, brush the maple olive oil glaze onto each fillet and finish with a pinch of salt and ground black pepper.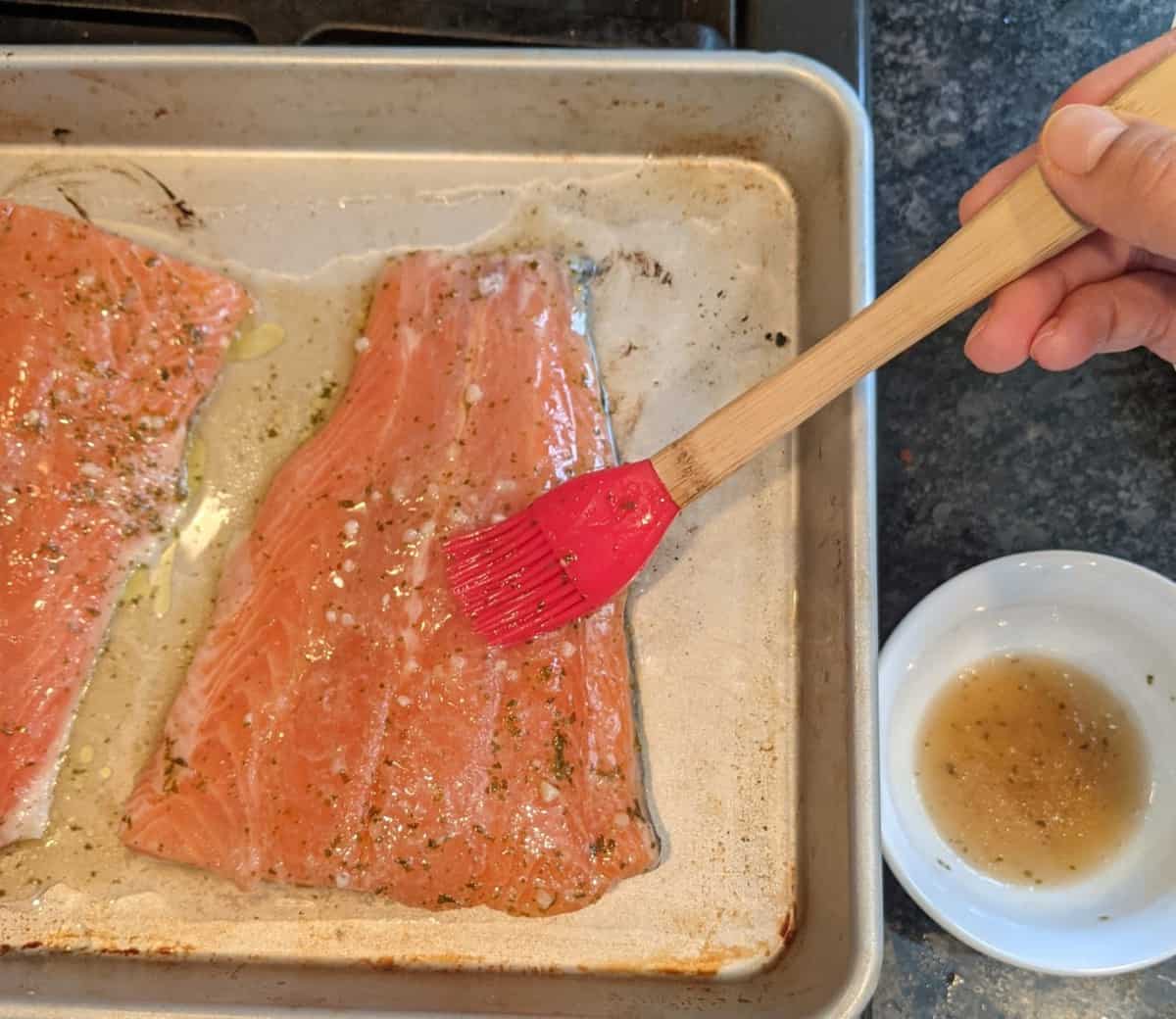 Bake in the Oven
Place the rimmed baking sheet into the oven at 400 degrees Fahrenheit (200 degrees Celsius) for 10 minutes until salmon fillets are cooked through. Broil for an additional 2 minutes to caramelize the maple glaze. Ensure that the internal temperature of each fillet reaches 145 degrees Fahrenheit (62.8 degrees Celsius).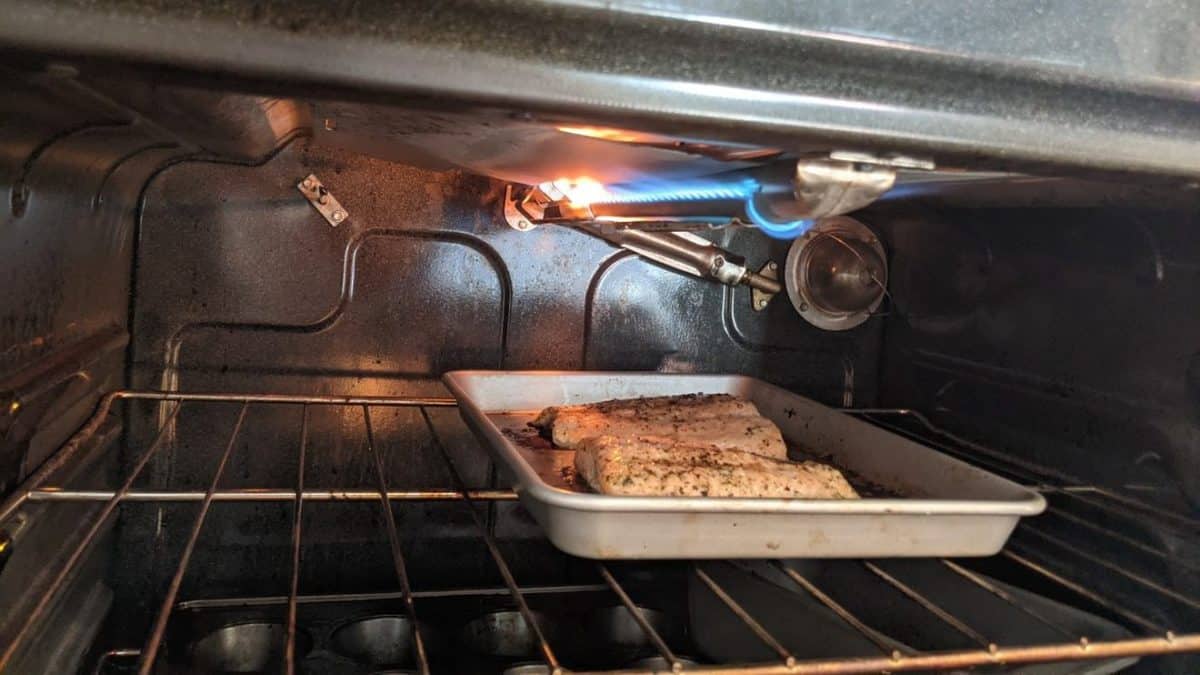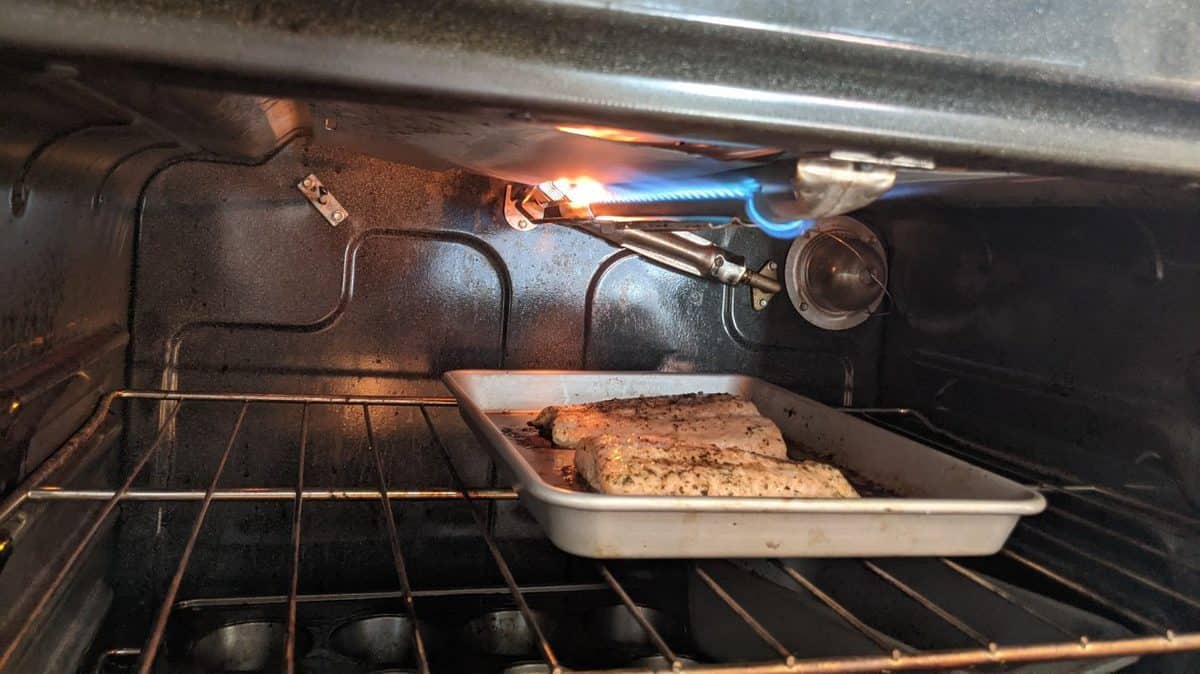 Serving Suggestions and Tips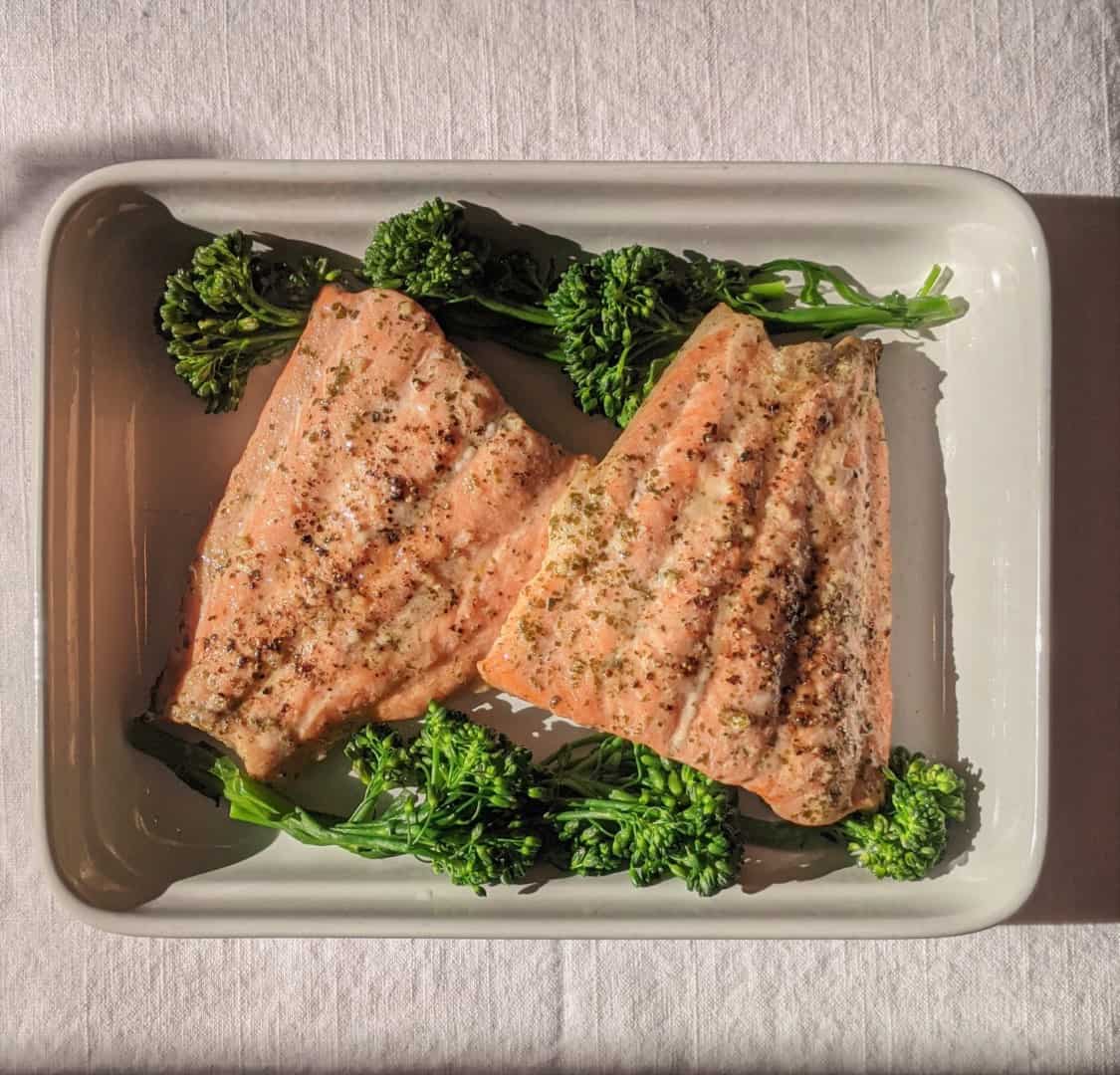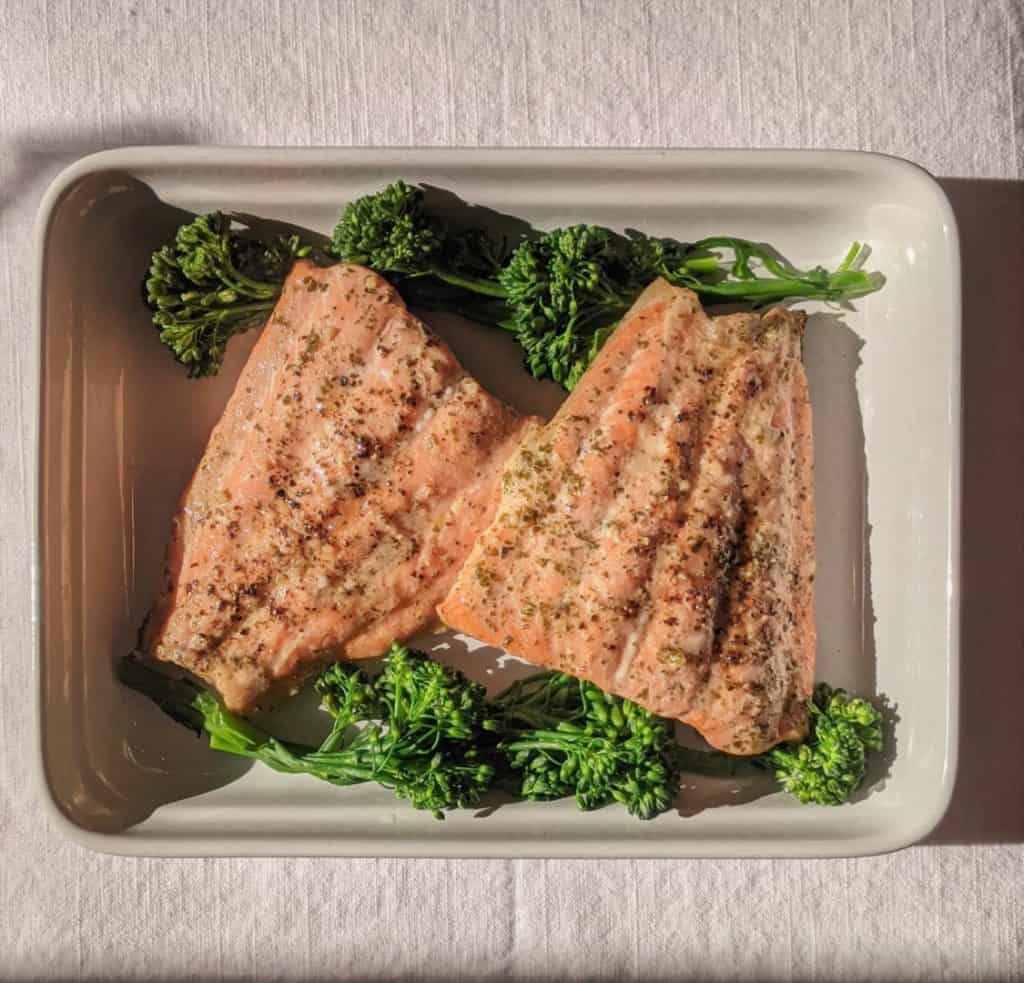 A squeeze of lemon or some lemon wedges would enhance the flavors of this recipe.
This fish would be delicious accompanied by a steamed fresh green vegetable. For convenience, you could use a microwave vegetable pack (peas, broccoli, green beans) and have your side dish done in just minutes!
Any leftover salmon can be stored in the fridge for three to four days. I personally enjoy cold leftover salmon straight from the fridge. It almost seems more moist than when hot from the oven! Leftover salmon can also be shredded and used for salmon patties or salmon spread.
Frequently Asked Questions (FAQs)
Can pregnant women eat cold salmon? As long as the fish has been thoroughly cooked and wrapped and stored safely, cold cooked salmon can be eaten within a few days of it being cooked. I think it would be delicious atop a fresh green salad.
Can pregnant women eat too much salmon? It's never a good idea to eat any food in excess! Fortunately, wild alaskan salmon is one of the fish species that has very low mercury content, so you can safely enjoy 2-3 four-ounce servings every week.
You'll Also Love These Fish Recipes!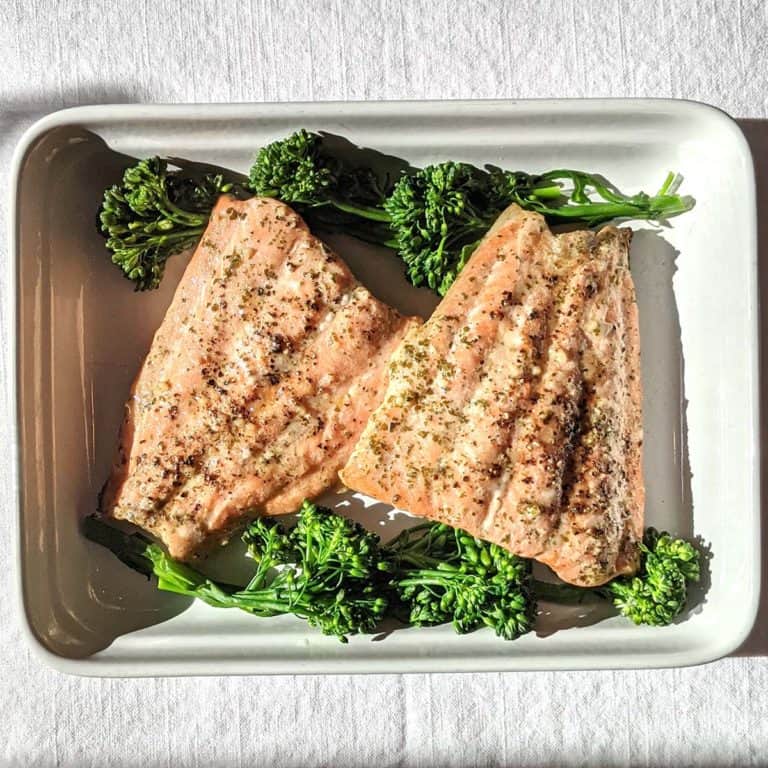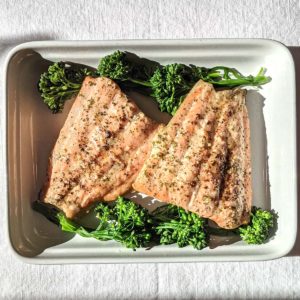 Apple Maple Wild Alaskan Salmon
Author:
Wild Alaskan Salmon is really one of the very best things you can eat during pregnancy!
Ingredients
2

fillets of wild Alaskan salmon, fully thawed

1

cup

apple juice

1/4

cup

olive oil plus 1 tablespoon for glaze

1

garlic clove, minced

1

tbsp

fresh parsley, chopped

1

tbsp

maple syrup

1

tsp

salt

1

tsp

ground black pepper
Instructions
Prepare marinade by whisking together apple juice, 1/4 cup (59 ml) olive oil, garlic, parsley, and salt.

Using a fork, perforate surface of each salmon fillet.

Place each salmon fillet into a large bowl and pour marinade on top.

Allow wild alaskan salmon fillets to marinate in fridge for 20 minutes.

While salmon is marinating, prepare glaze by whisking together maple syrup and one tablespoon olive oil.

After 20 minutes, take salmon fillets out of the bowl and place, skin side down, onto the rimmed baking sheet.

Apply maple glaze to wild alaskan salmon fillets and season each fillet lightly with salt and ground black pepper.

Place rimmed baking sheet into oven for 10 minutes at 400 degrees Fahrenheit (200 degrees Celsius).

Broil for 2 additional minutes (if desired) to caramelize the glaze.

Internal temperature of each salmon fillet should be 145 degrees Fahrenheit (63 degrees Celsius). Ensure fish is cooked through before eating.
Notes
*Nutritional information is calculated using online tools and is provided as a courtesy. The values can vary depending on which ingredients and brands are used.
Nutrition*
Calories:
285
kcal
Carbohydrates:
11
g
Protein:
17
g
Fat:
19
g
Saturated Fat:
3
g
Polyunsaturated Fat:
4
g
Monounsaturated Fat:
12
g
Cholesterol:
47
mg
Sodium:
623
mg
Potassium:
506
mg
Fiber:
1
g
Sugar:
9
g
Vitamin A:
122
IU
Vitamin C:
2
mg
Calcium:
26
mg
Iron:
1
mg