A healthy and delicious meal: this protein-packed chard soup is the perfect soup for pregnancy. Five ingredients (not counting a couple of pantry ingredients) and 25 minutes is all you need for this turkey chard soup recipe!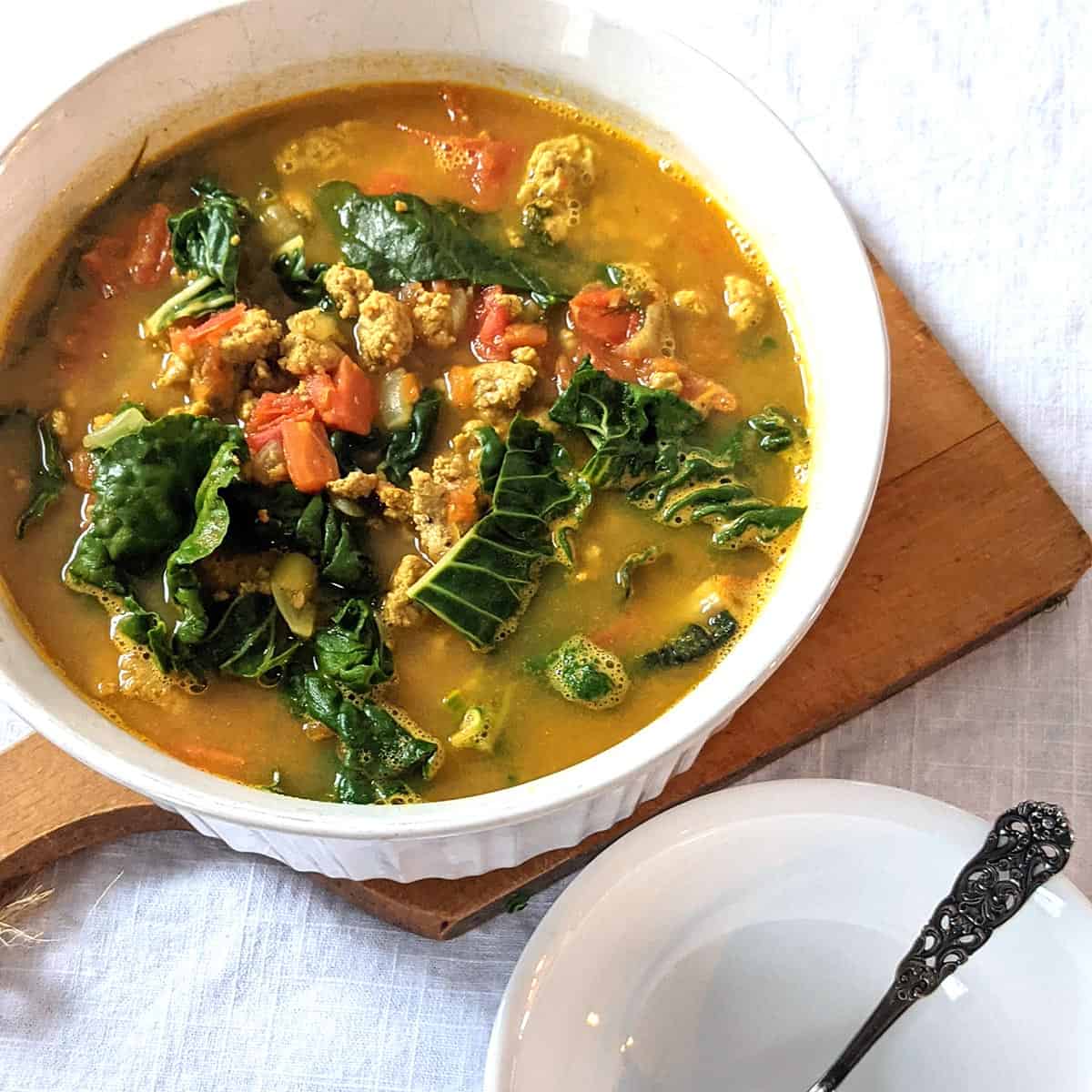 Why You Will Love This Recipe
Let me start by saying that we are big soup eaters in this family. I ate a ton of soup during my pregnancies, and it is still an integral part of our weekly dinner rotation. Fortunately, soup is absolutely the favorite food of my kids (and baby!). From black bean soup, to rich broccoli cheese soup, to potato soup, to classic chicken noodle soup, the kiddos enjoy anything that involves spoonfuls of warm broth and tender, flavorful bites. I love to make a variety of healthy soup recipes, as they are so super quick and easy to whip up!
Enter Turkey Chard Soup. Green, leafy chard is an incredibly healthy vegetable (some calling it a powerhouse of nutrition) that is packed with calcium, iron, fiber, and folic acid. Chard should absolutely be consumed as part of a healthy pregnancy diet because this vegetable offers so many fantastic benefits to a pregnant woman and her baby. Particularly, the FDA emphasizes the importance of folic acid to pregnant women.
In this soup, the lush, tender chard leaves contrast well with the hearty chunks of turkey, and the tomatoes add a welcome pop of acidity.
What makes this soup recipe so easy is that is a ONE POT meal! Who doesn't love a good one pot meal!? First, we begin by browning the turkey meat in the pot, and then once it is fully cooked, add the broth and remaining ingredients into the same exact pot.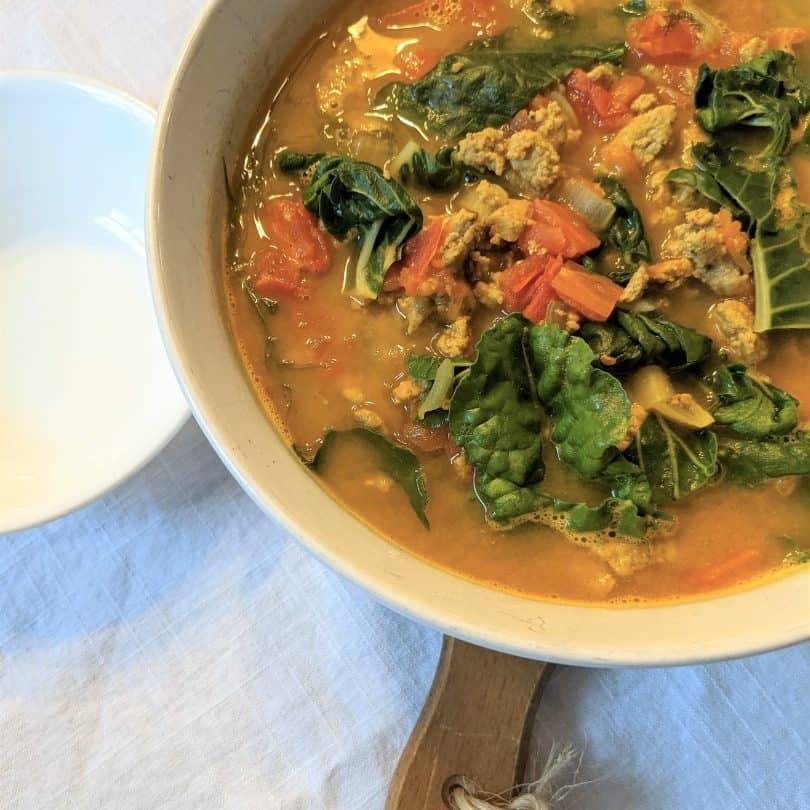 Key Ingredients
Organic ingredients are best to minimize any potential pesticide exposure.
Fresh Ingredients
Ground Turkey - I've chosen ground turkey for this recipe in order to add variety to our diet. Beef and chicken are the typical go-to animal proteins in American home meals, so we are using turkey here as a small effort towards variety. Variety is essential for good nutrition and this remains true for pregnant women and baby. Think of it this way: Every single food has a different nutrient profile. When we consume a variety of different foods, we increase the odds that we consume all of the nutrients necessary for optimal health.
Swiss Chard - This vegetable offers a variety of vitamins and minerals and is an excellent pregnancy food choice. As discussed earlier, chard contains vitamins A, C, and K as well as the minerals iron, magnesium, and calcium which are essential for good health. Iron specifically plays an important role in preventing anemia, which may be an issue for some pregnant women. Also, spinach could also work in this recipe, but chard retains its firmer texture even after being heated and is therefore is superior in this soup. Using a sharp knife, carefully dissect each chard leaf down the spine and then chop all into bite-sized pieces. Unlike with kale, swiss chard stems are edible.
Plum Tomatoes - The plum tomato is best for sauce or soup applications because they have less water content. Select ripe tomatoes for the best flavor profile.
Onion - Adds delicious flavor to the soup.
Fresh Dill (optional) - Adds additional brightness and color to the soup.
Pantry Ingredients
Olive Oil - Adds rich flavor and healthy fats that support the growth of baby's brain. A high quality olive oil provides healthy monounsaturated fats, vitamin E, and iron, and is one of those truly essential ingredients in every pregnant woman's pantry. I use olive oil daily in my cooking.
Chicken Stock - Choose an organic, low-sodium brand. Better yet, make your own for even richer flavor!
Garlic - Just a hint of fresh garlic makes everything tastier, not to mention the myriad health benefits.
Black Pepper and Sea Salt - Keeping it simple with S&P. And flaky sea salt is always my preference but we'll keep it to a minimum as it's important not to overdo sodium during pregnancy.
How to Make Turkey Chard Soup
First, Brown the Meat
Brown the ground turkey meat in a medium Dutch oven or 4-quart (~4 L) soup pot. As the meat browns, add in one teaspoon each of salt and pepper.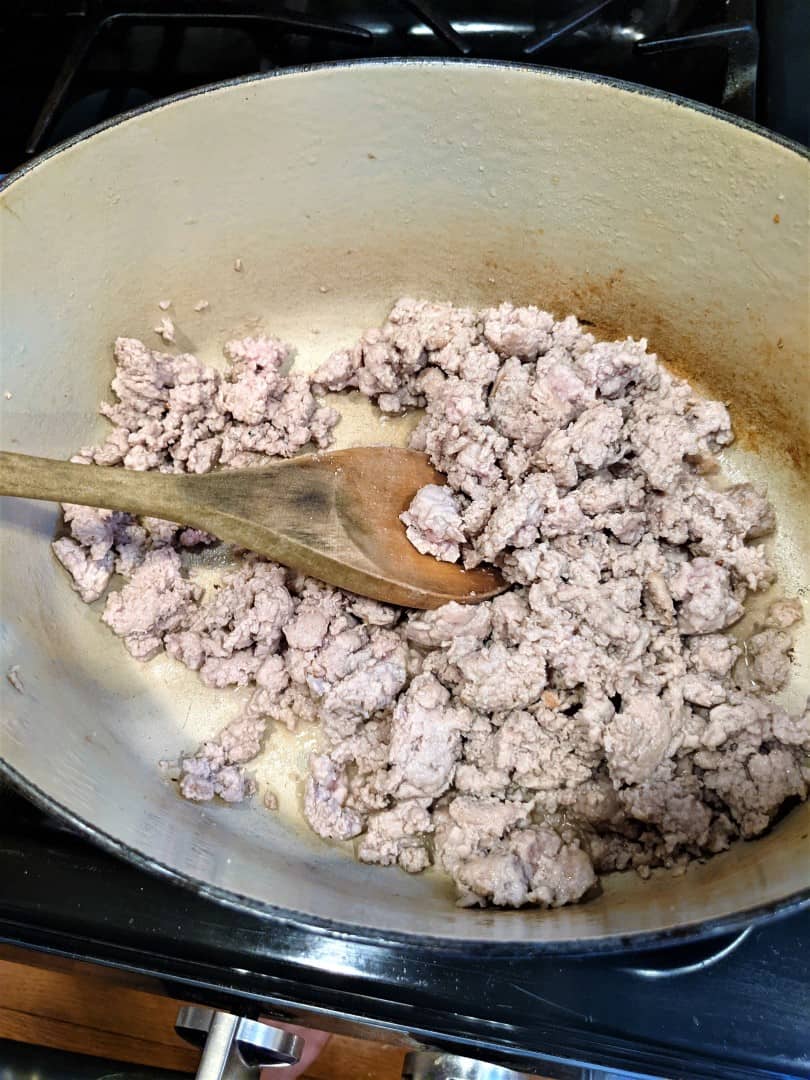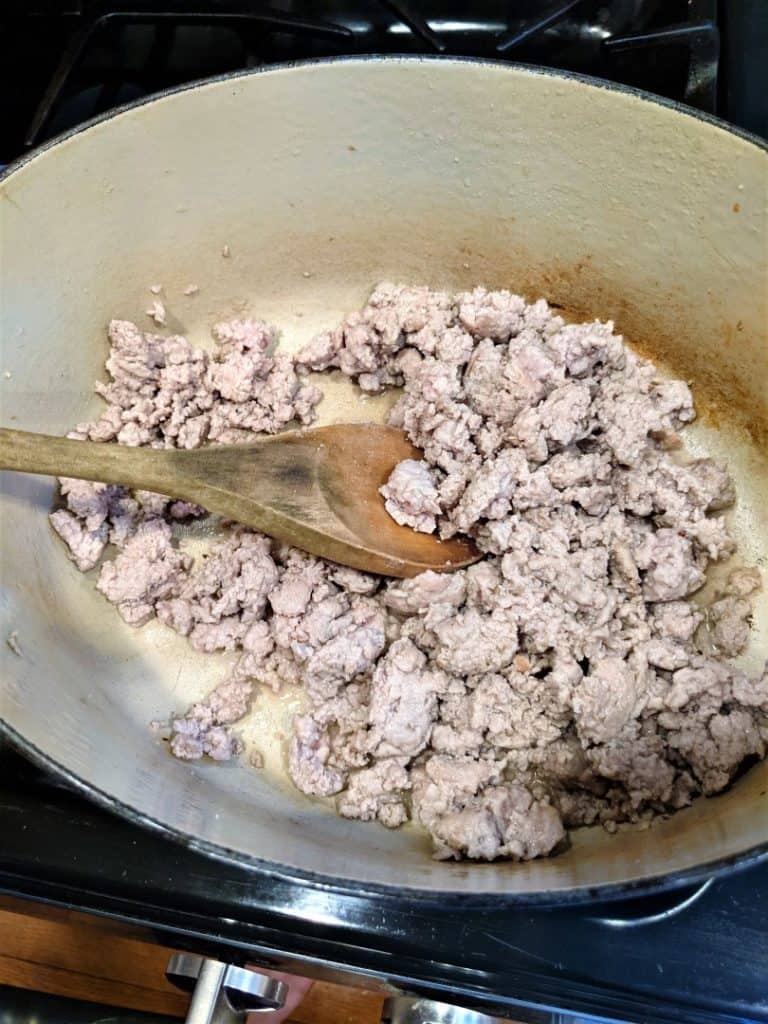 Then, add in the garlic and onion and continue to sauté for 2 minutes until the meat is nicely browned.
Add in the Broth
Once the meat and onion is browned, slowly pour in the chicken broth and then use a wooden spoon to scrape up the crispy bits from the bottom of the pot. Continue to heat soup until boiling.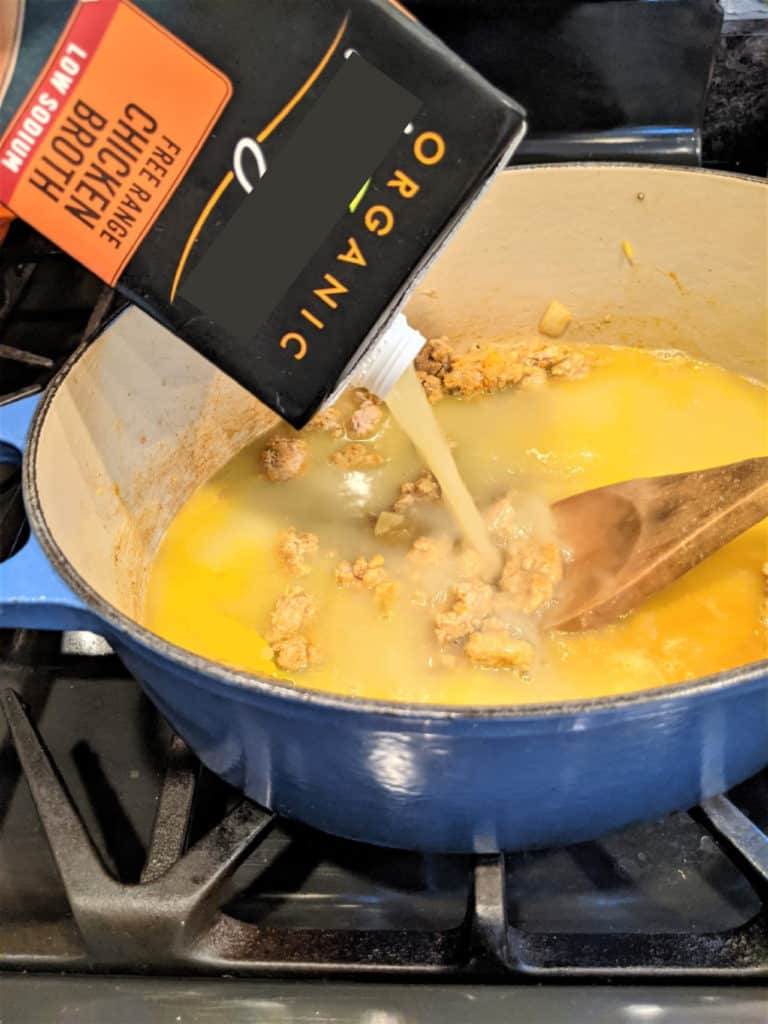 Add in the Vegetables
Once the soup is boiling, turn the heat down to low and add in the tomatoes and optional dill. Allow the soup to simmer, covered, for five minutes.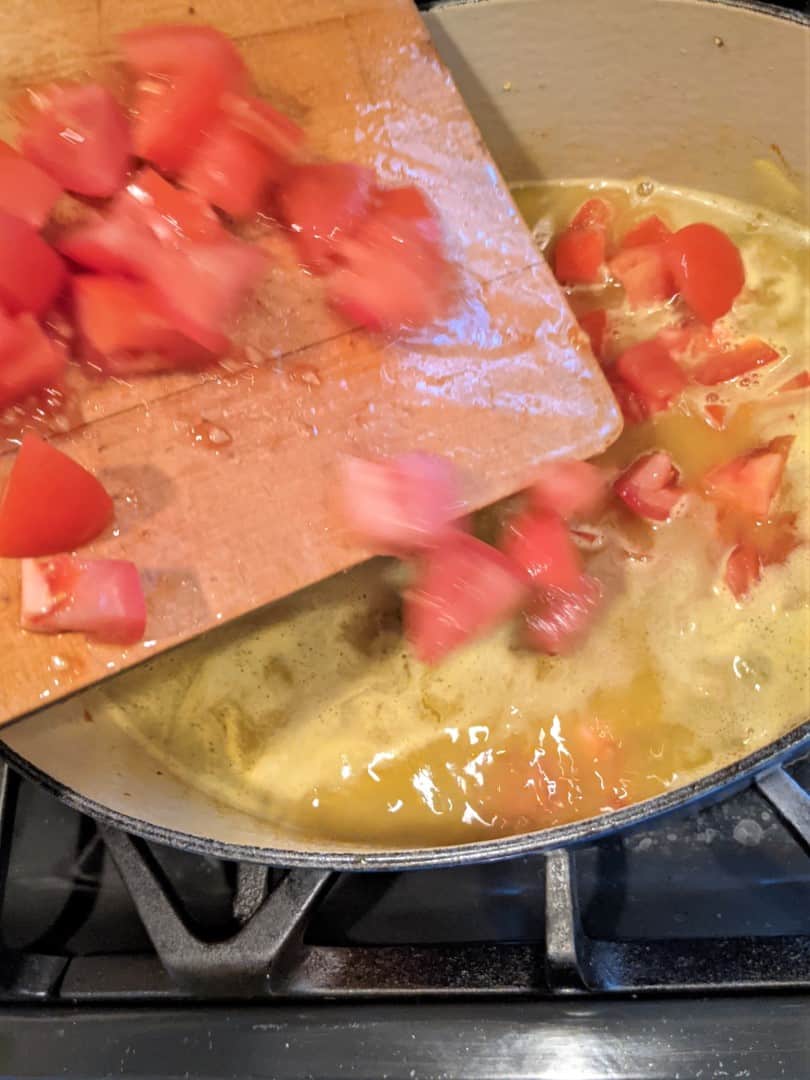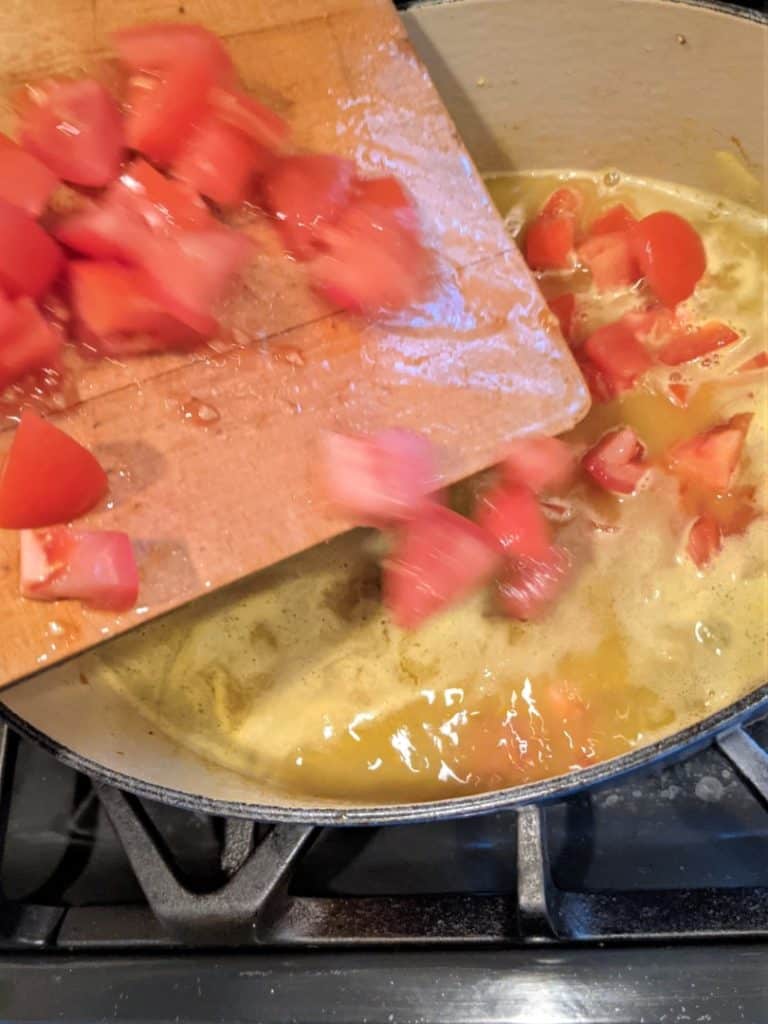 Turn off the heat, fold in the chopped up swiss chard, and stir the soup until the chard is dispersed and appears wilted.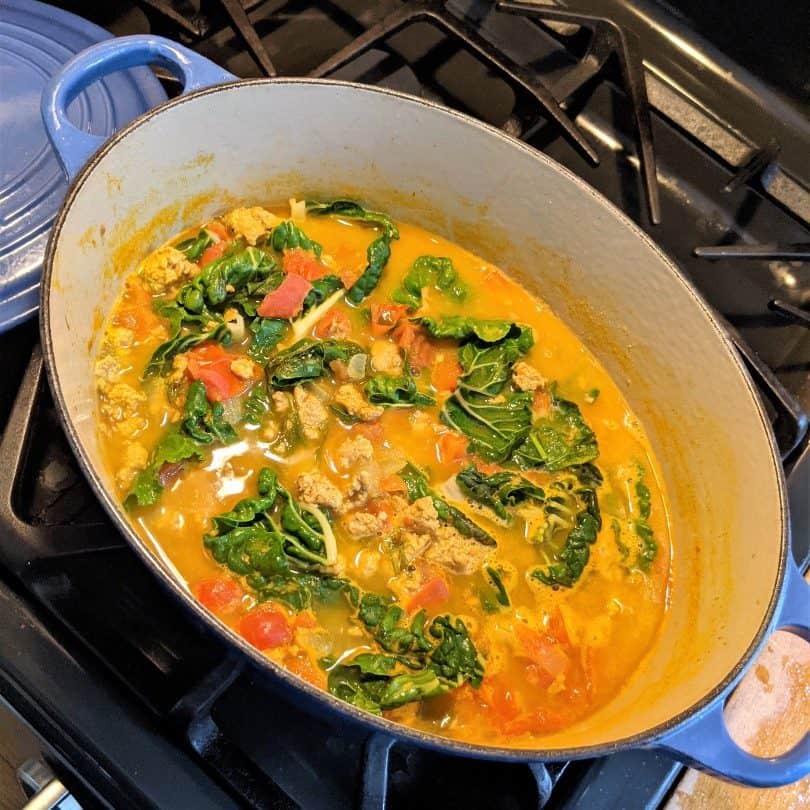 Serve the soup immediately.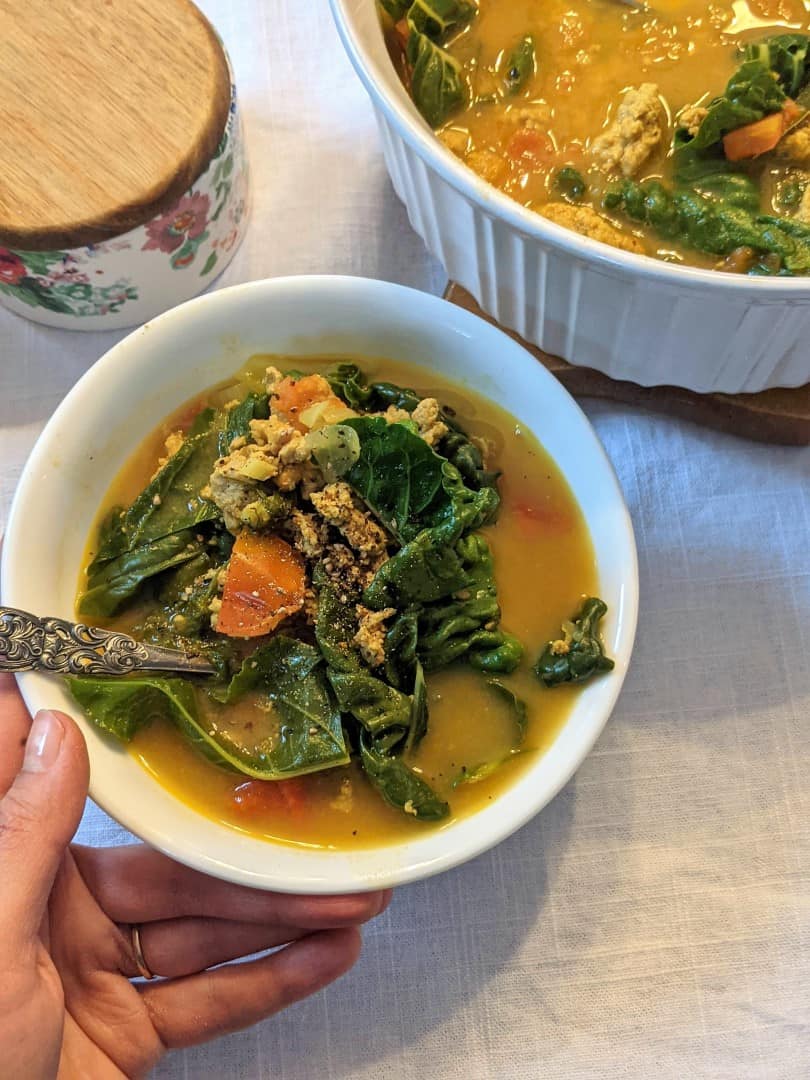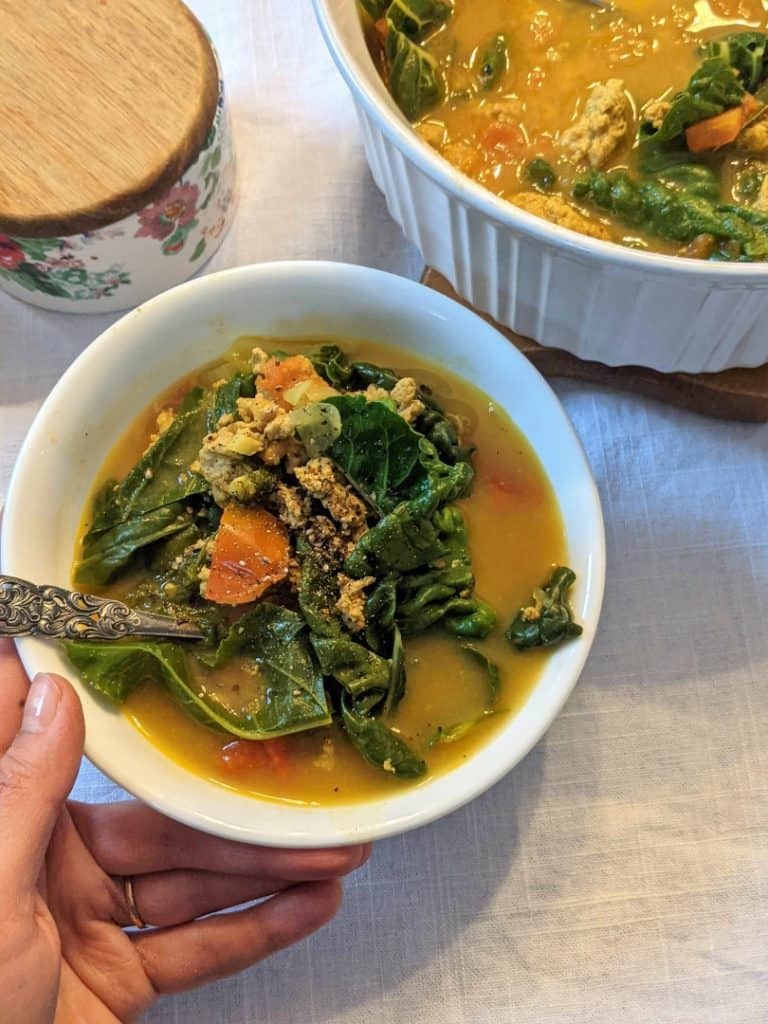 Serving Suggestions and Tips
This hearty soup is so delicious on its own, but there are many ways to enhance this meal!
Sprinkle on some spices or toppings:
Cracked black pepper
Crushed red pepper
Freshly-grated parmesan cheese
Crunchy homemade croutons
Maybe a starchy food on the side:
Sliced crusty baguette with a dab of butter
Steamed brown rice
Cooked penne noodles
You Might Also Enjoy
You might also enjoy these other pregnancy soup recipes: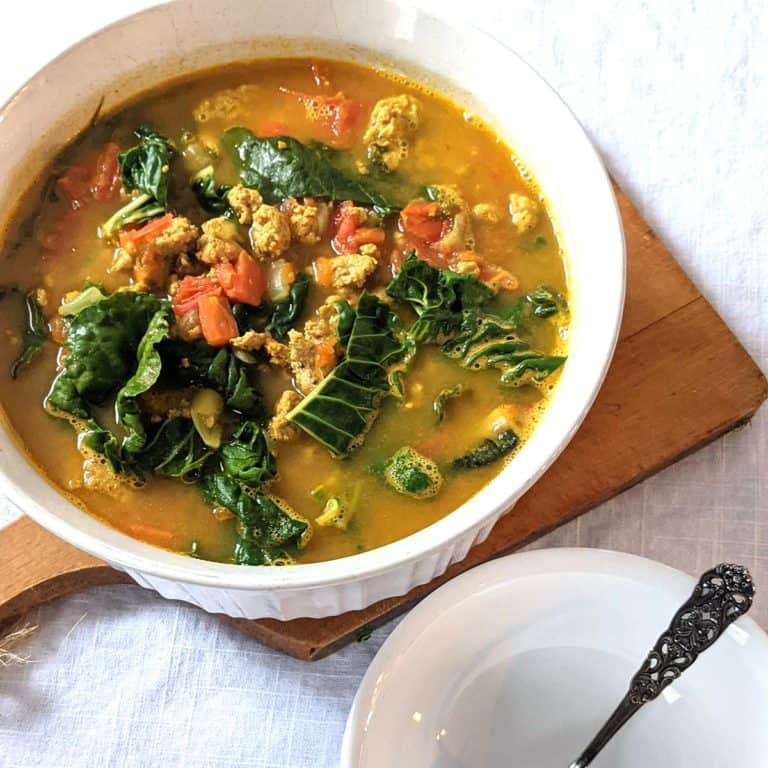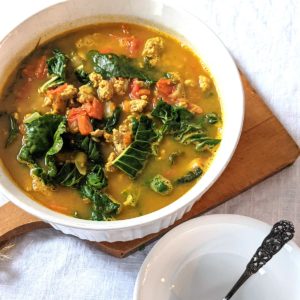 Turkey Chard Soup
Author:
Rustic and warming: the perfect pregnancy soup.
Ingredients
1

lb

turkey, ground

4

plum tomatoes

1

head swiss chard, rinsed and chopped

1

small onion, finely chopped

2

cloves of garlic, minced

1/2

cup

dill, chopped

32

oz

chicken stock

1

tsp

salt

1

tsp

ground black pepper

1

tbsp

olive oil
Instructions
Brown the ground turkey meat with a tablespoon of olive oil in a medium dutch oven.

While meat is browning, stir in salt, pepper, chopped garlic and onion. Sauté for 2 minutes.

Slowly add chicken stock and use wooden spoon to scrape up crispy bits from the bottom of the pot. Heat until boiling.

Set heat to low and add the tomatoes and optional dill. Simmer, covered, for 5 minutes.

Turn off the heat, fold in the swiss chard and stir until chard is dispersed.

Serve immediately.
Notes
*Nutritional information is calculated using online tools and is provided as a courtesy. The values can vary depending on which ingredients and brands are used.
Nutrition*
Calories:
257
kcal
Carbohydrates:
8
g
Protein:
24
g
Fat:
13
g
Saturated Fat:
3
g
Polyunsaturated Fat:
1
g
Monounsaturated Fat:
3
g
Cholesterol:
86
mg
Sodium:
1558
mg
Potassium:
330
mg
Fiber:
2
g
Sugar:
4
g
Vitamin A:
1813
IU
Vitamin C:
20
mg
Calcium:
65
mg
Iron:
2
mg