Red pepper and lentil soup is a warming, filling, vegetarian dish. The savory red bell pepper broth is incredibly flavorful and overflows with protein-packed red lentils and chunks of sweet, tender carrot.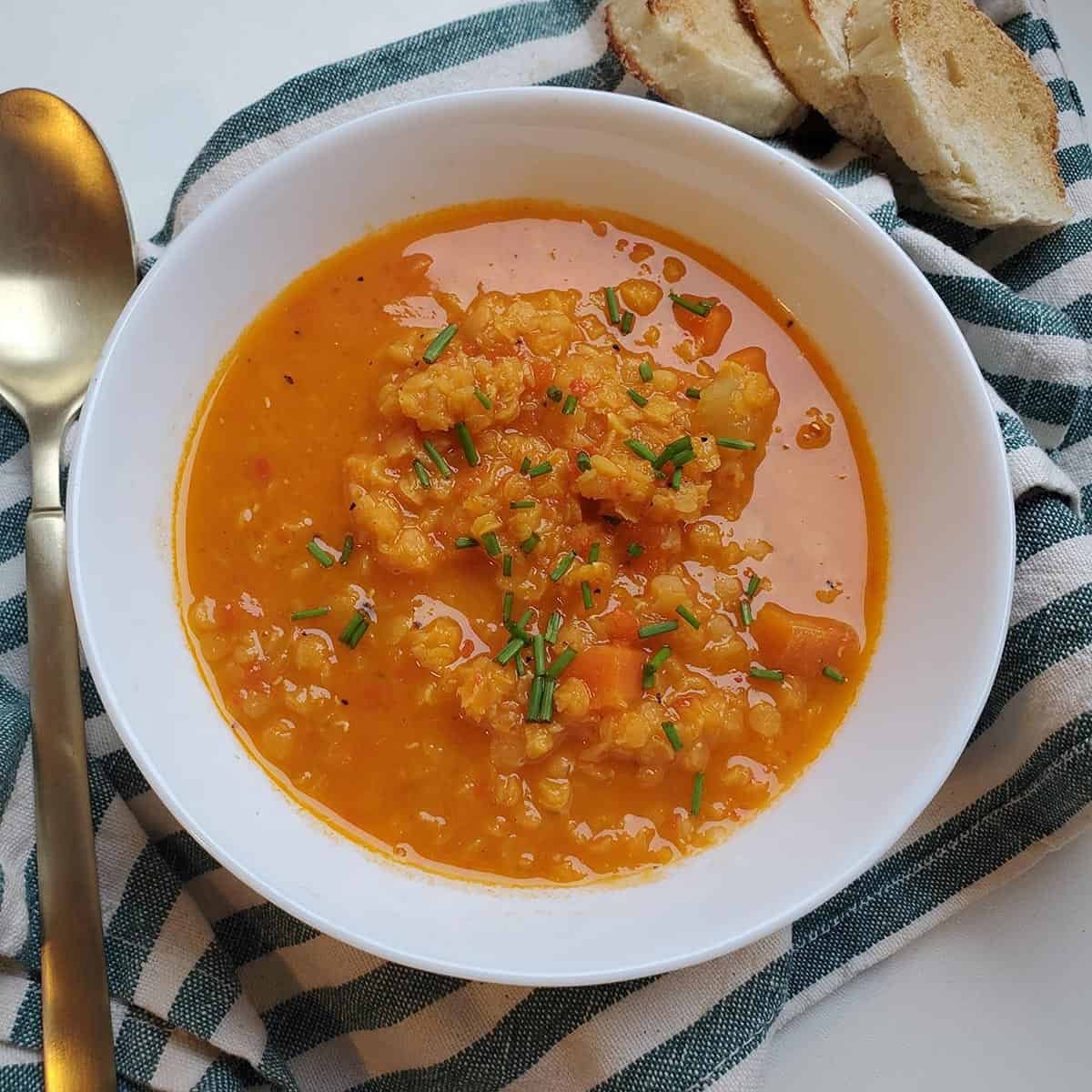 Paired with a warm baguette, this red pepper soup is the perfect meal!
Why You Will Love This Recipe
Soup is easily my favorite food. Luckily, my kids love it too! I love soup for so many reasons.
First of all, it cooks up so quickly! When I need to get supper on the table stat for my hangry kids, I throw a pot on the stove and turn to one of my quick homemade soup recipes.
Furthermore, soups are often packed with so much flavor, and can be tailored in an endless variety of ways. If you think about it, almost any healthy food type can be made into a soup, from proteins, to greens, to starches like quinoa or beans.
What is Red Pepper and Lentil Soup?
Let's talk about this red pepper and lentil soup. Each bite of this hearty, nutritious lentil soup offers tender, nutty bites of lentil and carrot. As for the red peppers, they have been completely blitzed, resulting in a bright and tangy, almost creamy broth that pairs perfectly with the nutty red lentils.
This lentil soup also happens to be vegan and gluten free, however the best thing about this recipe is that it is super easy to prepare!
After eating soup, I am almost never left feeling drained of energy. Because soup is more easily digested than other foods, the body uses less energy for the digestion process. As a result, we are left with more energy for the rest of the day! During pregnancy specifically, I found that eating a healthy protein and veggie-packed soup for lunch left me with plenty of energy to carpe diem.
Is This Recipe Healthy?
Let's take a closer look at the nutrient content of the main ingredients used in this red bell pepper and lentil soup. Indeed, this soup has a lot of nutrition to offer a pregnant woman!
Red Bell Pepper (Capsicum)
Red bell peppers (also known as capsicum or sweet peppers in some parts of the world) are truly an incredible source of vitamin C.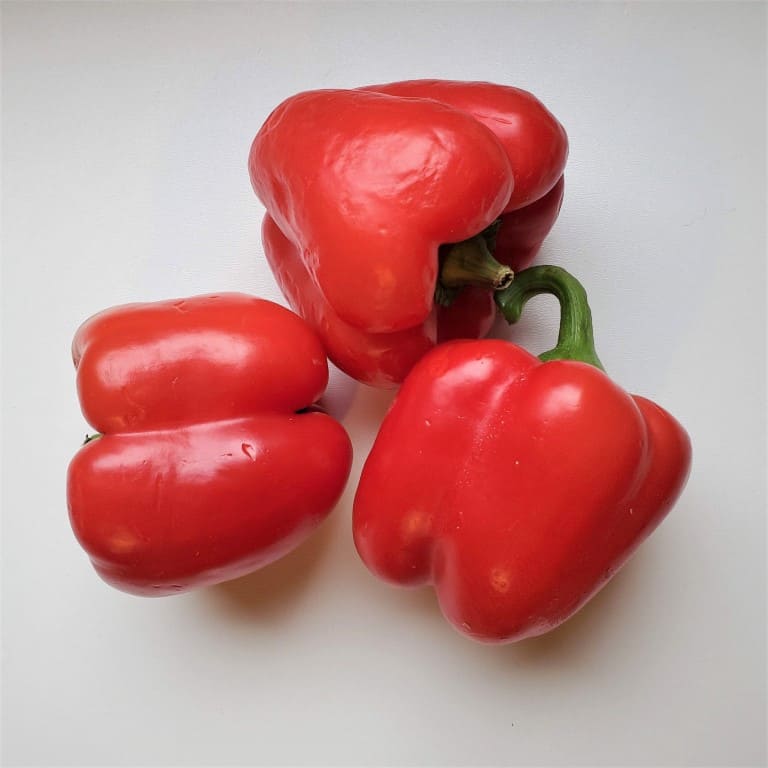 Vitamin C: One cup of chopped red pepper offers more vitamin C than an orange! Vitamin C helps keep pregnant women's immune systems strong. Importantly, when paired with an iron-rich food (like lentils!), vitamin C helps mama to absorb iron more easily. Furthermore, vitamin C is invaluable for wound-healing, which is essential post-partum. Vitamin C is of great benefit to baby, as well. Vitamin C helps baby's bones, gums, teeth and muscles develop properly.
Lentils
Lentils are an excellent source of iron. For this reason, I have intentionally paired vitamin C-laden red bell peppers with iron-rich lentils.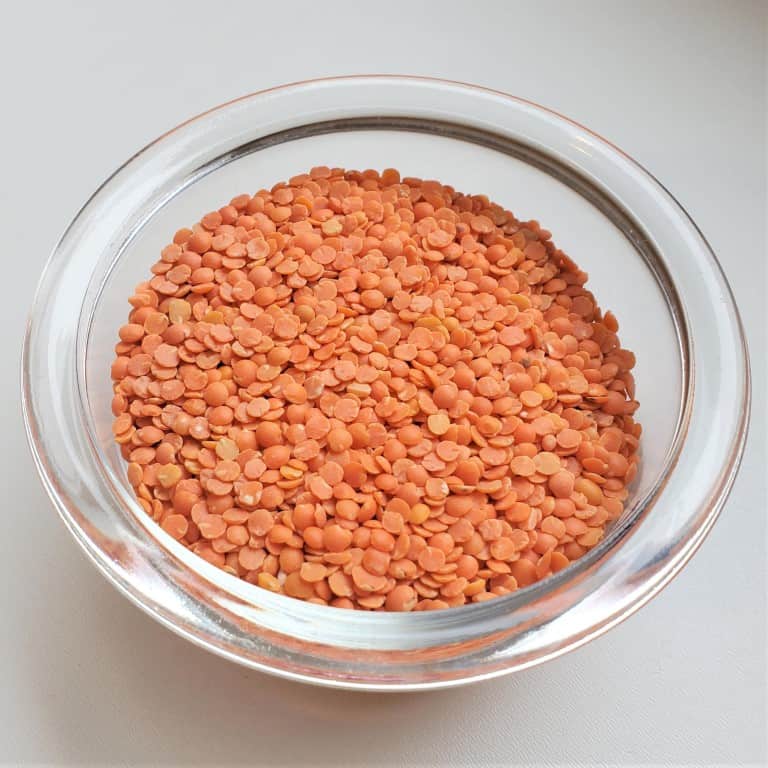 Iron is crucial in pregnancy diet. Iron deficits in a pregnant woman can result in outcomes ranging from low birth weight to maternal mortality During pregnancy, women require double the amount of iron as non-pregnant women, mainly to support the developing placenta and growing fetus. Pregnant women rely on iron to make hemoglobin for both herself and baby, and hemoglobin is critical in red blood cell formation.
Folate, Potassium, and Fiber: Lentils are an important source of folate. Folate deficiency is well known to severely impair fetal development, leading to NTDs (neural tube defects). NTDs develop very early on in pregnancy, when the neural tube, which forms the brain and spinal cord, does not close properly.
Protein: Lentils are a fantastic plant-based source of protein, and increased protein is critical in a pregnant woman's diet!
These organic red lentils are a perfect option for this recipe.
Key Ingredients
4 cups of chopped red bell pepper (453 g)
1 cup of chopped carrots (116 g)
1 cup of red lentils (200 g)
1/2 cup of chopped white onion (80 g)
1/2 cup of chopped celery (80 g)
3 cloves garlic, minced
4 cups vegetable broth (9.5 dl)
2 tablespoons olive oil
1/2 teaspoon of freshly ground black pepper
Salt, to taste
How to Make Red Pepper and Lentil Soup
First, Create the Red Pepper Soup Base
First, in a large soup pot, warm two tablespoons of olive oil. Sauté the garlic, onion and celery for 2 minutes. Add the chopped red pepper and sauté for 3-4 additional minutes. In the interest of time, I have chosen not to roast the red peppers, but they could certainly be roasted beforehand to add a smoky flavor to the soup.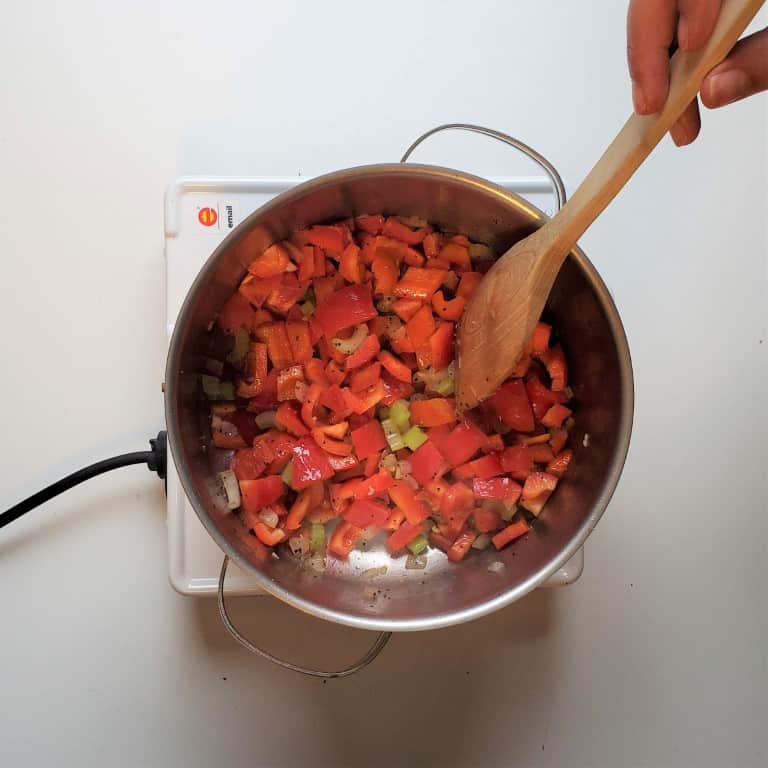 Next, pour the vegetable broth in with the softened vegetables, give a stir, and bring to a boil. After the soup has reached a boil, reduce the heat, cover, and let simmer for 10 minutes.
Then, Blend the Broth
After 10 minutes, remove the lid, turn off heat, and allow soup to cool. Then, very carefully use an immersion blender to blend all contents of the pot into a smooth broth. I like this immersion blender. NOTE: If you're unsure how to use an immersion blender safely, please refer to your appliance user manual. To be extra careful, you may also want to cool the soup fully before blending.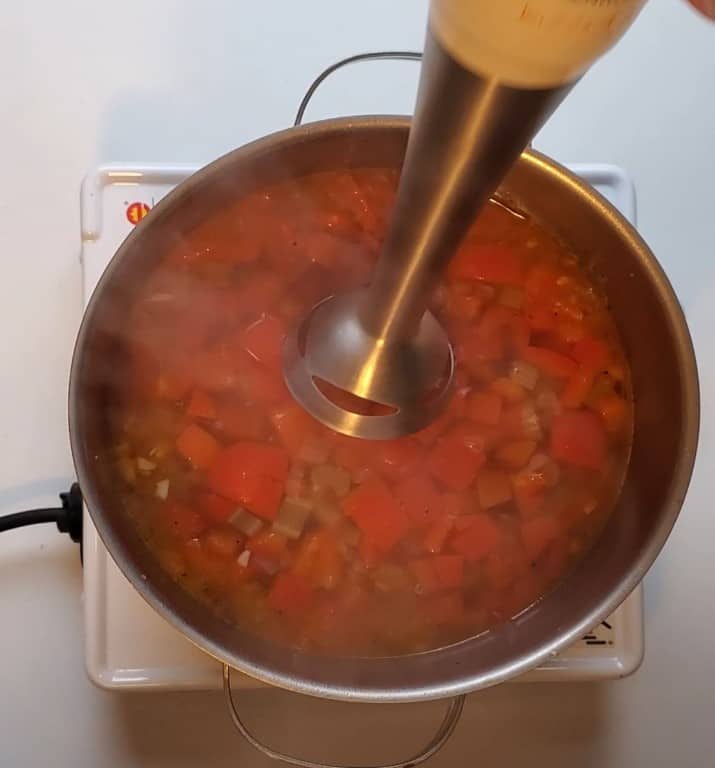 After blending the soup, next add the carrots and lentils. We add the lentils and carrots later so that they retain their chewy texture. We do not want to blend the carrots or lentils. Be sure the lentils have been thoroughly washed to remove any sand or residual grit. Allow the soup to simmer, uncovered, over low-medium heat, for 10 minutes, or until the lentils and carrots have softened.
Finally, ladle the red pepper lentil soup into bowls, and top with chopped fresh parsley or chives. Enjoy with a warm, crusty baguette!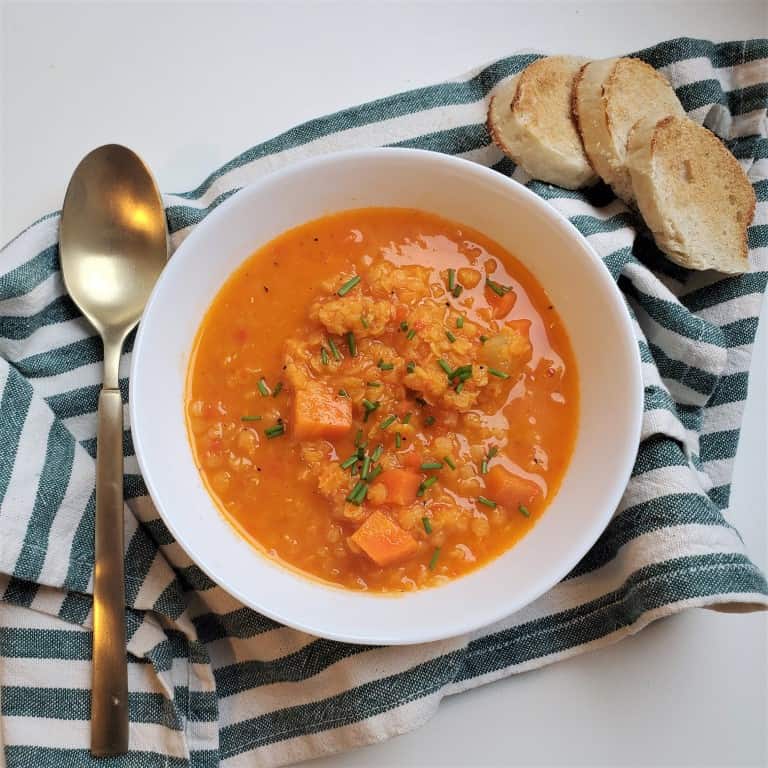 Serving Suggestions
Red pepper and lentil soup is so delicious on its own, but here are some side dishes that go well with lentil soup:
Crusty whole wheat baguette,
Simple green salad,
Steamed bulgur, or
Warmed tortillas
Frequently Asked Questions (FAQs)
How do you make lentil soup thicker? This soup is actually already quite thick. However, if you want it to be even thicker, you can use your immersion blender to blend some of the lentils after they have softened. This action makes the broth even thicker. Alternatively, you can stir in a half cup of thick Greek yogurt which will thicken the soup further, but it will no longer be vegan.
What other flavors or spices can be added to this soup? I personally love to add some crushed red pepper flakes to my soup for some added spice. I think an added teaspoon of smoked paprika would also be absolutely delicious. Additionally, curry powder could also be added for a different flavor profile. Some may like to add diced tomatoes but I think that tomatoes would compete with and overwhelm other flavors. Instead, I like to let the flavor of the red bell pepper shine.
Can you substitute other types of lentils? Certainly, other types of lentils can be used. Red lentils cook much more quickly because they are smaller in size and softer in texture. If you opt to use brown or green lentils instead, these will need additional cook time. Simply consult the lentil packaging directions and boil the soup a bit longer as needed.
Can you make this soup in a slow cooker? Absolutely. You can add all of the ingredients to your slow cooker in the morning, set it, and forget it! However, the soup consistency will likely be much thicker, and the lentils may lose their texture entirely. But in a pinch this would be an easy, low maintenance way to prepare this recipe.
What types of broth can be used? Did you know that there is one primary difference between broth and stock? Broth is made from meat and/or vegetables, but stock is made with bones! To maintain this red pepper and lentil soup as a vegetarian recipe, a vegetable broth must be used. If you are flexible however, a chicken or beef stock or chicken broth can certainly be used. This would add a different dimension of flavor.
You'll Also Love These Easy Pregnancy Soup Recipes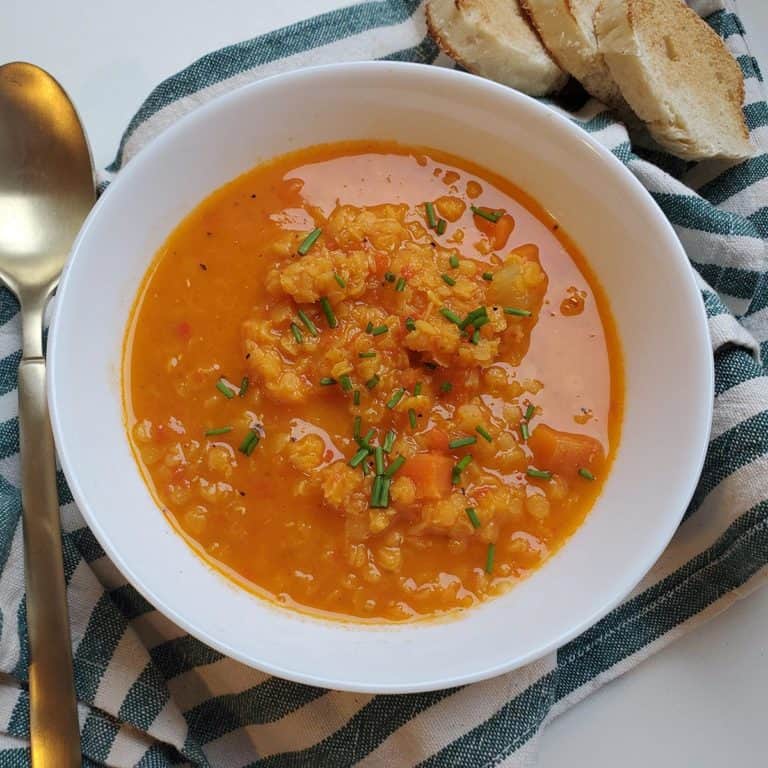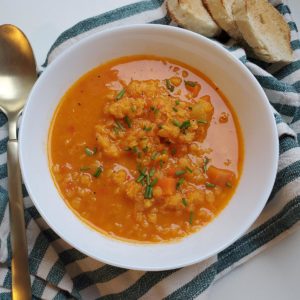 Red Pepper and Lentil Soup
Author:
Red pepper and lentil soup is a scrumptious, hearty dish, perfect for a winter afternoon. The warming, pepper broth is so flavorful and is packed with lentils.
Ingredients
4

cups

red pepper, chopped

1

cup

red lentils

1

cup

carrots, chopped

1/2

cup

white onion, chopped

1/2

cup

celery, chopped

3 cloves garlic, minced

4 cups

vegetable broth

2

tbsp

olive oil

freshly ground black pepper

salt, to taste
Instructions
In a medium soup pot, warm the olive oil for 1 minute.

Add in the garlic, onion, and celery. Stir for 2 minutes.

Add in the red bell pepper, and ground black pepper. Stir for 2 minutes.

Pour in the vegetable broth.

Bring to a boil. Once boiling, reduce heat to low-medium and cover pot for 10 minutes.

After 10 minutes, allow soup to cool and then use immersion blender to blend contents of pot.

Return pot to medium heat and add in washed lentils and carrots. Stir.

Allow to simmer, uncovered, for 10 more minutes. Add salt to taste.

Ladle soup into bowls and top with chopped fresh parsley or chives.

Serve with warm bread.
Notes
*Nutritional information is calculated using online tools and is provided as a courtesy. The values can vary depending on which ingredients and brands are used.
Nutrition*
Calories:
188
kcal
Carbohydrates:
28
g
Protein:
9
g
Fat:
5
g
Saturated Fat:
1
g
Polyunsaturated Fat:
1
g
Monounsaturated Fat:
3
g
Sodium:
31
mg
Potassium:
606
mg
Fiber:
12
g
Sugar:
6
g
Vitamin A:
6725
IU
Vitamin C:
131
mg
Calcium:
37
mg
Iron:
3
mg