If you haven't tried fruit cream before, then you need to make this ASAP! Fruit cream is the perfect dessert: the thick, creamy and rich homemade whipped cream is chock full of sweet and tart fruits including kiwi, raspberries, orange, grapes, pomegranate, and golden raisins!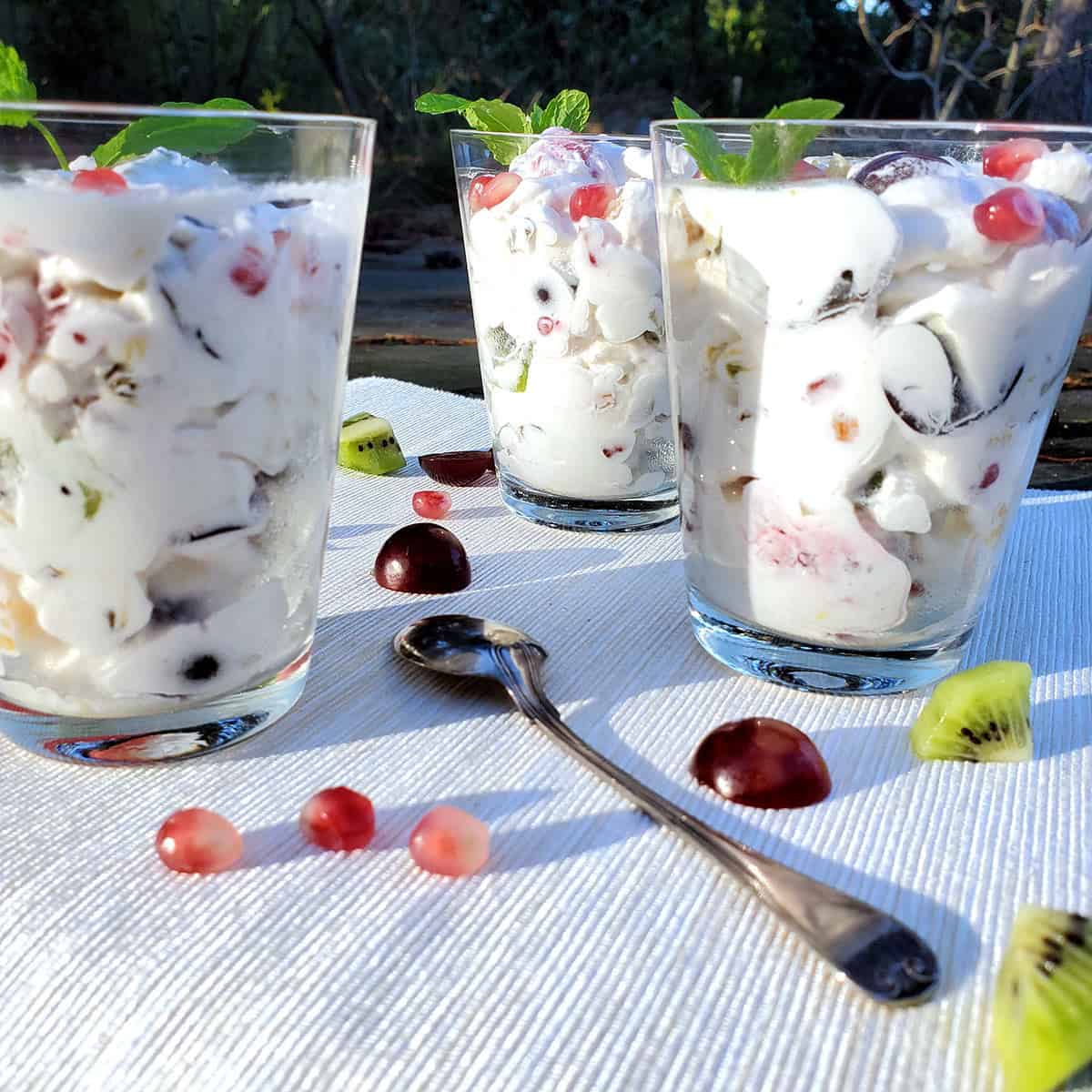 Each and every luscious spoonful reveals a bite of fresh and luxurious fruit suspended in the creamy, pudding-like base. This dessert conveys such a feeling of decadence but simultaneously offers all of the benefits of healthy, fresh fruits!
Needless to say, fruit cream is one of my FAVORITE desserts! Also, did I mention that this recipe is also very kid-friendly?
This fruit cream recipe has all of the textures: crunchy pomegranate and almonds, smooth raspberries and orange, crispy, fresh grapes, and chewy golden raisins. This dessert is exciting to eat because each bite is different, yet incredibly delicious!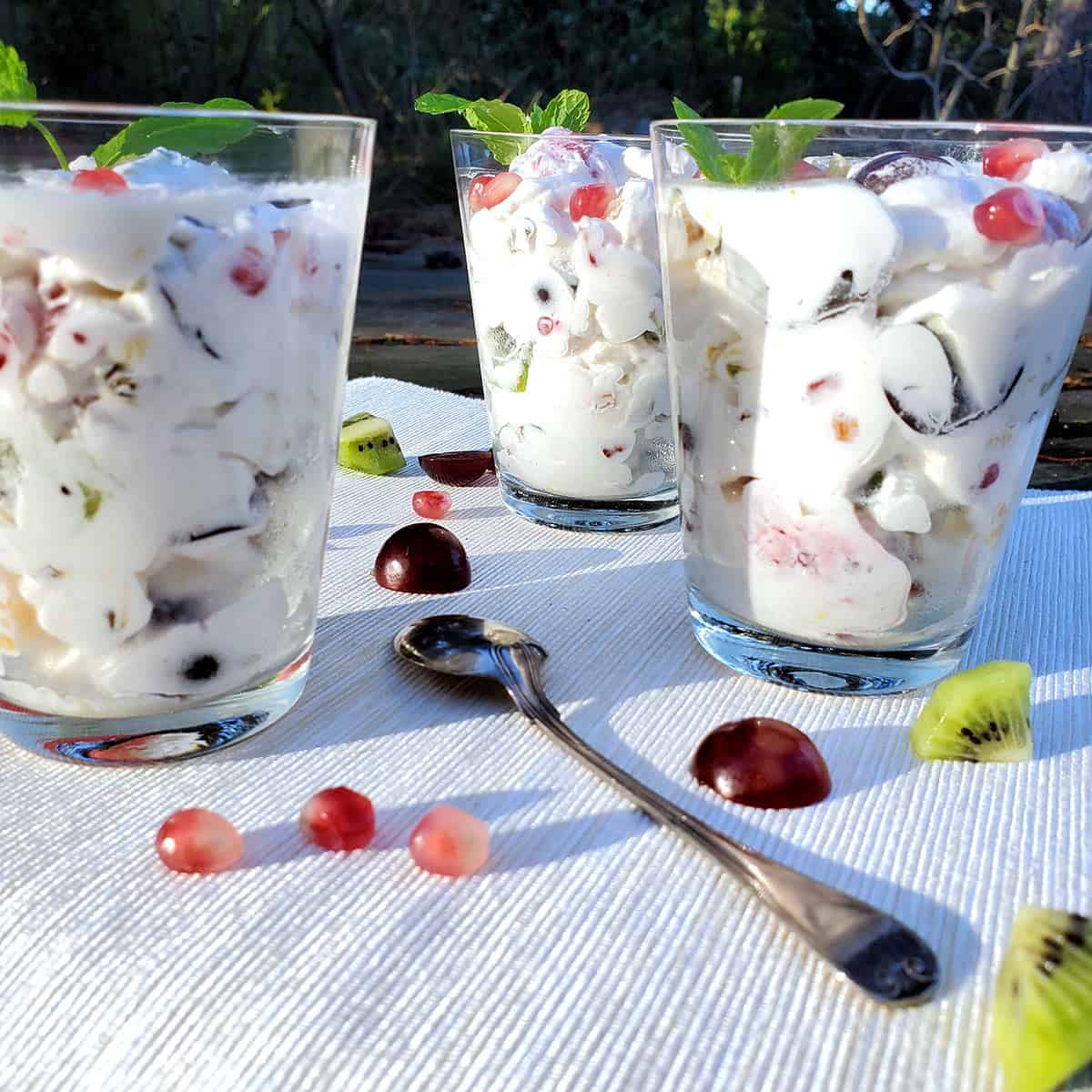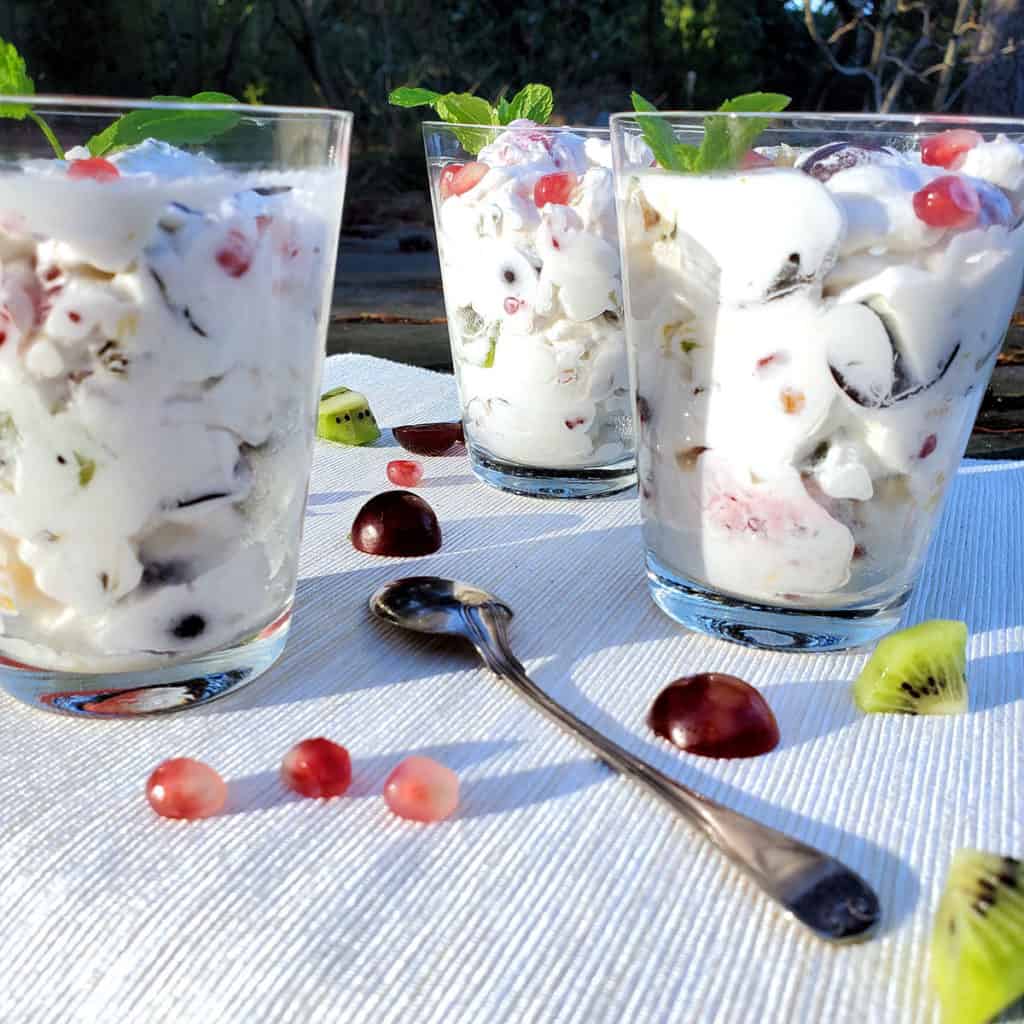 A Beautiful, Healthy Dessert
Not only is this fruit cream dessert utterly delicious, but it is also incredibly beautiful, with all of the jewel-colored fruits hiding within the fluffy white yogurt-like cream. While you enjoy this dessert, you'll continue to notice the hints of green, orange, purple, red, and pink peeking through!
This recipe could not be easier and can be prepared in just 15 minutes. No cooking or baking is necessary! Choose a variety of fresh fruits (at least five) in different colors, and then gently combine them with your choice of nuts plus freshly whipped cream. Rather than using store-bought cool whip or aerosol cream, do take the 3 extra minutes to make fresh whipped cream from scratch because it is so much healthier and tastier.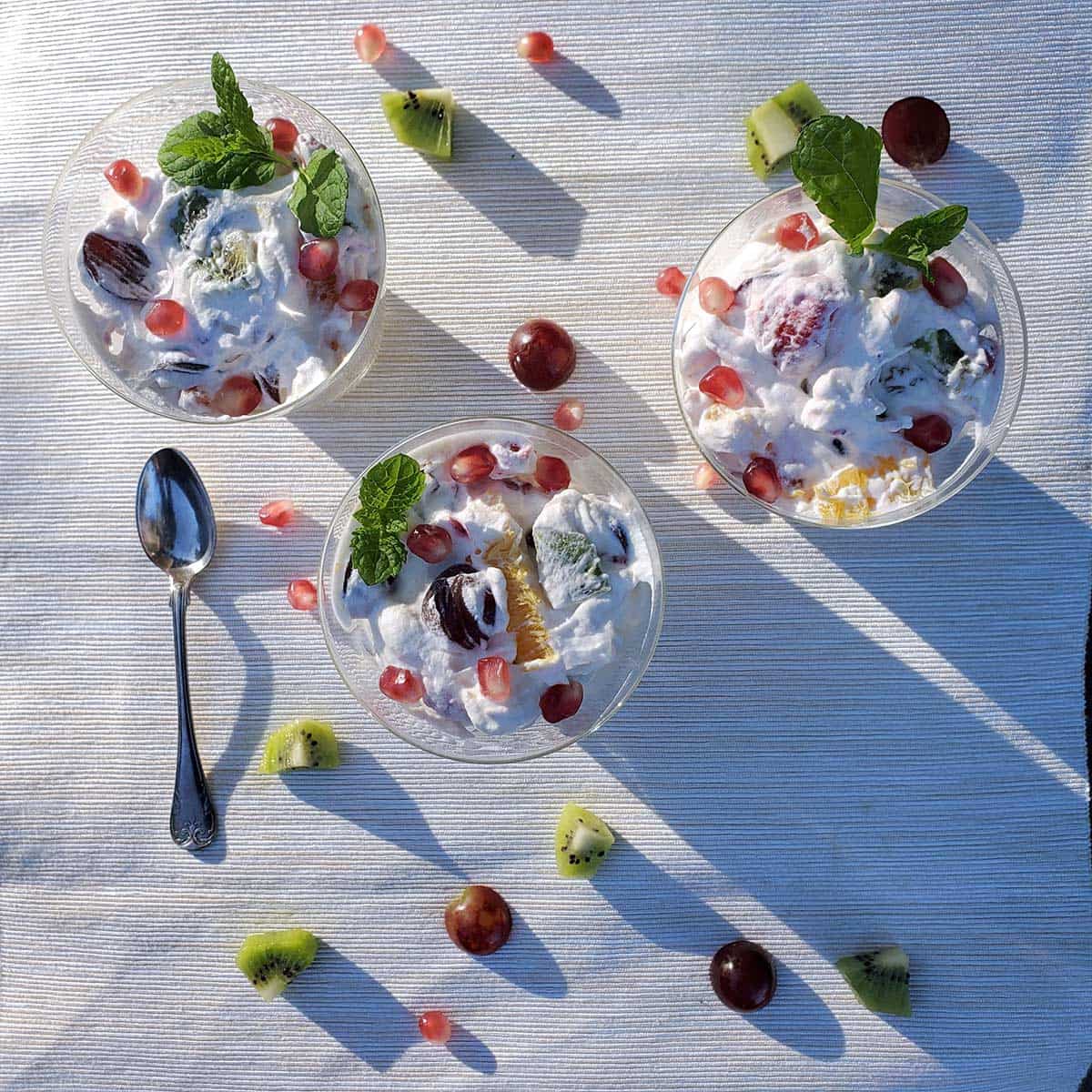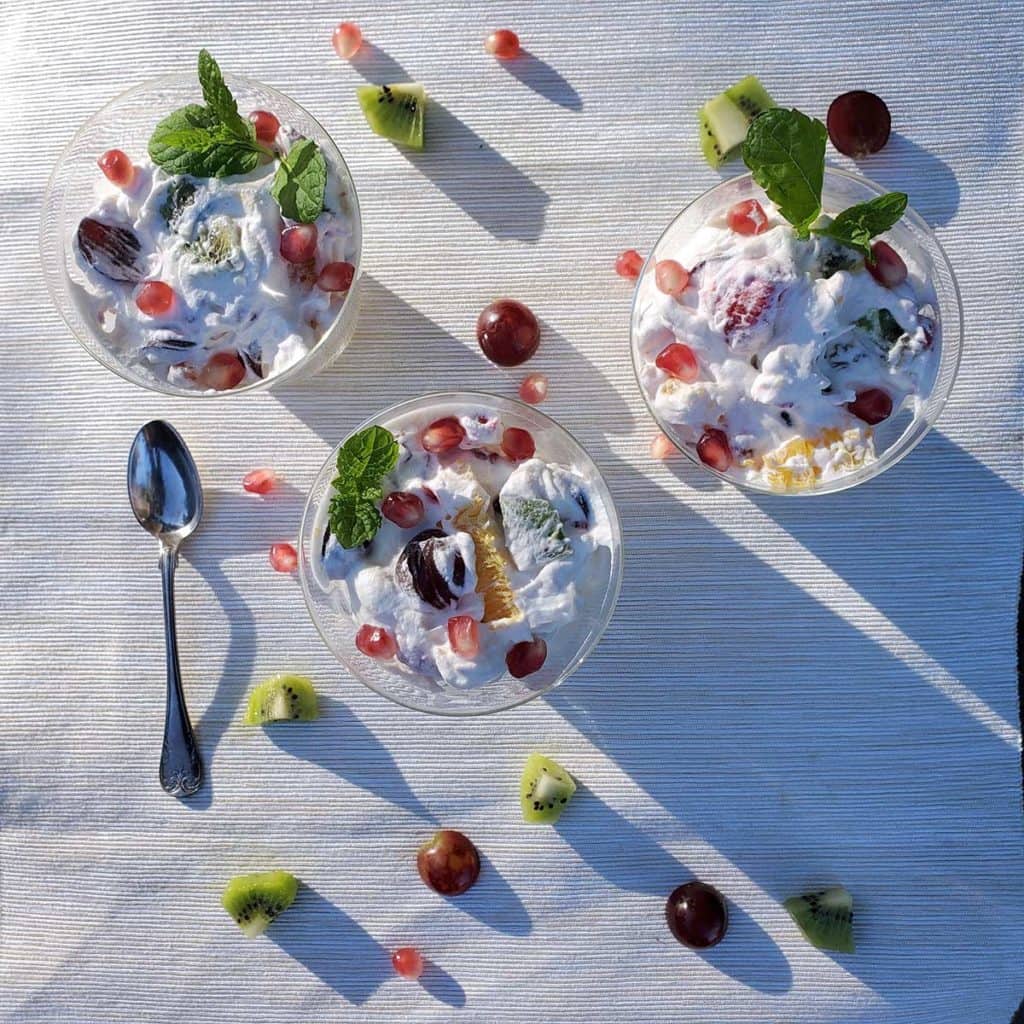 This easy fruit cream recipe is a popular Indian fruit dessert, and is a welcome alternative to a standard ice cream with fruit sauce dessert. Rather than simple soft fruit spooned on top of ice cream, with fruit cream we instead have an appealing variety of textures and fresh fruit tastes. Fruit salad with cream is the perfect pregnancy dessert: it is sweet, decadent, and most importantly, healthy for mama!
Is Fruit Cream Healthy For You?
Yes, this fruit cream dessert is indeed healthy! This recipe constitutes a super easy, healthy pregnancy dessert. Next, let's take a closer look at the nutritional highlights of some of the main ingredients used in this pregnancy recipe.
Kiwi
Kiwi fruit is an excellent source of vitamin C and fiber. Fiber is important to pregnant women for various reasons. Adequate fiber intake results in lowering the risks of diabetes, preeclampsia, and constipation. Importantly, a single kiwi also offers nearly 20 ug of folate. Folate deficiency is known to severely impact fetal development and can lead to neural tube defects (NTDs).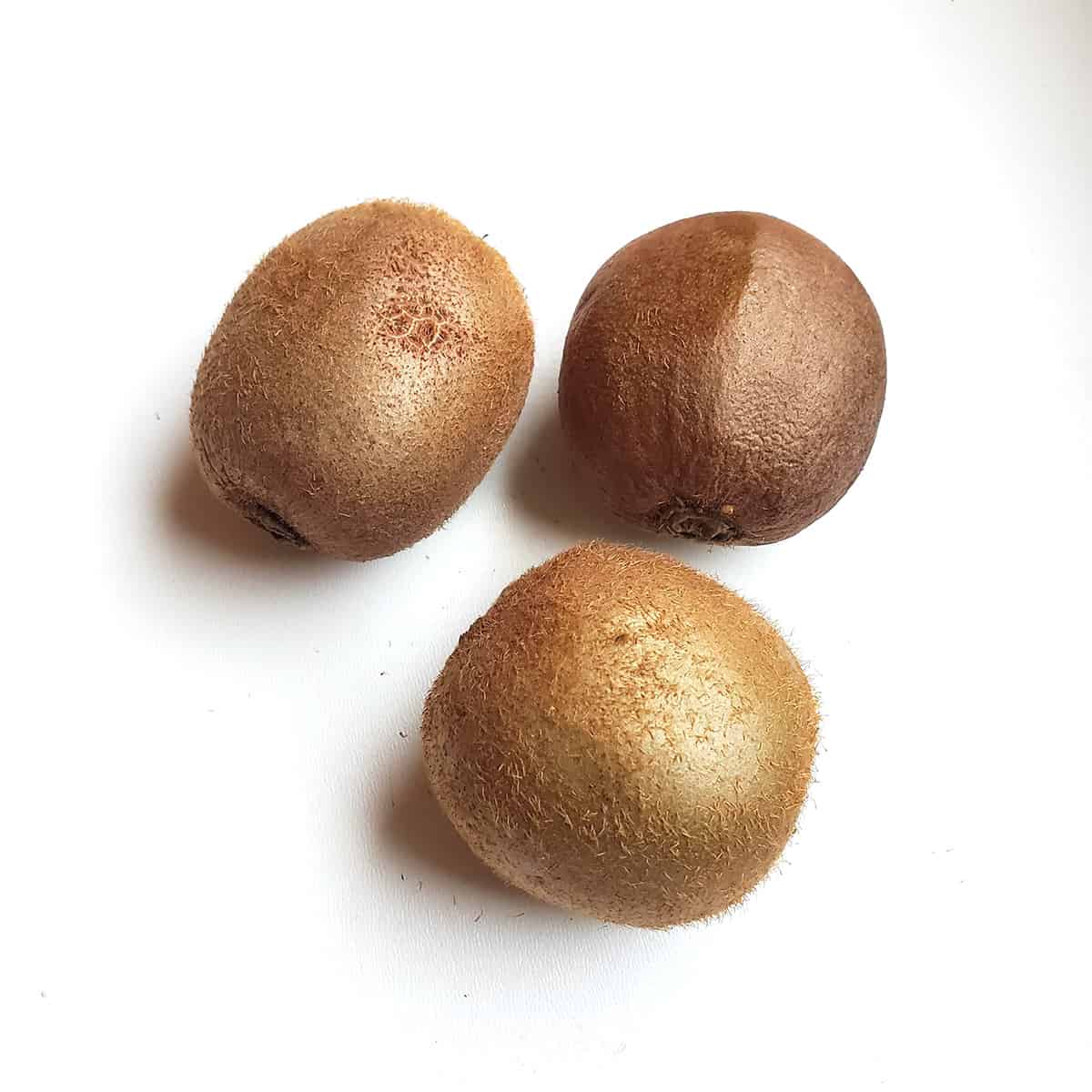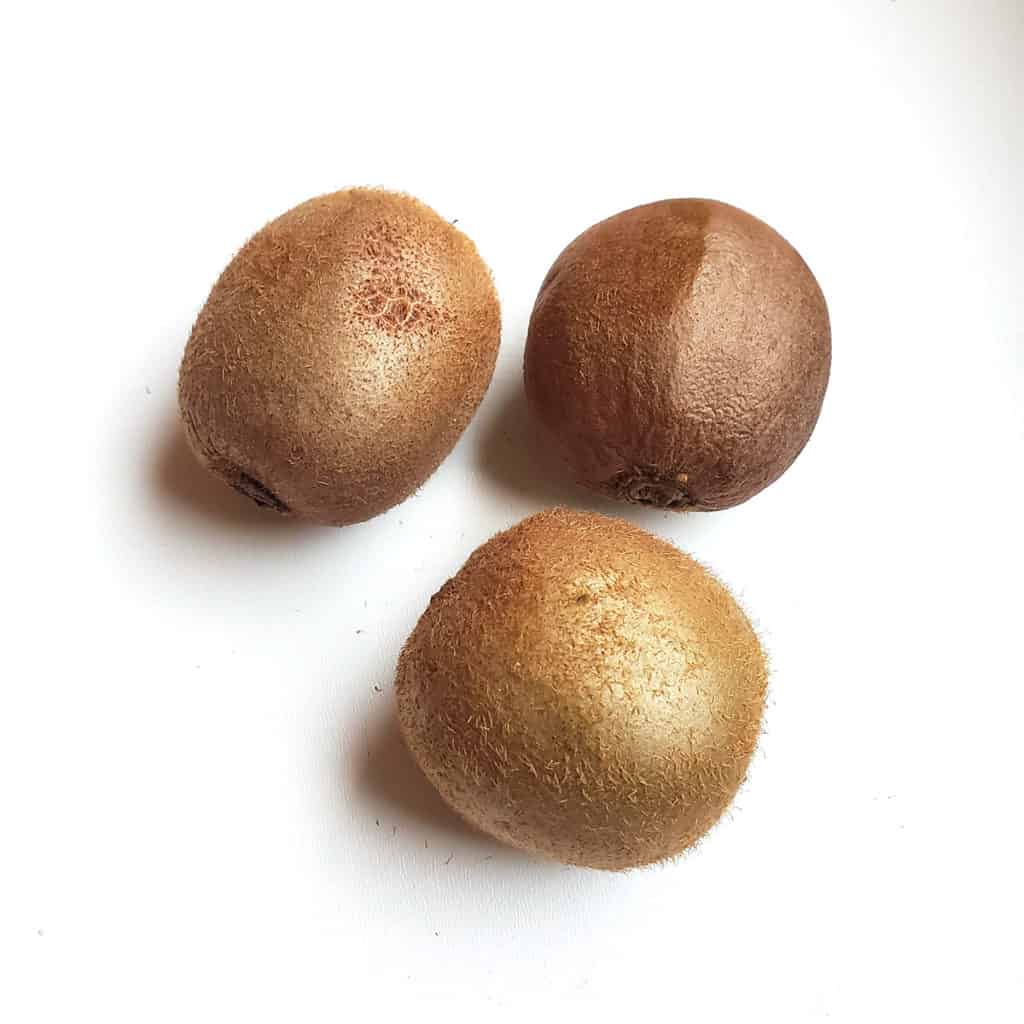 Pomegranate
Pomegranate is an excellent choice of fruit to eat during pregnancy. This superfood offers high amounts of antioxidants, vitamins, potassium, folic acid, and iron. Additionally, some studies show that pomegranate juice may play a role in preventing preeclampsia, growth restriction and preterm birth when given to women during pregnancy.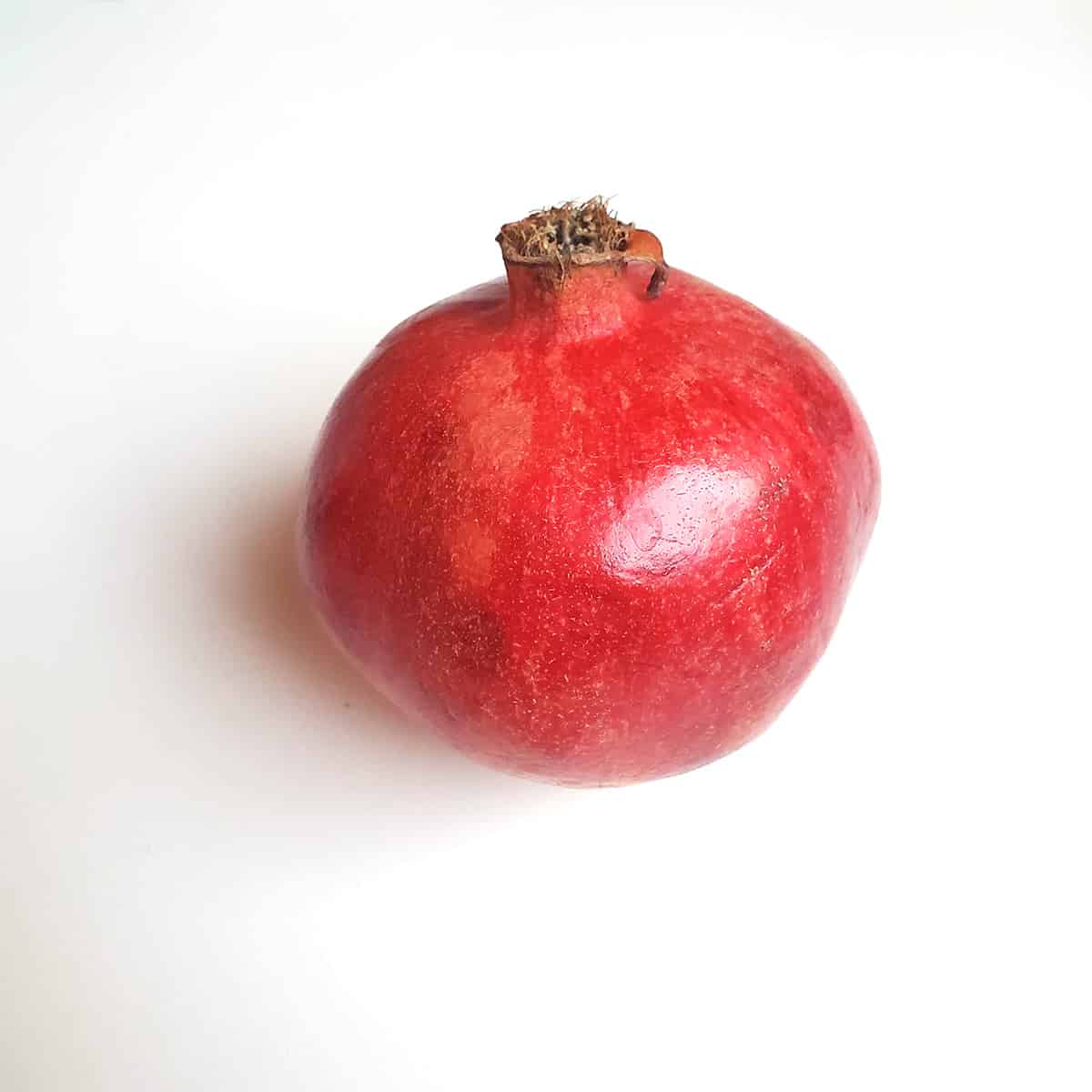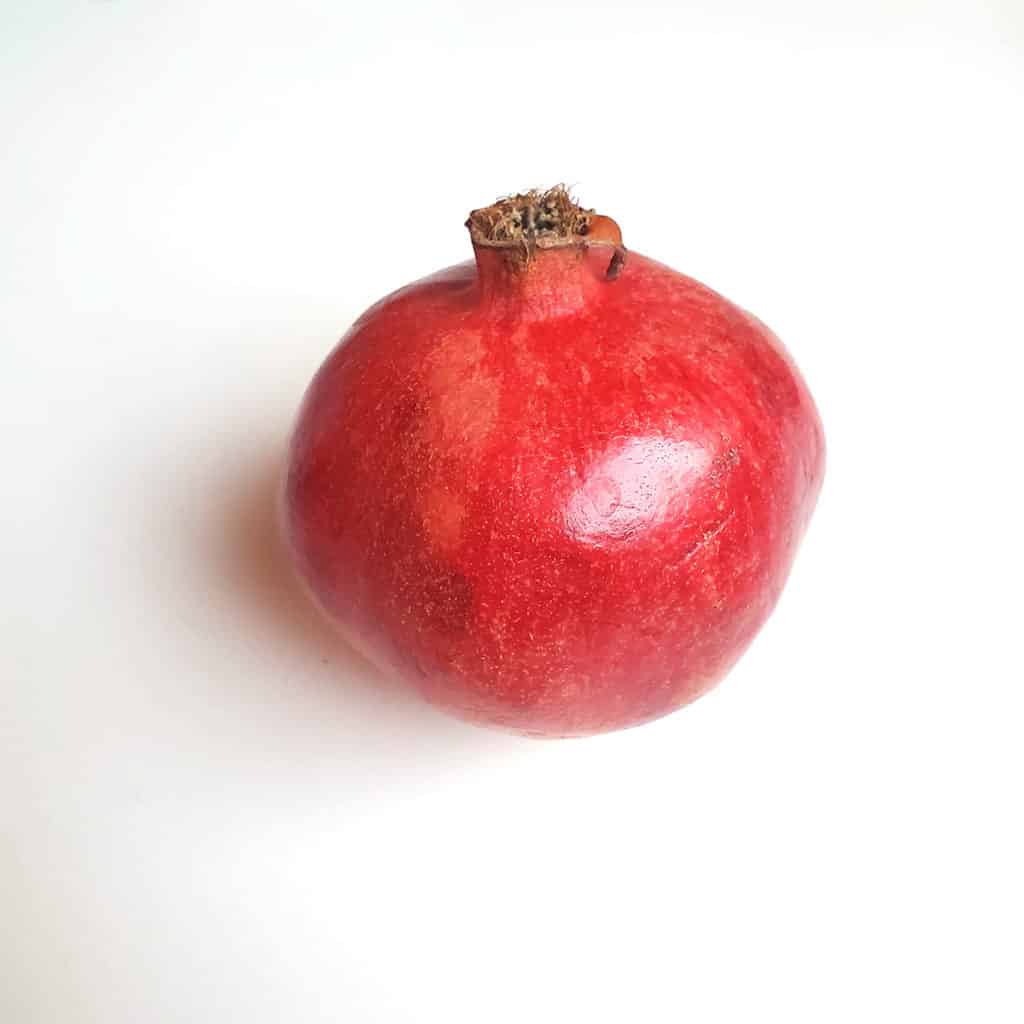 Almonds
Choose unsalted, raw almonds. The crunchy texture of the almonds provides a lovely contrast with the soft fruits and cream. Almonds are a great source of protein, calcium, and vitamin B2. Protein must be consumed daily during pregnancy because this nutrient facilitates the growth of fetal tissues, including baby's brain. The rapid growth that occurs during pregnancy is only possible with proper dietary protein intake.
Raspberries, Oranges, & Grapes
Raspberries, oranges, and grapes are also a source of folate, fiber, and vitamin C.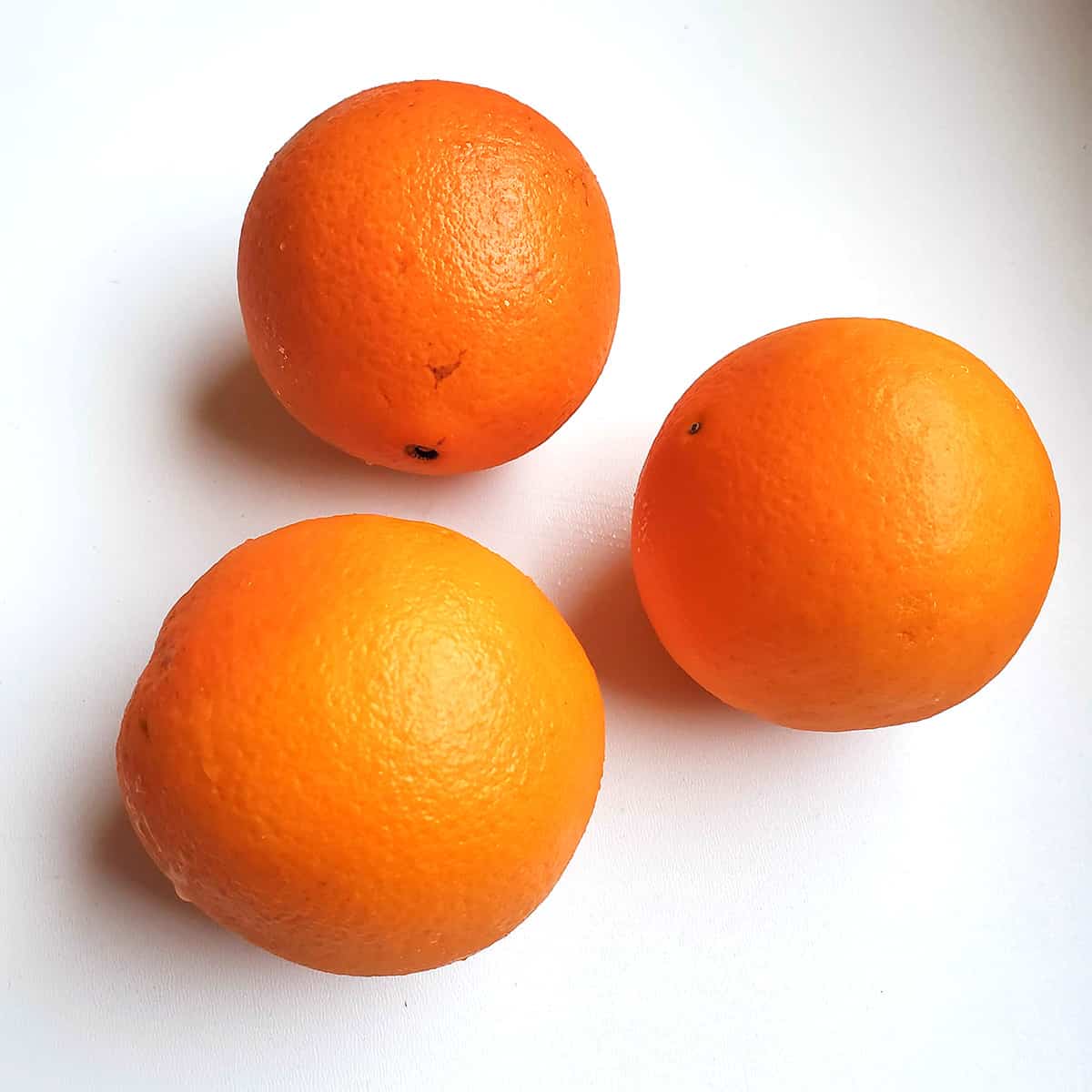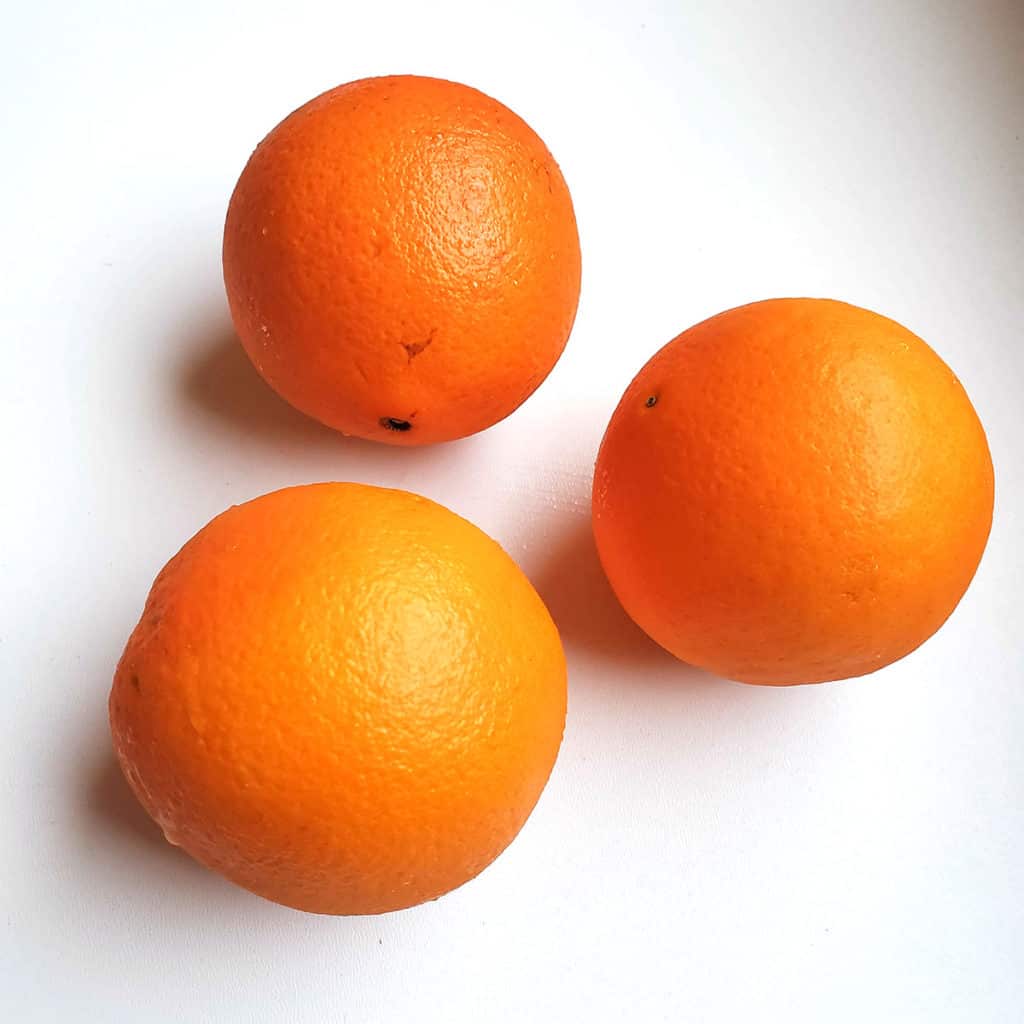 Fresh Cream
Ensure that you use a pasteurized, heavy cream. Although whole fat cream is higher in fat content, it beneficially contains vitamins, minerals, and other healthy fats. Furthermore, full fat dairy products such as fresh cream contain more vitamins than the low fat varieties, and fat soluble vitamins are more easily absorbed when they are consumed in conjunction with fat! Vitamins of note include Vitamin A and Vitamin D; both of these are fat soluble vitamins.
Key Ingredients
1 cup of pasteurized heavy whipping cream (36%+ milk fat) (240ml)
½ teaspoon of vanilla extract
1 large orange, supreme to remove all pith and membrane
3 kiwis, diced
1 cup of purple grapes, halved
½ cup of pomegranate arils (65g)
1 cup of raspberries (125g)
¼ cup of almonds, slivered (30g)
¼ cup of golden raisins (25g)
Mint sprigs, for garnish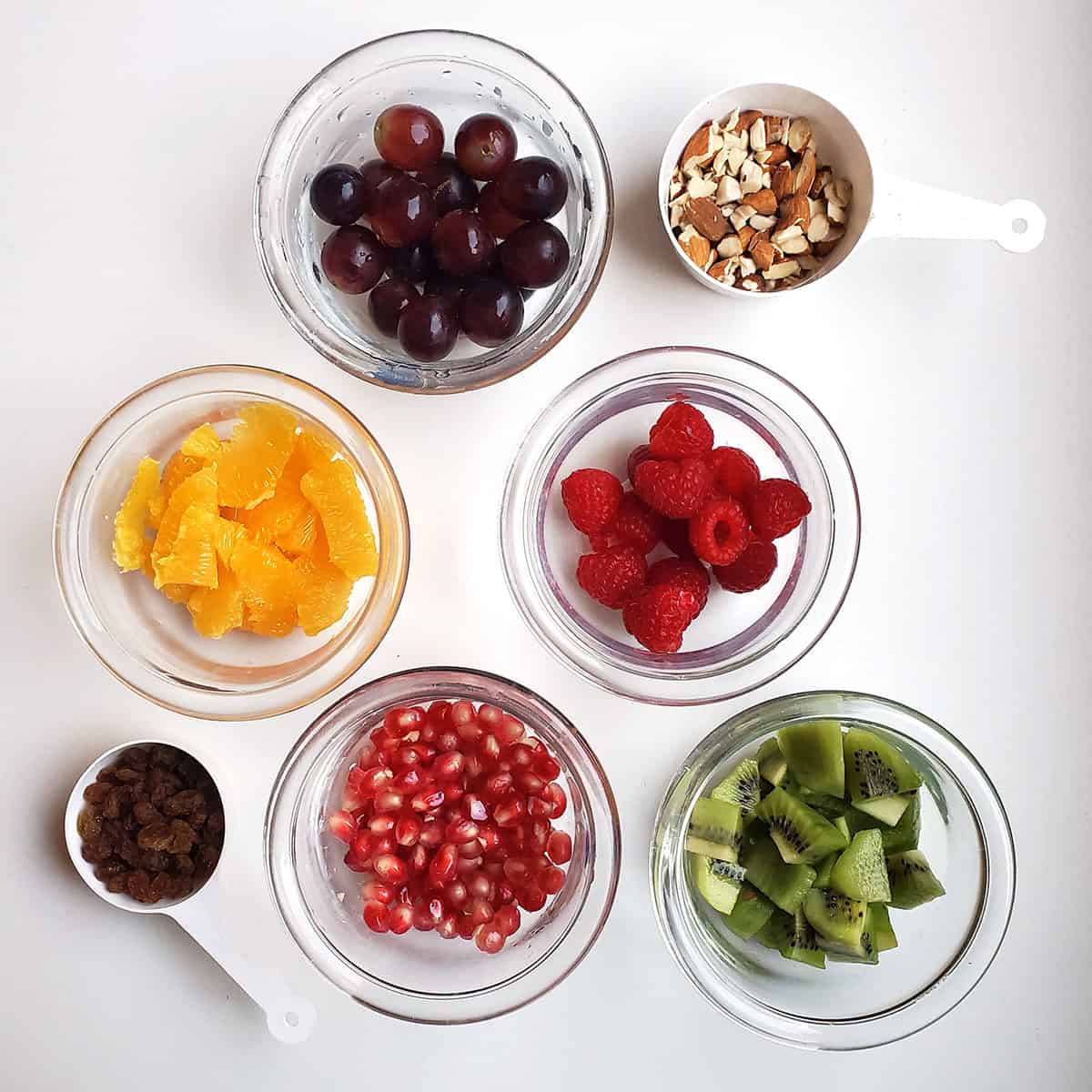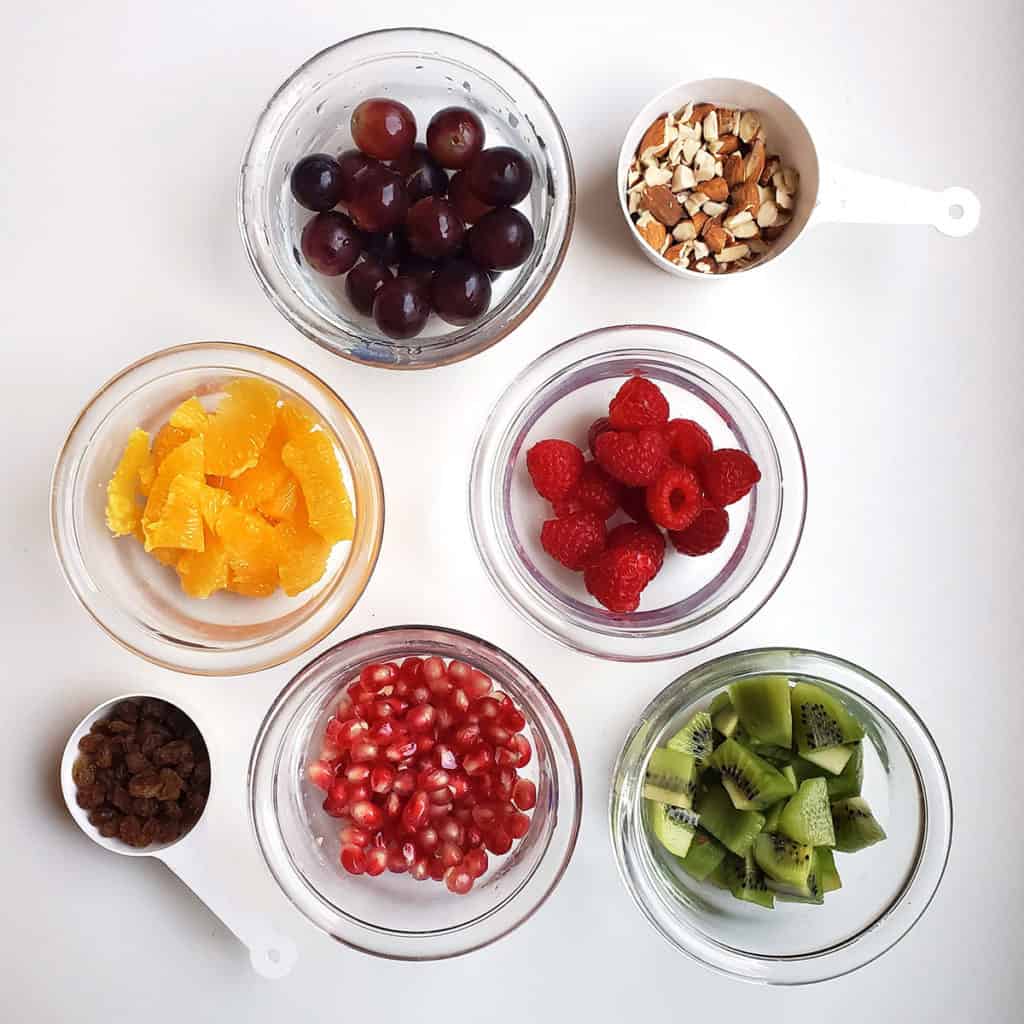 How to Make Fruit Salad with Cream
Step 1: Prepare the fruits
Prior to chopping into bite-sized pieces, first rinse all of the fruits very thoroughly in cold water.
Step 2: Ensure that the fresh cream is cold
Before preparing the homemade whipped cream, ensure that the fresh cream has a cold temperature (i.e., take it straight from the fridge). If possible, you'll also want to pre-chill the mixing bowl and hand mixer attachments in the fridge or freezer. I recommend chilling these for 20 minutes before beginning the recipe. Cold cream ensures that the whipped cream will be lighter and fluffier.
Step 3: Prepare the fresh whipped cream
First, pour the cream into a large mixing bowl. Next, add the vanilla extract. Then, using a hand mixer, blend the fresh cream for 3 minutes on high. The cream will be fluffy with stiff peaks. Try a spoonful. Is it watery? If it is, then beat for an additional minute until all of the cream is stiff.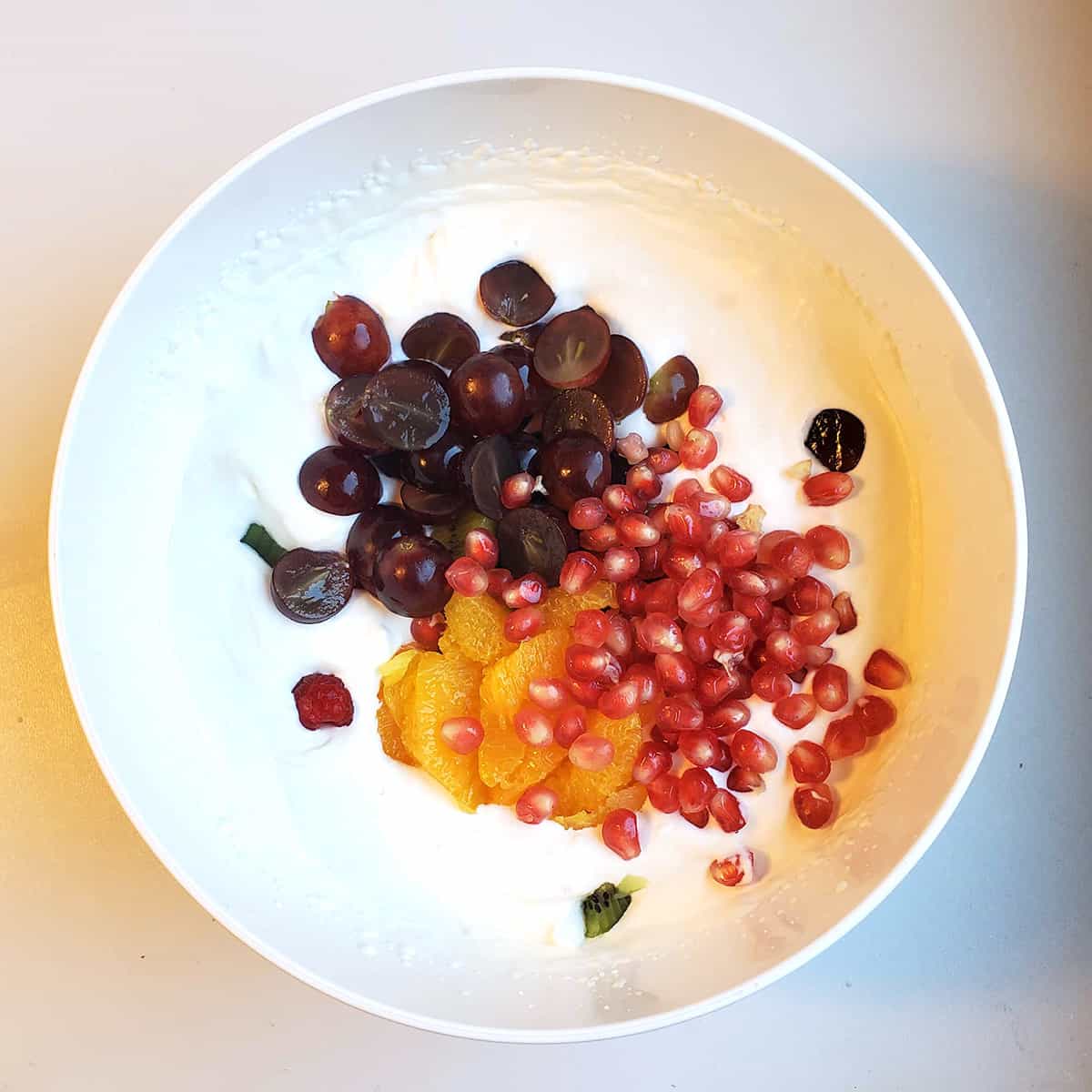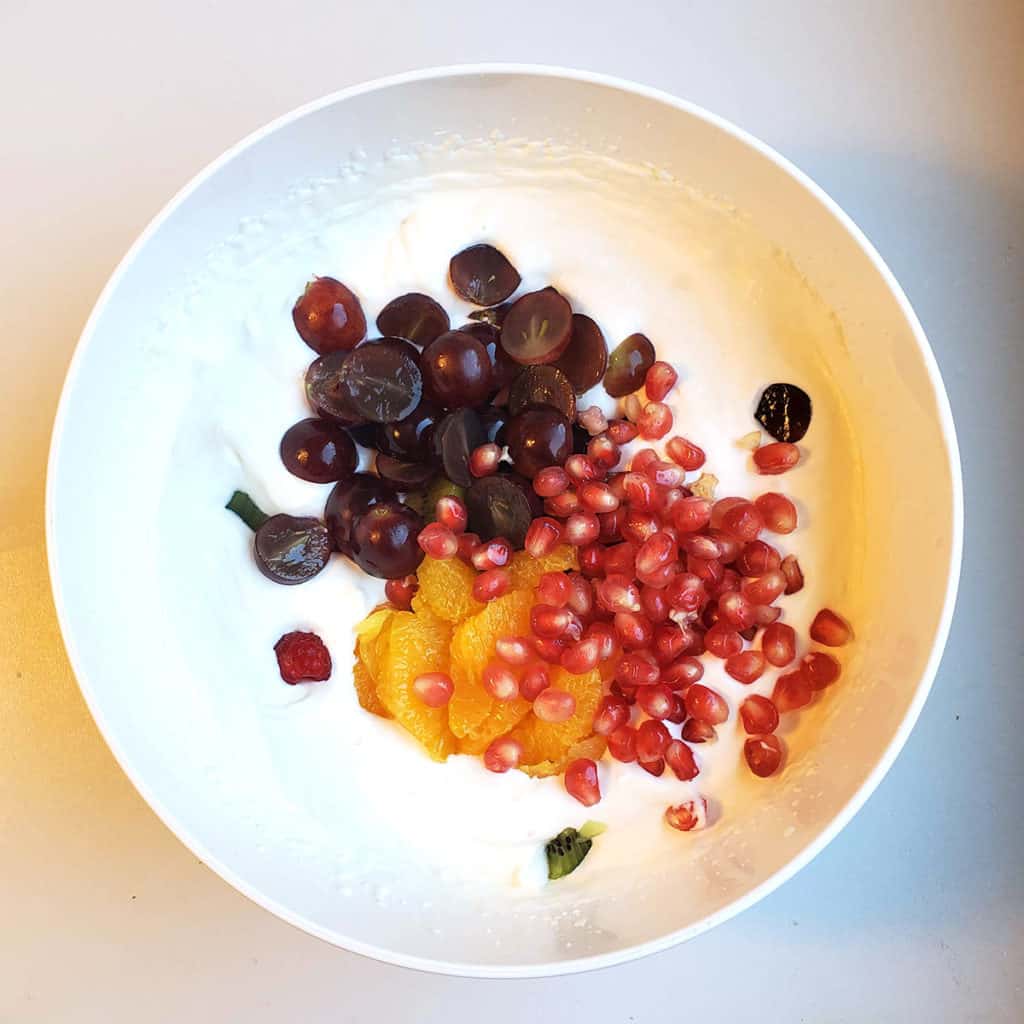 Step 4: Fold in the fresh fruits
Once the cream is stiff, similar to a yogurt-like consistency, then add in the bite sized fruits and chopped nuts. Using a silicon spatula, gently fold the cream a few times until the fruits are evenly mixed. Do reserve some of these fruits for additional garnish when serving.
Step 5: Serve with garnish
Serve immediately in individual clear glasses with a mint sprig or two for garnish. This fruit cream recipe is so delicious, I could honestly eat this every week! This dessert is visual decadence in a glass, and the flavors and textures really are unparalleled. This easy fruit cream recipe would be a phenomenal dessert for a party or special occasion, plus, it is healthy! Some people may consider this to be a summer dessert recipe, but I think it totally works as a winter dessert. For example, I imagine that it serves as a refreshing and light conclusion to a hearty winter supper.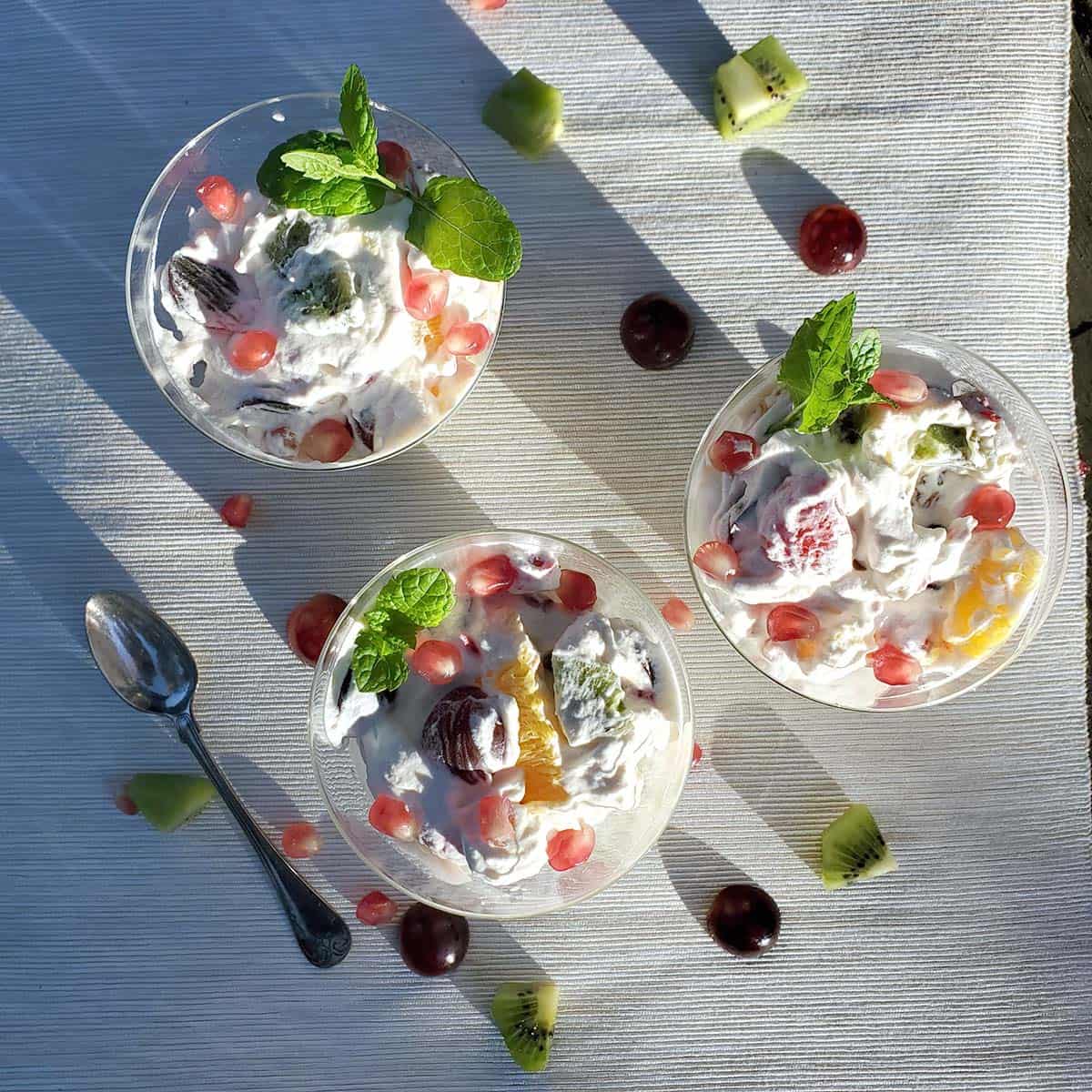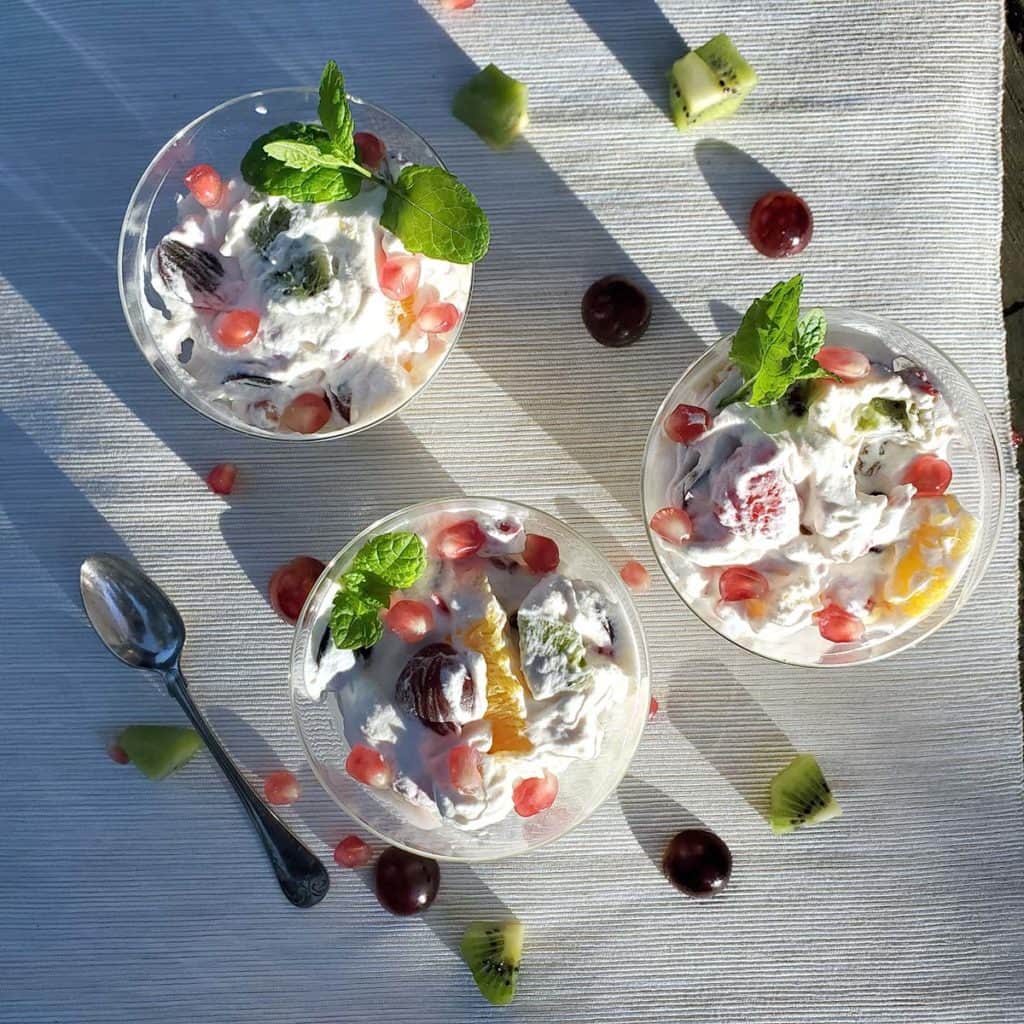 Serving Suggestions and Tips
This fruit cream dessert recipe is so delicious on its own, but is also especially good with:
A mug of decaffeinated coffee
A slice of plain vanilla pound cake, or
A cup of chamomile tea
Make Ahead and Storage
Refrigerator Storage
Fruit cream can be stored in the fridge for 2-3 hours before serving. In fact, refrigeration will allow the fruit cream dessert to maintain its appealing, chilled temperature. However, you will see that after a few hours, the freshly whipped cream will start to deflate and lose the fluffy, light texture due to the weight of the fruits. I do not recommend refrigeration for longer than 2 to 3 hours. Furthermore, overnight refrigeration results in bitter flavors developing, so I don't recommend refrigerating this dessert overnight. Best to make this dessert recipe fresh!
Freezer Storage:
I do not recommend freezing fruit cream dessert, in fact, I discourage it. This is largely because the process of freezing will compromise the textures and colors of the fruit. You really do not want to serve fruits that have turned brown from oxidation. Instead, it is best to freshly whip the cream and then add in the fruits just prior to serving.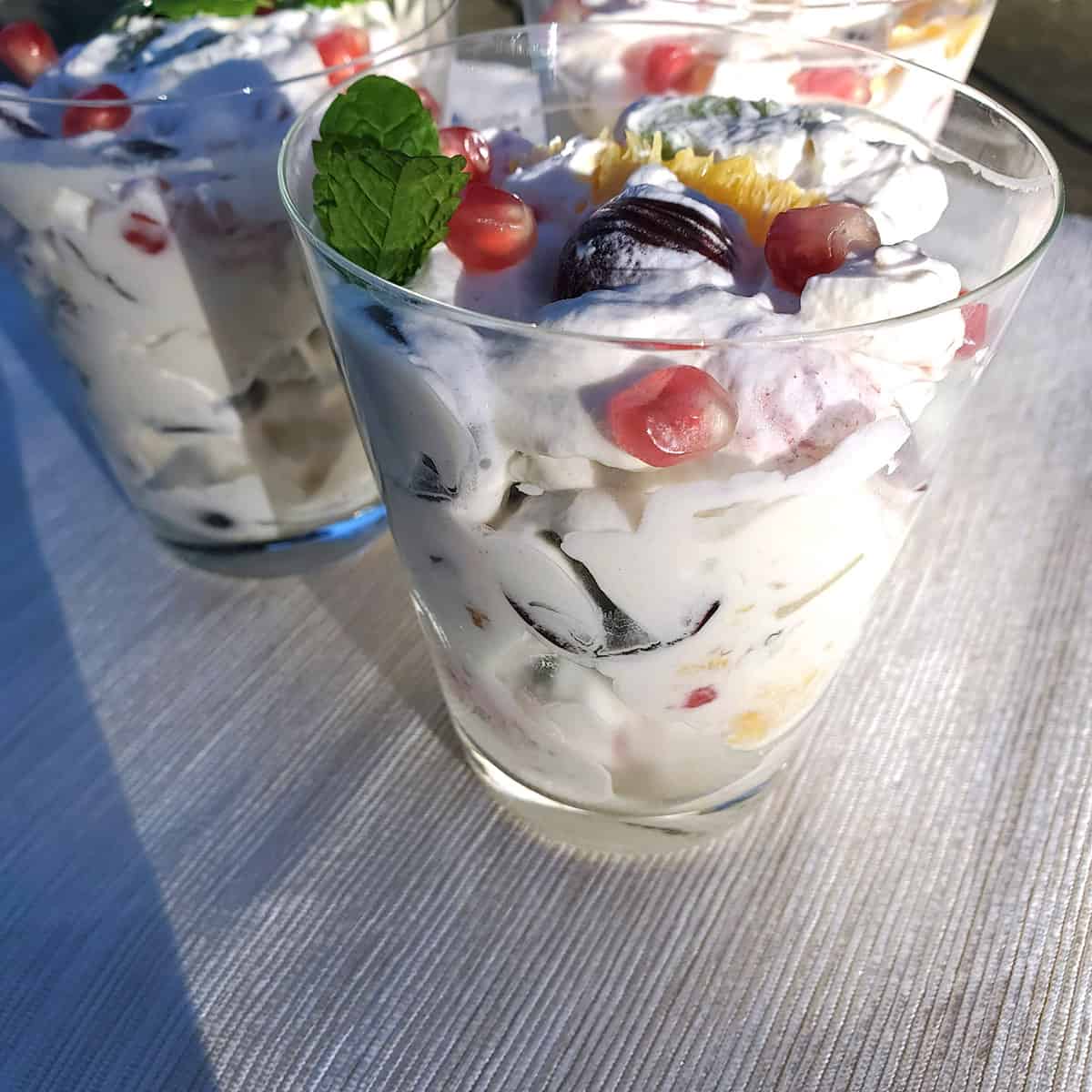 Frequently Asked Questions (FAQs)
What other fruits can go in Fruit Cream?
There are many tasty, healthy fruits to choose from. First, think in terms of color variety: blue, pink, purple, green, orange, or red. Such fruits could include strawberries, blueberries, shredded coconut, mango, pitted cherries, apples, pears, green grapes, banana or even sliced dragon fruit. Seasonal fruits will definitely have the best taste and most nutrition. If you are serving this fruit with cream as a summer dessert, then I would focus on seasonally available summer fruits. If instead you are serving this cold fruit dessert in the winter, then winter fruits would be preferable, fruits such as clementine or grapefruit.
What other nuts can go in Fruit Cream?
If you like, feel free to substitute the almonds with chopped walnuts, pistachios, cashews, or even crushed hazelnuts. Each nut variety has a different nutritional profile and would be a delightful, nutritious addition to this fresh fruit salad. Most types of nuts pair well with fresh fruits. However, do consider allergies before making the substitutions.
Should I add powdered sugar to Fruit Cream dessert?
No, I don't recommend adding any sugar, powdered sugar, honey, or sweetener of any type to this dessert recipe. This creamy fruit salad stands alone and requires no added sugar. None. This is because the sweetness of the fruits are very apparent and offer a highly appealing contrast with the rich, unsweetened cream. Additional sweetener really is unnecessary. The lack of added sugar makes this the perfect dessert for a pregnant woman.
Can I make this Indian fruit cream recipe vegan?
Yes, if you want to make this recipe vegan, then use coconut milk cream in place of the heavy cream.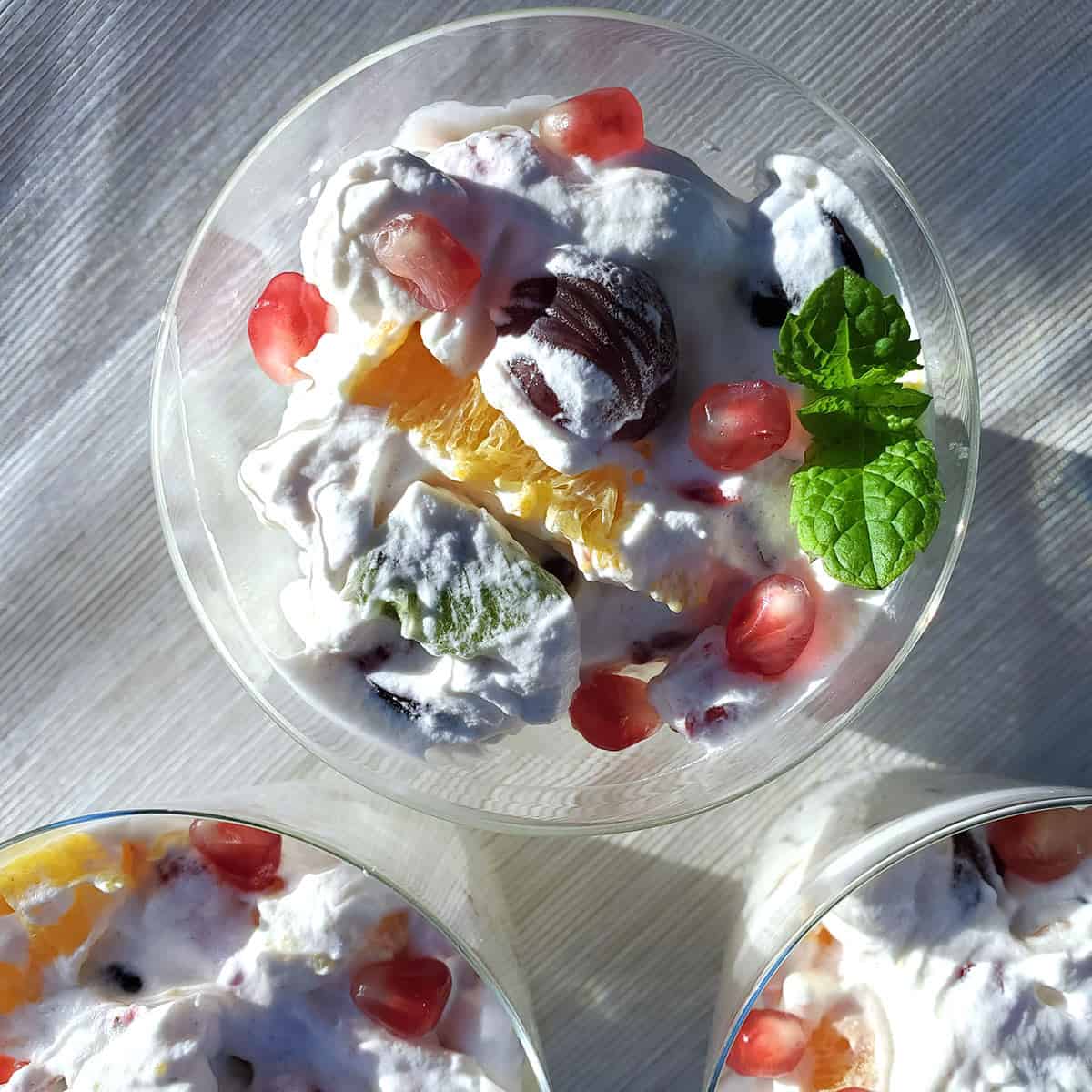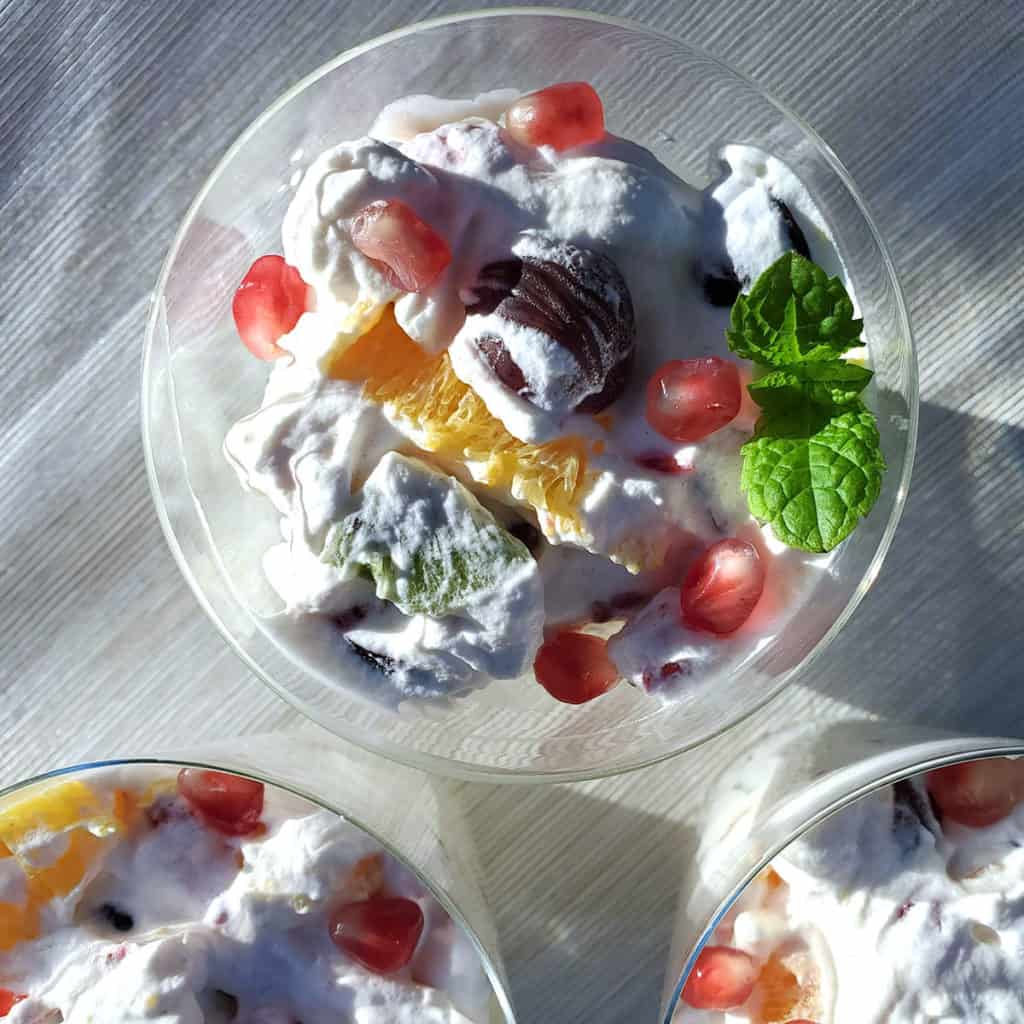 You'll Also Love These Related Pregnancy Recipes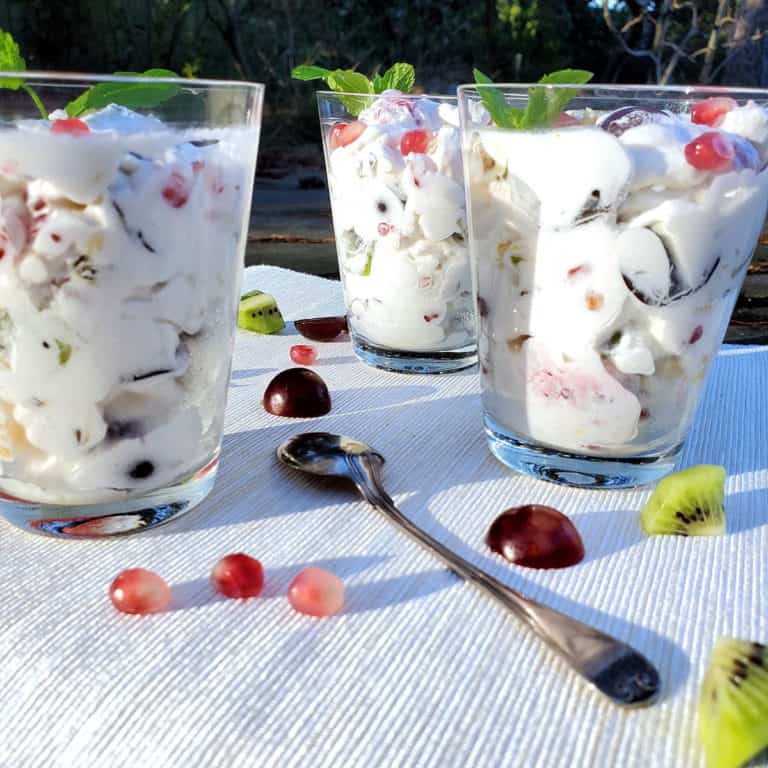 Fruit Cream | Fruit Salad with Cream
Author:
Thick, luxurious and rich whipped cream is chock full of sweet and tart fruits plus chewy golden raisins and crunchy almonds! Every luscious, decadent spoonful reveals a bite of fresh fruit.
Ingredients
1

cup

pasteurized heavy whipping cream (36%+ milk fat)

1/2

tsp

vanilla extract

1

large orange, supreme to remove all pith and membrane

3

kiwis, diced

1

cup

purple grapes, halved

1/2

cup

pomegranate arils

1

cup

raspberries

1/4

cup

almonds, slivered

1/4

cup

golden raisins

Mint sprigs, for garnish
Instructions
Rinse all of the fruits very thoroughly in cold water.

Chop all of the fruits into bite-sized pieces and set aside.

Pour the cold cream into a separate, large mixing bowl.

Add the vanilla extract to the cream.

Using a hand mixer, blend the fresh cream and vanilla for 3-4 minutes on high. The cream should be fluffy with stiff peaks.

Once the cream is stiff, add in the bite sized fruits and chopped nuts. Using a silicon spatula, gently fold a few times until the fruits are evenly mixed. Reserve some of these fruits for additional garnish when serving.

Serve in individual glasses with mint for garnish.
Notes
*Nutritional information is calculated using online tools and is provided as a courtesy. The values can vary depending on which ingredients and brands are used.
Nutrition*
Calories:
256
kcal
Carbohydrates:
25
g
Protein:
4
g
Fat:
17
g
Saturated Fat:
9
g
Polyunsaturated Fat:
1
g
Monounsaturated Fat:
5
g
Cholesterol:
45
mg
Sodium:
15
mg
Potassium:
356
mg
Fiber:
5
g
Sugar:
18
g
Vitamin A:
695
IU
Vitamin C:
53
mg
Calcium:
75
mg
Iron:
1
mg