Stewed pears are a sweet, healthy, and delicious treat. If you have fifteen minutes, you can transform this simple, inexpensive fruit into a special and tasty dessert. The texture of the stewed pears is soft and tender, and you can eat it using just a spoon.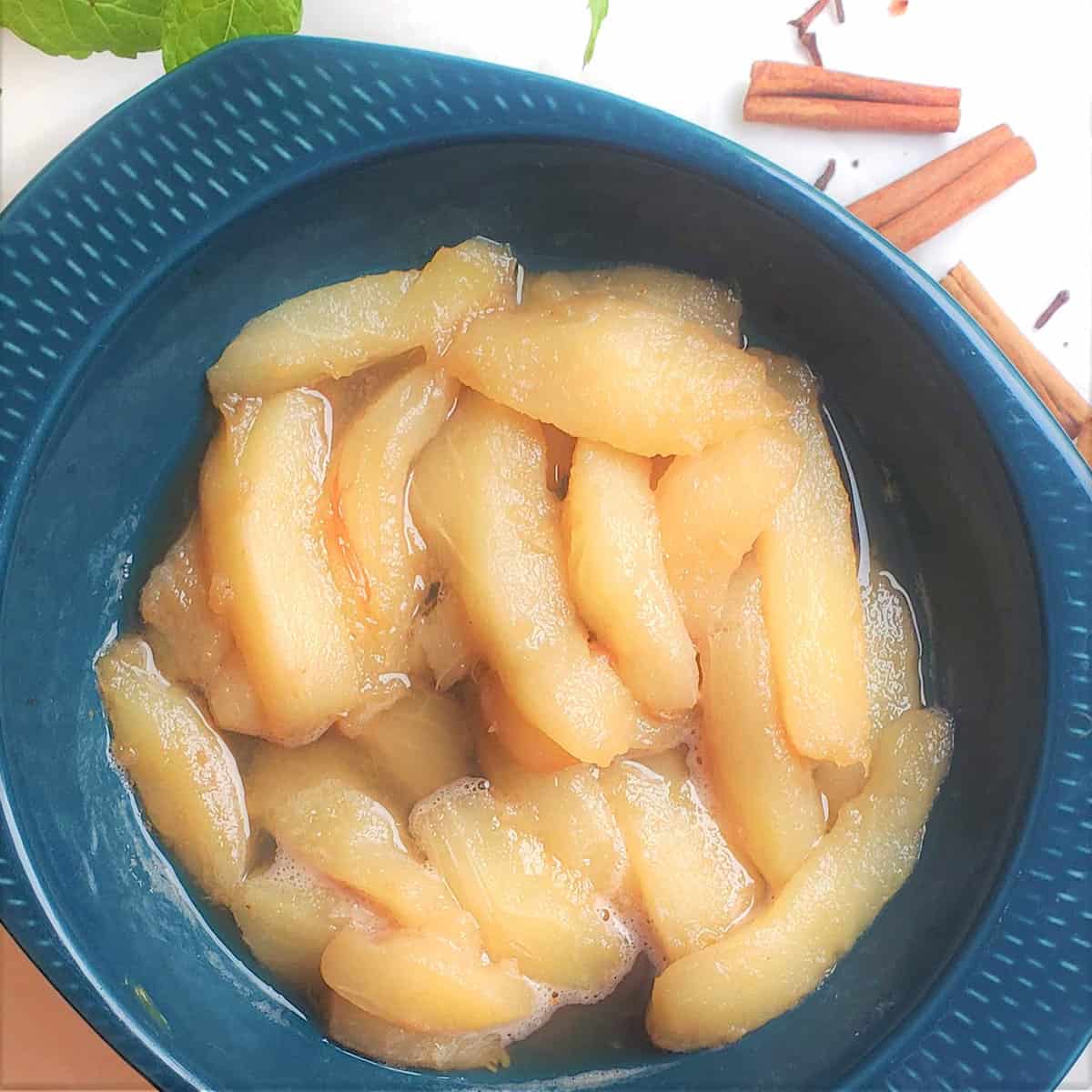 Stewed pears can be enjoyed by small children and adults alike. This warm fruit dessert basically melts in your mouth!
The pears are cooked in a simple syrup. This naturally sweet syrup brims with the flavors of cloves, ginger, maple syrup, and a hint of cinnamon. The recipe uses no refined sugars. You can use fresh pears, either ripe or unripe, whatever you have on hand! If you use unripe pears, they will simply require a slightly longer cook time. I personally like to use overly ripe pears that are languishing in the fruit bowl because they are just bursting with extra flavor!
This recipe for cooked pears is so simple yet delicious.
Are Stewed Pears Healthy For You?
Yes! Stewed Pears are healthy, especially for a pregnant woman. This stewed pears recipe absolutely constitutes a super easy, healthy pregnancy dessert. Now let's take a closer look at the nutritional highlights and the benefits to pregnant women with regards to the main ingredient used in this recipe: pears!
Pears
Pears are full of nutrition and easily digested. Importantly, pears are full of fiber. One cup of pears contains 3.88g of dietary fiber. Fiber is important in pregnancy because this essential nutrient aids in good digestion. Good digestion is extremely important in maintaining healthy pregnancy weight. The intake of fiber‐rich foods during pregnancy has several health benefits to a pregnant woman including lowering the risks of diabetes, preeclampsia, and constipation.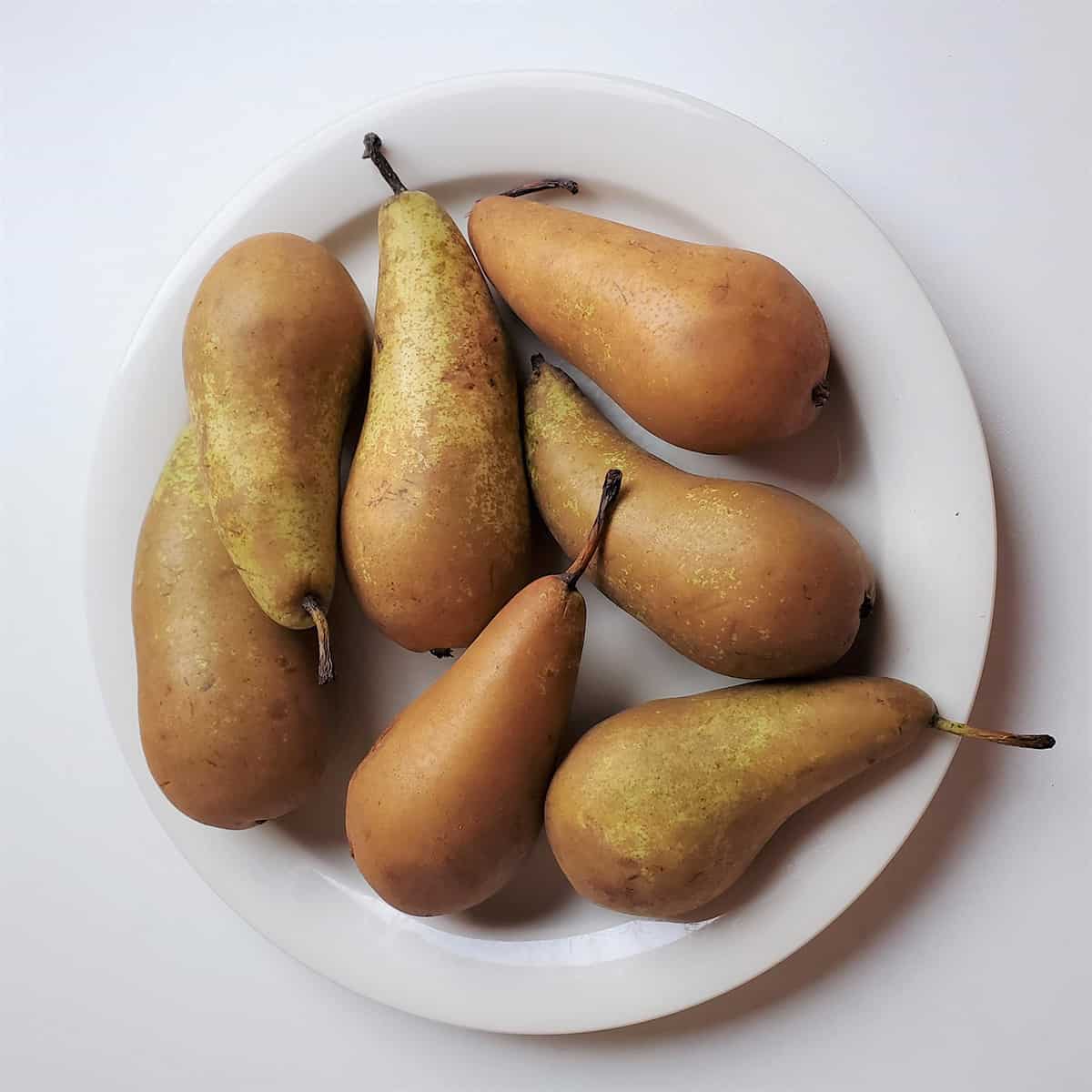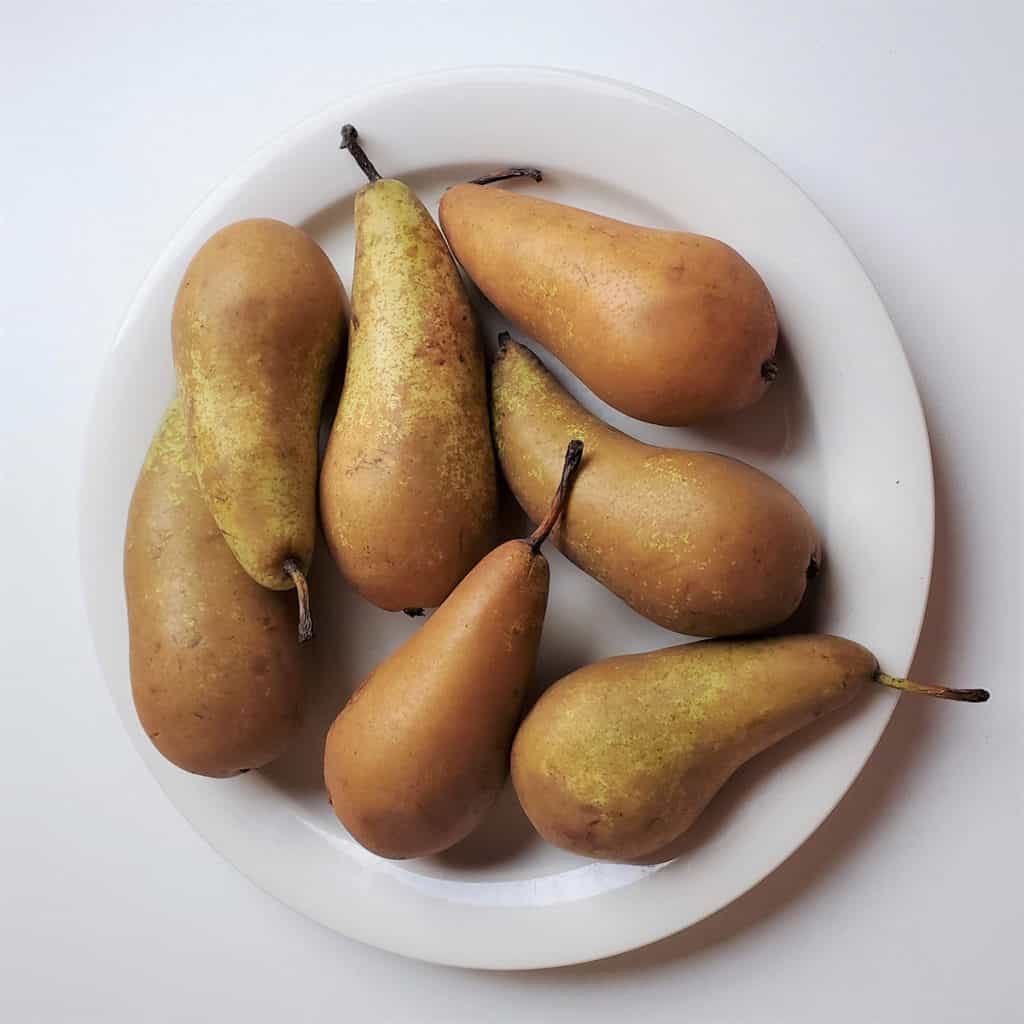 In addition to dietary fiber, pears are also an excellent source of Vitamin C. Vitamin C helps baby's bones, gums, teeth and muscles to develop properly. This vitamin also helps a pregnant woman to absorb iron more easily and is important in wound healing, which is necessary following baby's birth.
In addition to Vitamin C, pears are also a source of vitamin K, potassium, and copper. Potassium regulates a pregnant woman's blood pressure, and helps to prevent muscle cramps. Potassium also helps pregnant women's bodies to maintain correct water-salt balance.
Finally, pears are also an excellent source of folate (known as folic acid in its synthetic form). Folate is important in preventing NTDs (neural tube defects) which develop very early on in pregnancy. Neural tube defects occur when the neural tube, which forms the brain and spinal cord, does not close properly.
Key Ingredients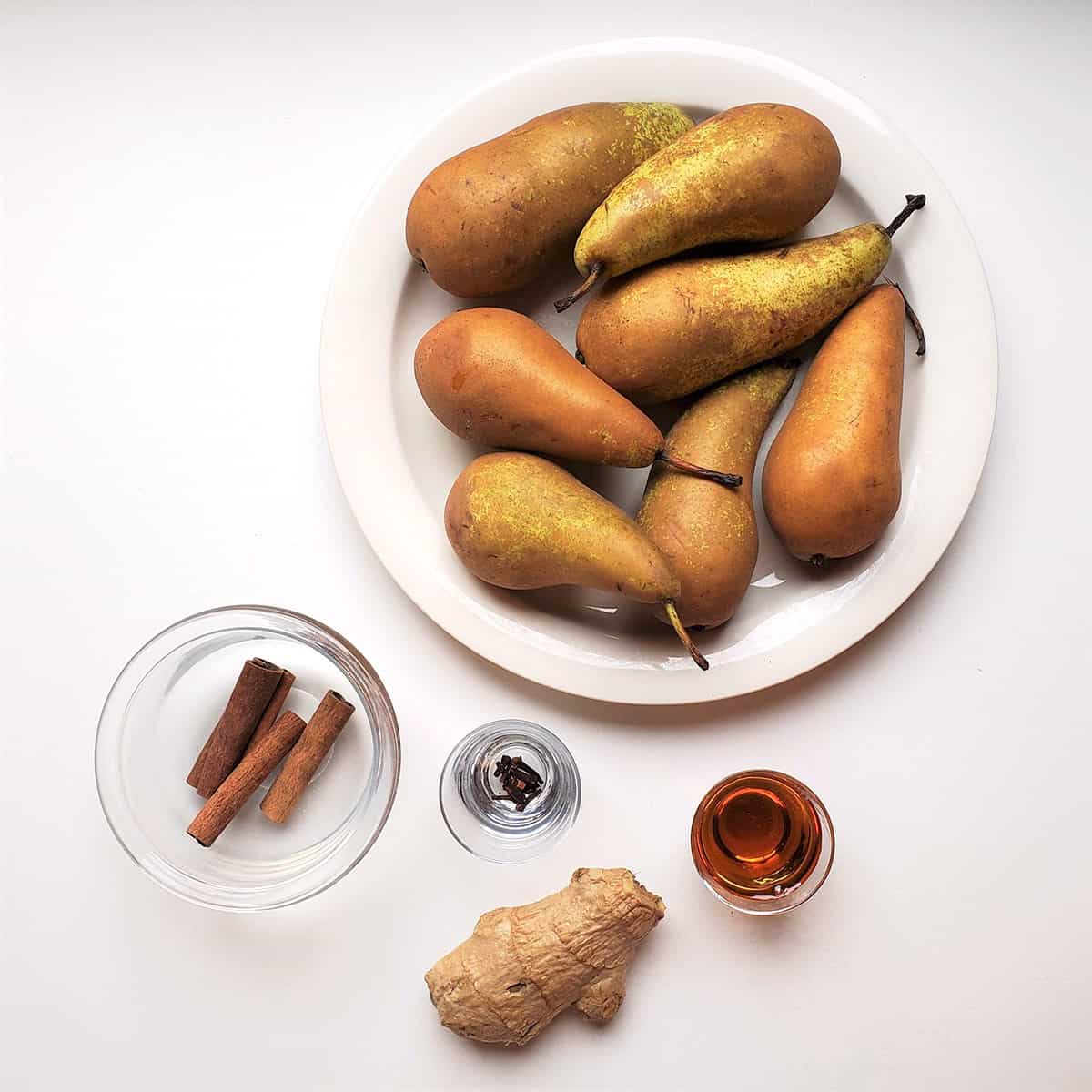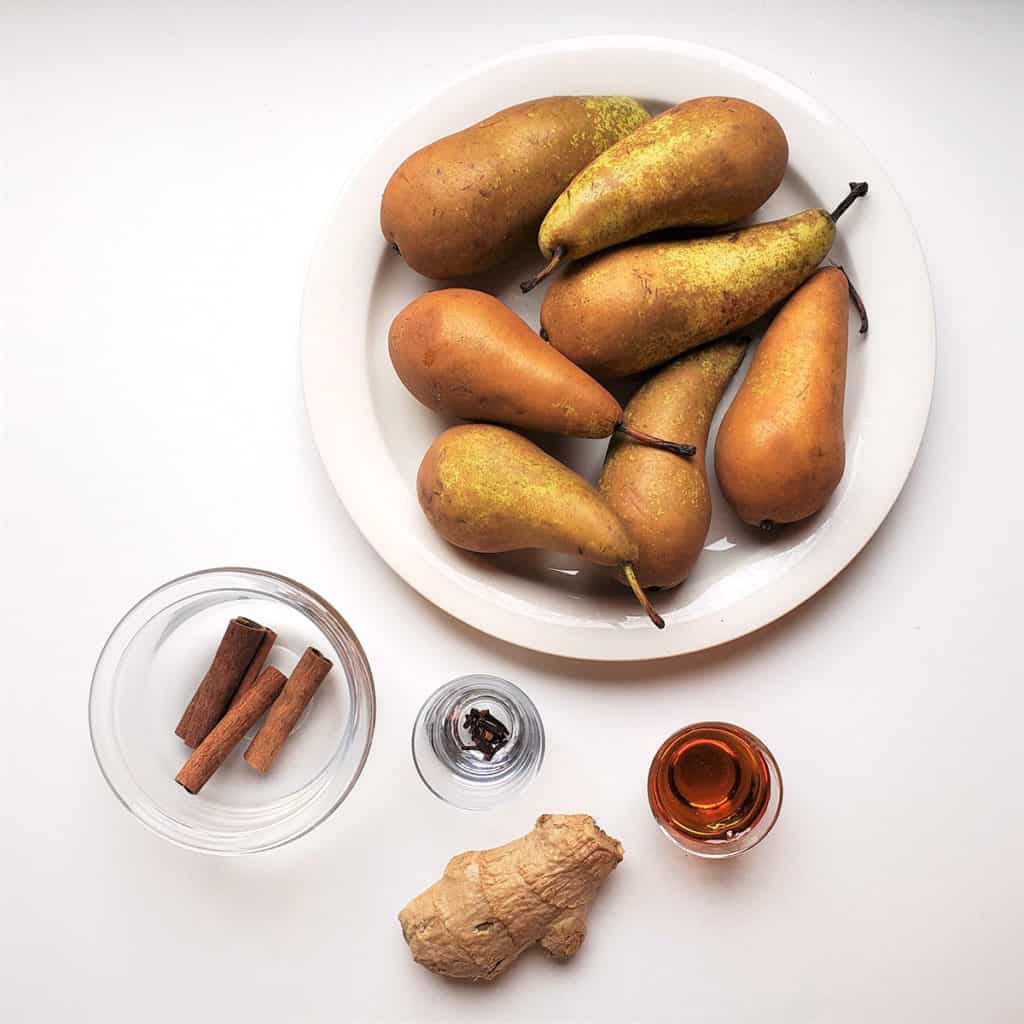 2 lbs. of pears (~1 kg)
1 one-inch slice of ginger
3 cloves
2 tablespoons of maple syrup
1 cinnamon stick (optional)
Water, enough to cover the fruit
How to Make Stewed Pears
Step 1: Peel the Pears
After rinsing the pears thoroughly in water, remove the skins. However, if desired, you can leave the peel on. Pear skin is an excellent source of fiber. Peeling the pear, however, will yield a more smooth, uniform bite. Removing the peel also helps syrup more easily penetrate the pear slices.
Step 2: Slice the Pears
You can slice the pears into whichever shape you like: in round slices, or in cubes, but I personally prefer longer vertical slices. Make sure to discard the cores (seeds).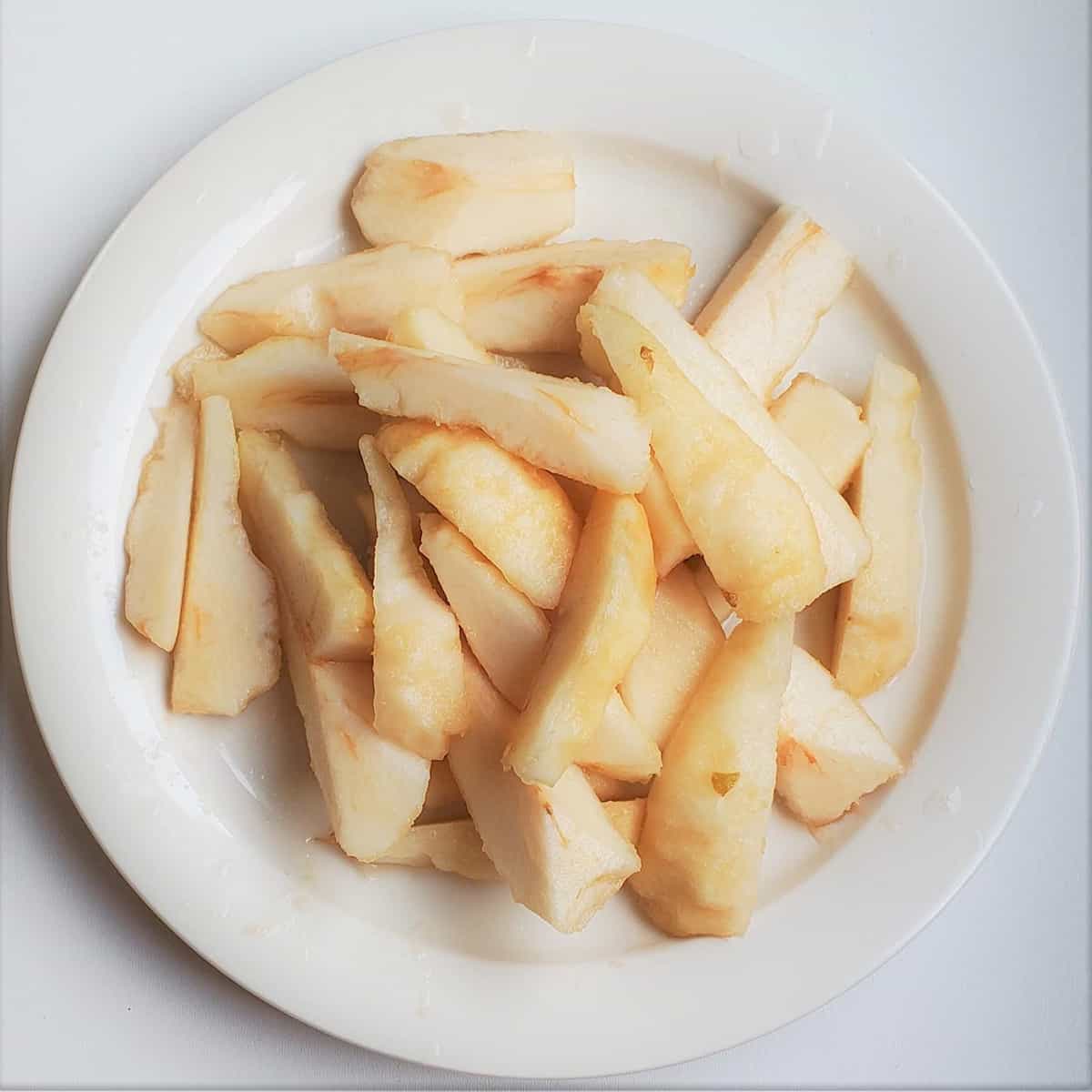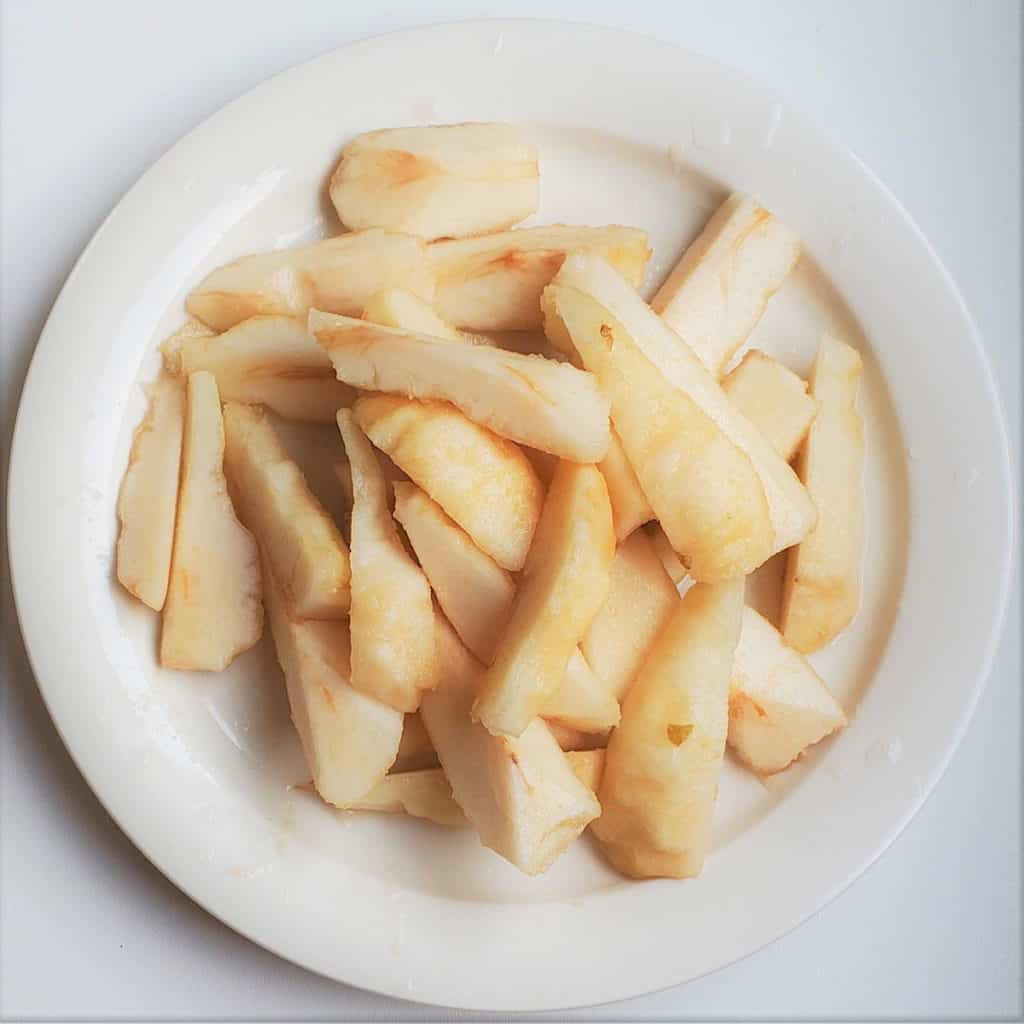 Step 3: Stew the Pears
Place the pears into a medium sized pot and cover the fruit with water, just until the pears are barely covered. Add in the cloves, ginger, maple syrup, and a small stick of cinnamon (optional). Next, simmer the mixture over medium heat, uncovered, for 10-20 minutes, allowing the liquid to reduce by half and for the pears to soften.
After 10 minutes, test the pears with a fork for tenderness. Remove pot from heat once the pears are your ideal firmness. Typically, stewed pears are extremely soft. Finally, strain out the spices (ginger, cloves) using a small sieve.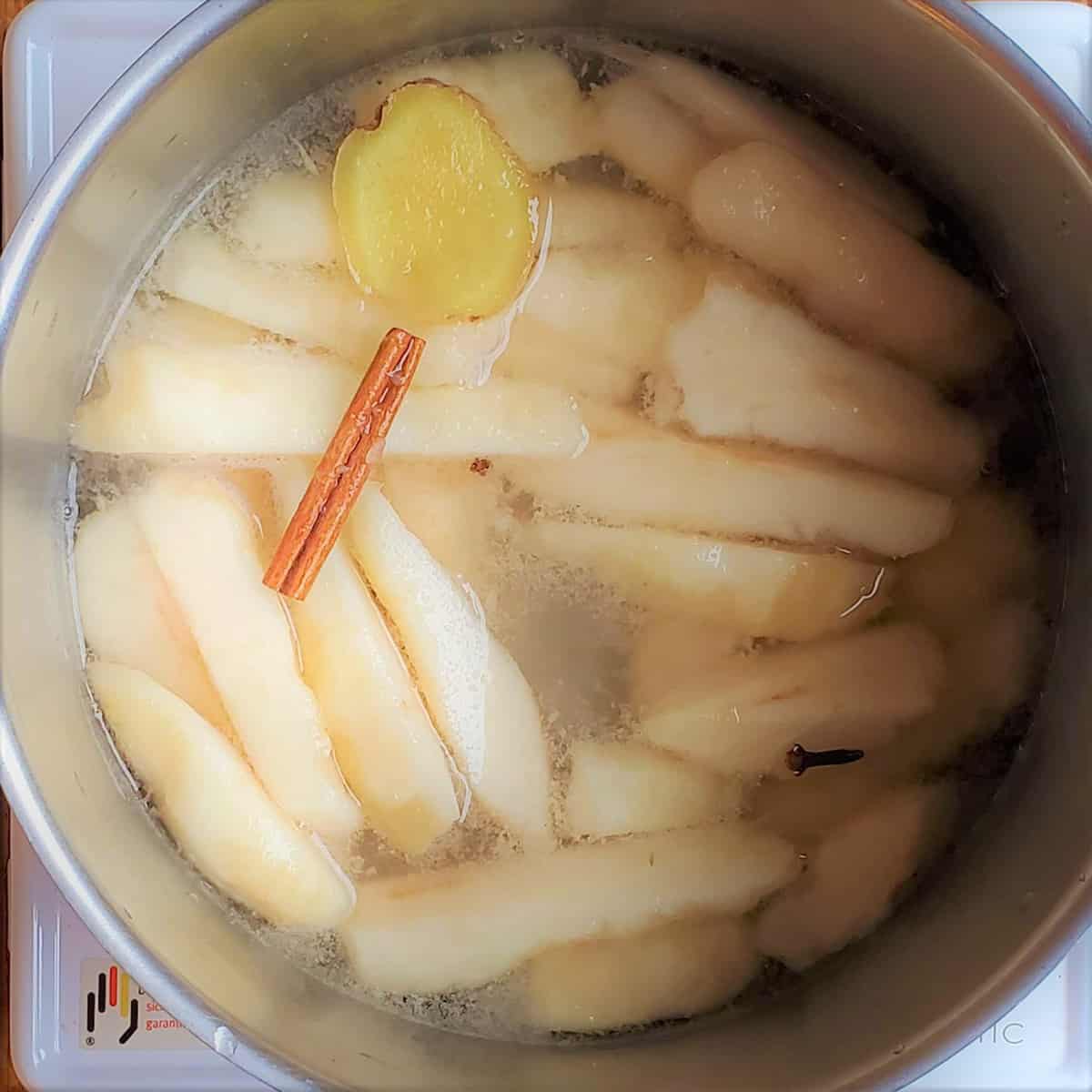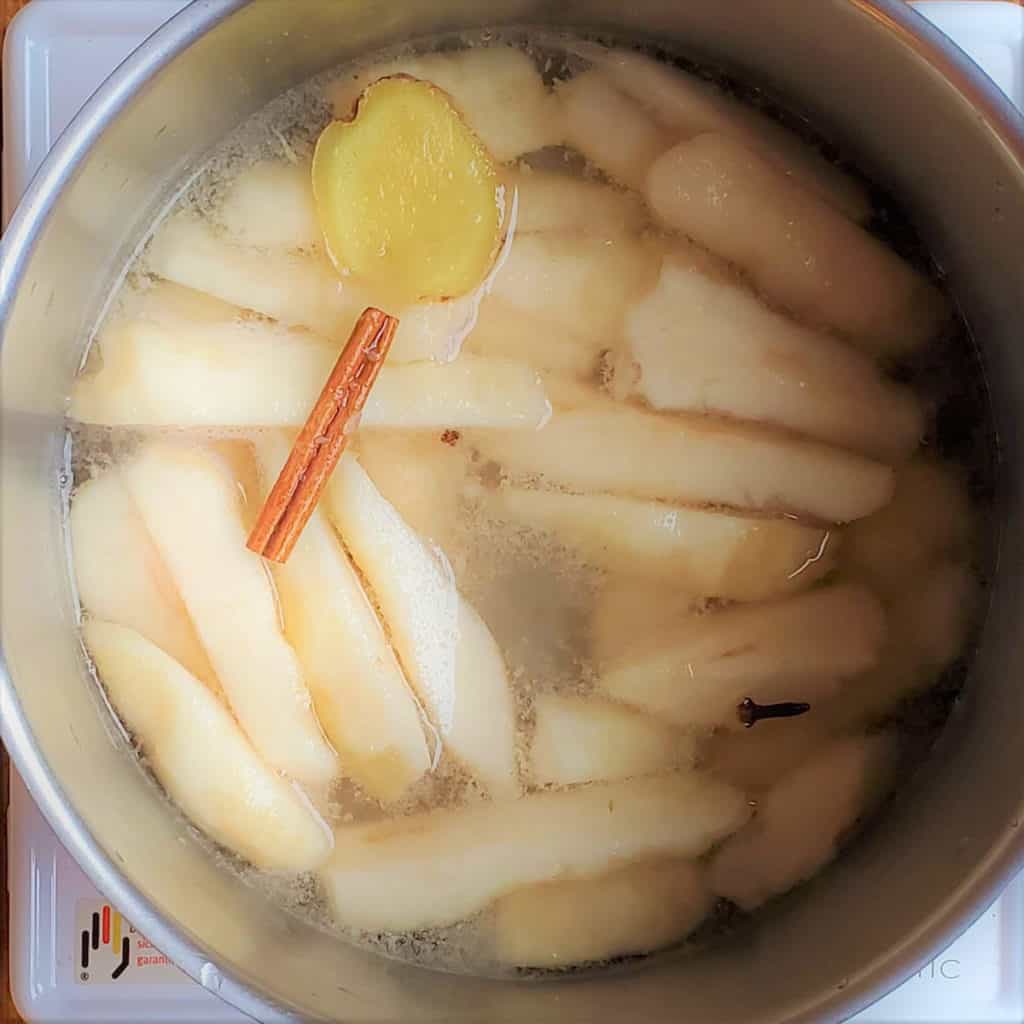 Step 4: Serve and Eat!
This stewed pears recipe is so delicious because of the warming spice flavors which complement the natural sweetness of the pears and maple syrup. Enjoy the cooked pears either cold or hot (one of my girls really enjoys them cold!). Serve the pears for dessert in individual sized dessert bowls for an elegant, sweet, and healthy treat.
Serving Suggestions
Easy stewed pears are so delicious on their own, but are especially good with:
Vanilla ice cream
Freshly whipped cream
Spoonfuls of crunchy granola on top as a faux stewed-pears crumble
Or you can serve these stewed pears:
Spooned on top of pancakes, crepes, or waffles
On top of a slice of vanilla pound cake with a squeeze of lemon juice
Added to a cup of vanilla yogurt
These stewed pears are incredibly versatile and can accompany so many types of breakfast foods!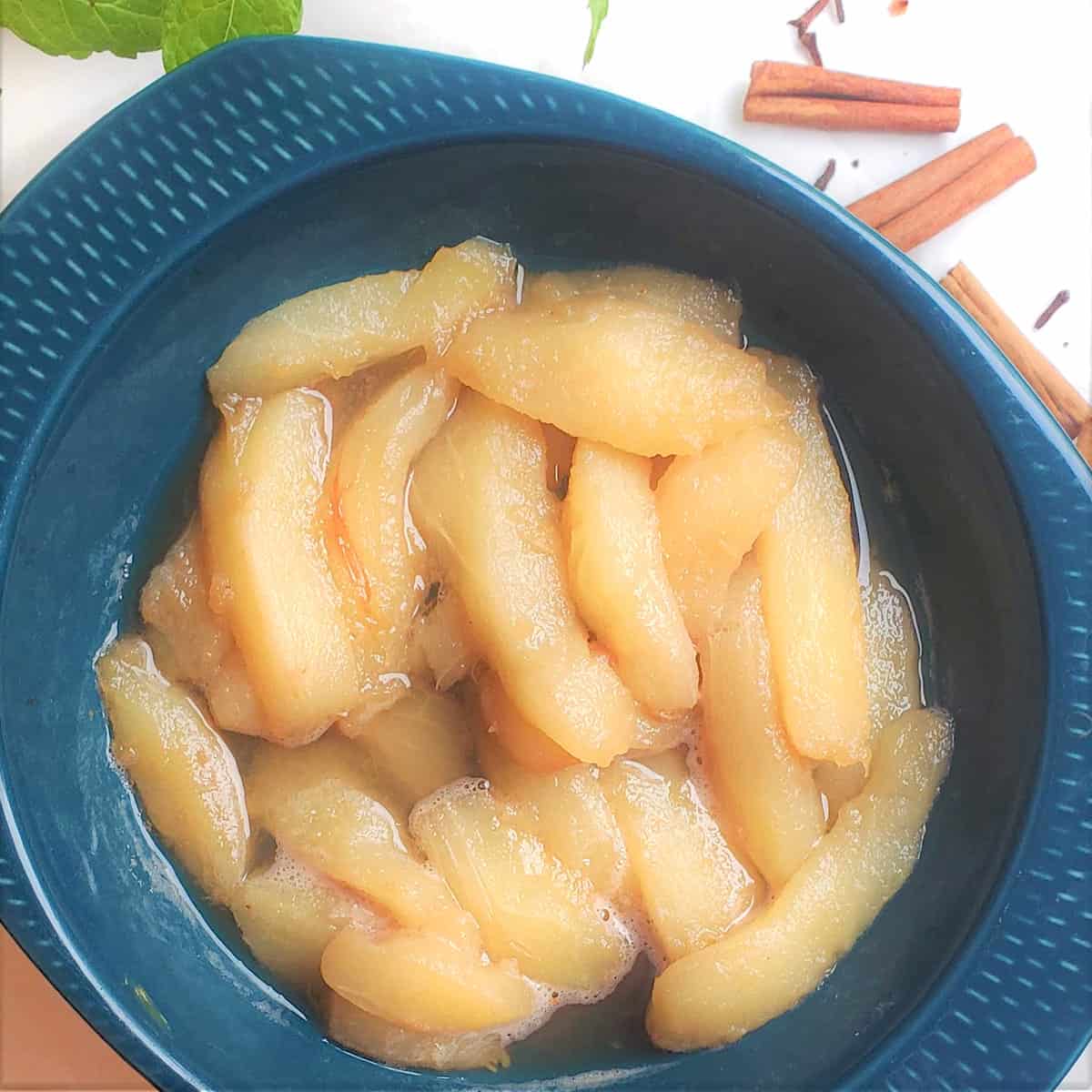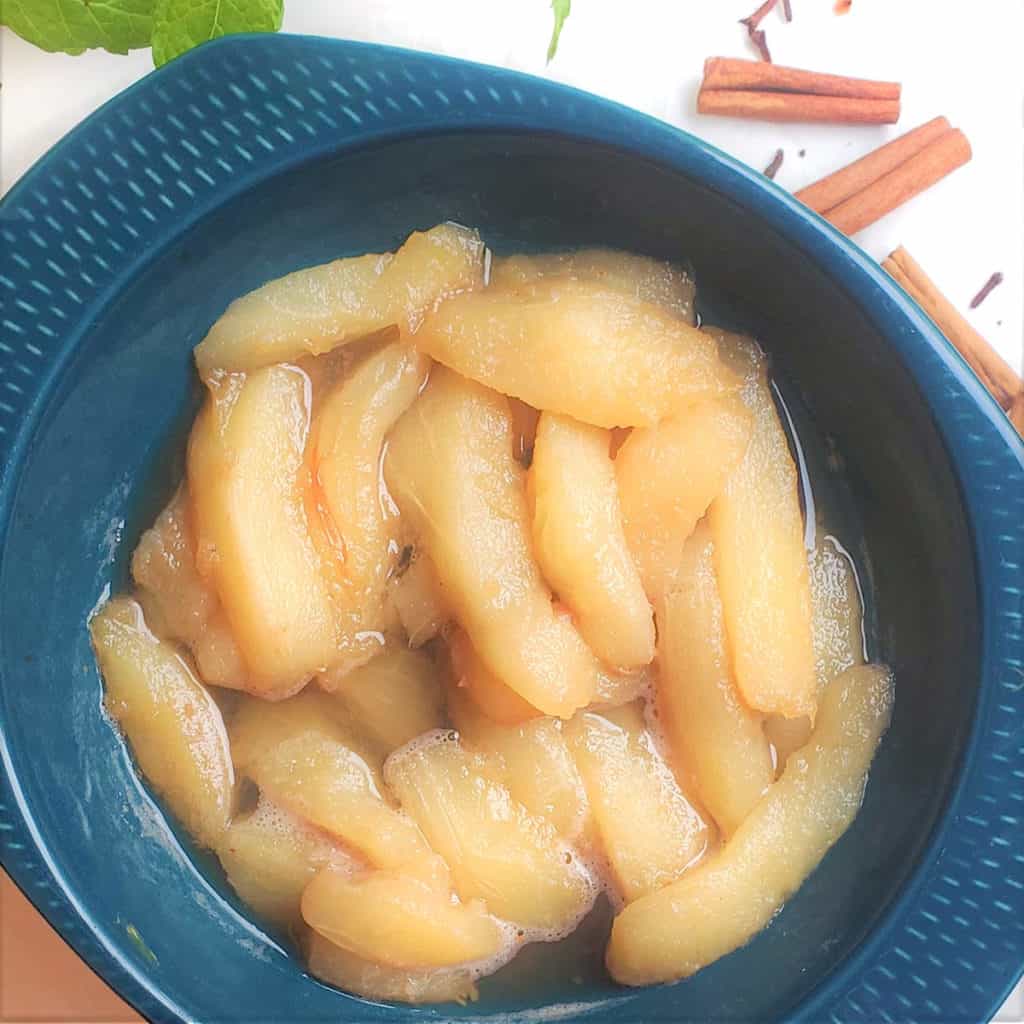 Make Ahead and Storage
Refrigerator
These delicious, cooked pears can be stored in the fridge for up to 5 days. During this time, the flavors will deepen and you will really enjoy the natural flavors of the fruit.
Reheat: Reheat the refrigerated stewed pears in a small pot for a couple of minutes until warm. If you are low on cooking liquid, then add a bit of water to the pot. Alternatively, these pears are delicious straight from the fridge as a refreshing, cold treat!
Freezer
Before freezing, allow the cooked pears to cool to room temperature. Freeze the cooked pears in their syrup, for up to 6 months.
Reheat: First, allow pears to defrost in the fridge and then reheat in a small pot for a few minutes until warm.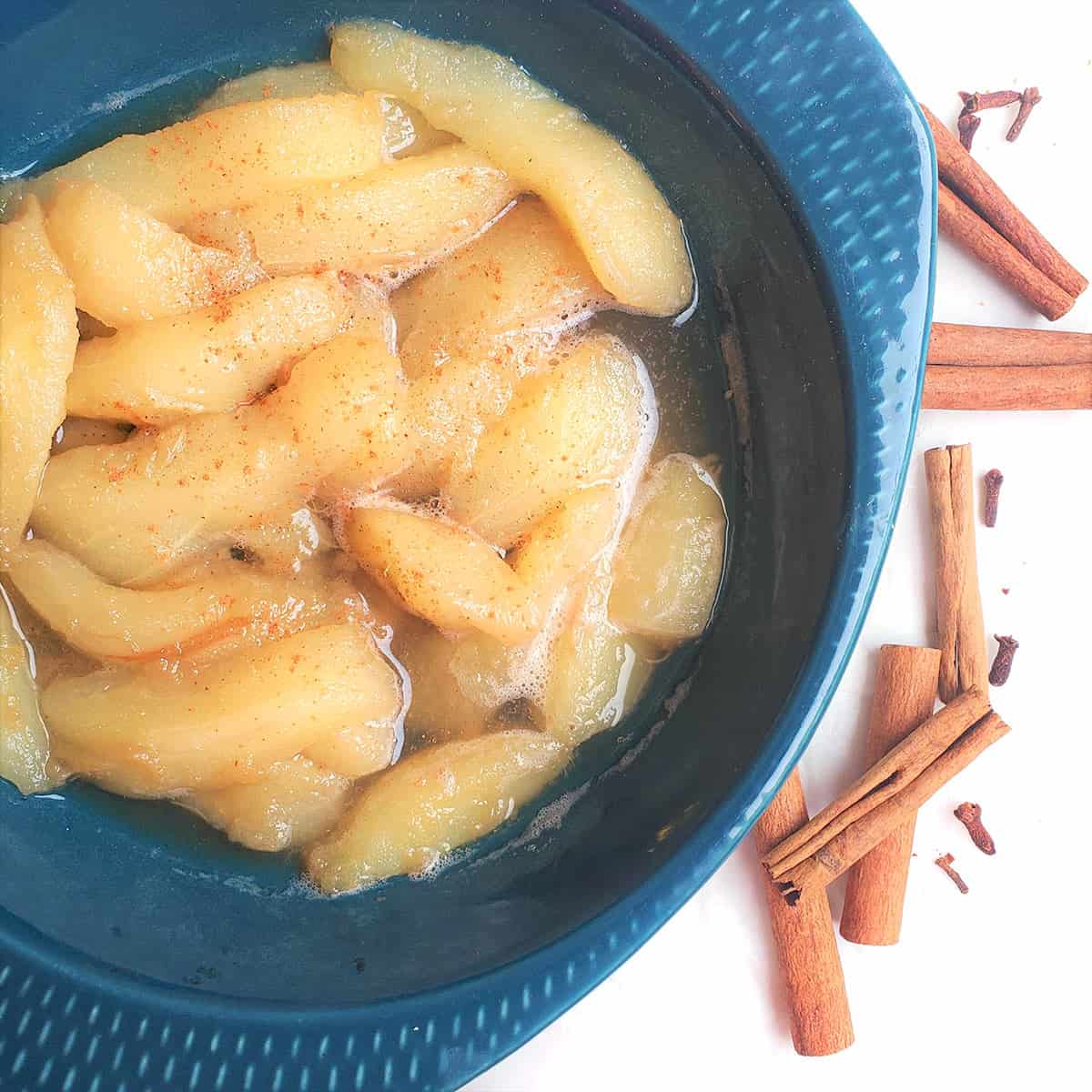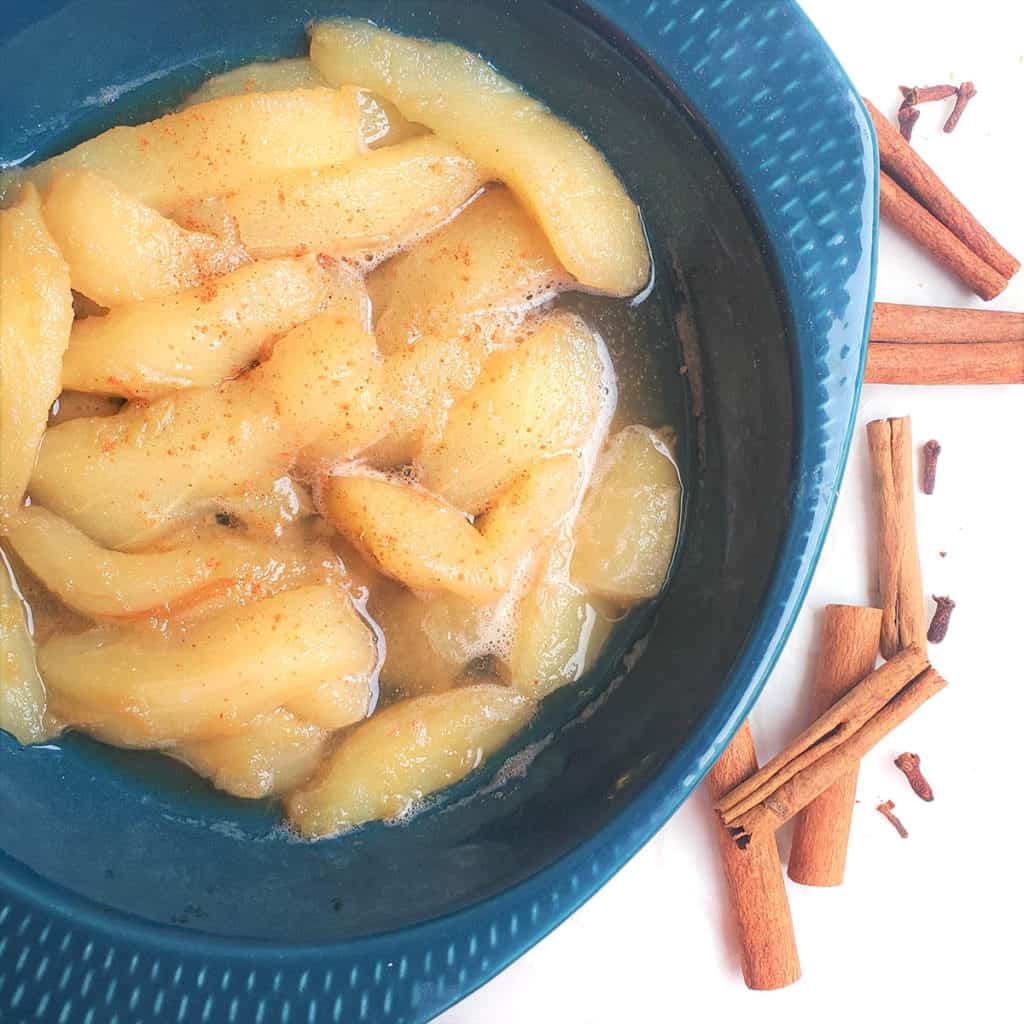 Frequently Asked Questions (FAQs)
What do you serve with simple stewed pears?
Stewed pears can be served with a large variety of foods. This dish makes a marvelous snack or dessert. Serve them alone, hot or cold, in individual bowls. Or serve stewed pears with warm waffles, pancakes, or crepes. Stewed pears can also be served on top of vanilla yogurt with homemade oat granola sprinkled on top. For a decadent dessert, try serving warmed stewed pears over a quality vanilla ice cream with a dash of ground cinnamon on top.
Can you stew pears with the skin on?
Yes, you can stew pears with the skin on. The result is not as visually attractive but you will consume more fiber this way!
What spices go with stewed pears?
Warm spices such as cloves and ginger compliment the natural sweetness of the pear fruit wonderfully. A dash of cinnamon can also be used, but in moderation for pregnant women. Cinnamon is safe in pregnancy so long as it is only occasionally consumed in the amounts commonly used in foods as seasoning.
Can you stew pears like apples?
The same recipe can be used with apples in lieu of pears! Simply replace the pears with apples to reap the benefits of fresh, seasonal apples. Apples will yield a more tart flavor. You could even create a combined mixture of stewed apples and pears.
What is the difference between poached pears and stewed pears?
Poaching means gently cooking the fruit in a hot, gently simmering liquid. When poaching pears, the fragile pear morsels retain their shape and definition, and become fork tender. Stewing pears, on the other hand, means cooking the fruit for a longer period of time in the hot liquid, with the objective of softening the overall structure of the food. As a result, the stewed pears are extremely soft, barely retain their shape, and can be easily scooped up with a spoon.
What kind of pears can be used for stewed pears?
The best kinds of pears to use use are those that maintain their texture despite the application of heat. Anjou and Bosc pears are best, but you can certainly try other varieties of pears.
You'll Also Love These Related Sweet Pregnancy Recipes!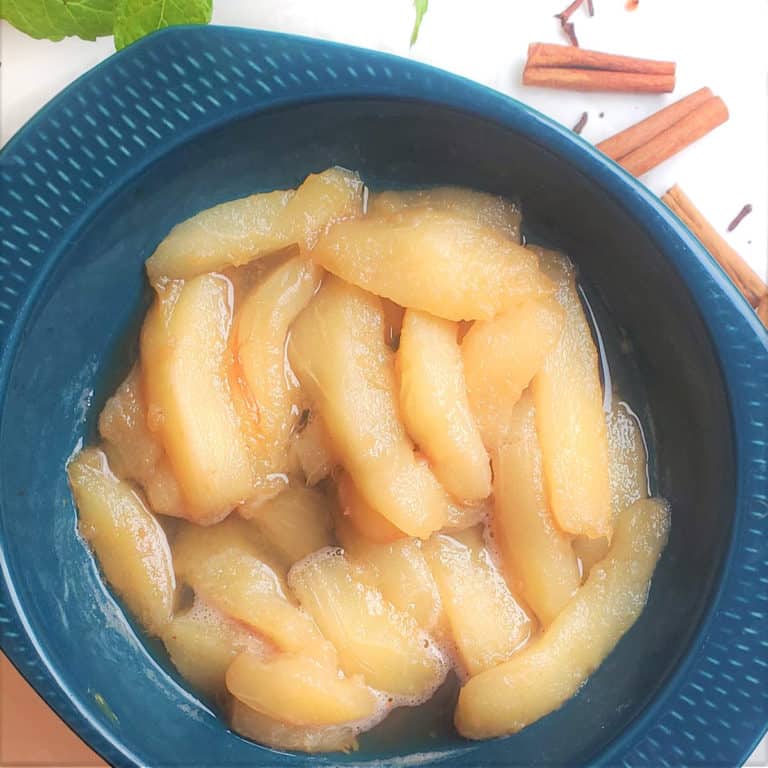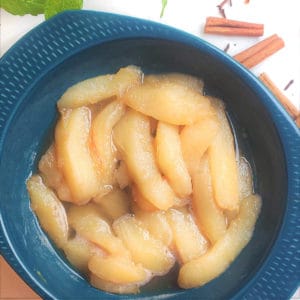 Scrumptious Stewed Pears (15 Min)
Author:
Spiced, sweet stewed pears: this warm fruit dessert basically melts in your mouth!
Ingredients
2

lbs

pears

1

thin slice of ginger

2

tbsp

maple syrup

3

cloves

1

cinnamon stick (optional)

water, enough to cover fruit
Instructions
Rinse the pears thoroughly in water and remove peels.

Slice up pears and remove cores.

Place the sliced pears into a medium sized pot and cover pears with water, just until the fruit is barely covered.

Next, add in the ginger, cloves, maple syrup, and optional cinnamon stick.

Bring to a boil and then lower heat to medium.

Simmer, uncovered, over medium heat for 10 minutes.

Use a fork to test pears for desired tenderness.

Strain out the spices using a small sieve.

Serve pears warm.
Notes
*Nutritional information is calculated using online tools and is provided as a courtesy. The values can vary depending on which ingredients and brands are used.
Nutrition*
Calories:
168
kcal
Carbohydrates:
44
g
Protein:
1
g
Fat:
1
g
Saturated Fat:
1
g
Polyunsaturated Fat:
1
g
Monounsaturated Fat:
1
g
Sodium:
4
mg
Potassium:
327
mg
Fiber:
8
g
Sugar:
28
g
Vitamin A:
60
IU
Vitamin C:
10
mg
Calcium:
44
mg
Iron:
1
mg